Langley Creates is counting creativity
— Created January 19, 2022 by Kathy Reed
By Kathy Reed
Anyone in the greater South Whidbey area who earns a living through their creativity is being asked to stand up and be counted by Langley Creates.
The organization has created an online survey and is asking Whidbey Island "creatives" to complete the questionnaire as part of its effort to understand, support and expand Langley's creative economy.
"In order to do that, we need to understand our creative community and understand the people who are trying to make a living off of their creativity," said Joann Quintana, with Langley Creates. "We are trying to get a good sense of how people are making their livings now while using their creativity, what problems they are running into in doing that, what successes they're having and what they need from us. What is it we can do to make them more successful? In our minds, it makes the entire community more successful…if all the creatives in our community are able to thrive."
The more responses Langley Creates receives from the survey, the better the organization can target its programming.
"Essentially what we're looking to do is gather the information as to the makeup of the entire community and then be able to tailor the services and help that we're offering the community from those results," explained Inge Morascini, a member of the Langley Creates steering committee and executive director of the Langley Chamber of Commerce. "If, from the community at large, we find out 'x' amount of the community are fine artists, 'x' amount are makers, 'x' amount are agriculturally related, we can tailor programs specific to those communities."
Quintana said they have already received about 85 responses from the survey by doing a "soft" launch by word of mouth, etc. But already, she said they have noticed a couple of trends.
"One, the desire to focus on our area in Langley as an 'art town' and the idea of building that identity so that the creative things you can get from our area are more valuable," she said. "There's a certain cachet when you are working as an artist in an area that's known as being a creative, cool place to be.
"The second I keep seeing is people saying 'The public doesn't understand what goes into [making] art,'" Quintana continued. "I think those two things work together – how do you build value and tell the story of what went into creating some of these magnificent, creative pieces of art?"
Morascini said there is value in being unique, and that's what Langley Creates hopes to build upon to support the creative community.
"So much of what we encounter every day has all been homogenized," she said. "The reality is that we want to hold up those things that are distinctly Whidbey Island, that have a Whidbey Island signature, a Whidbey Island feeling to them and create a relationship between the public that's here, the public that visits, and the artistic community, to create a bond and a relationship between them."
The term "creatives" is quite broad and people may not even know they fit into that category, another reason Morascini feels makes the survey an important tool.
"You have everything from someone who grows specialty crops to a winemaker, that's considered a creative endeavor," she explained. "Metal working is a creative endeavor, writing code for some new program is a creative endeavor, writing a novel obviously is a creative endeavor, so it's a very broad definition. It's not as narrow as just an art definition."
With 90 to 95 percent of south Whidbey businesses having five or fewer employees, according to Morascini, it means there are a lot of small businesses and creatives looking for help.
"There are a lot of entrepreneurs that want exposure, that need help discovering how to get their names out there, how to sell their products, how to gain notoriety for their product, etc., and that's what we're here to do," said Morascini.
And while the "creative district" of Langley Creates has defined borders, creativity has no boundaries.
"Obviously our objective is to support creativity on Whidbey Island and a lot of the product that is made locally is sold in Langley," Morascini said, "but we have a lot of people that live outside of Langley proper that we want to touch with Langley Creates. The Chamber of Commerce supports businesses of all kinds and that expressly includes small businesses and those people on the island that are making products and need exposure to local retail stores. We provide that. The intent is for Langley Creates to augment that as well."
Langley Creates is part of a state program, but Quintana said other states are doing similar things because they see the creative economy as one that will continue to grow.
"A lot of people are earning their livings from doing creative work and that's just seen as increasing and increasing and increasing," she said. "The Department of Commerce at the state level is now funded to develop a creative economy plan for the state of Washington. They're seeing there's a whole shift in a different direction and we need to figure out how to do that right. We need to figure out what do creative people need and how can we build an infrastructure that supports creative people?"
The survey is fairly simple and can be found online at www.langleycreates.org, by picking up a postcard from the Langley chamber or other businesses, which contains a QR code, or by scanning the QR code that accompanies this story.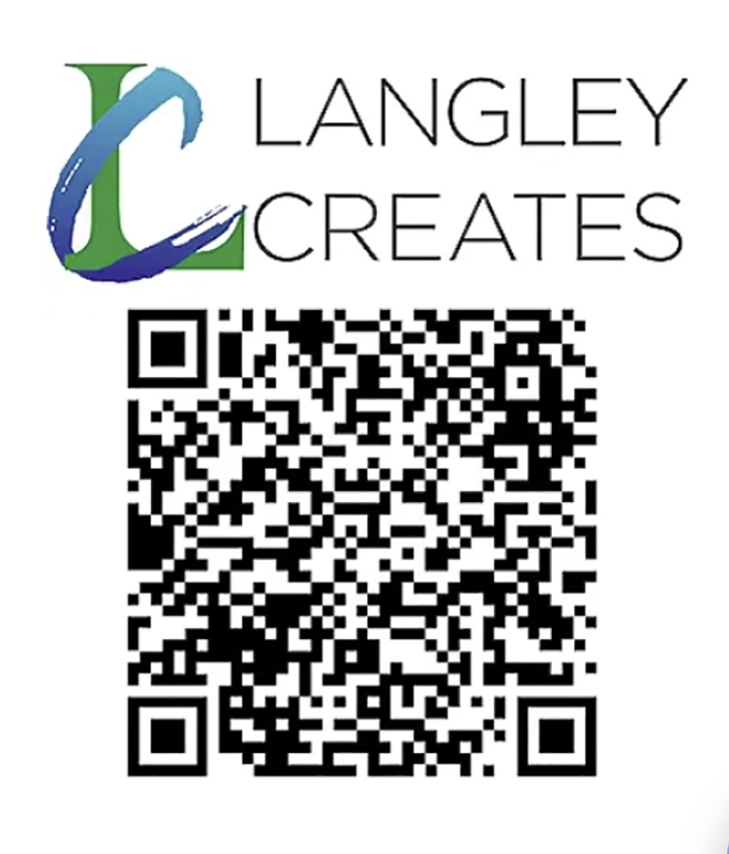 "We're asking people what type of work they're doing and it's quite expansive – music, computers, dance, theater, photo, video, food, drink, culinary, literary, just a whole long list of things," Quintana said. "We're asking them whether they're able to make a living here, and if so, is their creative work their primary source of income, do they have a second job, that sort of thing, to gauge how they're able to get along here.
"We have asked them how and if COVID has affected them and we're asking them open-ended questions about what is it that frustrates them, what is it that is working, what isn't working, all of that stuff," she continued. "You can see we're trying to gauge the community – where they are now, but we're also trying to gain information so we can design our programs appropriately, so they're really effective."
As a thank you, all those who take the survey are also asked to enter a drawing to win a freshly baked pie from Wild Crow Pies in Langley – a business which fits squarely in the "creative" category.
"Creativity abounds here," said Morascini. "We're looking to build and support that."