Welcome spring at Whidbey Gardening Workshop
— Created January 19, 2022 by Melanie Hammons
By Melanie Hammons
An old nursery rhyme poses the question, "How Does Your Garden Grow?" The Island County Master Gardener Foundation invites all those seeking answers to that question and more to its 34th annual Whidbey Gardening Workshop March 4-6.
Foundation chair Carole Matthews says this year's workshop, for the first time ever, is a three-day event.
"We've included so many classes, seminars, and field trips, we found that one [day] just couldn't accommodate everything. This year's workshop offers people both indoor and outdoor experiences, and there'll be something for everyone," she said.
Field trips are slated for Friday, March 4, and cover various locations on Whidbey Island and Everett. Topics include everything from seed propagation to hands-on pruning techniques. Knowledgeable subject matter experts will conduct the field trips, said Matthews.
"Participants will have the opportunity to sign up for a morning field trip and one in the afternoon, if they so desire. Space is limited on these, so we highly recommend early sign-up," she said.
The workshop's second day, Saturday, March 5, is held on the Oak Harbor High School campus. The approximately 30 in-seat classes, as with the field trips, are taught by experienced, knowledgeable gardeners. A diverse range of courses includes everything from ornamentals, food gardens, and how to encourage helpful pollinators, birds, and honeybees. One course in the early afternoon session is the informative, yet whimsically titled, "Botanic Nomenclature for 'Fraidy' Cats."
As deeply comprehensive as all the aforementioned promise to be, the rest of Saturday's itinerary encompasses what could be the zenith of the workshop's many attractions, according to Matthews.
"Our keynote speaker is Dan Hinkley, a renowned teacher, gardener, naturalist, writer, and consultant," she said. "Dan's presentation is titled 'Gardening for Good.' He will outline ways and suggestions for how to prepare gardens and plants to cope with projected future growing conditions that are changing."
In his presentation, Hinkley draws on his own world-wide travels and extensive horticulture experience. He is credited with designing the renowned gardens, Windcliff and Heronswood Garden. Books authored by him include "Winter Ornamentals" and two iterations of "The Explorer's Garden." His latest book, "Windcliff: A Story of People, Plants and Gardens," will be available for purchase.
"Participants in Saturday's workshop have the opportunity of sharing a box lunch with Dan, too," said Matthews. "Limited to 30 attendees, it will be a show-and-tell type event over a delicious box lunch that's prepared by Oak Harbor High School Wildcat Catering"
As if that were not enough, there are many more enticements to be enjoyed at Saturday's workshop. In addition to the in-seat classes, there will be a Master Gardener Plant Clinic at which gardening questions from A – Z find answers. In another first, the WGW is providing an online auction. Those prizes focus on Whidbey Island-style adventures, such as sailing excursions, wine tastings, weekend stays with dinner and more. Results will be announced Saturday afternoon.
"There will also be book signings by authors, including one by Dan Hinkley," Matthews said. "Ticket-holders have the chance to win raffle prizes donated by our sponsors. And the Spring Marketplace, including over 40 local vendors, is not to be missed, either."
The Marketplace, slated to be set up in the high school's gymnasium, promises everything a gardener's heart could possibly desire to round out and complement gardens, front and back yards and landscape needs, said Matthews.
"This year's Marketplace includes vendors selling everything from unique garden art, plants, seeds, tools, books, furniture, gifts and much more," she said. "Many local vendors have signed up, giving people the chance to buy unique creations while helping out our small businesses all at the same time. And our own Master Gardener's Store features one-of-a-kind items crafted especially for the workshop; these purchases go to support ICMGF's mission."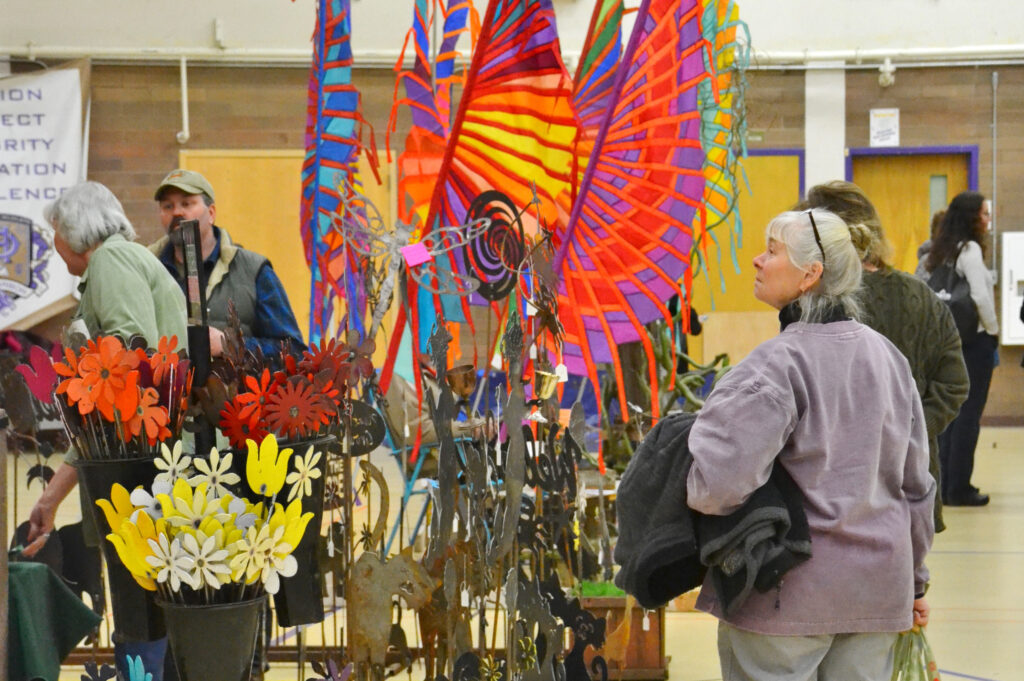 Since the Marketplace opens Saturday from 8 a.m. to 5 p.m., there will be plenty of opportunities for workshop attendees to browse and shop. (The Marketplace opens to the general public at 10 a.m. for a suggested donation of $5.)
The third day of the workshop, Sunday, March 6, is designed to meet the needs of those who love all things gardening-related, but are more comfortable taking part in a virtual-style environment, Matthews explained.
"These classes and courses are every bit as informative as our in-seat offerings on Saturday. They are webinars covering topics such as how to grow tomatoes in the Pacific Northwest, Japanese Maple selection, kitchen gardening, wildfire preparedness landscaping, and a lot more. Those who purchase the webinar-only format will have access to the webinar recordings until March 29," she said.
"There will also be an online Master Gardener plant clinic offered during the lunch break," continued Matthews. "And of great interest to many of us is a presentation, 'Gardening for Life,' by author/gardener Toni Gattone. She will share ways, in her own words, on how to garden smarter, not harder. Gattone's book, 'The Lifelong Gardener: Garden with Ease and Joy at Any Age,' is also available in our bookstore."
Island County Master Gardener Foundation states its mission "is to help gardeners through education and outreach." The annual gardening workshop may be its signature event, but it supports many other endeavors, Matthews said.
"Throughout the year, we also conduct smaller projects, such as plant clinics at farmers markets. We assist with school and community gardens. And we also oversee the demonstration garden at Greenbank Farm," she said.
Surprisingly enough, Matthews describes her own gardening experience as having a somewhat limited beginning.
"I'm a recent convert to all this. For me, it started five years ago when I moved into a new house with no trees, landscape, or garden to speak of – nothing but dirt.
"I joined ICMGF for improvement ideas," she continued. "Not only did I receive a very comprehensive education on that, but I found a wonderful community of people, too. So I decided to stay, not only for the mission, but for the community. And now I have trees, shrubs, flowers, and two gardens of my own, front and back yards."
The benefits of home gardening are almost too many to number, Matthews said.
"You're adding beauty to the environment. A lovely landscape enhances not only your own property but that of your neighborhood," she said. "It provides sanctuary for birds and endangered honeybees. And there's just something about seeing the results of your labor in the land, that's tremendously rewarding."
Following public safety guidelines, ICMGF would like to remind participants that admission to the workshop requires either proof of COVID-19 vaccination or a test taken within the past 72 hours that is negative. Masks will be required for all indoor and outdoor events.
Complete descriptions of all the workshop course offerings and packages available are given on the ICMGF website, whidbeygardening.org.