"The Taming" provides a different take on politics
— Created March 30, 2022 by Kathy Reed
By Kathy Reed
A political comedy that's not really political. That's one way to describe the Whidbey Playhouse production of "The Taming, A Political Comedy," by Laura Gunderson. The play opens Friday in Oak Harbor, with performances running through April 16. Shows are at 7:30 p.m. Fridays and Saturdays and at 2:30 p.m. Sundays, with a bonus Saturday matinee at 2:30 p.m. April 16.
Directed by Kevin Wm. Meyer, "The Taming" is a wild ride led by a Miss America contestant who kidnaps two women on opposite sides of the political fence to convince them to help her "update" the Constitution. So, while politics are at the forefront of this story, it doesn't pick sides, and that's one of the many things about it that appealed to Meyer, who was on the selection committee for this season's productions.
"I read it and I laughed out loud while I read it," he said. "We had a reading on Zoom of several plays and people laughed out loud when they read it, so I went, 'I think this is a pretty good production.' I like the concept of it. And I like puns and takeoffs on historical facts and this is loaded with them. You've got Hamilton in there and Madison and G-Dubs for George Washington, and one section takes place at the continental convention when they're writing the Constitution, and so I liked that comical take on historical facts."
If one is not a Constitutional scholar, do not fear. You'll be able to follow along just fine.
"Recently I was thinking, you know, if people don't really know much about the creation of our country and our Constitution, they know a lot about it from "Hamilton" and "1776," and if that's the only historical reference you've got, you can still laugh your tail end off watching this thing," said Meyer.
The cast of three women may be small, but they are mighty. Each of them plays at least one other character – something that appealed to all of them.
"I think it's really exciting, actually, because it goes beyond just changing your voice and changing your costume," said Dianna Gruenwald, who plays liberal blogger Bianca and Charles Cotesworth Pinckney as well as a third character. "Each of my characters has very specific facial expressions, body posturing, movements that help differentiate between the three characters that I play. Also, there's so much tie back throughout the play with each character that something has to be a little common, or similar, between them. We were able to come up with whatever we thought embodied those characters, which are caricatures of personality types but to an extreme, I think, and that was really fun."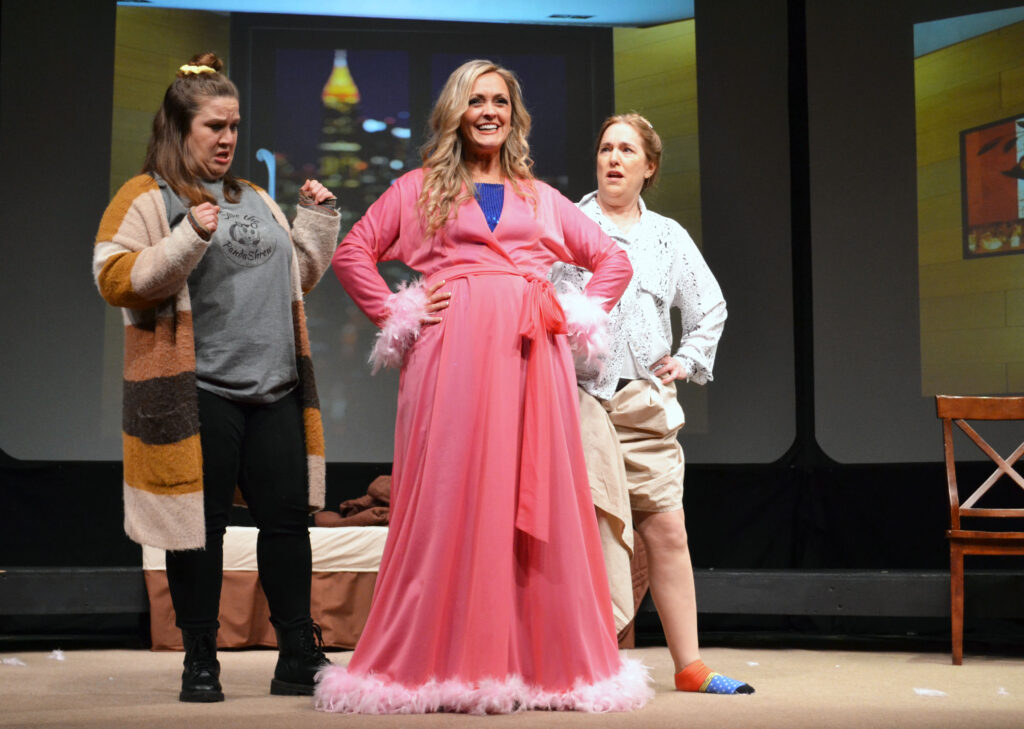 Abby Nordstrom Thuet, who plays Katherine and George Washington, among others, also enjoyed the process of creating her characters, likening the acting experience to an adult version of playing dress-up, in a way.
"I liked the show because it's a character show," she said. "As grownups, you get to do theater as a chance to step back to that magical fantasy land we love and we get to play characters we would never be in real life and we get to say things and do things we would never do in real life, because it's play. You get to be on stage, you get to be ridiculous, and people applaud you for it."
Besides being filled with interesting characters, the show is filled with fast-paced dialogue. But the content isn't polarizing.
"It is a political satire," described Tamra Sipes, who plays conservative senate aide Patricia and James Madison. "There are some things in there that are truths, there are some things in there that are fun. It's not taking one side or the other. It really is summarizing our whole political history and how our democracy is. You go to 1787 and how our government came to be, and how our Constitution and the nation and our country, and all these differences that we had and how we were able to bring those together to form this amazing country that we have, with all these differences of people's opinion. So I would say it's more recognizing how we got to where we are today and people being able to have their opinions and their freedom of speech and the freedom of press and all those wonderful things."
Because of prior health protocols, staging for this production is simple, but effective. Meyer said he considered it a creative adventure.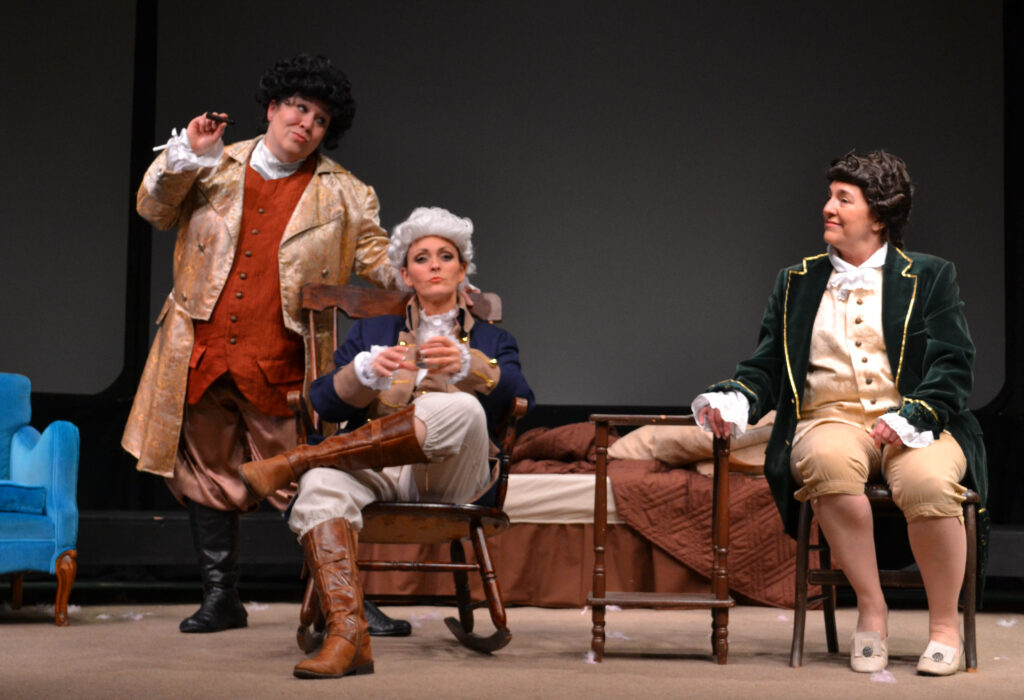 "I didn't have to worry about a set, so that left me free to be minimal," he said. "So you're going to see a hotel room which is the bare minimum, and a platform to give you an idea of another space. The slide projectors will give you a focus for where you are, and the lights are evocative of stuff and then somehow, we have to bring you to Philadelphia in 1787 and we do that with lights and slides."
It's a journey Meyer said he hopes audiences will find enjoyable and thought-provoking.
"I want them think about the fact that even an army of one can make a difference and that's what I think Katherine is going for in this," he said. "She's got a goal and she's going for it and she knows the people she wants to come in and help her and she's focused on that, but she does it in a crazy way and that's where we get the laughs from."
"The Taming, A Political Comedy," opens Friday at 7:30 p.m. at the Whidbey Playhouse. Tickets are $18 per person. The opening night performance will also be live streamed for those not yet comfortable with attending in person. On-demand performances will be available for viewing April 8-16. Tickets and information are available online at whidbeyplayhouse.com.
"This is going to be fun, it's going to be entertaining, it's going to be informational," said Sipes. It's going to be just a little bit of a different take on politics."