Whidbey lights up for the holidays
— Created December 21, 2022 by Kathy Reed
By Kathy Reed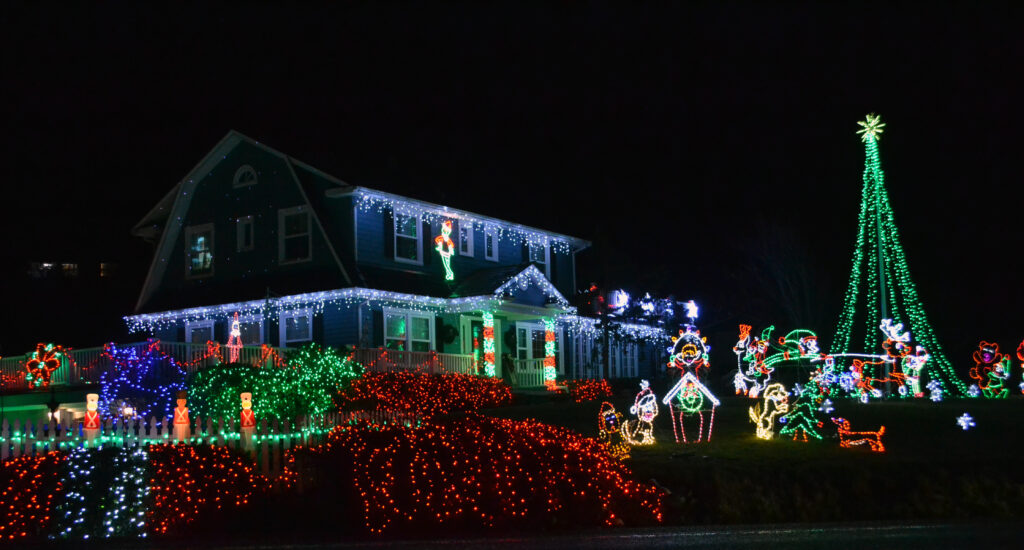 It's that time of the year – the days are short, the nights are long, but folks on Whidbey Island know how to light up the night with the festive twinkle and shine of holiday lights.
For some, self-guided tours of decked-out home holiday lighting displays are an annual tradition. There are decorators who go all out, while some opt for more restraint. Either way, the cheerful lights are a sign of the season.
Oak Harbor resident Carrie Stucky started compiling a map of the best holiday light displays on north Whidbey in 2020.
"Due to COVID closures and restrictions that year, there were few options available for Christmas events and activities," she described. "I spent a lot of time driving around with my family looking at Christmas lights, and there were so many people who had put so much work and creativity into their displays, I decided it would be great to share some of the displays with the community. It seems that the community has enjoyed having a map of Christmas lights and I am happy to continue the tradition."
Stucky shares her map in several groups on Facebook, and she was kind enough to share it with us at Whidbey Weekly. In just three years, the number of locations on the map has grown from 15 to 24.
"It seems to me that there have been more and more decorations over the last few years," she said. "People have been growing their displays, and more houses have started to put up lights that maybe hadn't in the past. At this point, I'm sure I am missing some great displays, but I tried to get as many houses and neighborhoods on the map as I could."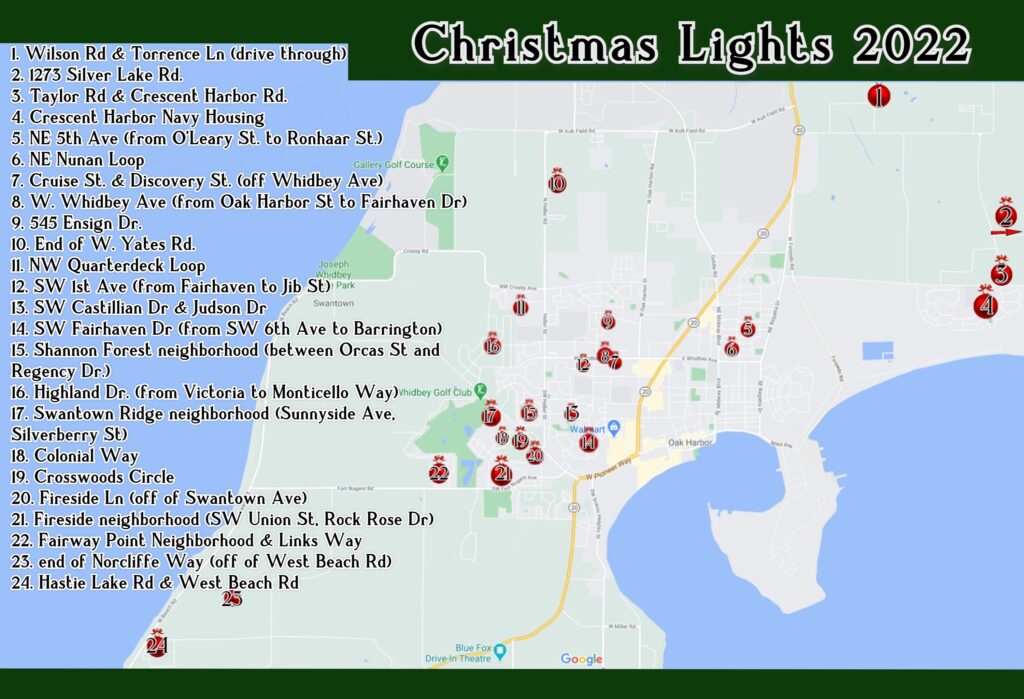 Stucky said all the areas on the map either have one large display or several displays concentrated in one neighborhood.
"I think there is an excitement and nostalgia about driving around looking at Christmas lights," said Stucky. "For me, it's always one of my favorite things about Christmas time."
Number 24 on Stucky's list is the display at the intersection of Hastie Lake and West Beach Roads. Covering both sides of Hastie Lake, this is a very popular spot for holiday-light-seekers.
The display is the work of Debra and John Sims, with help from their daughter, Lauren, and her husband, Josh Sinclair. As may be the case with many such displays, the project started small and grew from there.
"It's a family project that originally was just our way of celebrating Christmas," said Lauren. "Over several decades, decorations have come, some have gone, and the rest have accumulated.
"Over 30 years ago, Debra decided to make a few decorations to put on our front porch," continued Lauren. "She bought plywood and created the carousel horses. (The same carousel horses on our gazebo today.) Each year she would add an additional figure or two. Approximately 10 years ago, we moved the Christmas collection to our home on Hastie Lake. The extra space that we have here has allowed us to continue to expand the display."
While the family has never actually counted the number of bulbs, there are well over 100 lighted displays, so Lauren estimates there are likely well over 100,000 LED bulbs. Depending on weather, it takes about a week to 10 days for the family to set everything up each year. Lights go on every evening from 5 to 10 p.m. starting on Thanksgiving and ending Christmas Eve with a grand finale featuring Santa, his elves and sometimes a special guest, like the Grinch.
One might think the lighting bill for all these blazing bulbs would be astronomical, but that's not the case.
"The displays that we use are 100 percent LED lights which, besides their bright and colorful appearance, are extremely energy efficient," Lauren said. "Over the Christmas season, our light display uses roughly the same amount of energy as the typical hot water heater. In that respect, the lights do affect our power bill. On the other hand, we like to think of how they affect our neighbors. One touching moment recently, a neighbor with tears in her eyes thanked us for the happiness she found simply strolling through our display. That's the affect that counts."
Each year brings a little something new. There's an added path in the display this year that invites people to stroll through a lighted forest path adorned with hanging globes and whimsical forest creatures – including a peek-a-boo-playing moose. It is well worth getting out of the car and checking out.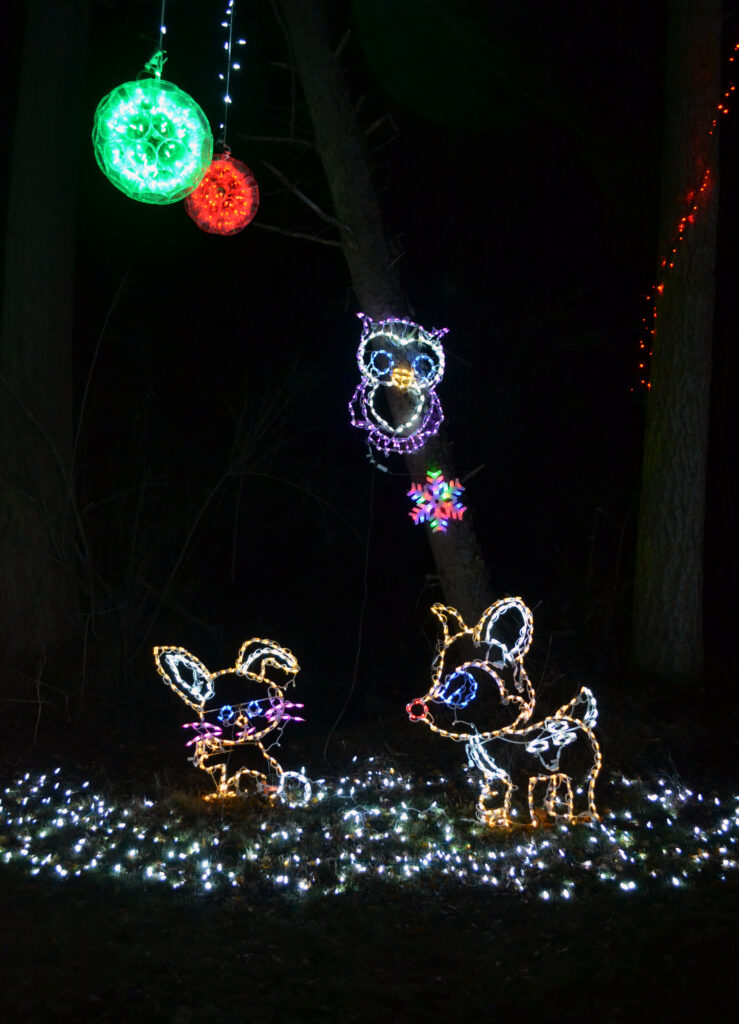 "We always try to keep it fresh. A little different," said Lauren. "This leads to growth every year, but we never 100 percent know how things are going to come out until we are out there getting it put together. This year we experimented with a small area for children (and adults) that they could enter and immerse themselves in the display. It's been well-received and will probably become a permanent offering."
Lauren said her mom, Debra, likes to think of their holiday light display as a gift to their neighbors, and based on its popularity, to the Whidbey community in general. It's a gift the family loves sharing.
"I'd like to thank everyone for their kindness. Each year, we receive more and more expressions of gratitude — some very personal," Lauren shared. "If you stop by and experience something that strikes a chord from your past or perhaps you find a momentary escape from the present, I can assure you that you are not alone."
There are plenty of light displays up and down Whidbey Island. While we don't have a map of prime central and south Whidbey locations at our disposal, we discovered one popular spot in Clinton that not only features lots of lights, but they are set to music.
The display by Jaimy and Tracy Brown is the third house on the right on Hinman Drive, in Clinton. Lights are on from about 4:30 to 9 p.m. each evening. The display features several handmade holiday figurines of characters like Mr. and Mrs. Claus and the Grinch, along with thousands of lights.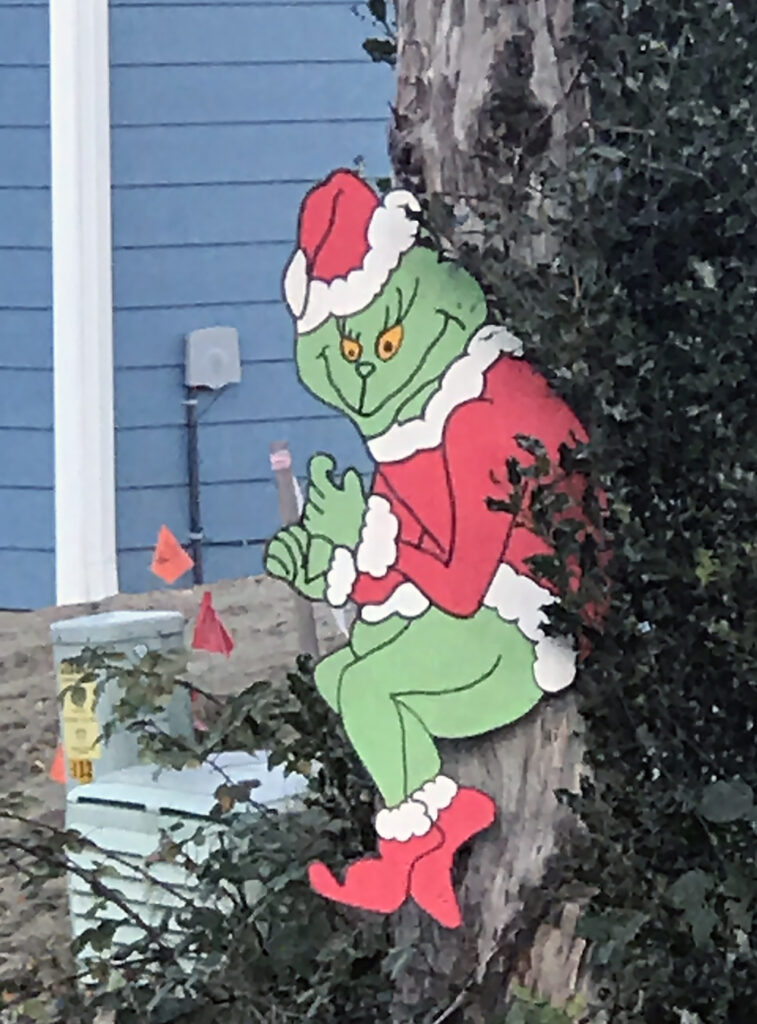 "Our display started eight years ago with a 20-foot, Seahawks-themed tree and has grown and evolved over the years," said Jaimy. "My husband, Tracy, started watching the 'Great Christmas Light Fight' and that's how it all began. Together we have made each of the figurines that are in the yard; they are all made out of plywood that we cut out and painted. Our display has evolved from regular Christmas lights to LED and now we have added RGB smart pixel lights."
Music has been a fairly recent development for the Browns. The first several years there was no music at all, then they played music through their stereo speakers which were placed on their deck. Now the lights are set in time to the music, which is being broadcast via radio.
"This year we have it set up to a radio station, 88.7," said Jaimy. "There are currently 14 songs which last about 40 minutes; there is a little country, some rock and good old fashioned Christmas music."
Jaimy told Whidbey Weekly they were still making final adjustments to the display last week, even after the lights were on, due to the added complexity of the music.
"It is very complicated to get the lights set to music and this year with the added RGB set up, it took a little longer because Tracy had to get the two different systems to talk," she explained. "The two systems we have are Light-O-Rama and RGB Smart Pixels. He has now maxed out his computer memory so we will probably have to purchase a new computer before next year's display."
Jaimy said her favorite part of all this is putting it together as a family.
"Our adult daughters as well as our two young grandsons help," she said. "Their help consists of stringing lights and running cords to picking songs, which is why not all the songs are Christmas."
No matter how you celebrate the season, there is still plenty of time to load everyone in the car, grab some hot chocolate to sip and explore the sights and sounds of the holidays, Whidbey-style. Drive carefully and enjoy the lights!