Polar plunge supports Island County 4-H youth projects
— Created December 28, 2022 by Melanie Hammons
By Melanie Hammons
Following last week's snow and ice, weather predictions calling for a colder than average season due to La Nina conditions may be on track. But that will not disrupt plans for the annual Polar Bear Dive scheduled for noon on New Year's Day at Double Bluff Beach in Freeland, according to Jon Gabelein, Island County 4-H Teen Leadership advisor of the event, which raises funds for the program.
"That hasn't slowed us down in the past," said Gabelein, founder and longtime supporter. "If anything, it won't be any colder than last year's, which I think was the coldest one yet. This one will actually be easier, I think."
He should know, having participated in numerous Polar dives over the years. That said, there are a couple of changes in store for the upcoming dive. The biggest one is that the registration fee has actually been lowered; it now costs only $10 to participate. Another is that while the $10 fee won't include the customary T-shirt, participants may still order their own Polar Bear Dive-themed apparel online. Plus, the $10 registration still includes "coffee, cocoa, cookies, bonfires, music, and a downright festive event," according to the South Whidbey Parks and Recreation website.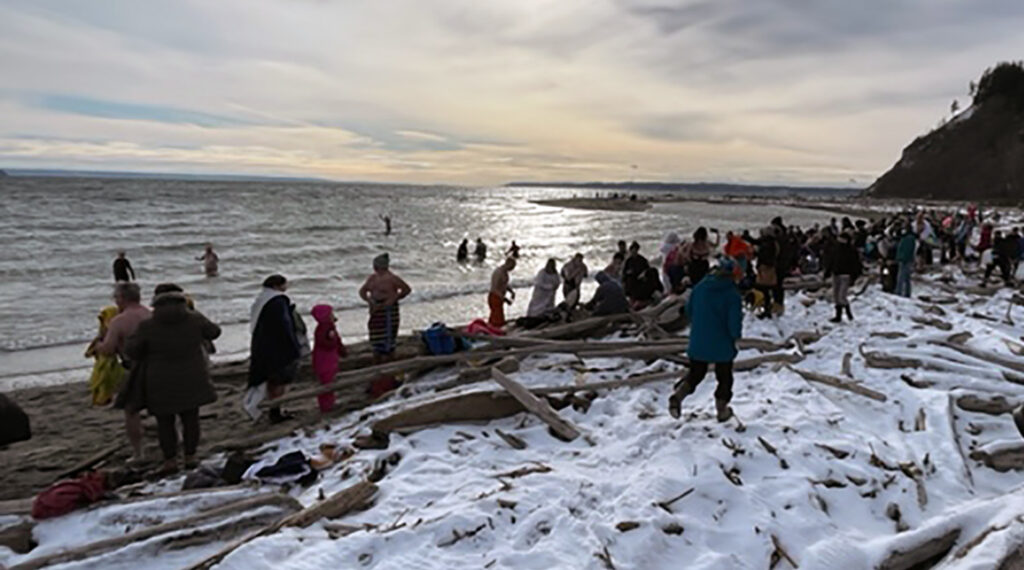 Gabelein explained why its leadership and South Whidbey Parks and Recreation, which hosts the dive, made those changes.
"Lowering the registration fee allows more folks to participate. And two, many people likely have a surplus of T-shirts from marathons, fun runs, etc. Teaming up with Savage Screen Printing gives people the flexibility to order something besides 'just a T-shirt.'
"There will be a ton of different apparel choices available, Gabelein continued, adding he is planning to go for a Whidbey Island Polar Bear Dive beanie, himself. "Want a hoodie, or a long-sleeved T, or a beanie? The choice is yours."
Skye Dunn, South Whidbey Parks and Recreation supervisor, said they likewise found the previous T-shirt option too limiting.
"People like choices, and this way, they can pick and choose what they want," he said
Even more important, Dunn said, was their desire to see the bulk of monies raised go for the 4-H Teen Leadership Program activities and mission.
"Costs, including the money paid for T-shirts, have gone up just like everything else," he said. "We believe this approach ensures that the funds go directly to them (Teen Leadership.)"
The mission and activities sponsored by Island County's Teen Leadership Program encompass far more than people may be aware of, Gabelein said. The focus is just as much urban as rural.
"It's a lot more than 'cows, plows, and chicks,' though all that is equally important too," he said. "We focus on a range of activities that benefit youth. There's archery, web design, public speaking, photography."
Going beyond the subject matter of those pursuits are the lessons that young people learn in the process.
"Through these activities they pick up leadership skills. They take on responsibility and learn the art of management. It involves much more than just doing group activities; we encourage them to organize and host these events too. Our aim is to teach them life skills," said Gabelein.
The life skills imparted also make room for positive social activities, something Gabelein said was greatly missed during the social isolation forced by the COVID pandemic. These include craft nights at Blue Fox Drive-In, board game nights and "rock painting parties, where we supply them with paints, brushes, everything," he said. They also encompass community service opportunities such as litter pickup and similar outreaches that enable them to have "tons of fun, while serving the greater community in tons of different ways," he said.
Cristina McGrath, a local teen involved in the Teen Leadership Program, mentioned a few of her favorite pastimes, and why they have meant so much to her.
"This 4-H Teen Leadership group is all about serving the community through hosting free events and fun activities for everyone to enjoy at no expense to them," she said. "It is about people coming together to enjoy a day with family and friends. In the past, we have hosted pizza parties and a bingo night with prizes, free food, and fun. Also, we have put up orange ribbons throughout Coupeville to support research efforts combatting leukemia.
"These are just some of the many events and activities we have put together to benefit the community," McGrath continued. "They are not only fun, but provide our team with valuable as well as memorable experiences. During events, we are able to see smiles on people's faces, and engagement from those who attended.
McGrath said the Polar Bear Dive helps the group pay for all expenses for activities throughout the remainder of the year.
"By the entry fees and generous donations every January 1st from the Polar Bear Dive, the 4-H Teen Leadership Team is able to host more fun, free events and activities for the community to come to with family and friends," she said.
Incidentally, McGrath said if she decides to order some Polar Bear Dive gear, she will probably choose "a crewneck shirt."
All involved agree that while snow can be measured in inches, and cold temperatures in degrees, but the benefits associated with Island County's 4-H Teen Leadership program are immeasurable. Gabelein encourages anyone interested in the 4-H Teen Leadership Program to contact them at teenleadershipic@gmail.com.
"4-H is a year-round thing," he said. "If they miss the dive itself, come on out and join us for the other things during the year."
The Polar Bear Dive takes place Sunday at Double Bluff Beach, 6325 Double Bluff Road, Freeland. Cost to participate is $10. Registration/check-in opens at 10:30 a.m. and the dive is at 12 p.m. sharp. Swimming is at your own risk; no lifeguards will be present. For more information, see the website at swparks.org.
Navy offers New Year's Day plunge
Naval Air Station Whidbey Island will host a Polar Plunge and Resolution Run at the Rocky Point Recreation Area on New Year's Day for those eligible.
The plunge begins at 10:30 a.m., but those interested can choose to warm up with the 1.5-mile Resolution Run starting at 10 a.m. The first 150 participants will be rewarded with their choice of a beanie or roll-up blanket.
Register through Fleet and Family Resources at myffr.navyaims.com/nw.html  or call 360-257-2420 or 360-257-2432 for information.