New OHHS club focuses on homelessness
— Created February 1, 2023 by Kathy Reed
By Kathy Reed
A new club at Oak Harbor High School aims to put the fun in philanthropy.
"No Strangers – Wildcat Philanthropy" is a newly-formed group at the high school which plans to focus on helping the homeless in our community.
No Strangers is the brainchild of Calum Mannion and Connor Cash, both 16 and sophomores at OHHS. The two have known each other since 2011, when they met playing baseball for the Little League team, the Mudcats. The young men, who answered questions emailed to them by Whidbey Weekly jointly, are still involved in athletics, including varsity football, baseball, basketball, swimming and tennis, and say they are so far enjoying a "typical" high school experience, "hanging out with friends, blasting music, skiing and more."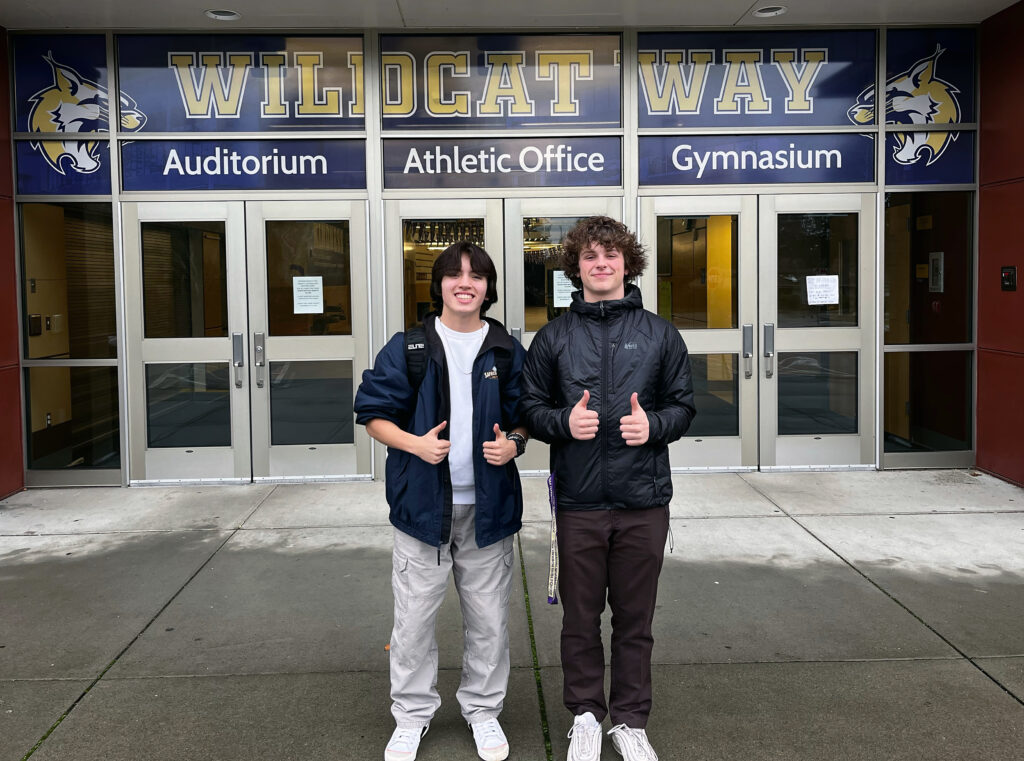 Their good sportsmanship and apparent team-building strengths have now taken them in a direction that may not be at all typical for high schoolers. The two have collaborated to put together a team of their peers interested in making a real difference in their community. No Stranger's focus on homelessness was spurred on by questions to which they hope to find answers.
"Homelessness is evident everywhere, it seems," Mannion and Cash said. "Our parks, the woods, behind our businesses, especially driving into Seattle and seeing all the tents, trash, etc. How did this happen? Why? Is it the high cost of living or mental health? Post-pandemic consequence or illicit drugs? Poverty and domestic violence or the lack of affordable housing? We don't know these answers either, but we want to do our best to make a positive difference."
The two said compassion and service are two key factors that contribute to what No Strangers is all about.
"The vision of No Strangers will be to give compassionate, motivated students the opportunity to explore and tackle this problem hands on, by networking for resources, collaborating with professionals, and helping to participate in a meaningful community service activity," they said.
Both young men said they are following examples set by their families.
"My grandparents are well known in central Florida for their food ministry and dedicated work for the homeless," said Mannion. "This trait seems to have been passed on to me. One example I can share is that while on vacation with my parents in Nepal, I independently handed out school supplies and lollipops to the needy children near Kathmandu."
"I have always wanted to make a difference within our community and after hearing about the climbing rates of homeless deaths in the Pacific Northwest and being surrounded by people without a roof over their head, Calum and I have decided that this is how we want to leave our mark," Cash said.
The young men said they have the support of leaders within the OHHS class of 2025, which they hope will translate into new members who can make a positive impact in more ways than one.
"Our high school students are a fantastic resource for local businesses, governments, and the faith community to partner with, so the students can learn early on how to solve active problems best, by actually working on them, outside the classroom," they said. "No Strangers will hopefully show the capacity, potential, and youthful energy to be freshly creative, utilize modern technology skills, and exercise learned leadership skills, and to be empowered to utilize these skills to tackle actual problems in our community. These lessons learned will contribute to all areas of the students' lives both during and after high school."
The two are looking beyond just getting No Strangers started. They said they hope the group will establish some "best practice" policies that can be passed on to future group members and high school leaders.
There is also a GoFundMe page, as Mannion and Cash said they don't want a lack of resources to keep them from "doing good." As of Monday, they had raised just over half of their $1,000 goal.
"We recently started a GoFundMe fund charity fundraiser to rally initial support and encourage more people to give," Mannion and Cash said. "Even a $5 dollar donation can make an impactful difference.
"We also have recently partnered with Ryan's House for Youth, well known on our island for their assistance and outreach to young adults experiencing homelessness," they continued. "We donated handmade ham and cheese sandwiches, fruit, bottled water and hand warmers to begin our club's journey."
The club is now actively seeking other like-minded students to join Mannion and Cash in "doing good things."
"Together, we will look for better answers," they said. "[We] realize we are not perfect, but privileged, and unafraid to fail; that we are a team of individuals with a shared experience to help our community. Together, we will gain better insight, better uncover our individual leadership potential, and perhaps discover a new passion we didn't know we had! Together, we will create a working atmosphere that is respectful to differences, encourages everyone's voice, supports teamwork and progress, and we will always be good stewards to the generosity of resources and trust donated by our community."
Anyone interested in learning more or supporting No Strangers-Wildcat Philanthropy can contact Mannion at 360-499-4793 or Cash at 360-632-9601. Those interested in making a donation can go to www.gofundme.com/f/no-strangers-wc- philantropy?qid=df434a705ee199bfa70c23cf5cb24126.  All donations will be used to purchase food, clothes and other necessities.