Whidbey Playhouse invites you to go "Barefoot"
— Created February 1, 2023 by Kathy Reed
By Kathy Reed
Theater lovers of all ages will enjoy the latest production offered by Whidbey Playhouse in Oak Harbor. The Neil Simon classic, "Barefoot in the Park," opens Friday at the community theater and will run through Sunday, Feb. 19.
The Playhouse production is directed by Dave Frazer, with Connor Magnoli and Karina Andrew playing Paul and Corie Bratter, Shaelyn Christie plays Corie's mother, Ethel Banks, and Steve DeHaven plays the colorful upstairs neighbor, Victor Velasco. Chris Kehoe, as telephone repairman Harry Pepper, and Lachlan Waterbury as the delivery man, round out the small cast.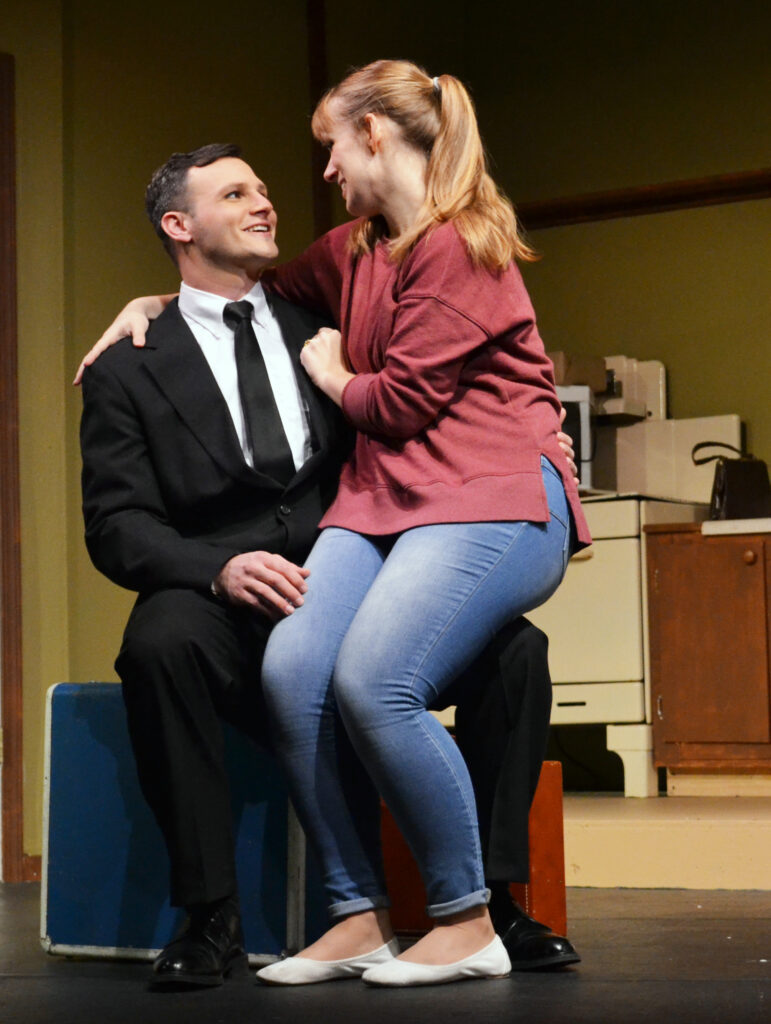 The romantic comedy was Simon's longest-running Broadway hit, premiering in 1963. (It was made into a film in 1967, starring Robert Redford and Jane Fonda.) The story centers on newlyweds Paul and Corie. Paul is a lawyer just beginning his career. Corie is more of a free spirit, who has selected the couple's first apartment, a small space on the fifth floor of a New York brownstone – the sixth floor if one counts the steps of the stoop, which most folks do.
The Playhouse production has stayed true to the original time period, which is a fun throwback for those old enough to remember the 60s and a quirky, somewhat old-fashioned time for those of younger generations. But, as with most Neil Simon works, the emphasis isn't on the time period – it's on the characters and their relationships.
"Neil Simon plays are filled with zany characters who approach everyday issues with unintentional comedic flair," said Frazer. "Like most plays, conflict allows for development of character and Corie and Paul are presented as personality opposites. She approaches life full of fun and adventure, while Paul only sees what's wrong with the apartment. He thinks she is too frivolous, while she thinks he is a stick-in-the-mud who doesn't know how to have fun."
The play is well cast and the actors – who have an extreme amount of dialog to remember – do an excellent job of making their characters believable and real. One can feel the exuberance and excitement of a young couple in love, just settling into their first home, and one can easily read the signs of frustration as the two begin quickly learning about the realities of marriage.
Frazer said the actors do a great job of making the emotions "big."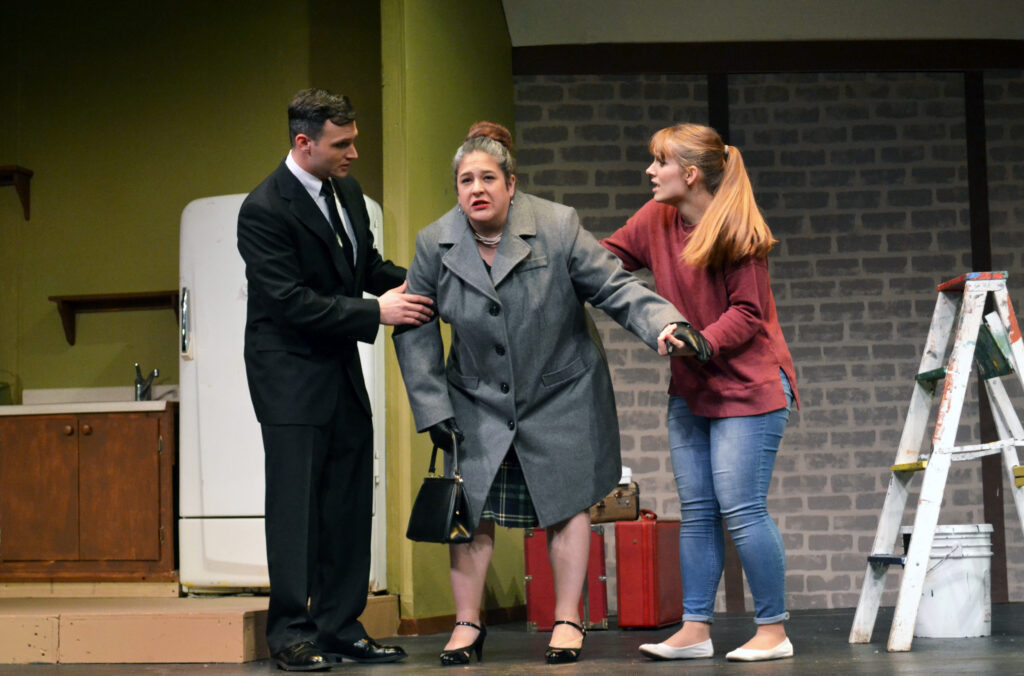 "Simon writes juxtapositions of emotions into 'Barefoot' that we have tried to exploit to the fullest," he explained. "This is developed most evidently in Act 2 Scene 2, when Paul and Corie are having the fight. One of them is always ramped up while the other is much calmer. Simon flip flops these emotions so that they are rarely on the same emotional level."
"Corie is optimistic and spontaneous, as well as a chronic people pleaser, who feels all her feelings in a big way," said Andrew of her character. "All of this sometimes works to her benefit — like helping her to see the best in her disaster of an apartment — but sometimes it causes her to steamroll right over other people's needs and feelings.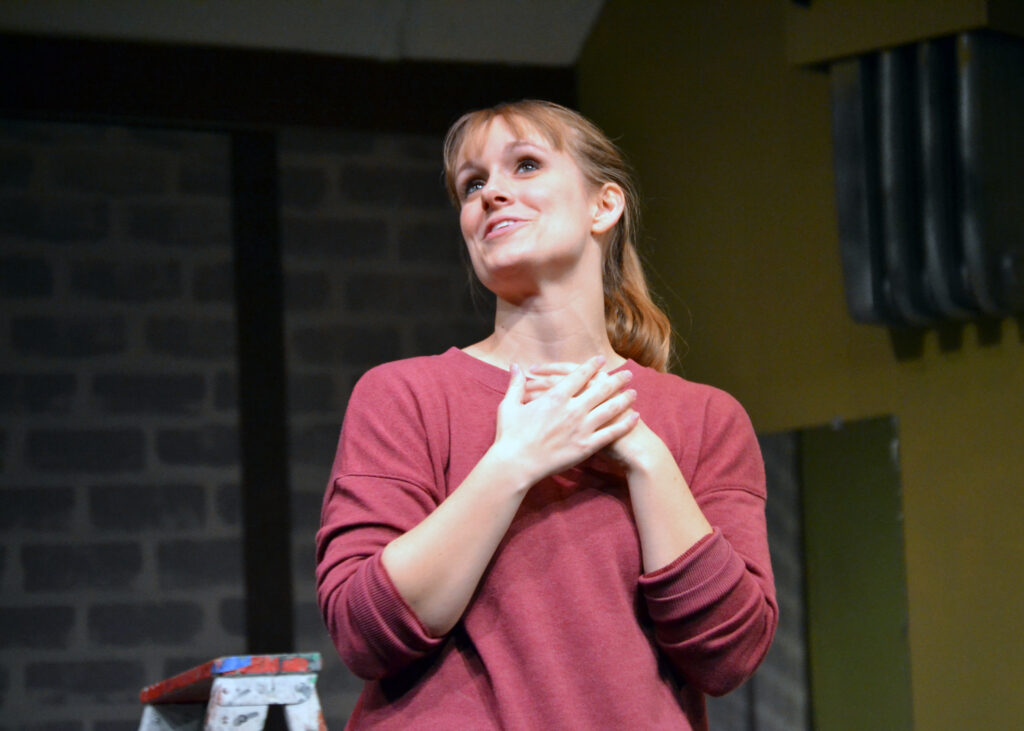 "It would be easy for Corie to come across as a silly girl who just needs to grow up, but as I've considered Corie's arc as a whole, I've tried to portray her for who I think she is — a resourceful and determined woman who grows to recognize and appreciate the depth and validity of others' feelings, even when they're different from her own," she continued.
"Paul is a lawyer fresh out of law school and just starting his first days at his new law firm in New York," Magnoli described. "He is young, ambitious, and is trying to have that proper and conservative attitude that he believes all lawyers should have.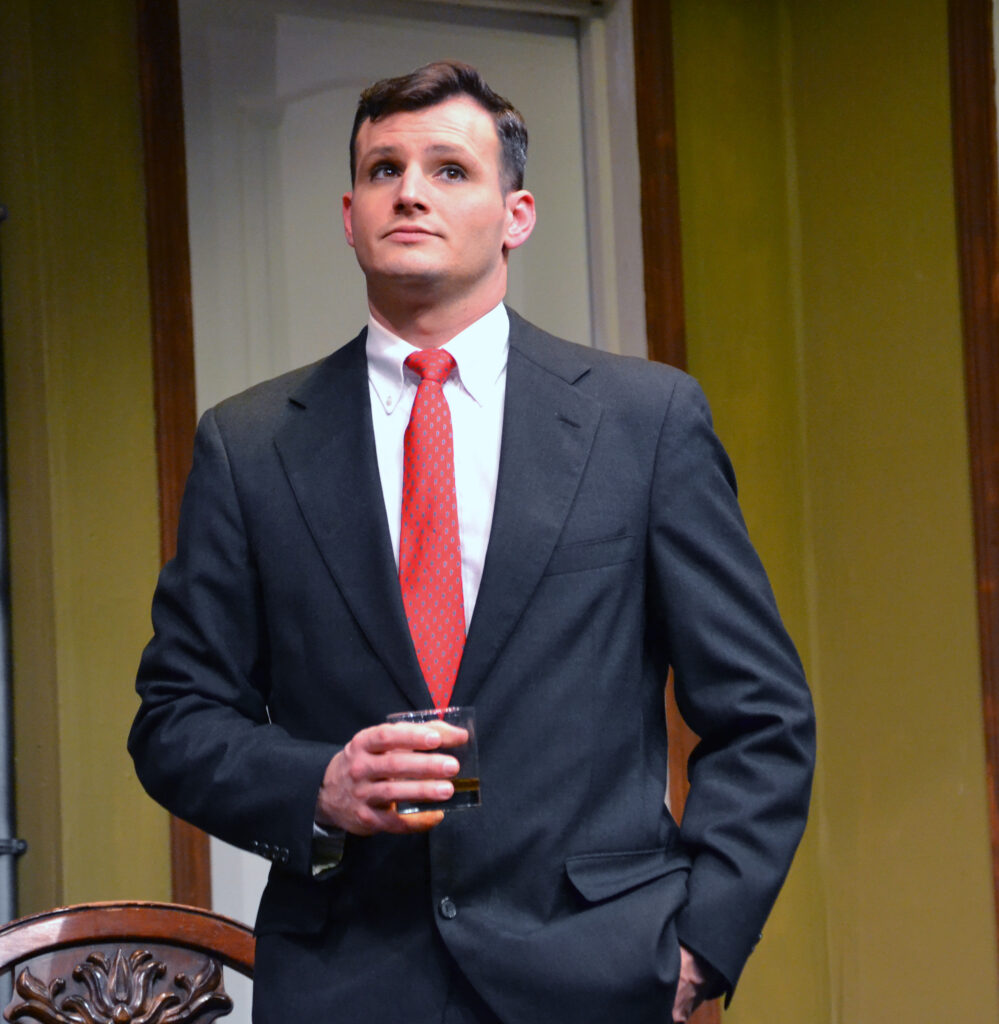 "Funnily enough, according to my [in real life] wife, I do not need to do much 'acting' for this character," he continued. "I naturally like order and routine in my day-to-day life and tend to get flustered when the plan goes inevitably awry. So as the rehearsals have progressed, I have worked really hard on bringing out Paul's frustration and exasperation with the world when it does not go exactly as he planned."
DeHaven, who is making his first appearance on the Whidbey Playhouse stage, said he thought he could have some fun with his character.
"Victor Velasco starts out as something of a freewheeling vagabond," he said. "By the end of the play, though, he may have found a reason to settle down to a quieter lifestyle. I think early on in rehearsals, I saw him as having the same carefree attitude about everyone and everything, but as I've progressed along with the rest of the cast, I've found that he has quite different relationships with all three of the main characters."
Christie, who in real life is a mom to three young children, said that experience proved helpful when developing her character.
"Corie's mom, Ethel, is having a hard time letting go of her daughter, who's just gotten married," she described. "She talks about how she's now living alone, all the way out in New Jersey. She's having a hard time with the fact Corie has left, and now she has no one else at home. It's a hard adjustment. I don't even like to think of my kids growing up just yet because the thought of them leaving is hard. I felt that came in handy, especially when Ethel is comforting Corie."
While the play does have conflict of varying degrees between all the characters, cast and crew said it has been one of the most fun productions with which they've been involved.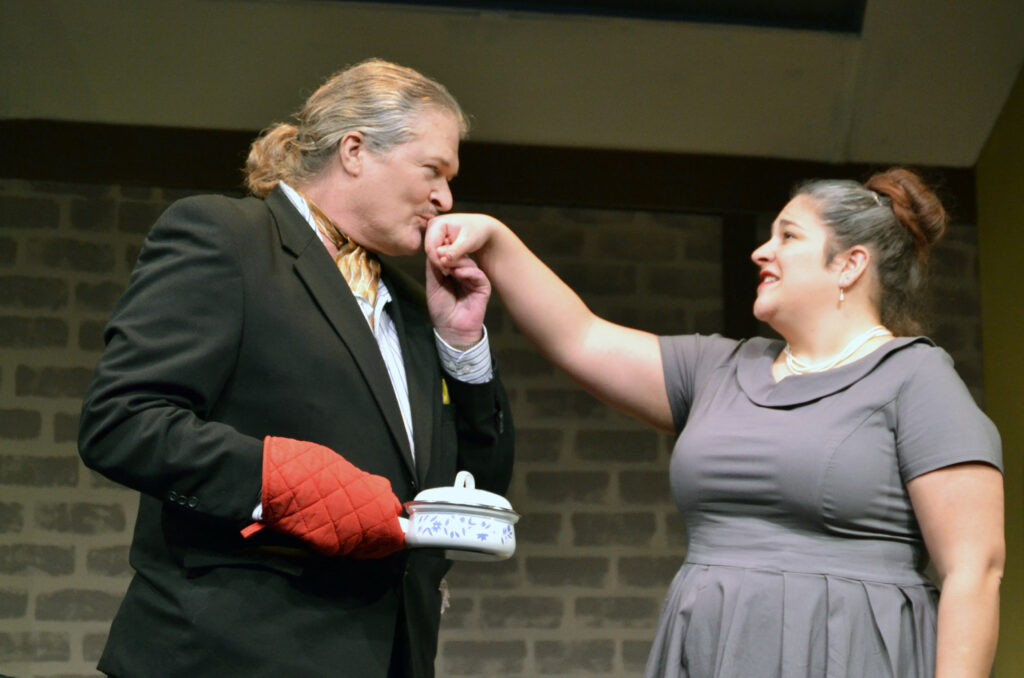 "Each rehearsal brought many laughs as the actors developed their characters and became increasingly comfortable with working with each other," said Frazer. "As a director, I feel that I have been truly blessed to work with this group."
"I think we've all found it entertaining and funny," Christie said. "When Corie and Paul are fighting there are some angry, passionate moments. It's funny at the same time as it's being a pivotal point in their relationship."
"I hope audiences laugh as much during the performances as we did during the rehearsals," Andrew said. "The show, and my fellow cast members, are hilarious—there are so many lines I can barely get through without laughing. If audience members pay close attention, I bet they'll notice me trying not to smile in a few places!"
"I like the scene where my character meets Corie," DeHaven said. "There's some fun tension there, and of course some humorous release of that tension. I also like my final scene, where I get to interact more seriously with Corie's mother Ethel. But really, I like all the scenes my character is in, because he's the one who's having the most fun for most of the time he's on stage."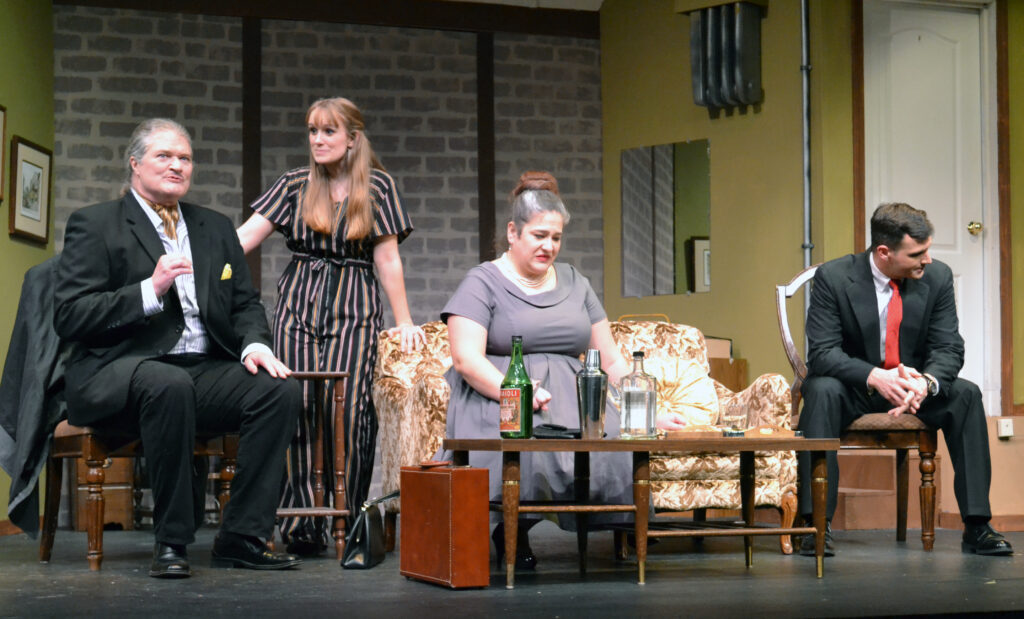 Tickets to "Barefoot in the Park" are $25. Performances are Fridays and Saturdays at 7:30 p.m. with matinees on Sundays at 2:30 p.m. through Feb. 19. An additional matinee performance will be offered Saturday, Feb. 11. Go to whidbeyplayhouse.com for information and to purchase tickets.
"All relationships, whether marital or friendship, usually have some conflict involved," Frazer said. "Simon's characters are just normal people who may take conflict to higher heights than most of us, and yet if you look closely, you might just see a bit of yourself in those characters on stage."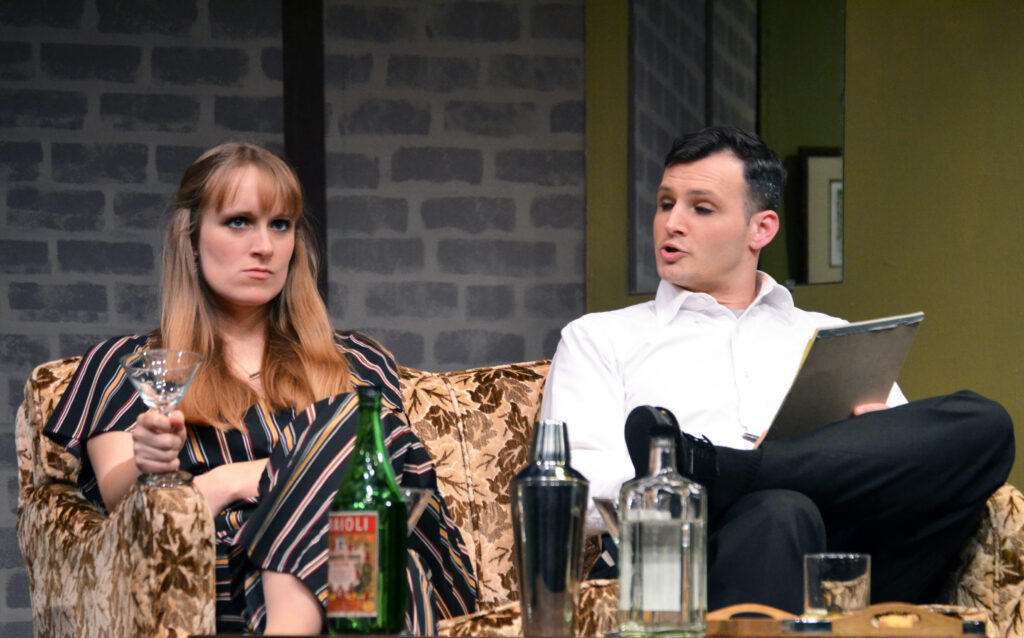 "I hope audiences enjoy what Neil Simon was all about – fast, zippy humor during times of emotional conflict," Magnoli said. "I can't tell you how hard it is to be furious while trying not to laugh hysterically on stage. Luckily all the audience has to do is sit back and enjoy!"