WICA prepares to share the mystery of "The Woman in Black"
— Created February 8, 2023 by Kathy Reed
By Kathy Reed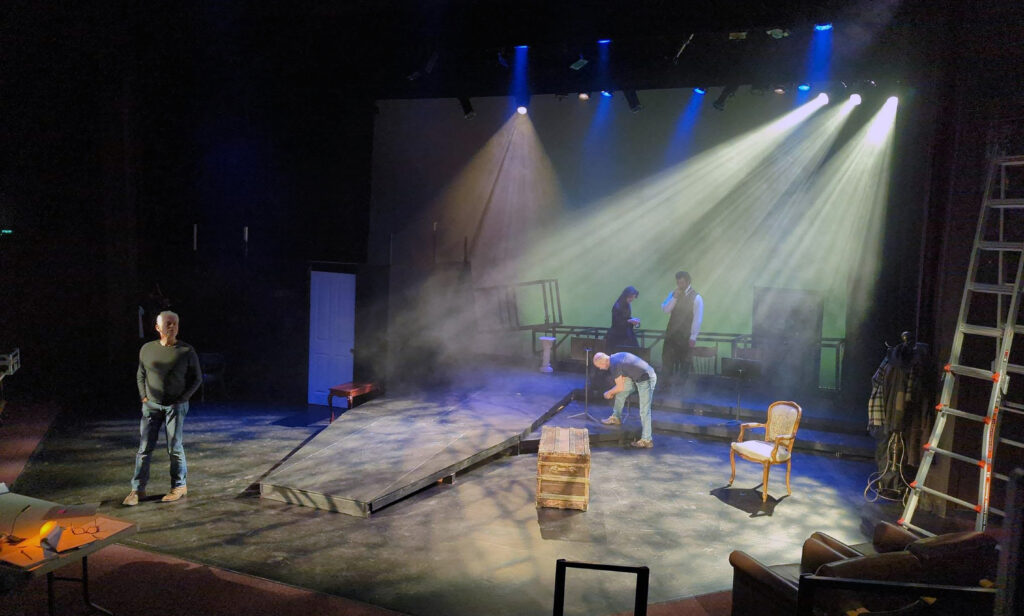 There's nothing like a good mystery and Whidbey Island Center for the Arts in Langley is getting ready to share some haunting moments on stage with its production of "The Woman in Black," opening Friday, Feb. 17 and running through Feb. 25.
Based on the 1983 novel by Susan Hill, "The Woman in Black" tells the story of a small English town haunted by a woman in black. It was adapted for the stage by Stephen Mallatratt and has played on London's West End for more than 30 years. The original book has also been adapted for small- and large-screen movies, but it is the stage play that has endured.
"The Woman in Black," which has been described as a gothic horror story, is directed for WICA by David Mayer and features actors Robert Hall, Ethan Berkley, Jacq Babb and Grace Webb. It has also been timed to coincide with Langley's Murder Mystery Weekend, which falls later this month.
"As a Victorian Gothic thriller, we thought it would be a great deal of fun for all the adventurous souls who are playing the Langley Murder Mystery weekend," said Deana Duncan, WICA's executive artistic director. "The beauty of 'The Woman in Black' is that at its core this is a story of the haunting of one man. How one major scare in our life can live with us forever. It's psychological, fun, thought provoking, eerie and beautiful."
"We looked at multiple mysteries but landed on this ghostly work, as it had much more meat on its bones than most," said Mayer. "It boasts incredibly lush imagery and an emotional story that truly cares about its characters. I also relish the challenge of scaring an audience in live theater. I believe it requires a multi-faceted effort in subtlety and tension. And this play opens its doors to just that."
For the most, part Mayer said his interpretation of the play follows the playwright's original script. But it has been a challenging production to stage.
"This play tightly grips Gothic Victorian romanticism. I wanted to give audiences as much of that as I could without making that transform the story," he described. "That's not where the 'wow' factor should be. So the special effects here are curated to keep the experience feeling older, and in a way, more plausible.
"The ties of lights, sound and choreography are many and crucial," Mayer continued. "The sound itself becomes its own character in a way, but it cannot take the audience out of the story. And the story involves a play within a play. So, I walk a tightrope of abstraction and realism. This may be the biggest difference in director visualization when putting on 'The Woman in Black.' The play has been mounted with intricate sets and props and with practically nothing at all. I hope what the designers and I have chosen will pull audiences in and make them feel a part of it."
Duncan said the addition of a new haze machine to amp up the atmosphere, lends a soft, misty fog-like impression to the look of the stage.
"That, combined with stark, dark, and highly saturated light as well as the elevated classic speech, made me feel like I was watching a BBC mystery being filmed," she said of a recent rehearsal. "It was entrancing."
As community theaters everywhere continue to recover from the pandemic, Duncan said that has meant choosing projects with smaller casts and working with a smaller crew in general.
"We have a smaller team of staff and volunteers and putting on these shows requires an extraordinary amount of time and dedication," she said. "We are still choosing smaller shows in order to actually be able to do them."
But a small cast doesn't mean it's a small story or small production. One actor portrays several characters as he shares the story of "The Woman in Black." Mayer said he has been thrilled with how the actors have pulled the story together.
"Certain roles have a humongous line load," he said. "Another requires intense physical discipline to tell their story in movement and in stillness. Each has taken ownership of this great responsibility with stunning brilliance."
Robert Hall, the actor who plays multiple characters, said "The Woman in Black" is a great story that is beautifully written. He shared a bit about what he considers as he approaches a role like this one.
"I start with the script," he said. "What's the situation the person is in? Where are they? What kind of relationships are involved? What have they been through and where are they going? What do they want? I also take a good look at their language, what words they choose. There's a rhythm there in their words and sentences. And I always try to stay open to the other actors and what I'm getting from them, the director, the set, the costumes, etc."
As an actor himself, Mayer said playing multiple characters is a gargantuan task for an actor, one that Hall has handled well.
"Not only must he differentiate [between characters] but [stay] within the trappings of his over-arching character, the man whose story simply must be told and is not confident he's the person for the job," Mayer described. "Robert worked with a dialect coach, and there are slight clothing changes for each character. But it largely falls on his shoulders to carry the audience through, evoking backstory and intent in little time, and he succeeds mightily."
"The Woman in Black" opens Friday, Feb. 17. Performances are at 7:30 p.m. Fridays and Saturdays. There will be a matinee performance at 2 p.m. Sunday, Feb. 19, and two pay-what-you-will performances on Thursday, Feb. 16 and 23. WICA Star tickets for evening shows are $45, standard tickets are $30. Matinee performances are $35 for a WICA Star ticket and $25 for a standard ticket. Go to wicaonline.org for information and to purchase tickets.
"WICA is dedicated to creating powerful shared spaces and this play speaks directly to that mission," Duncan said. "To sit in this little gem of a theater space and enjoy a fun and spooky ghost story together motivates all the work and choices."
"Who doesn't like a mystery? Add to that the trappings of old England for yum-factor," Mayer said. "But rather than just being shown a diorama, what if you're there, living it? The story provides very relatable situations of people faced with loss. What if those demons become real? And what hand do we play in that? I think audiences will have fun and still leave the theater with something meaningful."