Oak Harbor grad brings home an Emmy
— Created February 22, 2023 by Kathy Reed
By Kathy Reed
A graduate of Oak Harbor High School has won an Emmy Award and credits his time volunteering at the Whidbey Playhouse as a key step on his road to success.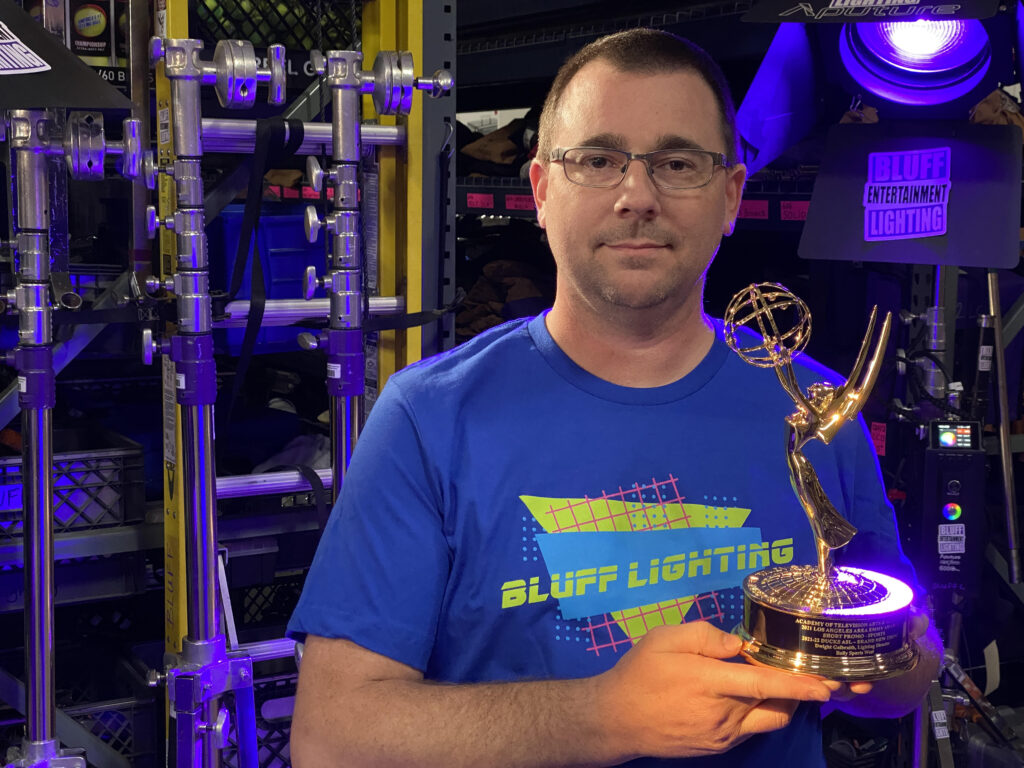 Andrew Galbraith, who graduated from OHHS in 1999, was the lighting director for the creative team producing a sports promo for the Anaheim Ducks hockey team's 2021-2022 season. In his role as the lighting director, he was responsible for making the director's vision come to life, through collaboration with the camera director. The promo was filmed in the Ducks' practice facility in Irvine, Calif., and included 10 hours of setup at the location, 12 hours of filming and four hours of packing all the equipment up again.
"I was in charge of three different crews between set up crew, production crew, and tear down crew," Galbraith told Whidbey Weekly via email. "The spot was used in the arena during their games to introduce players and hype the crowd, along with introducing players on the broadcast feeds on the house televisions.
"It feels good to have my creative team recognized, as this project was overnight, long, cold and fun," he continued. "I have put in years of practice, so it was not an overnight victory for me or the team."
Following high school, Galbraith said he was a volunteer firefighter and EMT for North Whidbey Fire and Rescue and also worked on the ambulance for then-Whidbey General (now WhidbeyHealth Medical Center). He went on to get his bachelor's degree in theatrical lighting and lighting design from Washington State University, then earned his master's degree in cinematography from Chapman University.
Today, Galbraith and his sister, Elizabeth (also an OHHS graduate and a graduate of Pacific Lutheran and Chapman Universities) started Bluff Entertainment Lighting, a lighting and grip rental business which provides equipment for television commercials, documentaries and feature films.
Galbraith, who grew up on Whidbey Island, said he credits his time volunteering at the Whidbey Playhouse under the supervision of longtime volunteer and technical guru, Jim Riney, for sparking his interest in lighting for stage and screen. Riney led a Theater Explorer Post at the Playhouse in the 90s, in which Galbraith participated.
"I got interested in the theater because I was hanging out at the theater while my sister, Elizabeth, was there doing rehearsals for plays," he described. "Jim Riney saw me there and introduced me to stage lighting and got me involved in helping him hang lights and also design shows. I spent hundreds of hours at the Playhouse working on lighting, designing and helping Jim film things around town, including local commercials."
Preparing for shows by installing set walls and pieces and learning how it all interacted with lighting is what he found most interesting.
"It is still true today as I design lighting set ups and looks for shows I work on now, such as the sports promo that won an Emmy," Galbraith said.
"Andrew was willing to climb ladders and actively participate in everything we got ourselves into, including videotaping community events with the Explorer Post," recalled Riney. "Setting lights and running sound always excited him, and that's pretty rare for us to find in volunteers – young or old. His talents and skills were evident at an early age, and I could rely on his abilities to get stuff done. I always enjoyed, and still do, talking tech with him!"
As indicated, the two men have kept in touch over the years, and Galbraith and his sister, Elizabeth, often stop by the Playhouse when they are in town visiting.
"It's nice to know when you have a positive influence on people at an early age, and that you know your involvement made a difference in their life," said Riney.
Galbraith said he is excited about upcoming projects their company is working on, including some new documentaries, as well as rentals for various shows and commercials. But he said he will never forget his roots.
"I love what I do and I owe it all to the fire that was ignited inside me at the Whidbey Playhouse," said Galbraith.