Bigger, bolder, brinier – it's Musselfest 2023
— Created March 1, 2023 by Kathy Reed
By Kathy Reed
It's one of the tastiest tickets in town this weekend – Musselfest comes to Coupeville Saturday and Sunday, beginning at 10 a.m. each day.
This 36th annual celebration of the bold, briny and blue is packed with flavor and fun for the whole family and is back at full capacity this year.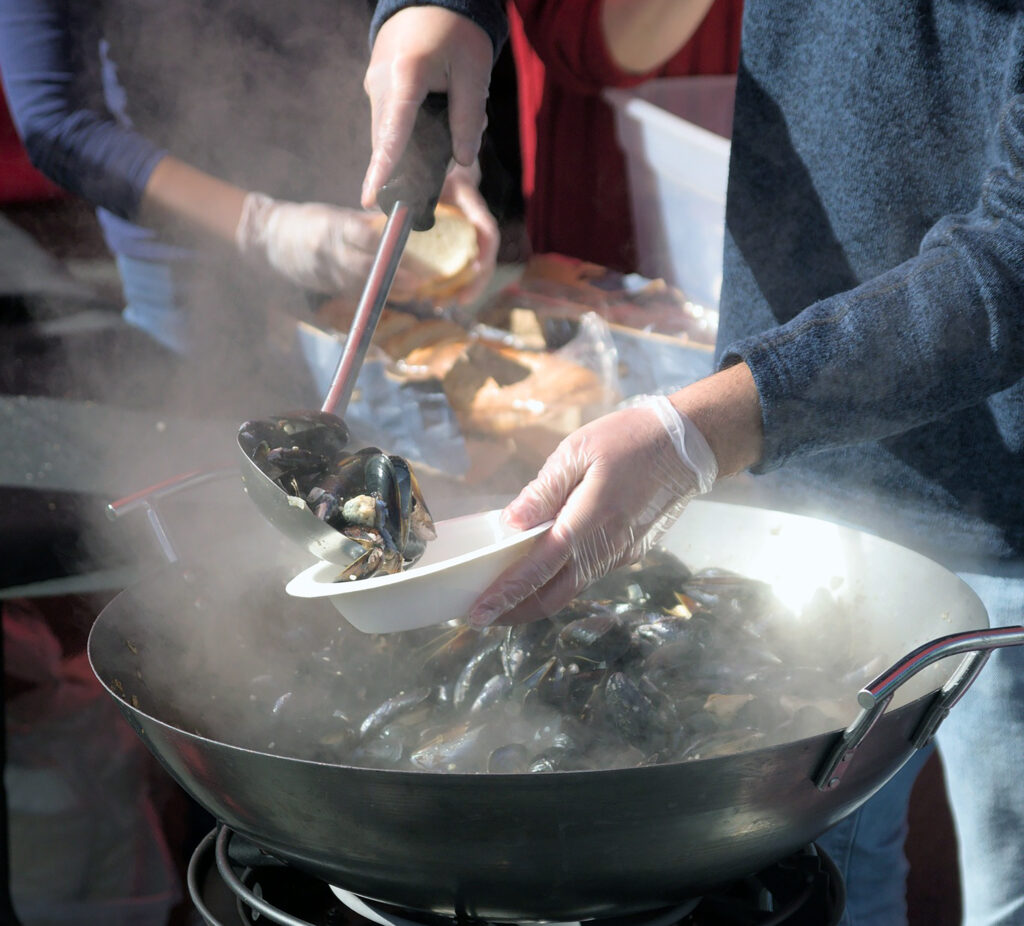 "Musselfest is not just back, it's bigger than it was before," said Felix Hall, who handles promotions for the Coupeville Historic Waterfront Association, which puts on Penn Cove Musselfest.
"We have more food vendors, there are new nonprofits participating, Island Shakespeare Festival is going to be here, we have shut down another street and we have lots of free activities," agreed Kellie Sites, co-chair of the organizing committee for the festival. "We have our merman, so that's new and also new this year is our Blue Zone, where we'll have a beer garden and live music. It's more of a family-friendly area that we hope will be a lot of fun for everybody."
It's important to note that all chowder tasting tickets are sold out, as are tickets to the Mussel Mingle Friday night. But there is no ticket needed for Musselfest itself and organizers say there is plenty for everyone to do and plenty of mussels and other food available for purchase.
"There's music, food, libations, kids' activities, chef demonstrations and you can get on a boat," said Jesse Levesque, executive director of Coupeville Historic Waterfront Association. "There's a new cidery on Front Street, so for the first time we'll have cider tastings and there really is so much more going on with this event."
As in years past, the Coupeville Rec Hall will serve as Musselfest headquarters and is the place to go for volunteer check-in, first aid and lost and found. Doors open at 10 a.m. Saturday and Sunday.
Those who have purchased chowder tasting tickets online can pick them up between 10 a.m. and 3 p.m. Saturday and Sunday. The will-call tent will be located on Alexander Street. Tasting tickets must be picked up on the day for which they have been purchased – in other words, Saturday tickets should be picked up Saturday, Sunday tickets should be picked up Sunday.
For those who are not satisfied with just tasting the world-famous Penn Cove mussels, the cooking demonstrations at the Rec Hall from 10 a.m. to 3 p.m. Saturday and Sunday will feature local and regional chefs who will share their secrets for cooking with mussels, and maybe even more.
"In the past, they've given out a copy of the recipe," said Amanda Martin, co-chair of the planning committee. "The chef demos are a really fun thing to do, and the word doesn't necessarily get out about how awesome it is."
Another once-a-year attraction at Musselfest are the boat tours of Penn Cove Shellfish's mussel farm.
"Musselfest is the only time you can take a tour out to the farms and it's fascinating," Martin said. "They've even invented their boats. You find out on the tours how unique they are. Just having a guided tour with people who do this every day provides so much interesting information."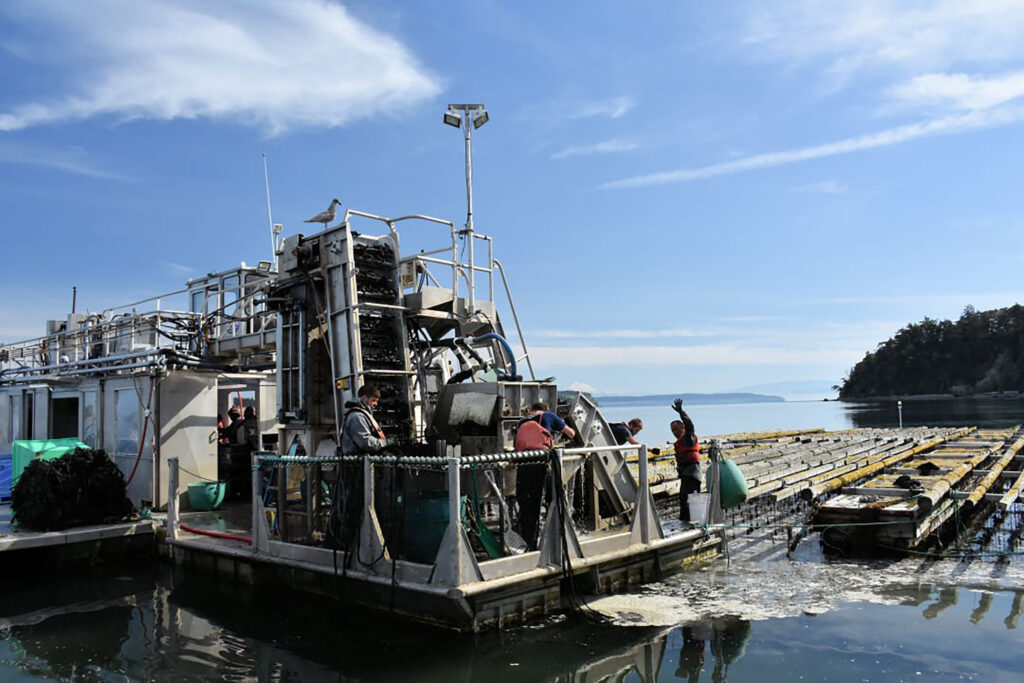 Tickets for the boat tours are $15 each and can be purchased online or in person at the boat booth on the corner of Front and Alexander Streets. One free youth ticket per family will be offered while supplies last and are available at the boat booth. Tours last 45 minutes and leave every 30 minutes, beginning at 10:30 a.m. Saturday and Sunday.
There are free children's activities from 11 a.m. to 3 p.m. Saturday and Sunday at the Whidbey Masonic Lodge (804 N Main St.). The whole family can visit with the mermaids on Coveland Street from 10 a.m. to 3 p.m. as well. Kids can also enjoy free fishing off the pier from noon to 2 p.m. each day to see what kind of treats and treasures they can reel in.
The Musselfest Blue Zone in the Coupeville Rec Hall parking lot will feature live music for all ages to enjoy from 11 a.m. to 7 p.m. Saturday and from 11 a.m. to 6 p.m. Sunday. There will also be a 21-and-older beer garden that will feature beer from Penn Cove Brewing Company, Flyers Restaurant and Brewery, cider from Greenbank Cidery and wine from Rain Shower Cellars.
The Penn Cove Shellfish beer tent is back on Saturday only this year for those over 21. Open from 11 a.m. to 7 p.m., guests can enjoy beer, wine, spicy mussels and live music. Mussels are served until 6 p.m.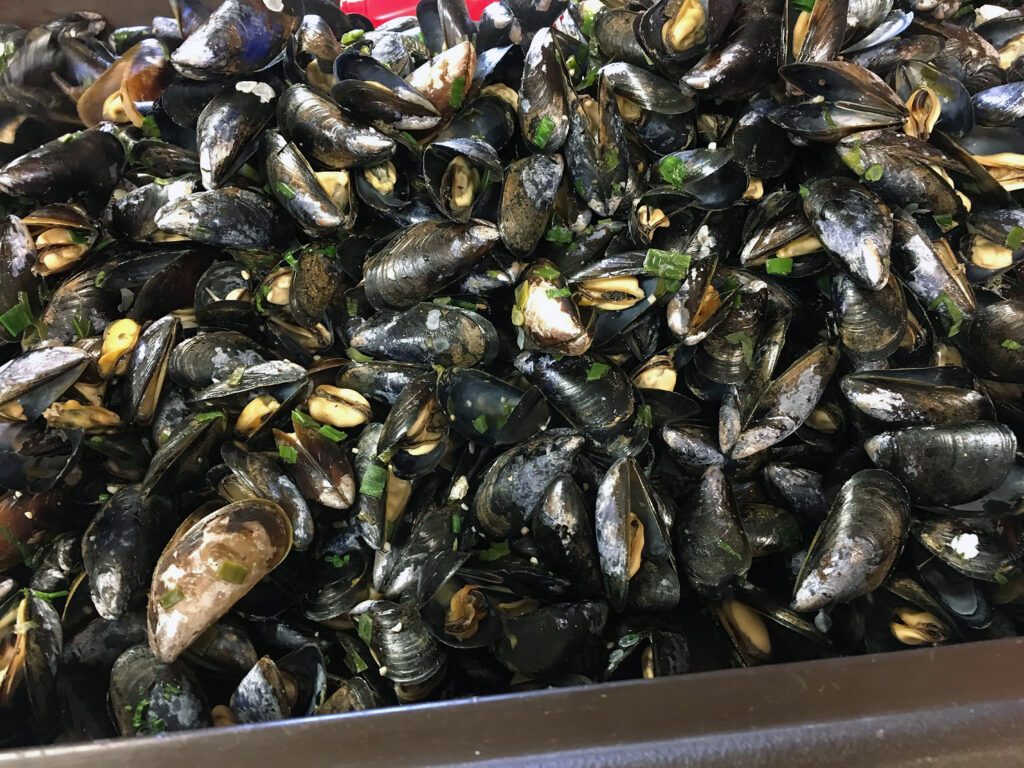 There are two chances to hear songs of the sea from the Shifty Sailors on Saturday only, starting at 1:15 p.m. and again at 3:15 p.m. There are also two chances to catch the mussel eating competition, which takes place at 3 p.m. Saturday and Sunday. Entry fee for the contest is $5 and those interested should sign up in the Blue Zone upon arrival, as spots fill quickly.
Another fun activity is the all-ages scavenger hunt taking place from 11 a.m. to 3 p.m. each day. Buckets are $10 each and are available at the Spirit of Cheer booster club booth on Front Street. All proceeds from the scavenger hunt benefit the cheerleading club at Coupeville High School.
Organizers say this event is sure to draw a crowd this weekend and ask that visitors leave their four-legged family members at home.
"Dogs are not allowed on the shuttles, the boats, or in either of the two beer gardens and they are not allowed in the Rec Hall unless they are a service dog," Sites noted. "We all love them, but please leave them at home this time."
For a complete list of participating restaurants, musical guests and activities, or to purchase boat tour tickets, visit penncovemusselfestival.com.
Organizers say this is a one-of-a-kind event that should not be missed.
"There is nothing else like Musselfest," said Hall, who grew up in Coupeville. "The only other one in the world might be in New Zealand. It's a great time of year to visit Coupeville, from a retail perspective it does inject money into the local economy, and it's fun."
"You don't have to like mussels to enjoy Musselfest," encouraged Sites. "There's all different kinds of food vendors, you can listen to music, do a boat tour. We are all privileged to be part of this amazing event."