Price Sculpture Forest augments reality
— Created March 1, 2023 by Kathy Reed
By Kathy Reed
The Price Sculpture Forest in Coupeville is boldly going where no museum, gallery or art exhibition has ever gone before. It has just launched a new AR exhibit of four sculptures. That is correct – AR, as in Augmented Reality.
Visitors to the sculpture forest now have the opportunity to see four sculptures that aren't physically there. This exhibit is the first of its kind in the world, and it's right here on Whidbey Island.
Using digital technology on our mobile phones and tablets, this augmented reality experience merges the real world with the digital world, making the sculptures appear in front of us.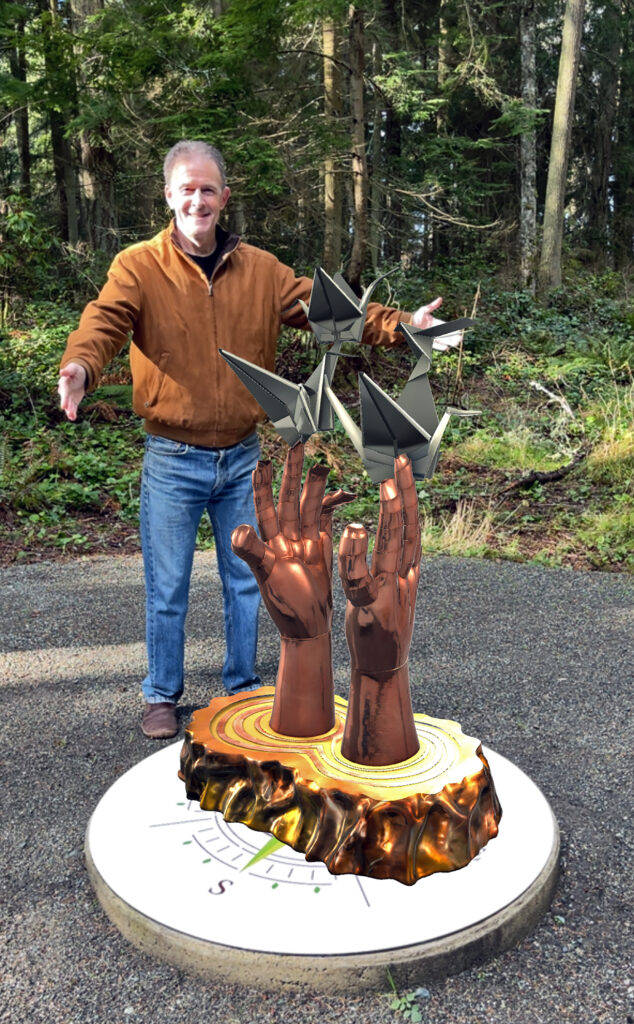 "Here, augmented reality refers to merging an interactive, 360-degree digital creation with a real-world setting around it," explained sculpture forest founder, Scott Price. "A real-world sculpture has been digitally transformed into augmented reality and will be placed onto a real-world sculpture pedestal within the real-world forest around it. Through the app, you will experience both the digital world and the real world, seamlessly blended together from all viewing perspectives."
As opposed to VR, or virtual reality, in which everything is created digitally and is typically experienced while wearing goggles that block out the real world, augmented reality enhances what one sees in the real world with an overlaid, digital image.
It may sound complicated, but Price said the technology will be easy to use.
"A visitor just needs to bring either a modern Apple or Android phone or tablet," he said, adding the exhibit is free for all who visit the sculpture forest. "We provide the app, Wi-Fi to download, and the augmented reality experience onsite."
A short path from the sculpture forest's parking lot leads to a viewing area. Signs posted there highlight what visitors will experience and how it's done. As people point their phone's camera at a QR code, a free AR app will be downloaded and provides simple "How to" instructions. Four separate plaques around the viewing area highlight the different sculptors, the title of their work and a unique QR code.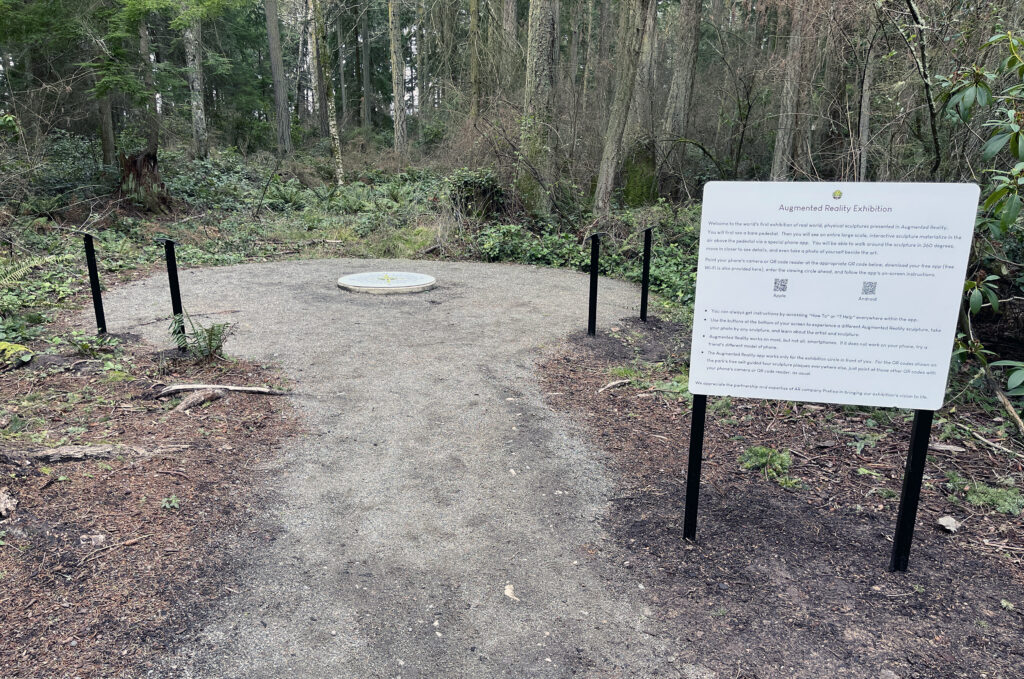 "The visitor points their phone app's camera at any sculpture's QR code, turns around to walk a couple of steps toward the center sculpture pedestal, and then an augmented reality sculpture will magically appear in the air above the pedestal as seen through the app," Price described. "The AR sculpture is highly detailed and can be fully walked around 360 degrees to see all aspects from all angles, up, down, and around. In addition, the app allows someone to take their picture by any AR sculpture."
This is a project Price said has been in the making for a couple of years, after he learned about digital artists who were creating augmented reality art.
"I thought that would be a great, novel concept to bring to the sculpture forest," he said. "So, I began researching both AR's community of artists and their methodologies. In parallel, I was on the board of directors of Pacific Northwest Sculptors Association and met the owner of XR-Room, Miguel Arias, who was developing a new way to actually transform real world physical objects into augmented reality. That is an important difference from the prior general AR approach of purely digital creations that had no real-world counterpart. This would allow real-world sculptures from anywhere in the world to be transported to the sculpture forest for visitors to enjoy via augmented reality."
Price said he formed a great partnership with XR-Room, providing his input on what was needed from the sculpture park's perspective to make the experience more realistic. XR-Room, in turn, provided the expertise, ideas and intellectual property to bring the vision to life and launch this public test of AR within the art world.
Price believes this ground-breaking exhibit fits well within the sculpture forest's mission.
"One of the driving principles of the sculpture forest is for visitors to leave more excited about the possibilities of art and nature than before they arrived," he said. "Hopefully, they will take that enthusiasm with them out into the rest of the world. This exhibit helps show how unbounded the possibilities are for art and shows new, mind-opening ways to both create and interact with art. I also hope it will help expand art enthusiasm among both younger people and tech savvy groups. And for non-tech savvy groups, it will provide a user-friendly way to show them all new possibilities that they have never experienced before."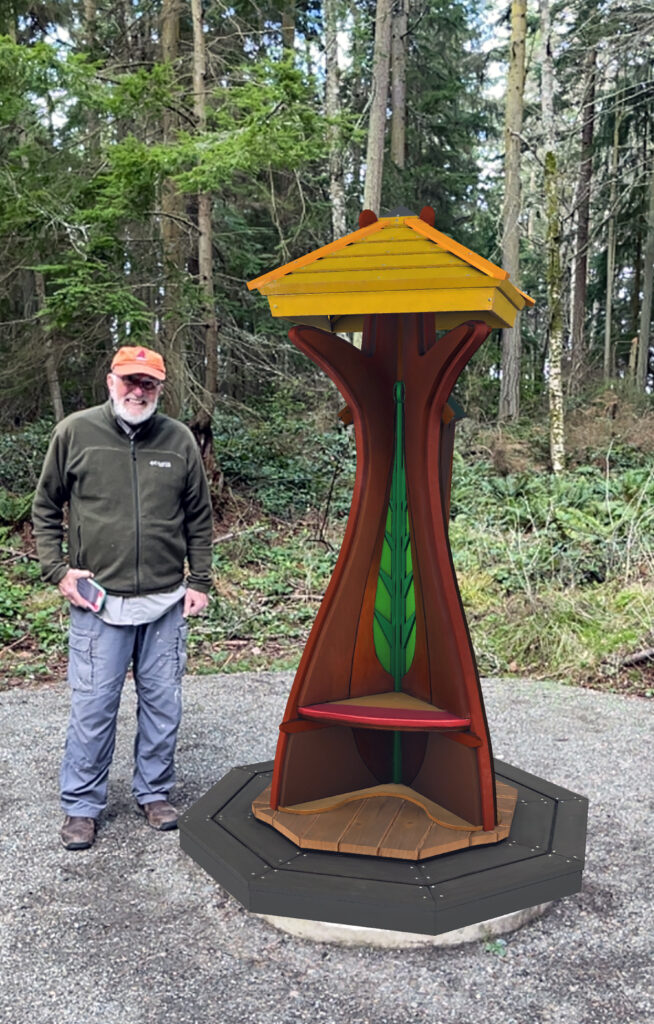 With technology like this, it is conceivable to bring sculptures from around the world to Whidbey Island. Price, however, prefers to shine a light on those whose works are lesser known.
"Ideally, most visitors will not have previously seen any art that is exhibited in the sculpture forest," he said. "I have intentionally limited the exhibit to four sculptures so that every sculpture gets the attention it deserves and does not get lost in a large catalog of sculptures."
The first four artists whose work is featured in the new AR – or dare we say ARt – exhibit come from across the country. Artist Stephen Klema, from Winsted, Conn., has provided his sculpture, "Rybee House;" Michael Finch, from Afton, Minn., is featuring his work, "Good Morning!;" the sculpture "Inciting Hope," is by Bill Baran-Mickle of Poulsbo, Wash.; and Portland, Ore., artist Betsy Power presents her work, "Colossal Face."
Price anticipates they will continue to test and learn from this inaugural exhibit. A second national Call for Artists could be made this summer and a new rotation of sculptures could come later in the year. After that, he thinks the exhibit will rotate artists approximately every six months.
According to Price, this new technology shows the local community is more than capable of pushing boundaries and doing new, exciting things.
"We can take cutting edge risks and achieve them," he said. "It also helps draw art and nature lovers to our beautiful island while interacting in a site-contained, respectful way. With Coupeville likely becoming a state certified Creative District in the near future, this exhibit should be a relevant feather in its cap."
It's also something which will garner interest and attention around the world.
"I anticipate museums and galleries will both hear about our exhibit and then likely emulate it in some new way," Price said. "This combination of new approaches to presenting and interacting with art, in addition to attracting a broader, new base of visitor participants, will likely be of interest to other organizations. As XR-Room builds upon the capabilities we are creating here together, it has a lot of potential in many places around the world – and not just for the art world."
The new AR exhibit is now open at Price Sculpture Forest, which is located at 678 Parker Road in Coupeville. Learn more online at sculptureforest.org.