Playhouse stiches clothes, memories into satisfying production
— Created March 8, 2023 by Kathy Reed
By Kathy Reed
Get ready to laugh, cry and reminisce your way through the Whidbey Playhouse production of "Love, Loss and What I Wore," opening Friday and running through March 26 in Oak Harbor. Friday and Saturday performances are at 7:30 p.m., Sunday matinees begin at 2:30 p.m. Tickets to all shows are $25 and may be purchased online (whidbeyplayhouse.com) or at the box office.
The play, written by sisters Nora and Delia Ephron, is based on the book of the same title by Ilene Beckerman and is directed for the Playhouse by Sue Riney. A cast of six features actors Gaye Litka, Dianna Gruenwald, Katie Jones, Nicole Bouvion, Rebecca Leonard and Susie Thompson, all of whom lead the audience through a series of stories and reminiscences of real women.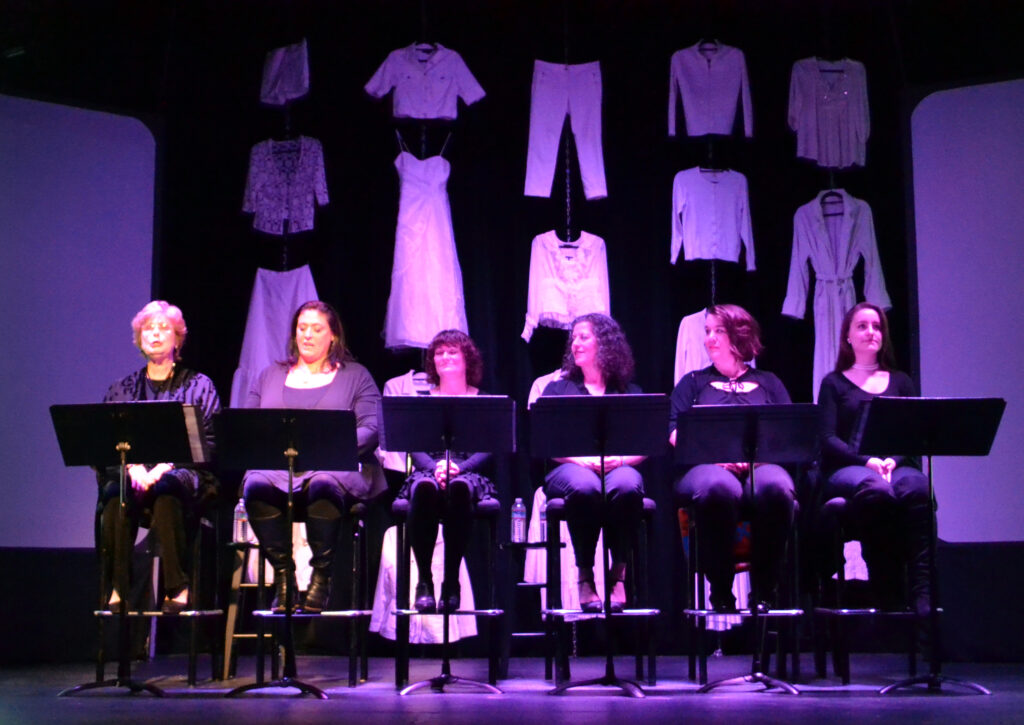 "The play combines Ilene's memoir and sketches – incorporating stories about everything from her Brownie uniform to the Diane Von Furstenberg dress she wore when she met her third husband – with a chorus of women's voices that speak about everything from their first bras and prom dresses to love, marriage, motherhood, divorce, grief, cancer and rape," described Riney. "The show uses clothing and accessories and the memories they trigger to tell funny, startling, and often poignant stories that every woman can relate to."
Staged simply but effectively, the six actors are seated in a row in front of a black backdrop, upon which hang various pieces of white clothing. Two large screens sit on either side of the actors. The sparse set and staging allows one to focus on the actors and the stories they share, one of the things Riney said appealed to her about this particular production.
"I love that these are real stories, written by real women, about real women and memorable times in their lives," she shared. "It's not just about the hardships and struggles that women face; it also celebrates women and shows just how much they are capable of! What's not to love about that?
"And because of the simplicity of the staging, I love that the stories themselves, and the performances of the actresses, are the focus of the show," Riney continued. "Parts of it are really, really hilarious. There are a lot of poignant moments as well. It's just a great combination of different characters and stories that I think all audience members will relate to."
The play runs about 90 minutes with no intermission. The cast offers fine performances ranging from monologues about specific women to round-robin bursts that feel like one is part of a group of friends sharing one-liners over a round of drinks. The common threads pulling it all together are the clothes they were wearing. But this show is about so much more than clothes.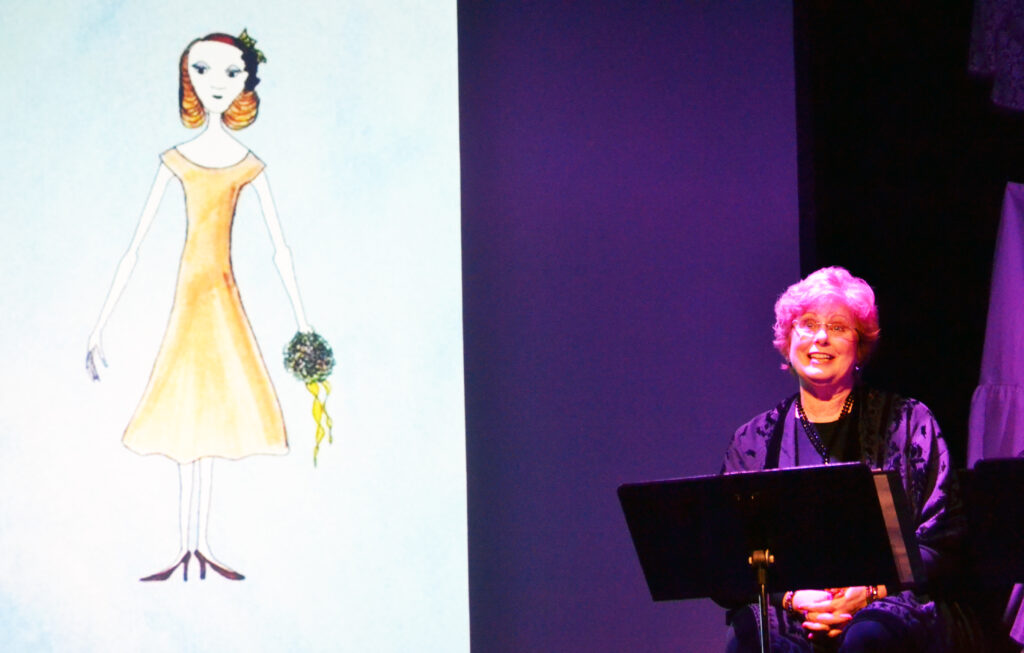 "Every woman who sees this show will identify with several, if not many, of these stories," said Litka, who has the recurring role of Gingy. "Each of us has had the experience of buying our first bra, arguing with Mother, remembering a certain dress we wore for a special occasion, going on a date, falling in love, and feeling the loss of a special relationship. As women, we are all bonded by these shared experiences."
"The wide variety of characters portrayed in the show truly provides something for every member of the audience," said Bouvion. "These are human stories that act as windows into the lives of others while also providing a mirror that allows people to reflect on their own lives."
"I hope audiences will hear the voices of real women, who suffer real issues and how the shared story can be found through the admission of something that doesn't fit, or was a gift, or a token of lost love," said Jones. "We all have our moments and memories that we are drawn back to because of clothing, and those memories can bind us together in things like lost love, trauma, death, birth, and so much more."
Members of the cast say one of the big challenges of doing this show was doing justice to the words of real women. Each actor was able to point to a character or situation that especially touched them or with which they could identify.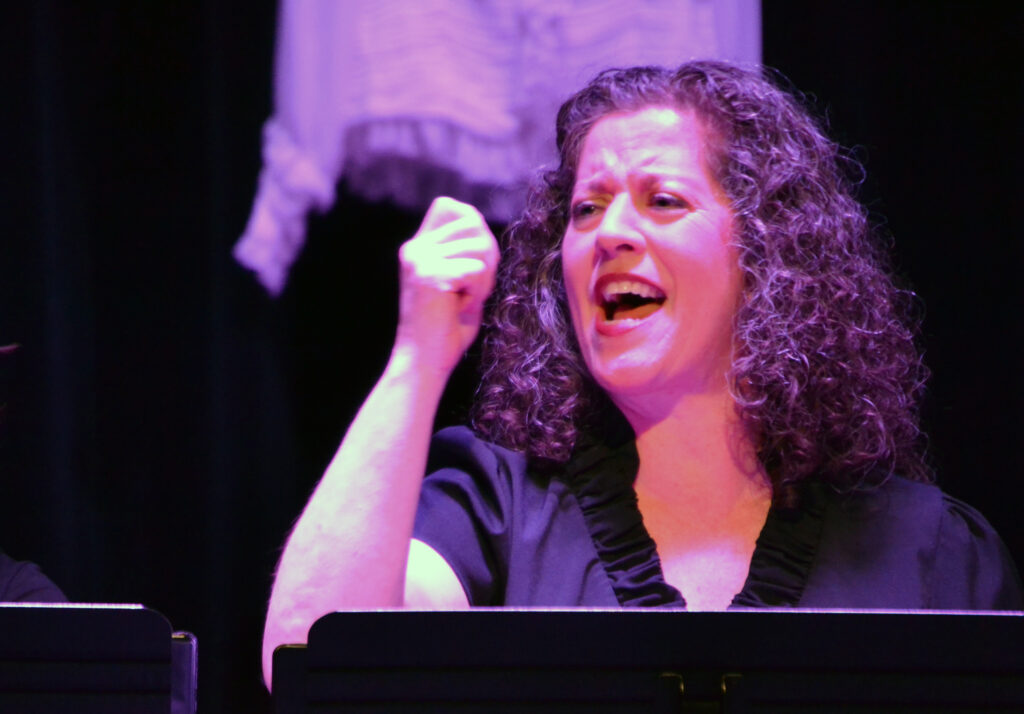 "I think it's the scene I have with Nicole [Bouvion] about the two women talking about their upcoming weddings," described Thompson. "One has the unconditional love of her mother, the other is looked at with disgust and contempt by her parents. I am all about love and acceptance for all, so that one is emotional to do.
"The other scene that I relate to is The Dressing Room," she continued. "All dressing rooms are houses of horror. The lighting and mirrors are awful. I'm pretty sure I have said the vast majority of those lines in dressing rooms over the years."
"The women represented in these stories have lived! It is impossible not to identify with them," said Gruenwald. "Gingy is such a special character for me. When she speaks about her granddaughter, I am reminded of the magical relationship between my youngest daughter and my mother."
"I practiced Rosie's story about her mother's bathrobe one day for my husband and he got emotional," said Jones. "I had no idea why. He told me that his mother's bathrobe is one of the only things he remembers about [her]. He was 13 when she passed. It made that story even more important for me to portray."
"It seems that each story and scene has something that I can relate to," Bouvion said. "The great thing about this show is its ability to help you peel back the layers of your experiences and memories and look at them in a new way."
The show's format is also something cast members found to be a challenge.
"I think this format gives the actor a unique opportunity to really explore what the author wanted to say in that particular monologue," Litka said. "It's taken weeks of study, tearing apart these stories line by line, trying to understand why this particular word or phrase was included in this particular story. Am I putting the emphasis on the right word? Am I able to convey the emotion that author intended when she wrote the story? That's my goal and responsibility as an actor."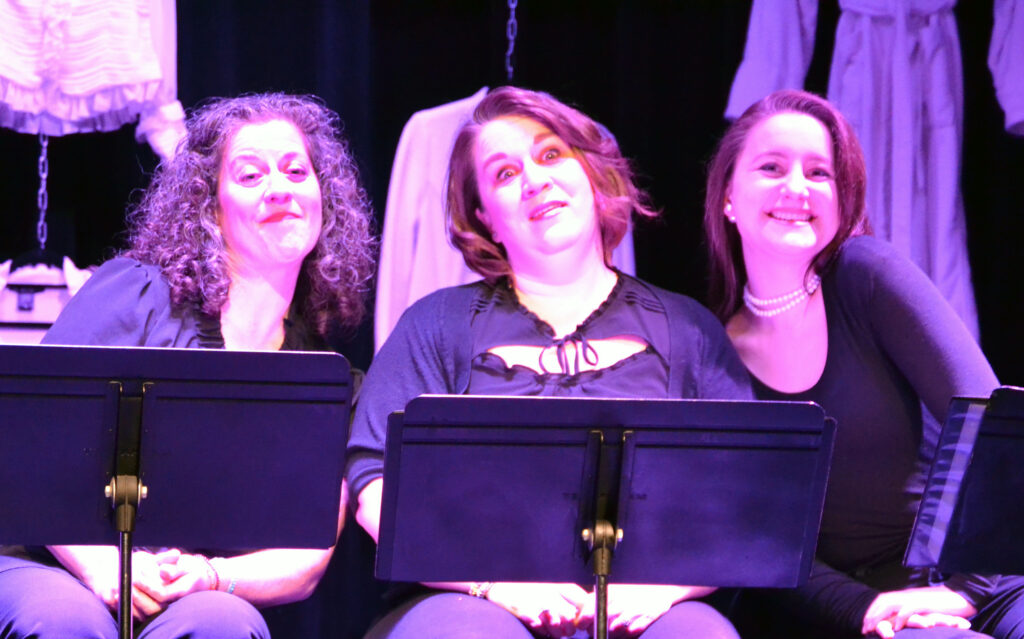 "It's a challenge to basically have to hold the interest of the audience all by yourself," said Thompson. "That's what we have worked on so much during our rehearsals, sometimes studying how to say each sentence to make it as engaging and meaningful to the audience as possible."
"The most difficult challenge has been to maintain a conversational tone, and not sound like I am reading," Gruenwald said. "Also, because we are seated throughout the performance, we are tasked with using gestures and facial expressions to tell our stories."
"This cast paints such vivid pictures that I know the audience will go with them wherever they take them," Riney said. "It's acting in its purest form."
While the director and cast of "Love, Loss and What I Wore" are women, and the stories are from and about women, Riney said men will also find the production relatable.
"I would say it's a perfect show for a girls' night out OR a date night," she said. "Men may be thinking they won't be able to relate to this play, but there is something in these stories that everyone can relate to – men or women."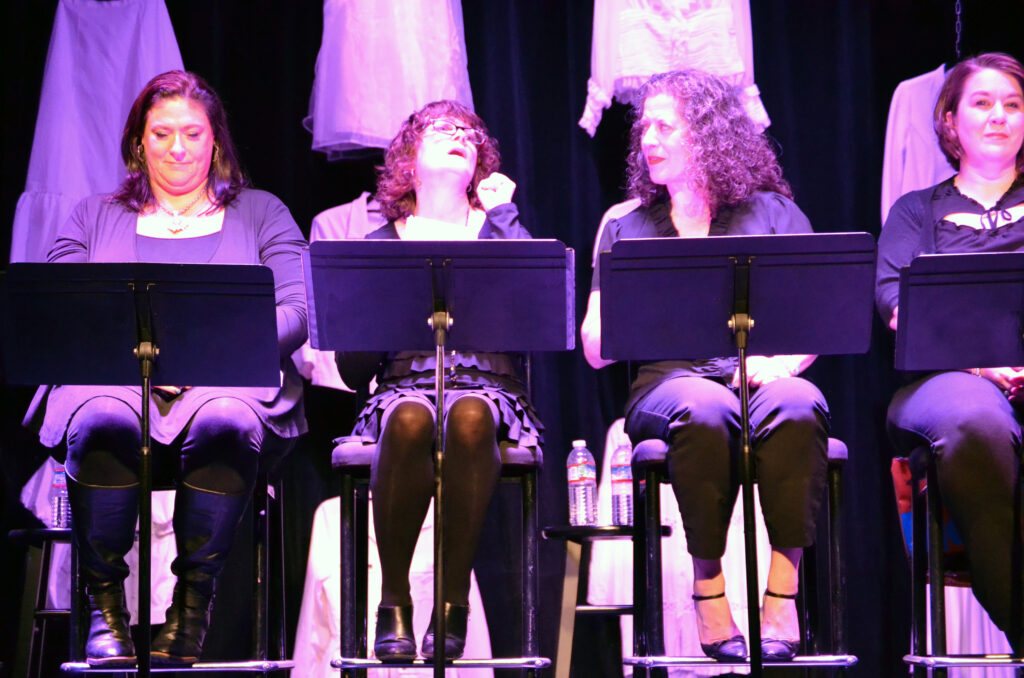 As part of the emphasis on women, Whidbey Playhouse is also inviting audiences to participate in a collection drive for the nonprofit, I Support the Girls-Whidbey Island. There is a collection bin in the Playhouse's lobby, and donations of new panties, bras and feminine hygiene products may be placed there throughout the run of the show.
"Love, Loss and What I Wore" opens at the Whidbey Playhouse in Oak Harbor Friday at 7:30 p.m. Performances run through Sunday, March 26. Find more information and purchase tickets at whidbeyplayhouse.com.
"I hope it makes people remember their own, maybe long forgotten stories and experiences – hopefully mostly great ones – that they will want to share with others," Thompson said. "Women will relate to much of it, and men will possibly have their eyes opened at some of the challenges the women in their lives have faced and continue to face, that they never even noticed or knew about."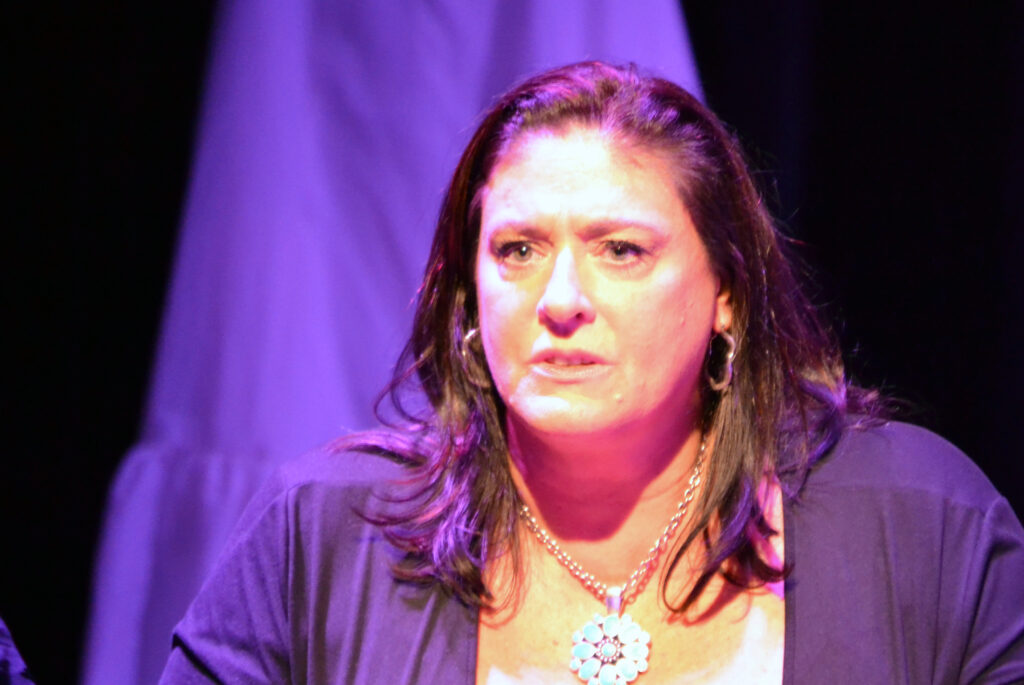 "I hope the audience will identify, commiserate, and fall in love with these characters," said Gruenwald. "I hope seeing this show will spark conversation between mothers, daughters, wives, and friends."
"I hope the audience will join us to laugh, cry, and reminisce about experiences in their own lives that have changed them in some way," Bouvion said.
"Gingy drew the dresses and wrote the bits and pieces that went along with them so that her life stories would be 'acknowledged," said Litka. "I think after seeing the play many of our audience members will find themselves reflecting on how they might personally acknowledge their own life story."