Humor spurs deep reflection in new OutCast play
— Created March 15, 2023 by Kathy Reed
By Kathy Reed
OutCast Productions kicks off its 11th season with a humorous but deeply thought-provoking production.
"The Children," written by Lucy Kirkwood, is now on stage at OutCast's Black Box Theater at the Whidbey Island Fairgrounds in Langley. Tickets are $20 for adults, $16 for students and seniors (62+) and are available online at outcastproductions.net, or seats may be reserved and paid for at the door by emailing ocp@whidbey.com. Performances are at 7:30 p.m. Friday and Saturday through March 25, with a Thursday performance March 23 ($14 all seats) and a matinee performance at 4 p.m. Sunday.
"The Children" is directed for OutCast Productions by Phil Jordan and features Gail Liston, Brian Plebanek and Kathy Stanley. The story centers around three people, a married couple and a colleague who has come to visit them in their remote, coastal cottage.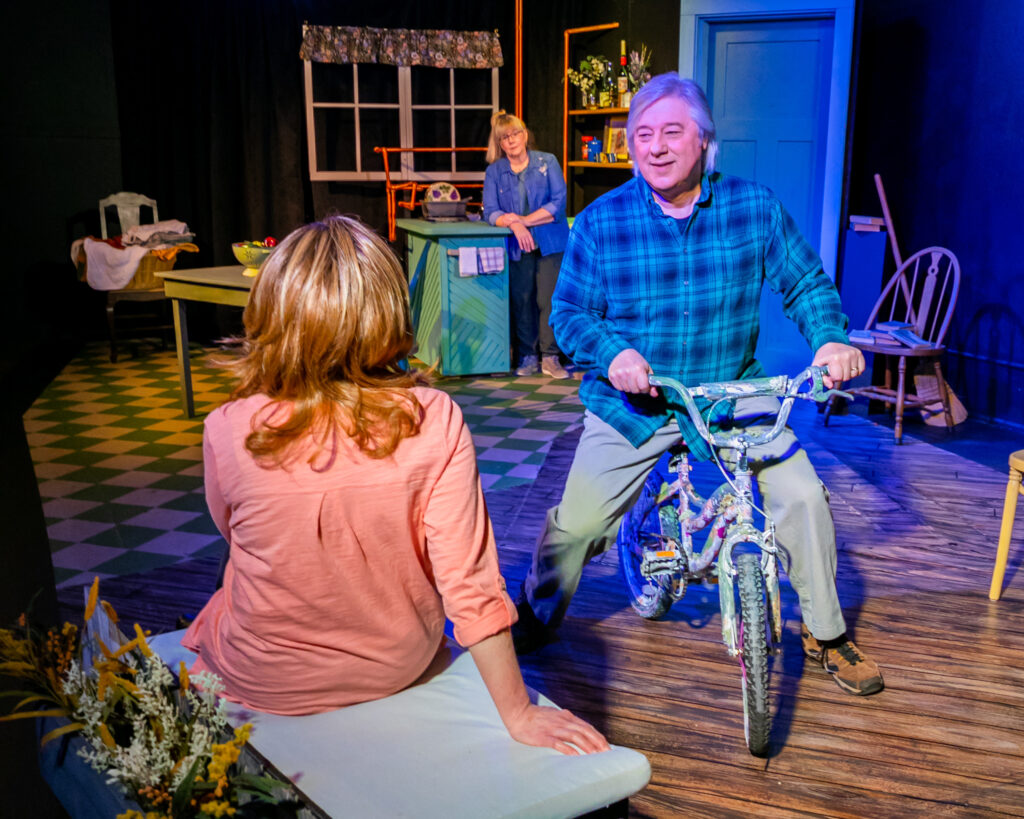 "It's a very interesting play," said Jordan. "You have three retired nuclear physicists who helped create a nuclear plant in England. Now there's been a disaster and they are deciding what to do. It's also sort of a love triangle. Two of them are married and one is sort of an interloper into their world. She is childless but is probably more obsessed with children."
According to Ned Farley, OutCast Productions' managing artistic director, this is a story that will stick with you, as it stuck with Jordan and the rest of the cast after they saw it on stage.
"This play happened to be the last production at The Seattle Rep before the pandemic and Phil [Jordan], as well as the actors in our production, had the opportunity to see it and they felt very strongly about the message of the play as well as the tightly written dialogue," he explained. "I just think the play asks important questions about our impact on the earth, the world, the current and future generations who will have to live in it. How can we be better stewards – and [it's] done in a tightly written and character driven script."
"I was drawn to it and the questions it poses," said Jordan, adding that despite its serious subject matter, the play is funny. "I think this production will bring in a lot of people because it's also very funny. There's a lot of humor in the play. It kind of brings us up short and poses questions through humor.
"I think audiences will be delighted, which is not what I would have thought when I heard about story," he continued. "Kirkwood does a great job getting inside people's heads. I think it examines our decision-making process and how we relate to younger generations. There are no children in it, but children are ever present in our play. We try to honor that in our set, and we examine what we owe our children and how do we go about doing that?"
The characters in the play are older, a fact that also resonated with Jordan and the cast.
"I think we're all four – the three actors and myself – in our mid-60s and are grappling with changes in our lives," he said. "We're seeing health issues, seeing friends dying – it's a whole new period in life. For some reason [this play] just got into our guts."
Jordan said the Black Box Theater, which OutCast Productions uses for its plays, brings the actors much closer to audiences physically and forces them to be more creative about defining what is really important and getting to the essences of what the play is about.
"To me, storytelling is really about how we deal with our lives," he shared. "My wife is more interested in news, in what's really happening in the world and what's going on. For me, stories illuminate what's really important about what's happening, and how we can use stories to relate to the world around us."
Jordan credits the three veteran Whidbey Island actors in the show for making the production a wonderful experience.
"Sitting and watching the actors rehearsing every night, seeing such a delightful story set in a horrific situation…that combination and the delight the actors/characters bring to the situation has been really unique," he said. "The characters are full of life even when it's collapsing around them."
Farley noted this production fits OutCast's mission of bringing contemporary, socially relevant stories to the stage. As the company begins its 11th season, look for some slight changes and additions to its programming.
"We have made a decision to start producing one 'classic' each year with an understanding that while a classic, it is relevant to today's world," he explained. "We are also introducing 'From Page to Stage,' a play-reading series which is a sort of 'behind-the-scenes' peek at the process of choosing scripts for production. We are inviting our actors/directors who already work with us as well as our patrons and volunteers who might be interested in what it is like to do a table read of a script and then have a discussion about the play and whether or not it fits in our mission."
From Page to Stage begins Tuesday, April 4 and will take place each month, alternating between established/produced scripts and new scripts in development. They are also looking at implementing a series of improvisational games.
"[It would be] along the lines of 'Liars Club,' where someone gets up on stage and tells a story that the audience then has to decide is true or false," Farley described. "Finally, we hope this year to bring back some workshops and classes (scene study, acting, directing, tech)."
Upcoming shows this season include "Timely Twain" in May, a staged reading of "Zombies" in June, the classic "Waiting for Godot" in September and "Two Wrongs" in November.
"The Children" is currently in production at the Black Box Theater at the Whidbey Island Fairgrounds in Langley, 819 Camano Avenue. To purchase tickets or for more information, visit outcastproductions.net.