Foliage-filled fashions to highlight unique runway show
— Created March 22, 2023 by Kathy Reed
By Kathy Reed
Now's the time to get tickets for the most unique fashion show to hit a runway on Whidbey Island since 2019.
The Center in Oak Harbor is holding its second Wearable Art Runway Show Saturday, April 22. Doors open at 6 p.m. at The Center, located at 51 SE Jerome Street. Tickets are $60 per person and include the runway show and a catered dinner, and there will also be a "dessert dash." Proceeds benefit the Oak Harbor Senior Center Foundation, which provides support to maintain and grow programs at The Center. Tickets may be purchased online at ohscfoundation.org/events or in person or by phone at The Center.
The first Wearable Art Runway Show was held at The Center in 2019. According to organizers, it was a big success.
"We were looking for a signature event, something that wasn't already happening, to bring people together, give people the opportunity to be creative and have a good time," said Liz Lange, senior services administrator for the City of Oak Harbor. "Man, was it a hit! We sold out the first year and we can't wait to do it again."
Because it's been a bit since the first runway show, Lange said in many ways it feels as though organizers are starting over again.
"We've been able to rearrange things a bit so we can sell 80 tickets," she said. "That's a good size. We're both worried and hopeful we'll outgrow our space and we'll have to move to a bigger venue in the future."
This year's theme for the juried runway show is foliage or Earth Day, since that is the day upon which the event falls. Ensembles must include foliage, either real, fake or something that represents the "essence" of foliage. They must also include repurposed materials and some sort of headpiece, such as a hat, mask or crown. The goal is to get artists – experienced or not – to have fun and let their creativity inspire their look. Artists can choose to model their own ensemble or have someone else model it. Multiple models per entry are also permitted.
"We're happy to find models, if needed," said Lange. "We're looking forward to our 'celebrity' models this year – our Miss Oak Harbor royalty are participating as models and helpers and [Oak Harbor city councilor] Tara Hizon has volunteered to be one of the models."
There are currently about 12 registered entries from all over Whidbey Island, but organizers said they are always open to more.
"We are open for additional entries," said Lange. "We've got a strong lineup of ensembles so far. We really just want people to be creative and playful and use art in any media that can be worn. What we really want to focus on is repurposed materials.
"Also what's really neat is that we have people participating who are artists and have been doing it for a long time and others who don't consider themselves artists at all," she continued. "They all come up with the most beautiful ensembles. So we really encourage beginners, novices and advanced artists; this is something anyone can participate in."
Lange shared a story about repurposed materials found during a crafter's swap held a few weeks ago at the Oak Harbor Sno-Isle Library.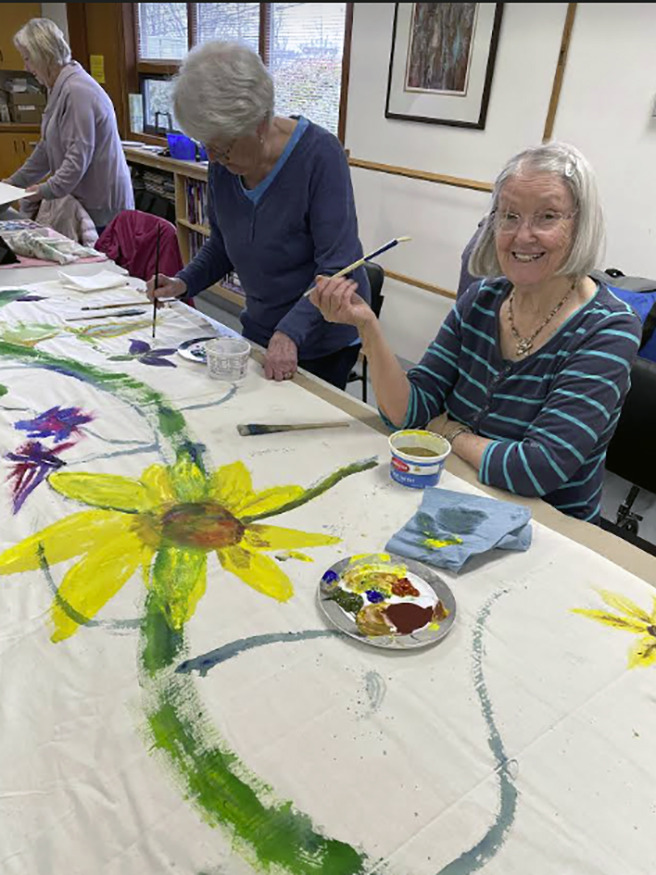 "We got a big piece of plain, beige material," she described. "We took it to our Monday afternoon art group at The Center, ran it down the length of a few tables and everyone started painting. It turned out so lovely. It's the work of multiple artists and it's covered in flowers and leaves. They turned a boring piece of plain fabric into a piece of art that's going to wrap around a person as they walk down the runway."
Another group Lange said she would love to get more involved with the wearable art show in the future is students.
"We want this to be a fun community event that will give young artists the opportunity to showcase their talent," she said.
Whether an artist who has submitted a design or an audience member, Lange promises something truly unique for everyone.
"It's a unique opportunity to come and watch, because most people haven't heard of a wearable art show," she said. "Usually an artist's medium features a canvas on a stand, now they are creating something wearable. Most art shows are in a gallery with the art hung on walls – these art pieces are walking down the runway."
Those attending the runway show are encouraged to dress up in the spirit of the theme if they choose. They also get to vote for their favorite designs and prizes will be awarded in three categories – best use of the theme, most creative and best in show.
Lange said she is thankful for the community support the wearable art runway show has received so far, particularly from the OHSC Foundation board as well as from the city's arts commission. She said her hope is that events like this can help The Center reach out to the community even more.
"We have this vision of being a community without walls," she said. "I think a lot of times people think about us at The Center as just programs happening inside buildings, but we definitely extend beyond these walls. Especially now that the city has created a Parks and Recreation Department, it's kind of given us a broader ability to involve the community beyond our older adult age group. We want to let the community know we're excited and ready to provide opportunities for everyone in the community."
For tickets and information, visit ohscfoundation.org or call The Center at 360-279-4580.