WICA musical weaves a poignant story
— Created April 5, 2023 by Kathy Reed
By Kathy Reed
Whidbey Island Center for the Arts in Langley is at it again – fusing storytelling with music for what promises to be an unforgettable production.
"The Last Five Years," written and composed by Jason Robert Brown, is directed for WICA by Deana Duncan and features actors Ada Faith-Feyma and Tristan Johnson. Sheila Weidendorf serves as musical director. The production opens Friday and runs through April 22. Tickets are available at wicaonline.org.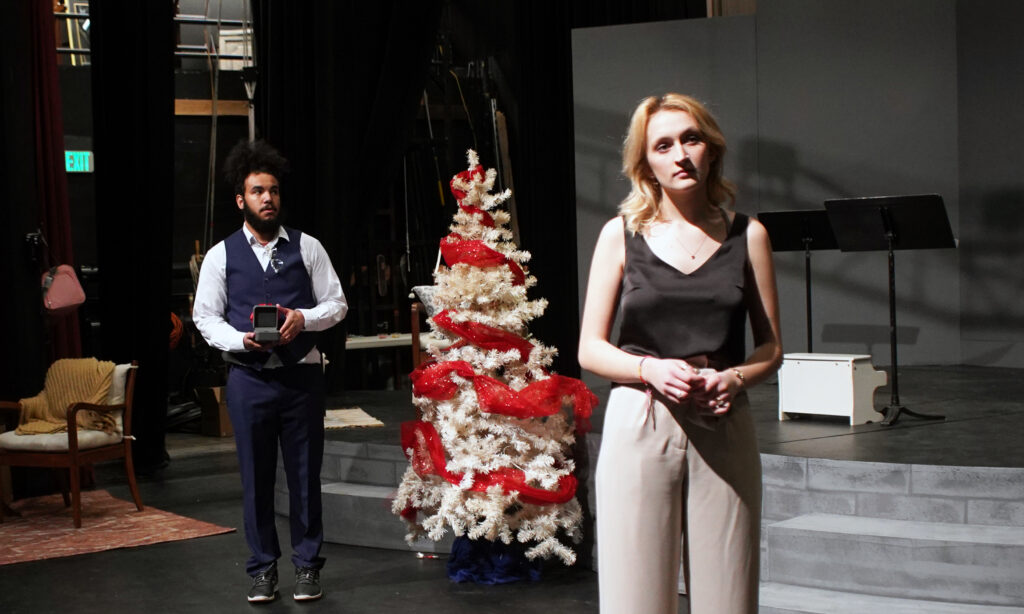 The story follows characters Cathy (Ada Faith-Feyma) and Jamie (Tristan Johnson) through their five-year marriage, told in two different chronologies.
"Cathy, a struggling actor, starts her tale at the end of the marriage, working backwards through the timeline," explained Duncan. "Jamie, a literary prodigy, begins his at the onset of the relationship. The two narratives intersect on their wedding day before diverging again to arrive at the beginning, and end, of their five years together.
"[Jason Robert Brown's] initial idea and work around the script spoke more to the story of what it means to choose your art as your life's work," Duncan continued. "This script delves deep into the emotional and real hardships that artists encounter when they 'go for it' and how hard it can be if the city you are in does not support you. In this case, it's New York City."
Duncan, who also directed a staged reading of this play 15 years ago, said she became intrigued with idea of playing with the "emotional residue" that creates a memory.
"You'll see these characters cross in and out of each other's timelines as they wrestle with their own story," she described. "I have a very specific take on this show; the script is tightly constructed so at first, I wondered if we would find the nuances. Our design is very different than any other I've seen and I literally pull these characters in and out of timelines in order to stay present with the other but not IN the same time. I think it's beautiful and eerie and romantic and deeply moving."
Faith-Feyma said both the music and the unique timeline piqued her interest in doing this show.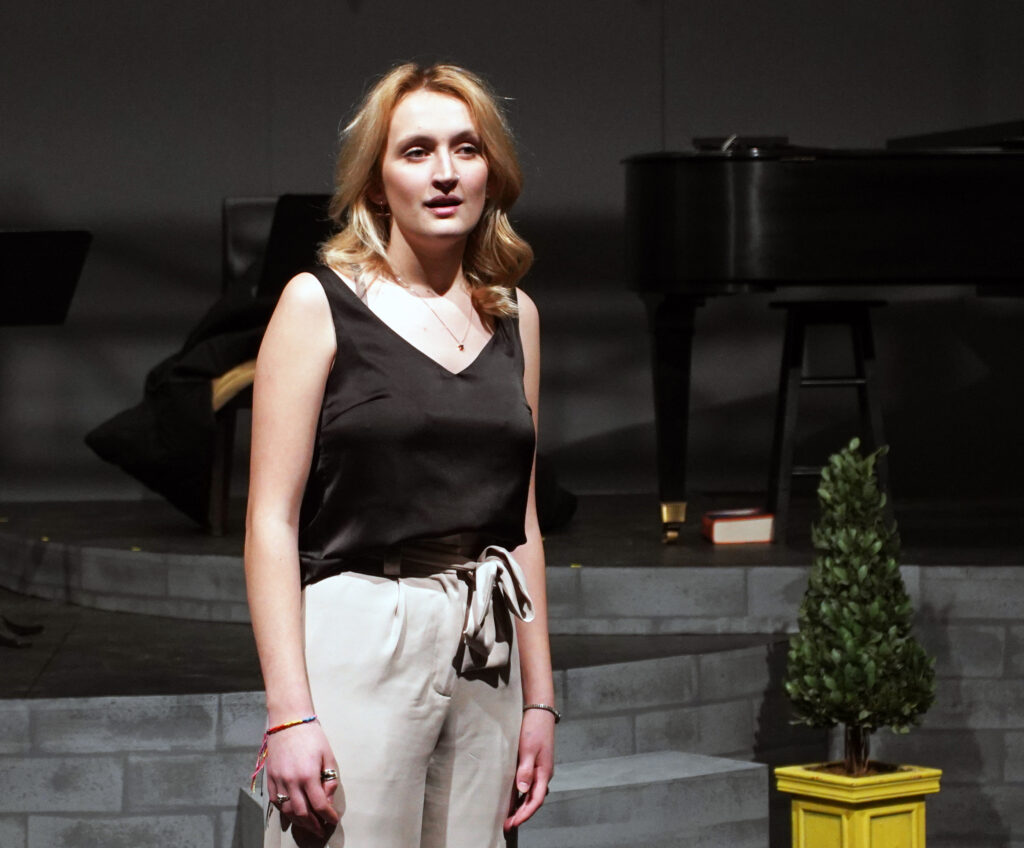 "The competing timelines was what first really caught my attention," she said. "The music is also so unique for a stage musical; I'm a sucker for a string section.
"Inhabiting five years' worth of character development going backwards hasn't been easy, but I've enjoyed the challenge," Faith-Feyma continued. "Leaning into the music and movement has really helped unlock a new understanding of the show for me. From Cathy's perspective, the music following her timeline gets more and more joyous. Her pain and struggles come directly from the script but the music really does guide that joy and certainly helps me find my bearings in younger Cathy's world."
Both actors in this production are young, as called for in the script. When asked whether it was difficult to try to relate to a character whose marriage has failed, Faith-Feyma said the play dives much deeper.
"There's so much more to these characters than their relationship or its ultimate demise," she said. "As an audience, we see their struggles, flaws, joy, and genuine sweetness. While as an individual I have never been married, I, like most audience members, have experienced growth, love, and hardship within the structures of a relationship. If you have loved someone, and experienced all that comes with love, then these characters are easy to relate to."
"I cast this with two actors capable of bringing the joy, emotion, and depth of humanity to the roles that I knew we could find," said Duncan. "Both Ada and Tristan bring years of experience and training to the stage and are powerhouses in these roles. Not only do they 'understand and channel' the intricacies and emotional intimacy these characters demand, they pour their hearts and souls into the work. It's stunning, highly entertaining, and immensely watchable."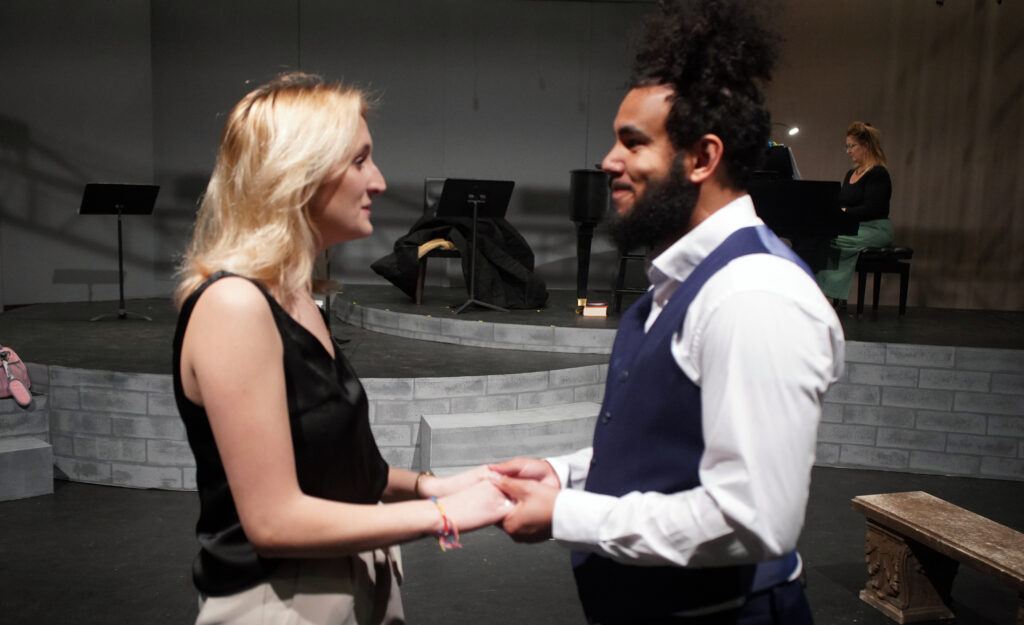 There is actually very little dialog in this production. The story is propelled by the music, which is an interesting mix of genres, according to musical director Weidendorf.
"The music is very contemporary pop/rock in nature for the most part, but with some hints of gypsy jazz, of 1920s era waltz music and a nod to the 1940s era stage music," she described. "The music is a direct vehicle for the development and exposition of the characters' inner workings, situational circumstances, relationship, and emotional arc. There is very little talking in this production — a few phone calls and a book-reading. The story is otherwise completely conveyed via the music itself."
The set and the band for this production could also be considered characters, according to Duncan. A talented group of musicians shares the stage with the actors: Linda Vogt on violin, Aniela Marie Perry and James Hinkley on cello, Troy Chapman on guitar and bass and Weidendorf on piano.
It's also worth nothing Faith-Feyma is Weidendorf's daughter, and the two have performed together in concert settings as well as stage productions in the past.
"I do adore working with my daughter — she carries herself as a consummate professional," Weidendorf said. "She works hard, serves the greater good of whatever project she is participating in, and is a simply fabulous performer. As she is graduating this spring and moving off into the world, this might very well be our final performance together for quite some time, so it is particularly meaningful to me.
"We were very fortunate to find Ada's stage counterpart, Tristan Johnson, to play the role of her husband in this production," she continued. "He is a director's dream! Like Ada, he has tremendous stage presence. He, too, devotes himself to the well-being of the whole production and works very hard. He is a natural storyteller, both in his acting and his singing. His voice is just lovely and blends so well with Ada's; this has been a delightful production process thus far and I am very much looking forward to bringing this place to fruition on the WICA stage."
"The Last Five Years" opens Friday on WICA's main stage. Tickets and information can be found at wicaonline.org. Performances take place Friday and Saturday at 7:30 p.m. and Sunday at 2 p.m. through April 22. Thursday performances (tonight and April 13) are pay-what-you-will and tickets are available at the box office one hour before the show.
"This show has a little bit of everything – laughter, sadness, anger, hilarity…time warps – but beneath all of this, 'The Last Five Years' explores the little things that make us human – our flaws, our brilliance, and the ways we love," shared Faith-Feyma.
"The story is at once poignant and funny and touches upon themes that include us all: The power of place and purpose, personal identity and relational commitment, the challenge of following one's dreams and finding one's way in the world, the nature of loving and the sting of betrayal, what it means to love and serve another's well-being while also trying to cultivate our best self," said Weidendorf.