Trudy Sundberg Lecture Series: Speaker shares his journey of exploration
— Created May 3, 2023 by Kathy Reed
By Kathy Reed
The featured speaker for this year's Trudy Sundberg Lecture series will share details of what promises to be a truly remarkable voyage.
Nainoa Thompson, a renowned master navigator, explorer, educator, storyteller and president of the Polynesian Voyaging Society, will speak at 7:30 p.m. Saturday at Whidbey Island Center for the Arts in Langley. The event is free to attend. Seating is limited and is on a first come, first-served basis.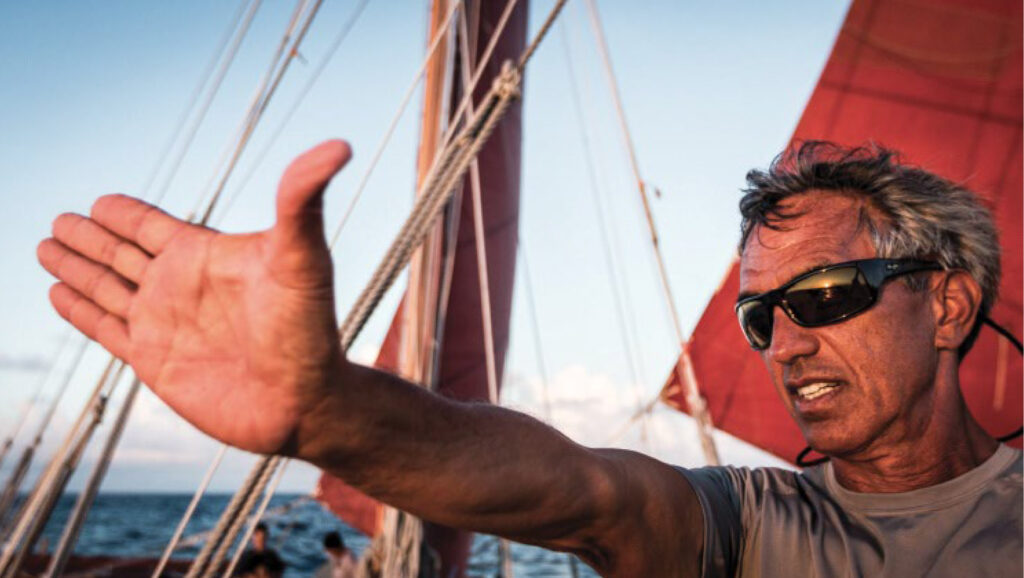 A native of Hawaii, Thompson is known as the first Hawaiian to practice the ancient Polynesian art of navigation without the use of Western instruments. His presentation, entitled "Finding Our Way: Moananuiākea, A Voyage for Earth," will focus on his impending four-year expedition, in which he will navigate the Pacific Ocean in a traditional Polynesian voyaging canoe built in the 1970s and named Hōkūle'a.
The voyage is set to begin next month and will cover 43,000 miles in 47 months. It is not without risk. But Thompson, who responded to questions via email, said this is a journey with a purpose.
"The voyage that we believe in is really focused on creating a better future for our children," he said. "And our focus is on the oceans. The voyage is a campaign to protect the oceans, to protect the future of our children. This circumnavigation of the Pacific will go from Alaska to Hokkaido, Japan. We believe that the contribution towards a better world is through the area of education. So, this is about how exploration can create stories that can be shared that can help with educating humanity."
While Thompson is an expert at navigating without instruments, for safety reasons, he anticipates Western instruments will be used about 50 percent of the time during this voyage. He said he hopes this never-before-done journey will help them share the beauty and complexity of the Earth.
"The earth is the only place we know that has two things happening at the same time. Liquid water on the surface, and life," Thompson said. "And this relationship of water and life is so important to the future wellbeing of life on Earth and its impact on the future. My hope is that the voice from this voyage will help and that more and more people understand how beautiful and complex the earth is…how complicated it is…and why.
"We want people to understand that there's a responsibility to protect our life systems on the earth," he continued. "We hope more and more people will be making better choices in their daily lives and that they know how important it is now that they participate in caring for the earth, therefore the future of our children."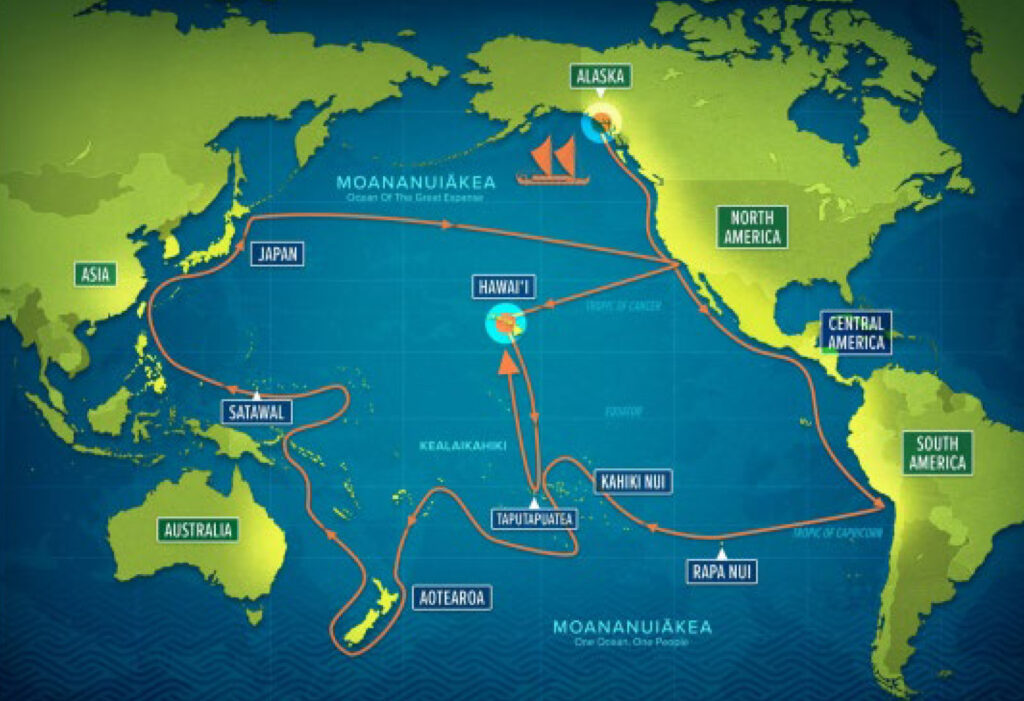 Thompson said while he's always had a love of exploration, his interest in navigation came later.
"My inherent instinct to explore I think was always in me from a young child but I didn't know about it," he shared. "I was always exploring the world around me where I live in Hawaii, in the mountains and in the oceans. I just loved to do it. But the interest in navigation didn't even exist until I was out of high school when the founders of the Polynesian Voyaging Society were saying there was a system of navigation that guided our ancestors. I didn't know that anybody navigated by the stars."
It was at a dinner in 1973,while listening to Herb Kane, the founder of the Polynesian Voyaging Society, where Thompson became hooked on the idea of navigating by the stars.
"This dinner took place before the voyaging canoe Hōkūle'a was constructed and [Kane] talked about something we were never taught about before – voyaging and navigation," Thompson described. "At the dinner he talked about a voyage from Hawaii to our homeland of Tahiti. Over 500 miles of open ocean, the sea road of ancestors.
"After the dinner, [Kane] took us outside and then took our eyes and our imaginations up to the heavens," he continued. "And he said, 'These sorts of stars will navigate how our ancestors navigated.' That's where my whole life at that moment changed. When I looked up to the heavens, and he went through all this research he had been doing and started to make order and connection to these stars and how we're going to use them like our ancestors to find our homeland, that changed my whole life. That one moment, that one evening."
Thompson's presentation Saturday will touch on the upcoming Moananuiākea Voyage and will focus on the unique vessel that will be used to make the historic journey.
"I'll be going through 50 years of Hōkūle'a's history," he said. "I will be focusing on the impact that the canoe created culturally and environmentally. And the way to do that is to focus on the teachers who have had a hand over the years taking us towards understanding why we should voyage and how the values of voyaging can make contributions to a better future."
Thompson said he is honored to share the story of the Hōkūle'a, although he said public speaking is not his first love.
"Really, inherently by my nature, I'm pretty shy," he said. "I mean, it's really hard for me to get up in front of people to talk about anything. But I do, because I talk about what I believe in. And I do it out of respect to all those who came before me and I do it also because voyaging is based on making contributions to a better future, a better world."
The Trudy Sundberg Lecture Series is sponsored by the Sno-Isle Libraries Foundation and is named after Whidbey Island teacher and community leader Trudy Sundberg. The lecture series is funded by community donations. Learn more at wicaonline.org, sno-islefoundation.org and Hokulea.com.