Discover Whidbey Island Orchestra's hidden gems
— Created May 10, 2023 by Kathy Reed
By Kathy Reed
Anyone looking for a unique gift for Mom this Mother's Day may want to consider surprising her with the gift of music.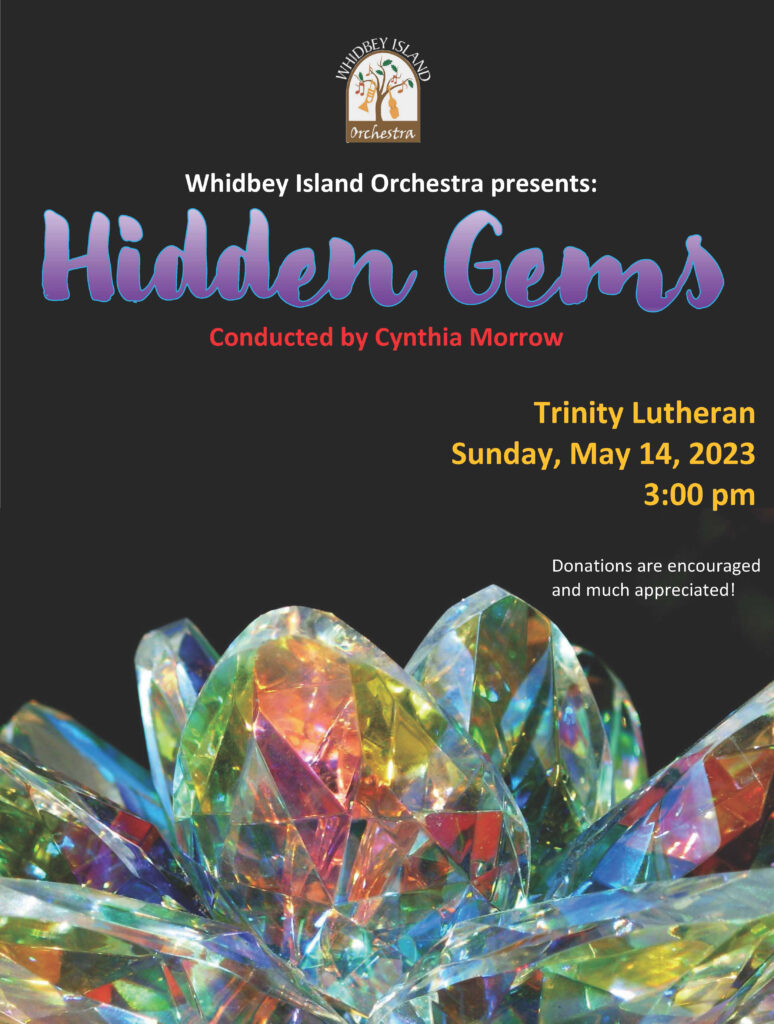 Whidbey Island Orchestra will present its annual Mother's Day concert Sunday at 3 p.m. at Trinity Lutheran Church in Freeland. The concert, entitled Hidden Gems, is free to attend, although donations are appreciated. The concert is a combination youth concert and orchestra member solos.
"We have three [young] girls playing violin trios, 'Summer Is a Comin' In,' which is an old English piece celebrating May, and 'String Party,' written for them by Heidi Hoelting, who accompanies them on piano," explained Cynthia Morrow, conductor and executive director of WIO. "They are Padmasalle Getse and Adaline Stevens, both age 11, and Paloma Schiavone Ruthensteiner, age 9. Josephine Chia, age 16, who has performed in the past with the orchestra as a violin soloist, is performing Telemann's Viola Concerto in G, a completely different instrument for her."
Other special performances include cellists Clyde Wilson and Kathy Pryde, and violinist Jennifer Ruthensteiner playing Monti's "Csardas;" Brigitte Tennis will play Wieniawski's "Romance," from his violin concerto; Bethan Wojan and Heidi Hoelting will play Bach's Double Violin Concerto in D minor; and trombonist Steve Tarr will perform a medley of Gershwin hits including "Summertime," "A Foggy Day in London Town" and "Someone to Watch Over Me."
If that isn't enough, Morrow said there's also a special guest at Sunday's concert that should get toes tappin' and hands clappin'.
"The Fiddle Chix, a wonderful string group formed by some of the violinists and a cellist from our orchestra, with several guitarists and a mandolin, are performing some rousing tunes," she said.
The full orchestra will accompany many of the solo performances and organizers feel the variety of the musical selections will offer something special for every mom – as well as everyone else – to enjoy. It's a true showcase of the talent found among Whidbey Island Orchestra's members.
"That's why we call it 'Hidden Gems,'" said Morrow. "We have some outstanding players in our orchestra, and they're doing some rarely heard works and original pieces and arrangements. It's lots of fun."
Learn more about Whidbey Island Orchestra online at whidbeyorchestras.org. Trinity Lutheran Church is located at 18341 Hwy. 525, Freeland.