Expect the unexpected with OutCast's "Timely Twain"
— Created May 10, 2023 by Kathy Reed
By Kathy Reed
Samuel Clemens, the American author with a penchant for pen names, is known to most as Mark Twain. The writer is the focus of a new production entitled "Timely Twain," opening Friday and running through May 28 at OutCast Productions' Black Box Theater in Langley.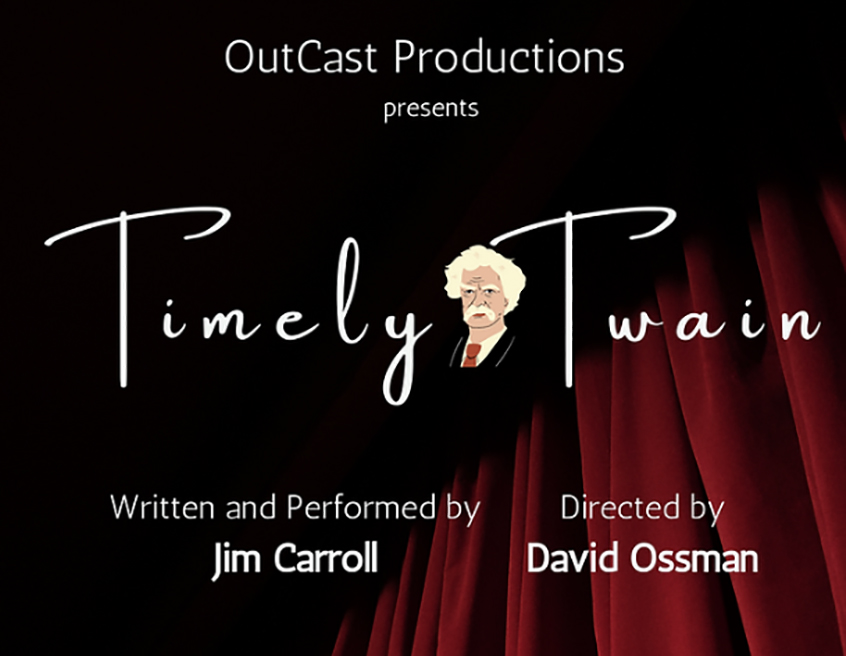 The play is written and performed by Jim Carroll and is directed by David Ossman. Tickets to the production are $20 for adults and $16 for students and senior citizens and are available online at outcastproductions.net, at the door or by requesting a reservation at ocp@whidbey.com. Tickets for the Sunday, May 21 show are $14 for all seats. Performances are at 7:30 p.m. Fridays and Saturdays and at 4 p.m. Sundays (May 21 and 28).
This original work by local resident Jim Carroll takes a look at Twain's life, but in an unexpected way.
"I think there will be a lot of surprises in it for audiences," said director David Ossman. "It's not 'Hal Holbrook Presents Mark Twain.' It's very original and there are a lot of surprises in it. The job here is not playing Mark Twain, but playing his many characters, and there's a whole range of them. I don't want to blow the surprise, but it features his characters as much as it features Twain."
Ossman, who has directed many plays on Whidbey Island, said directing a one-man show is less complicated in many ways, since there is literally less traffic on stage. The challenge in directing a single actor is somewhat different.
"The quick answer is it's much less complicated to direct the choreography of the play," he said. "It allows the director to concentrate on a single character and shape what the writer/performer already has. The most important thing to me as a director is not pulling scenes together as the moments between them, the transitions. As in life, the transitions are the most important thing. It's getting from one place to another gracefully."
This show has also given Ossman the opportunity to lend his experience and expertise to shaping the show overall.
"I think I'm helping Jim to shape the material, to really make it have a beginning, middle and end that relate to one another," he shared. "He's chosen all the material, I'm making sure he has a first act and second act. Jim really came to me with a finished product. He takes direction really well, so it's been a matter of adding the little grace notes to a performance that actors don't usually think about because they are usually memorizing lines."
Blocking, or an actor's movements on the stage, is also something to which the director pays close attention.
"There's not so many places to go on that stage," Ossman said. "These are not things actors would typically think of because they are focusing on their lines, so the director looks at what the actor is doing and helps make each movement more purposeful, natural."
And according to Ossman, the Black Box Theater, located at the fairgrounds in Langley, works very well for this production.
"It's wonderful to work in that black box, I really enjoy it," he said. "You can do a reasonably big show there, but it holds one person very well. This theater gives us the opportunity to play to the audience very intimately, and in this show, the audience is part of it."
While he didn't want to spoil any surprises for this upcoming production, Ossman said it's well worth attending.
"I think it's always wonderful to hear Twain because he's very funny, he's an ironically funny writer," he said. "I think audiences will be surprised by the choice of material and the way it's presented. I don't want to say too much, but I hope audiences will be surprised."
Learn more at outcastproductions.net.