Walk and Talk tours bring Langley history to life
— Created May 10, 2023 by Kathy Reed
By Kathy Reed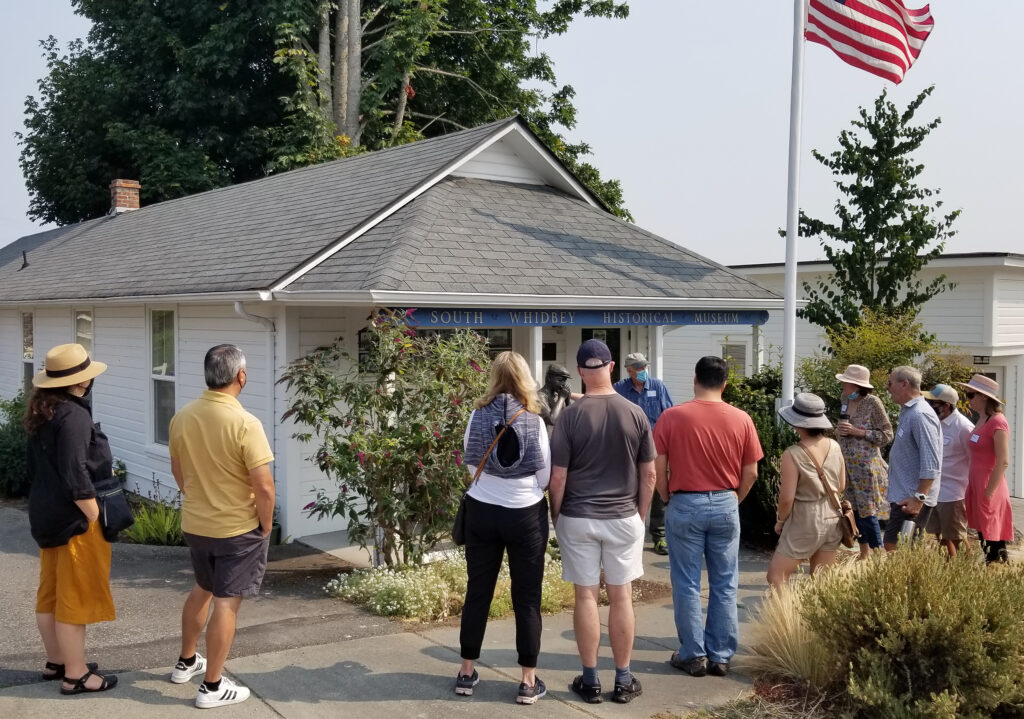 History buffs, this one's for you!
Anyone who is interested in learning about Langley's past is invited to check out the South Whidbey Historical Society's "Walk and Talk" tours. There are two more opportunities this month to dive into the Village by the Sea's past – Saturday at 10 a.m. and again May 27 at the same time. Space on the tours is limited and advance registration is required. The cost to participate is $10 per person. Tickets and registration are available online at https://walkingtour.bpt.me or at the South Whidbey Historical Museum, 312 2nd Ave., weekends between 1 and 4 p.m. All proceeds benefit the South Whidbey Historical Society.
For retired professor Bob Waterman, sharing what he's learned about Langley's colorful history and characters is right up his alley.
"I am not an historian," he said. "I'm a retired professor of anatomy. I moved to Whidbey Island in 1998. My brother-in-law was on the planning board at the time and he said, 'Here's your opportunity to learn about Langley.' That got me interested in city government and learning a little about the city. Over the years I became involved in a number of projects dealing with history."
While serving on the Langley City Council, Waterman started a historic preservation commission (of which he is still the chair), and he became involved with the South Whidbey Historical Society in his early years on Whidbey. He said he's worn many hats and talked with many people over the years, learning a lot about Langley and its early residents.
"I'm a teacher. I love to learn and share it with others," he said. "My father was an architect, so I've always been interested in how buildings are put together. Buildings hold stories of the people that built them, worked in them, lived in them. That, plus interest in the community in which I reside led me to learn about Langley.
"Many of the early people of Langley were interesting characters," Waterman continued. "I am always interested in why everyone came to a little island like this to live. Jacob Anthes was a very young man when he came to the island. And then there was Leander and Emma Monson and their six children."
Waterman shared a quick story about Leander's drinking problem.
"His family would leave the house until he sobered up," he recounted. "In December 1907, Leander went on one of his benders and got the idea the local blacksmith, who was living in the bunkhouse (now the site of the museum), had captured his family and was holding them. So Leander got his gun and shot through the wall of the bunkhouse. That scared the daylights out of Blackie's wife and little kids. Across the street was a two-story house and the Anderson family lived upstairs. Mr. Anderson, who had been one of Theodore Roosevelt's Rough Riders, knew gunfire when he heard it. He talked Leander into having a contest to see who could shoot the highest. Leander fell for it and shot up in the air until he ran out of bullets."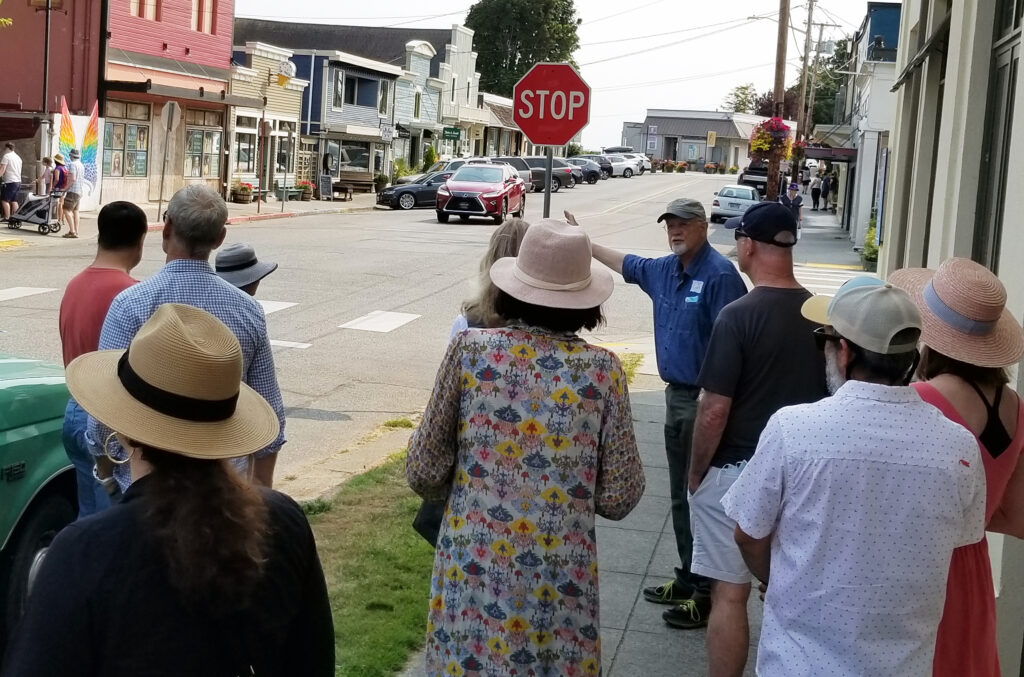 According to Waterman, a warrant for attempted murder was issued for Leander the next day, but Leander was back in town within a year. But this is just one story among many in Langley's history.
"The pioneer women made amazing contributions to the town's history," said Waterman. "Like Helen Coe, the first female mayor of Langley. She had an all-female [city council] for several years. She then became Langley's first librarian. There are lots of interesting people stories to be told."
Surprisingly, Waterman said the majority of people who attend the Walk and Talk tours do not come from Whidbey Island. He said he tries to vary his presentations based on where his audience is from.
"Recently, I've been getting more and more questions about the Native Americans who were here thousands of years before the white settlers came," he said. "So I've added some comments about that."
The Walk and Talk tours of Langley are typically held May through September, as Waterman's schedule allows. Upcoming tours are posted on the museum's Facebook page at facebook.com/SouthWhidbeyHistory. Tours begin with a short talk at the museum on 2nd Street. Participants are encouraged to bring water and wear comfortable walking shoes. Visit southwhidbeyhistory.com for more information on the museum.
"Langley is one of only three incorporated towns on Whidbey Island," Waterman said. "It has a history stemming from its founding in 1890, so it's been around a long time. So if anyone wants to learn about its history and about South Whidbey in particular, this is a good opportunity to do that."