Bells of Whidbey ring for Gifts from the Heart
— Created May 24, 2023 by Kathy Reed
By Kathy Reed
The Bells of Whidbey handbell ensemble knows how to chime in for a good cause.
The English handbell group will present a concert entitled "On the Road Again," Saturday at 3 p.m. at the Coupeville Recreation Hall, 901 NW Alexander Street. The concert is a fundraiser for Gifts from the Heart food bank. Admission is by donation of either money or canned goods.
Organizers say this program will provide a variety of music for all ages to enjoy.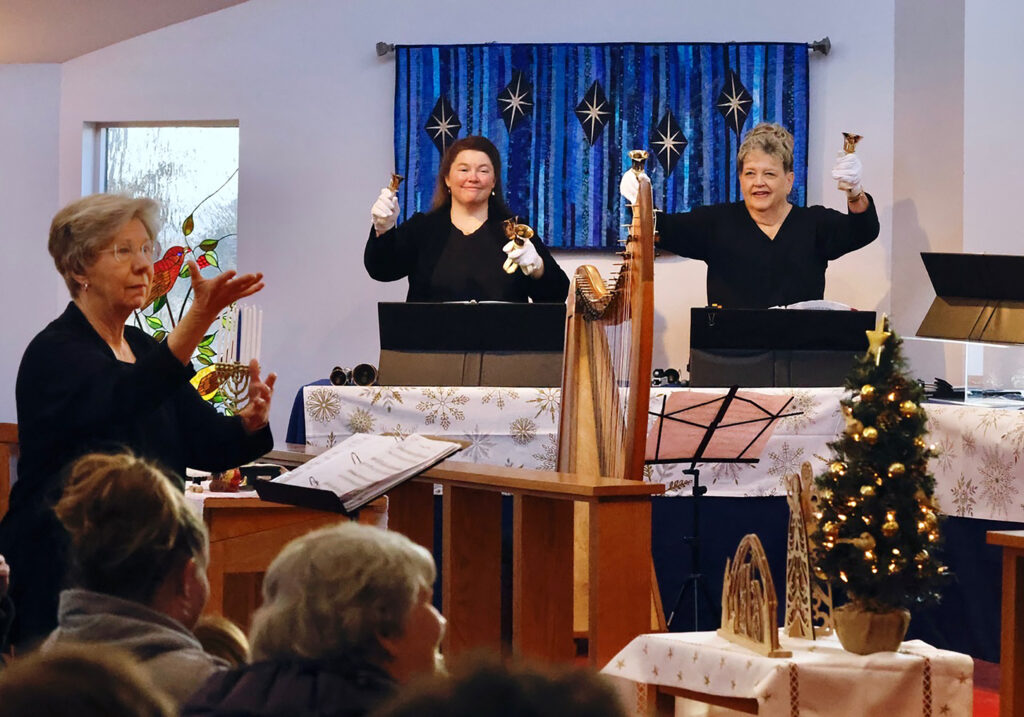 "With themes of welcoming summer and travel, real or imagined, The Bells of Whidbey present, 'On the Road Again,'" said Bells of Whidbey director, Cheryl Waide. "Featuring music from classics such as 'In the Good Old Summertime' to 'New York, New York,' the program will provide music for all ages. Music from Broadway musicals such as 'Oklahoma' and the 'Wizard of Oz' are included. 'The Lion Sleeps Tonight' will offer a tribute to the Central Whidbey and Coupeville Lions Clubs – the Lions who seldom sleep!"
While not strictly a Memorial Day concert, Waide said the group will ring a version of the song, "Shenandoah" as a tribute to those who have served.
"Since we follow the Coupeville Memorial Day parade and the picnic in the park with a band, which both feature patriotic music, we decided to take a different approach and provide contrasting music," she explained.
To aid in the group's endeavor to provide an interesting program, there will be other instrumentalists, vocalists and a narrator to add richness and depth.
"We are also featuring guest musicians, Jim Lightner, director of the Shifty Sailors, who will provide back-up with banjo, guitar, and vocals," Waide described. "Drummer Jim Neverman from Freeland will provide percussion, with Tim Kraft (a la Frank Sinatra) from Bellingham will add to the vocals. Harry Anderson [will serve as the] narrator. Extra 'visuals' will include a few local Coupeville 'celebrities.'"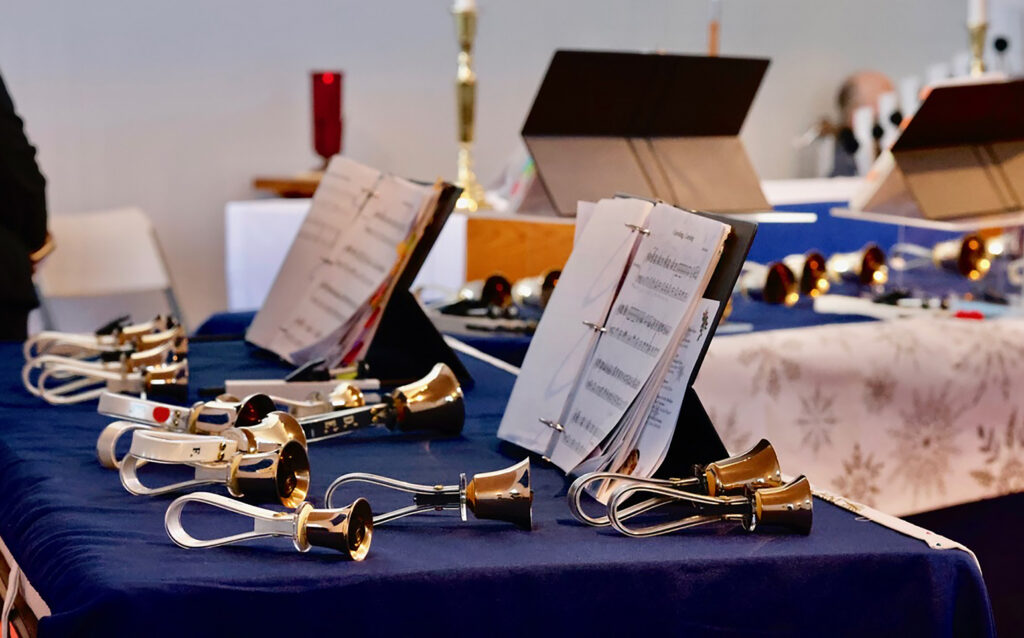 The Bells of Whidbey is a relatively new group, having formed last year. Members are keen to be sure their group not only provides beautiful music, but also supports Whidbey Island community organizations.
"Our first concert was a successful benefit for SPiN Café in Oak Harbor and we thought another venue and organization on Whidbey would be appropriate, since after all, we are a community group," said Waide. "Our vision remains the same from our initial start-up, to help and give back to the community through our love of making music with English handbells."
Gifts from the Heart board president, Molly Hughes, said she was pleased and surprised by the offer for a fundraising concert.
"I just picked up the phone one day and they offered to make us their beneficiary," she said. "We are honored to partner with them and look forward to hearing their concert."
According to Hughes, those attending the concert Saturday can choose to support Gifts from the Heart's ongoing mission to help those living within the boundaries of the Coupeville School District who struggle with food insecurity, or they can support the nonprofit organization's project to build a new forever home.
"The money raised can be donated to purchase food or to support our new building fund, or donors can leave it up to us to put it where the need is," she said. "People can also bring non-perishable food donations to the concert instead of a monetary donation. Both are needed and appreciated."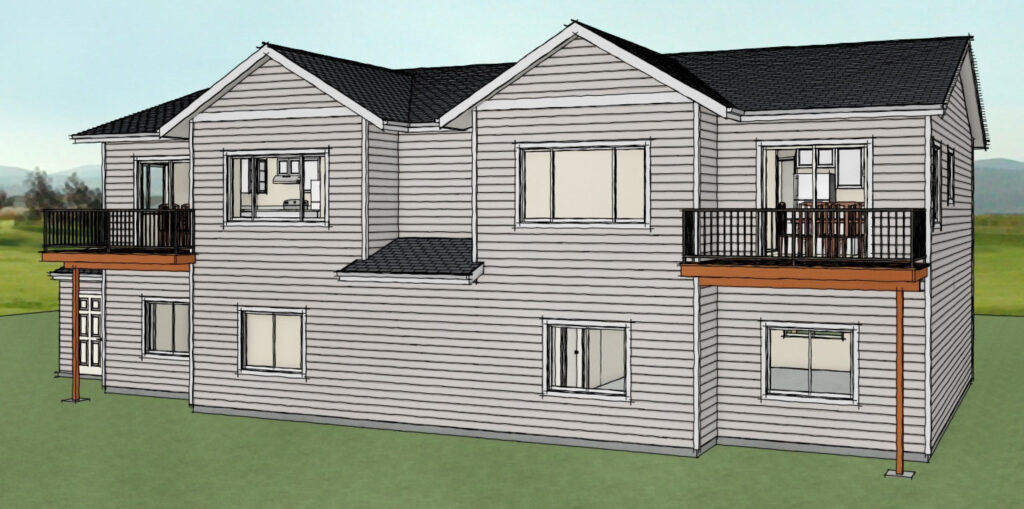 Gifts from the Heart is about to begin the permitting process which will enable the organization to build a new food bank building that includes two, two-bedroom, workforce housing apartments on the second floor. Construction could begin as early as this winter.
"The apartments will provide a sustainable income that will allow the food bank to pay all of our overheads and building maintenance," Hughes said. "This will allow us to have a forever home and to continue to use our donor dollars on food for our clients."
Hughes said Gifts from the Heart recently marked a fundraising milestone, hitting 80-percent of its $990,000 goal, due in part to an appropriation from the state's capital budget, which was sponsored by District 10 Representatives Clyde Shavers and Dave Paul and Sen. Ron Muzzall.
"We had already saved $550,000 and we received $230,000 from the state. This leaves us with $210,00 left to raise," Hughes explained. "We would like to get closer to our goal so we can start breaking ground. We have written several small grant applications, we are making personal asks to people and businesses, and we are working on a couple of fundraisers. We need all the help we can get to make it over the finish line."
Like other food banks on Whidbey Island, the number of people served dropped during the pandemic. Those numbers have now returned to pre-COVID levels at Gifts from the Heart.
"We help around 100 families every time we are open," said Hughes. "We help 50 students in the Coupeville School District meet their weekend food needs every single week with our Meals 2 Kids backpack program. We deliver to seniors who can't make it to the food bank and between five to 10 percent of our clients are homeless on any given distribution day. While we are focused on our capital campaign, we are also meeting our mission of 'respectfully providing food to those in need.' We always appreciate food drives and donations of food at our local drop off boxes.
"I always want to take the opportunity to thank our community for their 21 years of generous support to Gifts from the Heart food bank," she continued. "We could not have served the thousands of food bank clients and hundreds of school kids we have over the years without the steadfast support of individuals, businesses, churches, nonprofits and service groups. We don't take it for granted and we appreciate every bit of help."
Waide and Hughes both agreed there are good reasons to spend some time in the heart of Whidbey Island Saturday.
"Come to support the Gifts from the Heart Food Bank and its new building program," Waide encouraged. "Molly Hughes will present information about this wonderful organization and its volunteers."
"It will be a fun way to spend Saturday afternoon in the Rec Hall," Hughes said. "Go to the Memorial Day parade at 11 a.m., attend the Remembrance Ceremony and picnic in Town Park, shop in town and enjoy the Bells of Whidbey concert at 3 p.m. Make a full day of it in Coupeville!"
Learn more about the Gifts from the Heart building plan by visiting giftsfromtheheartfoodbank.com. Anyone interested in becoming a ringer for The Bells of Whidbey or those who would like to provide the volunteer group financial support to help purchase music or to rent venues, contact Cheryl Waide at jcwaide@comcast.net.