Whidbey Island honors the fallen this Memorial Day
— Created May 24, 2023 by Kathy Reed
By Kathy Reed
Many may think of Memorial Day weekend as the unofficial beginning of summer, ushering in a season of vacation travel, trips to the beach, barbecues, picnics and all the other warm weather fun that goes with it. And while all that is true, Whidbey Island will pause this weekend to observe the holiday itself, which is meant to honor and remember those who have made the ultimate sacrifice for their country.
Saturday
Coupeville Memorial Parade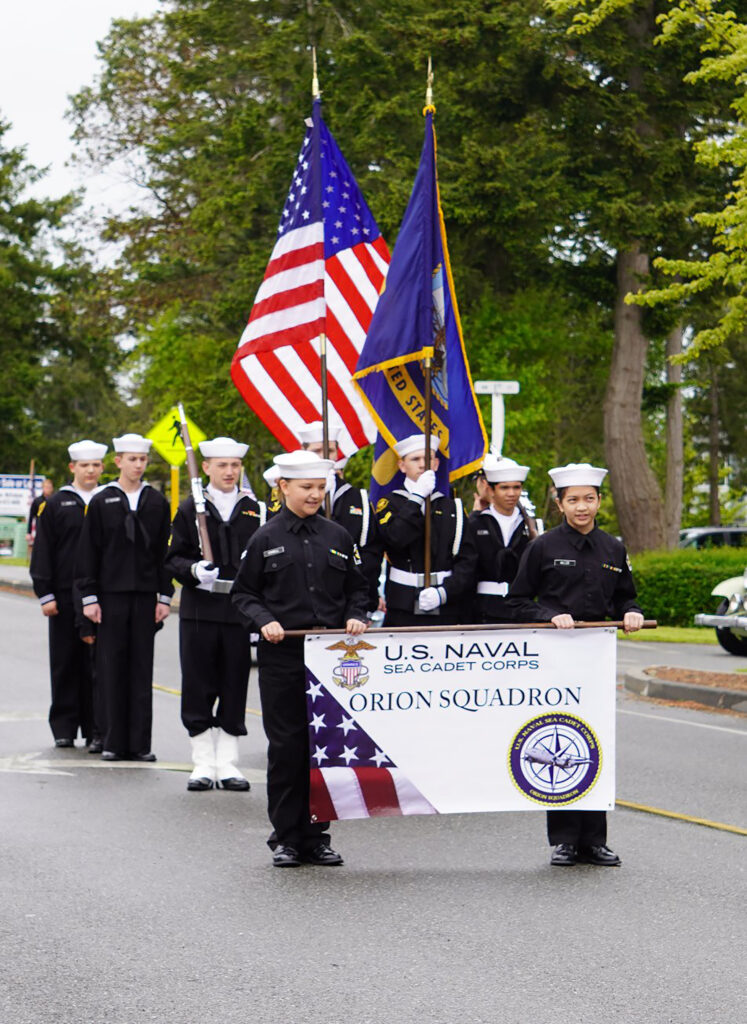 Observances begin in Coupeville Saturday at 11 a.m. with the annual Memorial Parade. This long-standing tradition is one of the oldest Memorial Day parades in the state and always draws a good number of participants and observers alike. The focus, as always, is on veterans, but the entire community comes together for this event. In the past the parade has included fire engines, members of 4-H and antique car clubs along with community organizations and military representatives.
This year's parade route will begin at North Main and 1st Street, then proceed to Front Street, ending at Town Park, where the community commemoration to those who paid the ultimate price in service to their country will continue with a traditional remembrance ceremony. All of that will be followed by a community picnic featuring free hot dogs, chips and ice cream, while supplies last. The event concludes with a concert featuring a variety of patriotic music.
The parade, put on by the Coupeville Chamber of Commerce, is a unique Coupeville tradition, according to Lynda Eccles, Coupeville Chamber's executive director, who in the past has said the town's "positive vibe" is part of what makes its Memorial Day celebration special.
"The world might be changing but we're carrying on, Coupeville strong," she said. "It's a time to reflect, a time to look to the future. It's a celebration of people who have fought for our country. We should acknowledge them and celebrate them. And celebrate the community."
Saturday
WVRC Community Gathering
Whidbey Veterans Resource Center will hold a community gathering Saturday, beginning with a Memorial Day remembrance ceremony at 11:30 a.m., followed with live music and a burger and brats barbecue from noon to 5 p.m. This family-friendly, alcohol-free event will take place at the WVRC at the South Whidbey Community Center, 723 Camano Ave., in Langley. The event is free to attend, but lunch will be served by donation – it is a fundraiser to help support WVRC 's programming and operational expenses.
This first-time event will feature music from Steve DeHaven, the North Shore Ramblers, Fred Dente and Bobby and the Fat Daddies following the brief remembrance ceremony, which will feature a land acknowledgement and prayer plus a message from Scott Chaplin, Langley's mayor.
"We wanted to add this [Memorial Day event] as a way to gather community," said Dana Sawyers, WVRC program coordinator and benefits specialist. "While Memorial Day is a somber holiday meant to remember those who have lost their lives in service to country, we also want to recognize the importance of community and coming together."
"It's about community awareness, unity," agreed Nora Durand, WVR director of community outreach and fundraising. "We wanted to reach out and make sure everyone knows what we're doing here."
Island County has the highest number of veterans per capita in the state. Roughly 13 percent of the total population are veterans. Finding community, particularly within the Whidbey Veterans Resource Center, is one of its most important goals.
"Vets talks with other veterans," said Sawyers. "We're hoping a gathering will allow people to feel recognized for their service and enable them to make a connection to someone or something we offer. There are a lot of veterans who might not be aware of, or understand, their eligibilities. When veterans make connections to benefits and services, it's important.
"For anyone who has been in the armed services, they're going to be impacted by some factor during their service time," she continued. "Sometimes meeting up and having a chat or a laugh with other veterans is meaningful. People have pretty significant experiences during their service that they carry with them. Talking and making connections can be helpful."
The WVRC served over 600 individuals last year. The organization has grown from being open four to six hours a week to being open and having the phone answered Monday through Saturday. It provides a place for veterans and/or their families to drop-in. It provides peer support, no cost counseling services, transportation to the Veterans Administration, assistance accessing VA healthcare services and much more.
"We are now seeing a younger generation of veterans coming in," said Durand. "It's great to see the WVRC is here to help the next generation that's coming in and give them support. We have a very strong community and it's great to see folks get life-saving assistance and medicine. That's what we mean about community. It's people helping people."
Learn more about Saturday's community gathering and all the services the Whidbey Veterans Resource Center offers by visiting wvrc.org, by calling 360-331-8081 or by emailing whidbeyvrc@gmail.com.
Monday
Service of Remembrance
The Oak Harbor Lions Club and American Legion George Morris Post 129 will present the fifth annual Service of Remembrance Monday at 10 a.m. at Maple Leaf Cemetery in Oak Harbor. The service will also be livestreamed on https://ohlions.org/MemorialDay as well as Oak Harbor cable channel 10 and YouTube.
The event will feature a prelude (starting at 9:30 a.m.) by a Navy Band Northwest brass quintet and colors will be carried by members of the Oak Harbor High School NJROTC, members of the Orion Squadron of Sea Cadets and Sons of the American Revolution George Washington Chapter. That is just the beginning of what is a traditional and reverent ceremony, which will include guests like U.S. Rep. Rick Larsen and state Sen. Ron Muzzall. This year's keynote speaker will be Naval Air Station Whidbey Island Commanding Officer, Capt. Eric Hanks.
"I am very happy Capt. Hanks will be able to join us this year, as I think our service provides NASWI leadership with a great opportunity to share what the holiday means personally," said Kelly Davidson, who organizes the service. "To know that leadership also grieves, that 'they can relate' to feelings of loss, and that they support us in remembering the holiday is critically important for our community to see, especially for the youth, who need to know why it is important for us to remember the holiday and respect the sacrifices made with traditional, solemn, and reverent ceremony."
Youth play an important role in several aspects of the Service of Remembrance, but just as critical are the roles played by local service organizations, specifically the American Legion, Veterans of Foreign Wars and Fleet Reserve. The three organizations will participate in a traditional wreath laying ceremony.
Typically more than 400 people attend this service. Davidson said that says a lot about the Oak Harbor community.
"Not only does the Navy base draw new people to our community, but it is remarkable (to me at least) how many people 'return to Whidbey to retire' after having served at NASWI," she said, recounting she has often met people while traveling who have served at NAS Whidbey at some point. "Oak Harbor has a lot of pride in the community – and it shows. People genuinely care for each other, and this holiday is a perfect example of such. For us to have viewers from other countries (Europe and Canada) and from all over the United States watching, gives us a chance to really show the world how we value our brothers and sisters in arms and value the dedication to mission, even unto the ultimate sacrifice of life."
Monday's service will conclude at approximately 11 a.m. and will include a fly-over by NAS Whidbey Island Search and Rescue. A separate wreath-laying ceremony will be held at Sunnyside Cemetery in Coupeville at 1 p.m. and the whole event will conclude with an open house reception at 2 p.m. at the American Legion, 690 SE Barrington Dr., Oak Harbor.
"All attendees to our service (in-person and online), will leave our event feeling they have honored our great nation's veterans and our youth participating will learn the value and importance of honoring our heritage through traditional, reverent reflection and dedication to mission," said Davidson. "It is not often that we have the opportunity to hear from NASWI leadership and state- and county-level leaders in one event, and to have the youth presenting as well, is a really neat mix that people will appreciate. Please join us!"