Laughs, love and life's complications on stage at the Whidbey Playhouse
— Created May 31, 2023 by Kathy Reed
By Kathy Reed
The Whidbey Playhouse is abuzz preparing for its newest production, "The Birds and the Bees," opening Friday and running through Sunday, June 18.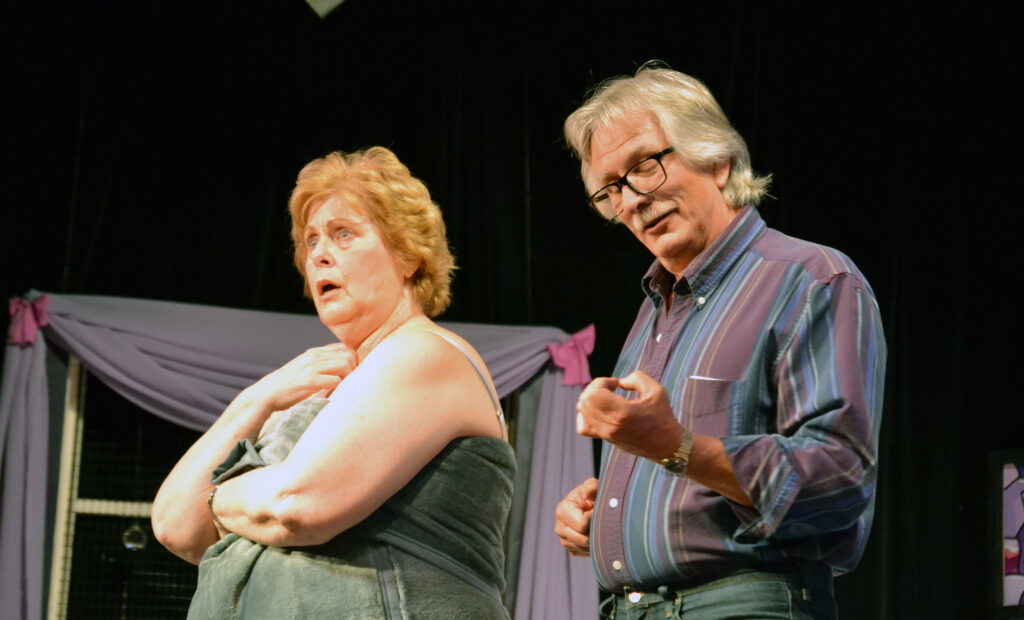 Written by Canadian playwright Mark Crawford, "The Birds and the Bees" is directed by Sarah Gallella and features a cast of four: Gaye Litka as Gail, Amy Malmkar as Sarah, Ben Honeycutt as Earl and Wesley Moran as Ben. The story focuses on Gail, a "60s-something" single woman who now keeps bees on her farm. She has a complex relationship with her adult daughter, Sarah, and a seeming love/hate relationship with farm tenant, Earl, whose wife left him for his best friend – Gail's husband – 20 years ago. And then there's Ben, a graduate student studying Gail's bees…and her daughter.
If it sounds a little complicated, it is. It is also very funny. But one mustn't leave out sweet, touching and thought-provoking, all of which blend together to make an unexpected, very appealing production. If the play's title, "The Birds and the Bees," stirs memories of "the talk" reserved for children of a certain age, it is for good reason. Sex, love, relationships – they all figure prominently into this story. Let's just say this is not a play for youngsters, so parents should exercise caution, as there are adult themes, language and a little bit of skin on display.
"The Birds and the Bees" is a relatively new play, having been written in 2016. It is something different for the Playhouse, which appealed to cast members, some of whom replied to questions from Whidbey Weekly via email.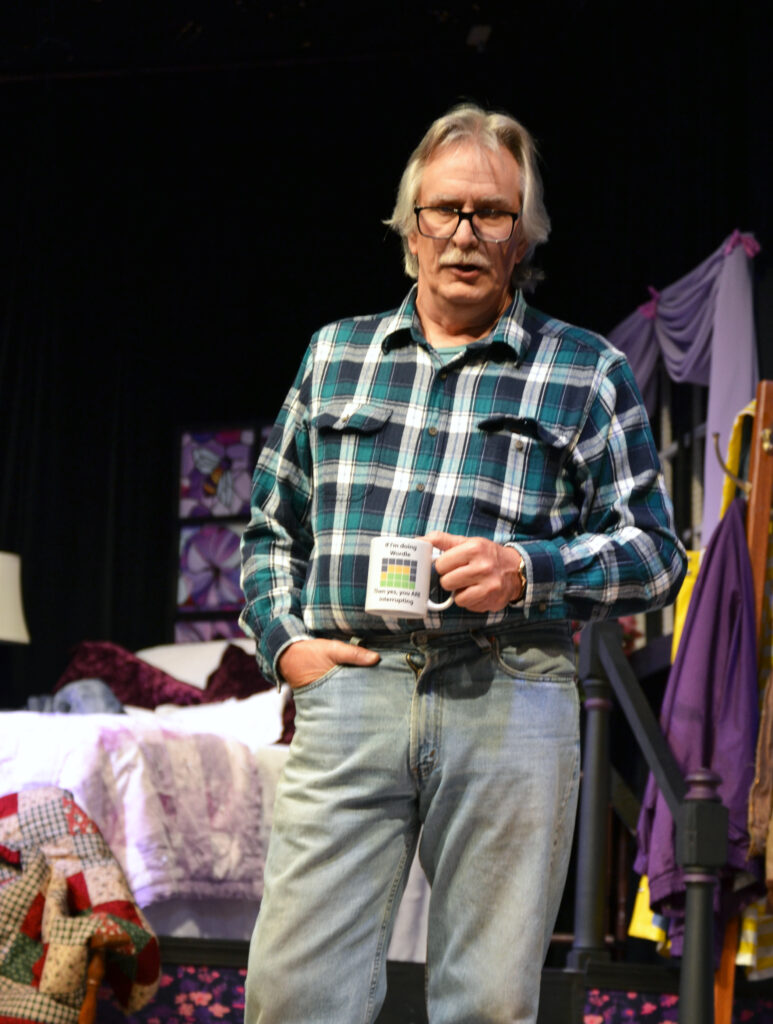 "It was one of the newest shows the Playhouse has done in recent years," Honeycutt said of what interested him in this production. "There are challenges to doing newer shows, as there is less of a track record of how they've been interpreted by prior directors and performers. As an actor, it gives me room to play a little and discover new things in the story and the character."
"A couple of years ago, a friend of mine saw a play in Vancouver, British Columbia, and she thought it was one of the funniest she had ever seen," Litka described. "She told me she thought this play would be perfect for Whidbey Playhouse. I ordered the script and absolutely adored it. I love plays about family relationships, especially if they are both funny and heart-warming."
Litka said she could hear her character's voice in her head when she read through the script.
"I haven't personally experienced Gail's situations, but I felt I knew this woman," she said. "I think she is someone many in the audience will recognize – maybe their own mother, sister or even a close friend.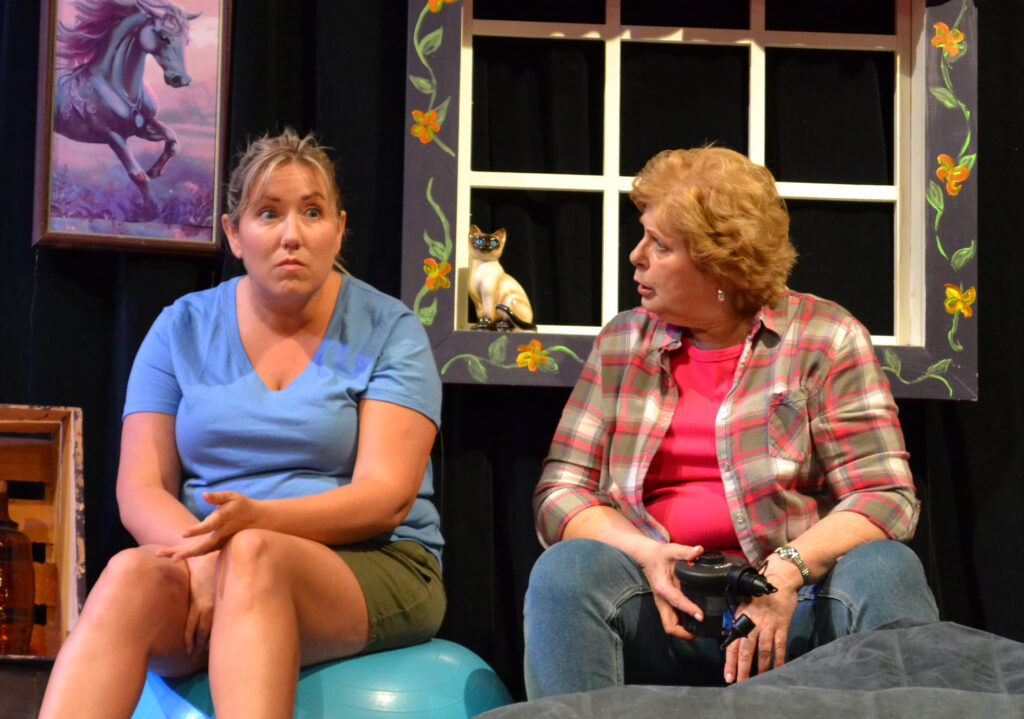 "Gail is a woman over 60 whose heart was broken by her husband, who ran off with her best friend 20 years ago," Litka continued. "She has a complicated relationship with her grown daughter and has pretty much given up on life, which now mostly focuses on her honeybees and her farm. She has a lot of personal hangups which make for some hilarious situations, but also some emotional and hard-hitting ones."
Honeycutt, who plays the role of Earl with gusto, said his character, while maybe a little rough around the edges, is always there when someone needs him.
"Earl is a straight shooter," he described. "He's one of those guys who is brutally honest and has no filter. He tends to be fairly single-minded and focused on the task or situation at hand. He's also emotionally damaged by his wife leaving him for his best friend, so this makes him appear to be a bit of a letch or hedonist, but in reality, he's carrying a lot of emotional scar tissue. And that is what drives a lot of his behavior."
With a cast of only four, all the actors have a fair amount of time on stage. And with the previously mentioned subject matter at the heart of the script, cast members found the experience to be both challenging and rewarding.
"All four of us in the cast have had to step out of our comfort zones in the characters we play to honor the playwright's storyline," said Litka. "That took some bravery on our part and caused lot of laughable moments during rehearsals, but we're all proud of our finished product."
"This may be the largest line count I've ever had," Honeycutt said. "Fortunately, the writer is also an actor, so he does make sure to give the actors time for breaks off stage, but yeah, this script load has been a beast for all of us. The other trip hazard for me has been the ever-so-slight difference between the Canadian country boy lingo of Earl, which is just a hair different from the American southwest lingo of the guy playing him. It's the tiny subtle differences that can be the biggest challenge."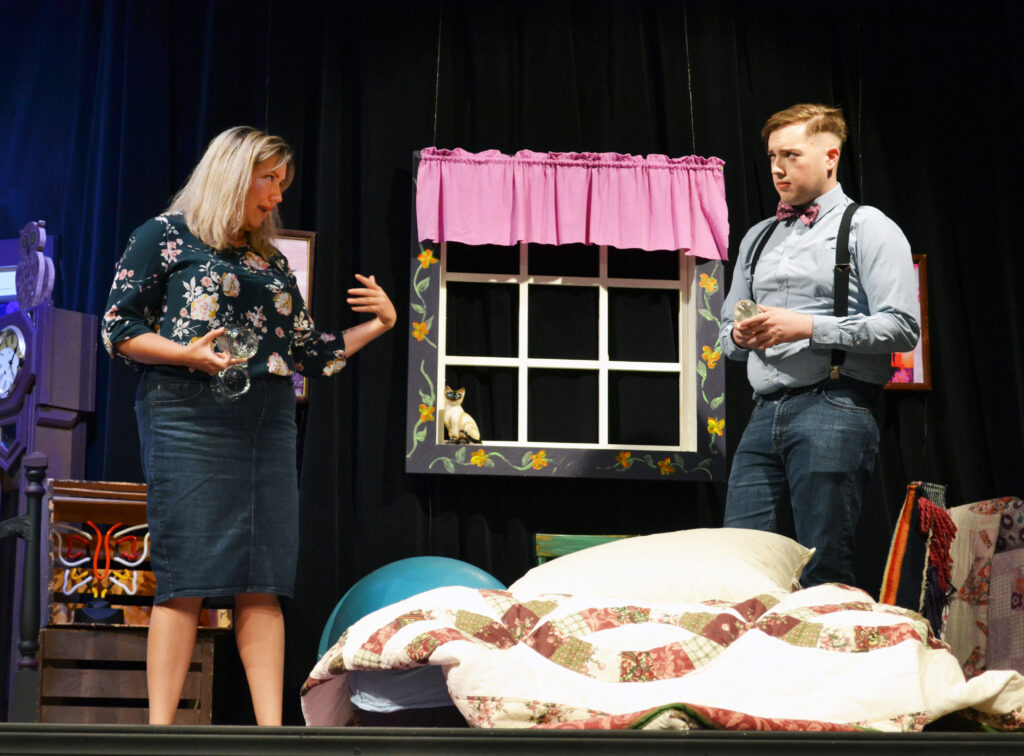 Performances of "The Birds and the Bees" begin Friday and run through Father's Day. Shows Friday and Saturday are at 7:30 p.m. and there are three Sunday matinee performances at 2:30 p.m. Tickets are $25 and are available at the box office or online at whidbeyplayhouse.com.  The Whidbey Playhouse is located at 730 SE Midway Boulevard in Oak Harbor.
"This really is a cute romantic comedy," said Honeycutt. "It does have a few things to say about the state of the world and our society, if you pay attention. It's positive and funny, which is better than a lot of what you get from the screens we're all carrying around these days. So, turn the screen off and come have some fun."
"There's a lot of humor in this play—it's a little edgy, too—but I feel the play is very well written, and I think audiences will be thoroughly entertained," Litka said. "Love stories are not just for the young! People over 60 fall in love too, and maybe this story will encourage some to not give up!"