Bayview Corner Summer Street Dances: Super-sized summer fun kicks off next week
— Created June 7, 2023 by Kathy Reed
By Kathy Reed
It's summer on Whidbey Island, which means the return of many events, but one of the most popular is about to resume on just the right note.
A new season of Bayview Corner Summer Street Dances gets underway from 6 to 8 p.m. Wednesday, June 14 outside the Bayview Cash Store. These free, family-friendly evenings feature some of the hottest, most popular local groups and this year, there's even more to look forward to, according to organizers.
"We had such a hard time choosing bands this year that we ended up adding a seventh [dance]," said Sami Postma, events and education coordinator for Goosefoot Community Fund, which puts on the street dances. "While pretty established in their own right, new to playing with us are ROSSaCONN and Doctor Savage. They're both extremely talented local groups and we're so thrilled for the upcoming fun times."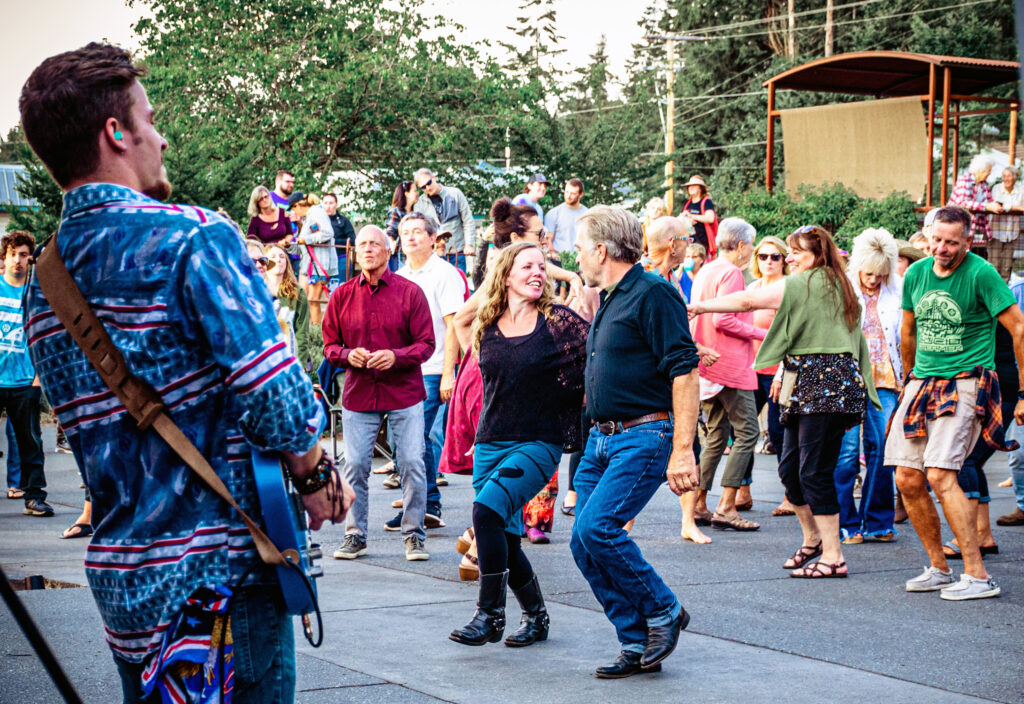 For anyone who may never have experienced the groove of a Bayview Corner street dance, they are meant to be a fun opportunity to enjoy some great music, reconnect with old friends and make some new ones, even if only for one evening. There is some food and drink available for purchase, but those attending are encouraged to bring a picnic and some chairs or a blanket, and just enjoy.
"Goosefoot will have the bar in the parking lot as usual, serving up wines, beer, and we're adding a canned cider this year by popular demand," described Postma. "The only food option at the Corner that's open is the Taproom, which opens on the Wednesdays of the street dances on a special schedule. It can get very packed, very quickly (and we'd like to remind people that if they order drinks in the Taproom, they must remain in the Taproom), so we encourage people to either plan ahead and have patience, or bring a picnic dinner. We've seen families spread out on the picnic tables on the far side of the building, and birthday parties and friend groups arrive early to stake out the tables near the bar. It's so wonderful to see people enjoying themselves and even celebrating special moments with us."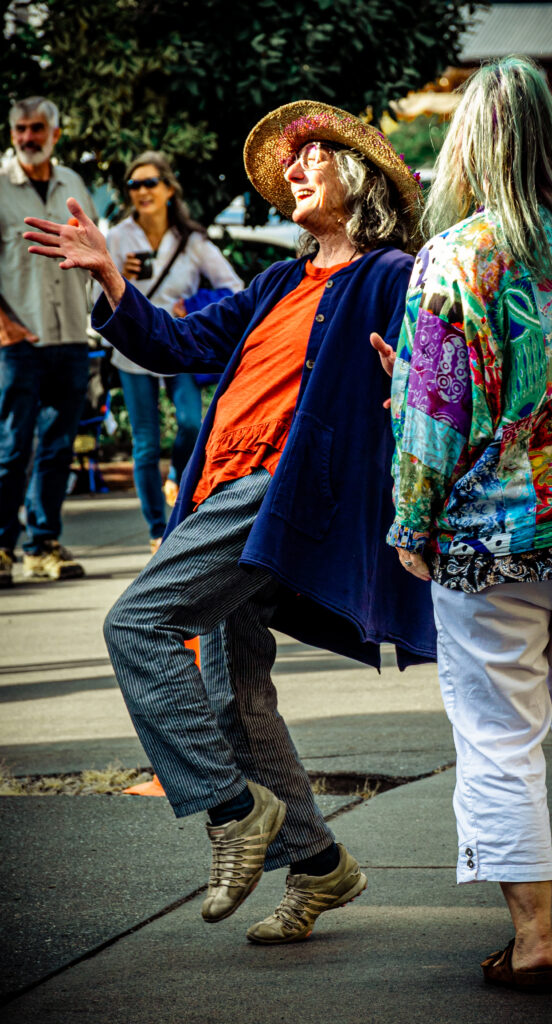 The street dances happen every two weeks during the summer, rain or shine. Postma said the fact they happen on Wednesday evenings is a good thing, since weekends in the summer are often filled with other activities, which makes it a fun way for anyone to enjoy a mid-week break.
"Goosefoot has a reputation for throwing a fun and friendly party," she said. "The dances are truly inclusive and welcoming, no matter your age, background, economic status, or dancing skills. They're free, though we encourage and appreciate everyone who tips the bands. Even the bar is pretty affordable, as we don't use it as a fundraiser and just try to provide fun options for everyone. We use local bands that stick to upbeat, fun music, which brings a different vibe than relaxing in a wine bar or slow dancing at a wedding."
And, for those who are new to Whidbey Island or are here visiting, the dances are a great way to discover what Bayview Corner has to offer.
"We certainly hope these events bring people back to the Corner even when a dance isn't happening," said Postma. "When folks come to the dances and they get to walk our beautiful grounds on their way from the parking lots, poke through the art show while waiting for the bathroom, get a blast of cooler air on really hot days or peek in the windows of the shops as they pass by, they will hopefully associate Bayview Corner with a fun, uplifting, and welcoming atmosphere.
"Those positive associations encourage them to come any time of the year to settle in and enjoy even the quieter moments, catch more live music at the Taproom, wander the grounds of Bayview Gardens when they're open, get relaxing wellness treatments that are advertised upstairs, or join in any number of the activities happening all around the Corner all year long," she continued.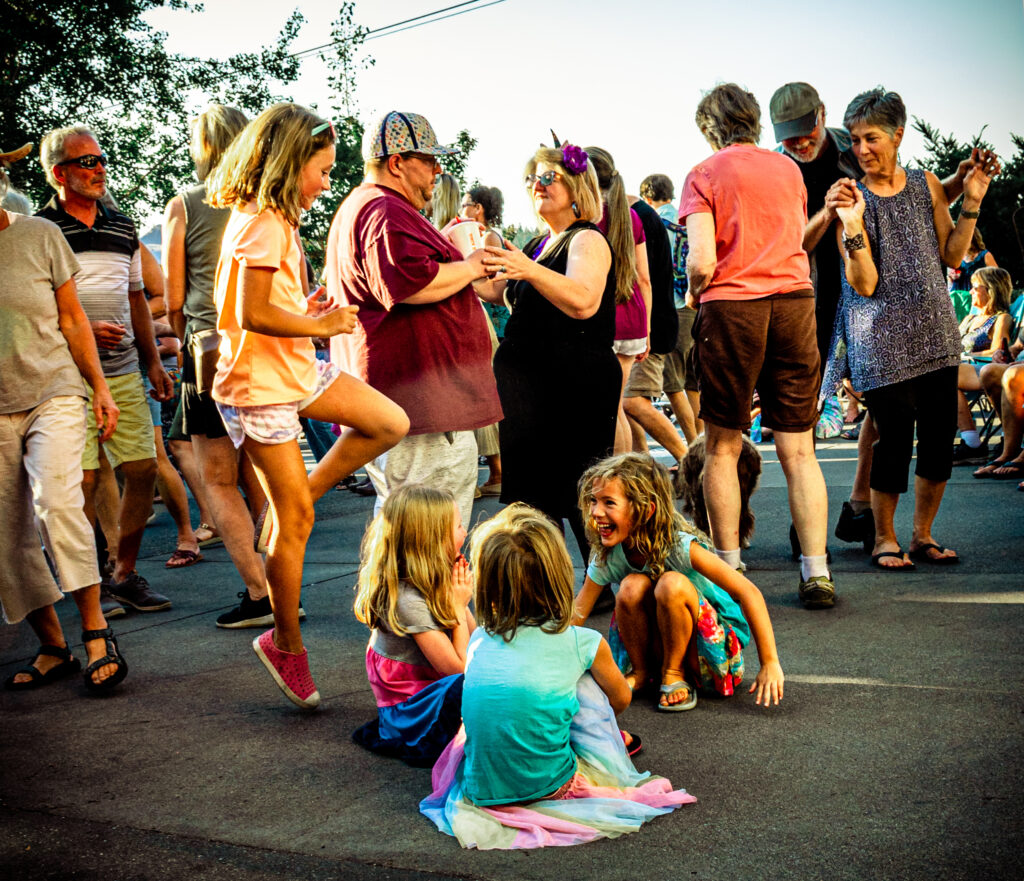 Postma said Goosefoot has seen a steady rise in participation in the dances, especially post-pandemic, but said safety is always encouraged and anyone who wishes is welcome to wear a mask.
"At the end of the day, whatever people need to do, I hope we provide a safe and supportive environment for everyone to have fun," she said. "There's still more of the Bayview Corner grounds for people to spread out in if they start to feel too surrounded by other people. It's an outdoor event exclusively in the last couple years as we've tried to rely on that to help safety. Even in 2021, when there were threats of rain, most of our bands seemed to be on board for just tenting up the parking lot so we could keep the fun outside. I'm really keeping my fingers crossed our luck holds with the weather and we get another beautiful season."
A highly anticipated series each year, this season of street dances will kick off with a returning favorite, the Nathaniel Talbot Trio. No tickets are needed to attend as these events are family friendly and free. More information is available online at Goosefoot.org. The Bayview Cash Store is  located at 5603 Bayview Road, in Langley.
"Local bands frequently cite it as their favorite event to play and community groups and clubs plan outings to gather together at the street dances," Postma said. "We're constantly working to improve community relations, reaching out to new groups, and making sure everyone feels welcome and included. If the number of people who keep coming back year after year and the huge smiles in all of the crowd photos can't persuade you to come back each year, I don't know what else I can say!"