Discover how Oak Harbor gardens grow at club's Tour and Tea    
— Created June 14, 2023 by Kathy Reed
By Kathy Reed
The Oak Harbor Garden Club is pleased to bring back its annual Garden Tour and Tea for the first time in three years.
The event will be held Saturday, June 24 from 10 a.m. to 4 p.m. and will feature a self-guided tour of five North Whidbey gardens plus a tea that will serve up complimentary refreshments as well as entertainment by Jamar Jenkins and an art show with displays by local artists Regina Kastler, Tim Haslet, Colleen OHair and more. Tickets are $25 per person and may be purchased online at oakharborgardenclub.org or at locations in Oak Harbor and Mount Vernon.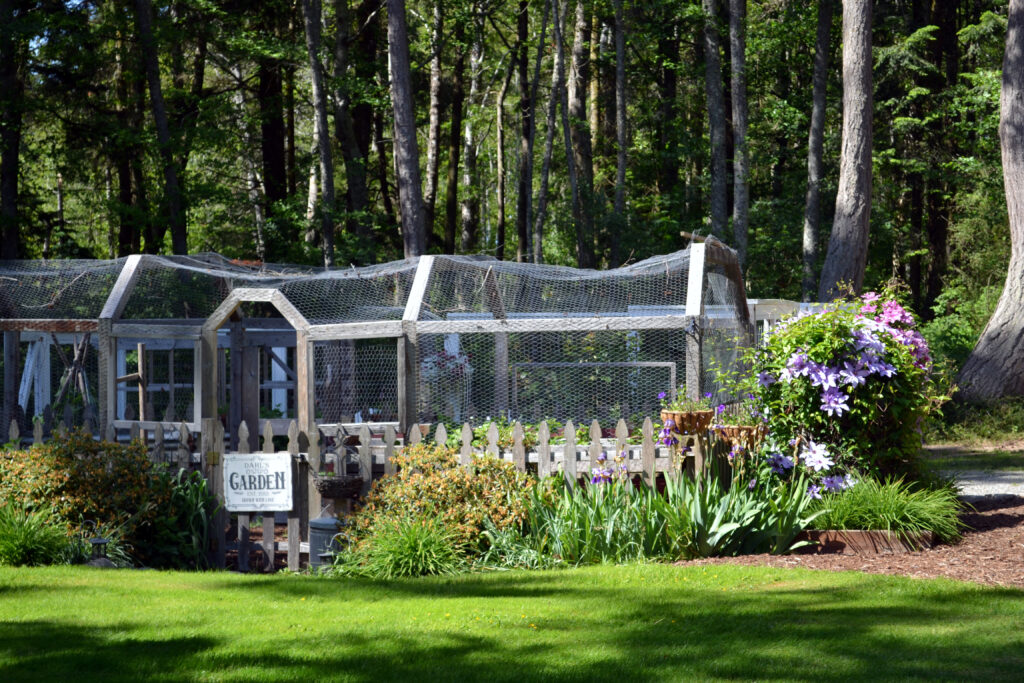 In addition to being the first Tea and Tour since the pandemic, this year marks a milestone for the garden club.
"We're celebrating 100 years in Oak Harbor," said Robin Boyle, the garden club's committee chair for this year's Tour and Tea. "The first meeting was held Oct. 3, 1923, and it started as a group of women who got together to help build a sidewalk for the high school. They held various fundraising projects to support building the sidewalk, but they've also been involved in creating Smith Park and all kinds of activities throughout the years."
What started as a civic improvement club has now blossomed into the Oak Harbor Garden Club. The organization is still very active and supports its various beautification projects – like planting 6,850 daffodil bulbs around Oak Harbor, for instance – by hosting several events each year, of which the Tour and Tea is a part.
Whidbey Weekly had the opportunity to pay an early visit to one of the gardens on this year's Tour and Tea. Heather and Shawn Dahl are first-time garden tour hosts who were inspired by attending the last tour.
"It was super fun and of course we got a million more ideas," Heather said. "We came home with a list."
"I don't think we necessarily did anything for the garden tour specifically," Shawn said. "I think we just prioritized what our list already was to be ready for the tour."
The couple has created their own little oasis on their two-and-a-half acres. Not all of the property has been "tamed" – they say that is very much a work in progress. But the space they have cultivated is tranquil and lovely. Guests will be able to meander past beds of gorgeous Hostas that are accented with bursts of color and filled with picturesque outbuildings and features.
"The reason we like Heather's and Shawn's so much is because it's very distinct," Boyle said. "It's very cute. There are a lot of outbuildings that make it very unique, so we were excited about that."
"I was a photographer, so I like little venue spots where I can take pictures and so that kind of started it," Heather said. "It just makes me happy to walk around my yard and it be pretty. We've been working on it for years. We started out with a little bit and keep adding, like the Hellebores. I'll put a few in and then I'll add some more every year. Same with the peonies. We just bought, like, three and ended up buying a whole bunch more every year. And the lavender, you'll see, it's a little bit of an older bed, struggling sometimes, but we just kind of keep plugging along."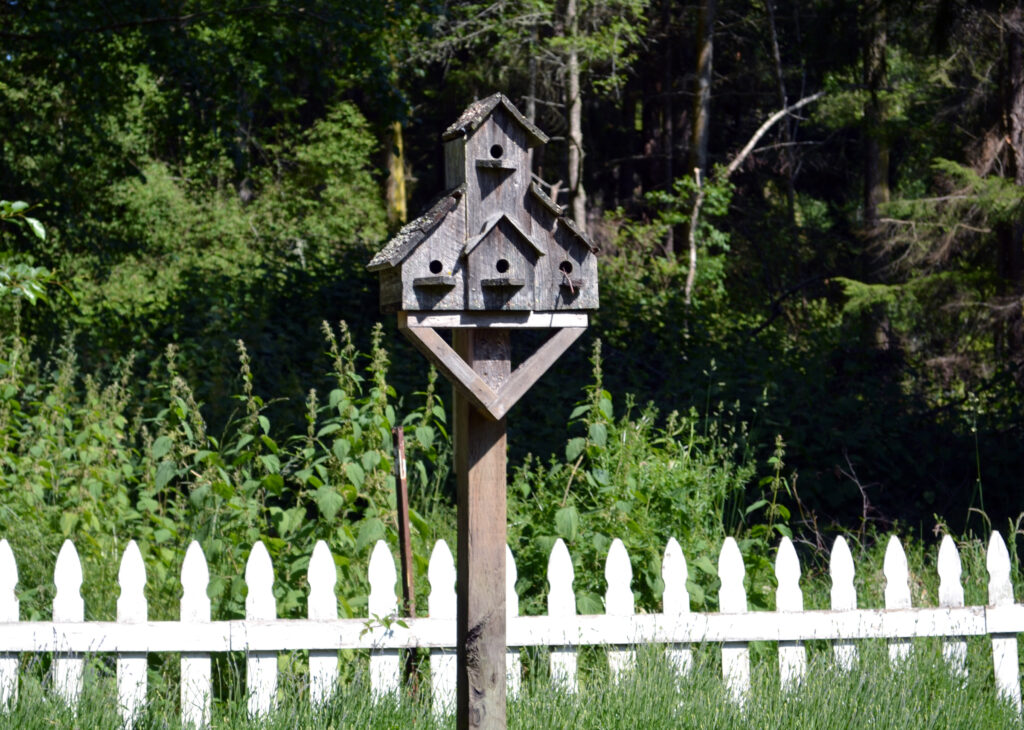 According to Boyle, not just every garden is suitable for the tour. Garden club members look for spaces with interesting elements. Parking availability is a big factor, too, even more so than size.
"We have another garden on the tour that's very small that helps people picture what a space can look like in a suburban area," she said. "It's just to give people ideas. You don't have to have a big garden and a lot of space to enjoy gardening. "Even if you have a small little plot, it's still something you can enjoy and work on. The whole tour is to inspire people to garden."
Those who enjoy vegetable gardening may take some inspiration from the Dahl's garden space. There are two enclosed spaces (built to keep the deer out) and there was a third nearly completed space at the time of our visit. Heather said she has an equal love for both kinds of gardening.
"I love flowers and I love making arrangements. In college I took a fun little class to make flower arrangements," she described. "Then, we like to eat, so we make vegetables in the back yard. We have a couple of garden spaces and we just are building a new one because I wanted corn, I wanted pumpkins and I wanted sunflowers. And that's everything deer will eat and so Shawn graciously says, 'I'll build you another garden, with walls, so it keeps the deer out.'"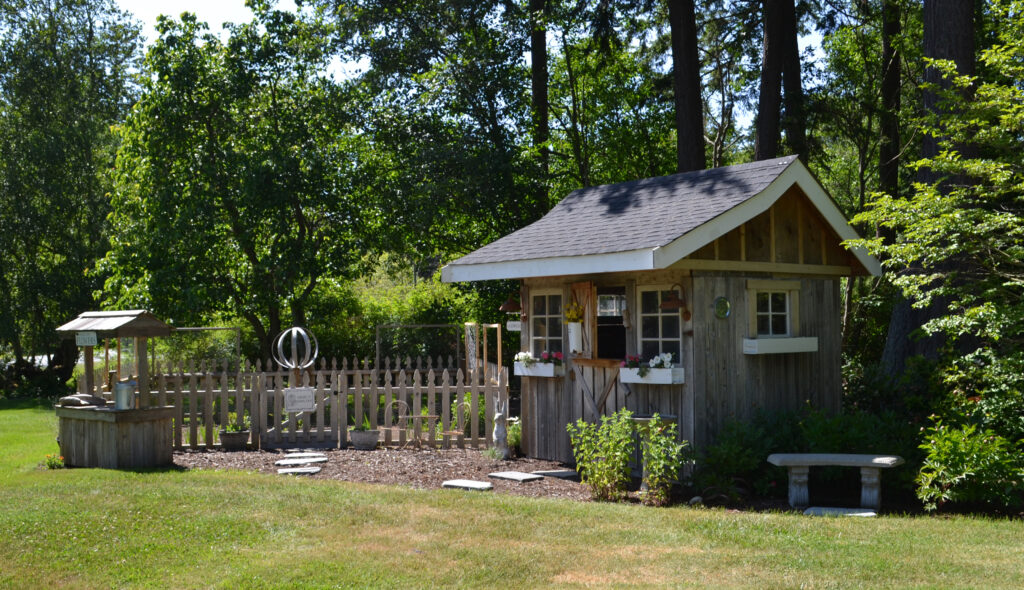 Heather's enthusiasm is rather contagious, according to Shawn.
"I love to build, that's what I've done my whole life," he said. "But I'm really starting to love the gardening now, too. But I've never really been into it until the last five, six years."
Tickets to the Oak Harbor Garden Club's Tour and Tea are $25 per person and include the complimentary tea. Tickets may be purchased online at oakharborgardenclub.org. A list of locations will be provided when tickets are purchased. Tickets may also be purchased in person at the Oak Harbor Chamber of Commerce, Greenhouse Florist and Nursery, Hero Ace Hardware, and Mailliard's Landing Nursery in Oak Harbor, or in Mount Vernon at Azusa Nursery and Christianson's Nursery. Proceeds from the tour and tea benefit the garden club's community beautification projects.
"I'm excited to hear people say 'Oh my gosh, that's so beautiful,'" said Heather. "Our back yard is our pride and joy. There was nothing here when we moved in and so we feel proud and just excited to share it."
"We would hold a garden tour every Friday. We really would," said Shawn. "We have people over every weekend. We just love sharing our property with others, we absolutely do. It's fun."