Art school shares power of art with inmates
— Created June 21, 2023 by Kathy Reed
By Kathy Reed
The Pacific Northwest Art School in Coupeville, long known for sharing art classes and events to enrich lives, is exploring another way to share the power and transformational impact of art with a whole new group of students – inmates.
Inside Out, so named by its participants, who are part of Island County Jail's substance abuse program, is the art school's new project, which kicked off just a couple of months ago.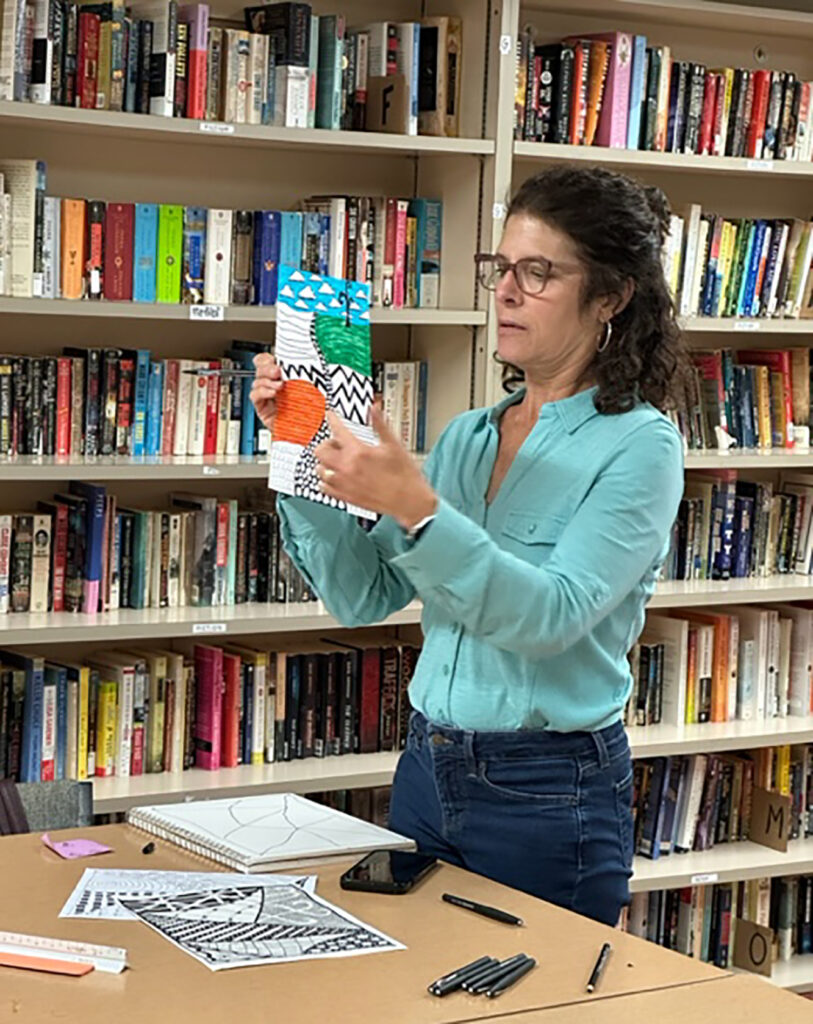 "It started very serendipitously," shared Lisa Bernhardt, executive director of Pacific Northwest Art School. "Every year we judge a youth art contest sponsored by the Civility First organization. [Entries were down due to COVID] so last year we decided to reach out to the jail population for entries. We got the most phenomenal submissions."
Bernhardt said the entries were judged by professional artists, who requested six awards be given at a special presentation at the jail.
"I was thinking it would take maybe five minutes," she recounted. "We were there for two hours. There was one woman and five men who won awards. They wanted to be seen as something other than 'incarcerated.' It was really powerful."
After thinking about the experience all winter, noting there was an obvious need and desire for a continuing art program at the jail, Bernhardt approached officials with an idea.
"I proposed bringing in professional artists who would volunteer their time, come up with a curriculum and come in when allowed," she said. "So we have a test/pilot program. We have two local teachers who I go with each time. There's only room for five participants at a time and they don't want to stop.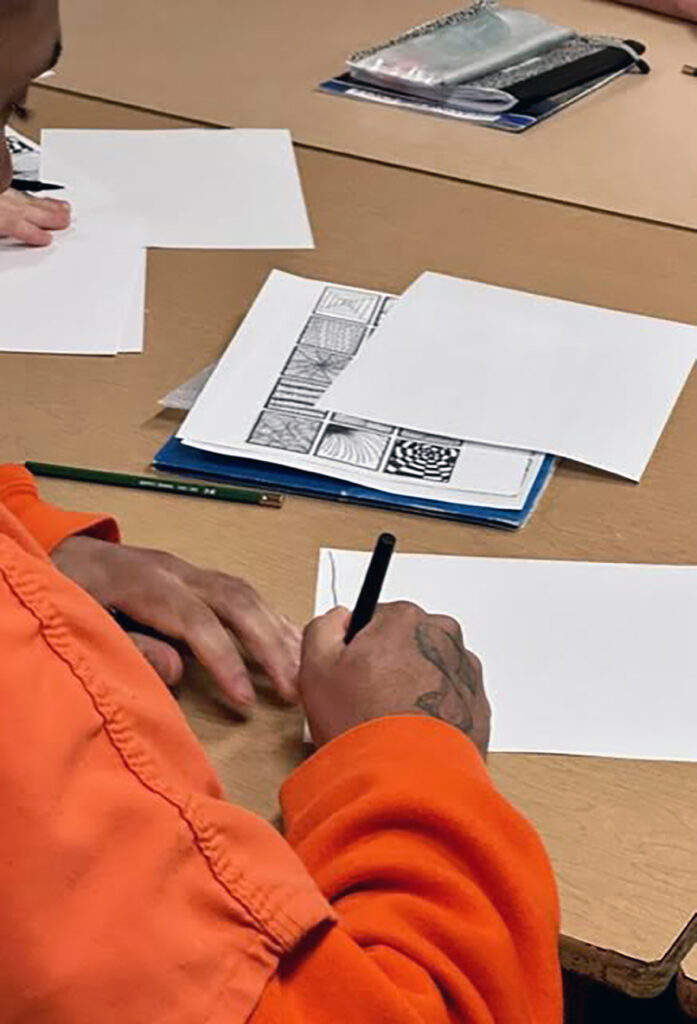 "Whatever the lesson is that week, we try to impart life lessons at the same time," Bernhardt continued. "Like choices, for example. When you make a decision to make a mark on paper, you're making a choice. You can't go back."
Local acrylic and mixed media artist, Beth Herrild, is one of the instructors for Inside Out. She has worked with prison populations before and was happy to jump on board for the new program.
"I know the power of art," she said. "It really is powerful and it's really good for all of our brains, kids and adults. It doesn't matter if it's good – it's about the process."
Herrild described how she and Bernhardt went in and just chatted with participants at first, to find out what appeals to them, what they like.
"A lot of them had experience drawing," she said. "One of the men had drawn cartoons all his life. He mentioned never being able to get dark darks, and it occurred to me he had only ever had access to a regular No. 2 pencil and very likely no money to go to an art supply store. So we're trying to expose them to different techniques and mediums to see what they like. And we're also trying to keep it to the types of supplies that should be easy to access, that are not super expensive and that they don't need a huge amount of room to use."
Herrild said the curriculum they've developed so far doesn't focus on perfecting specific techniques, but rather teaching concepts, such as positive and negative space.
"I love teaching art to people who haven't had access before and find joy in it," she said. "Whether it's kids or adults, it doesn't matter. These men are so appreciative of us being there doing it with them, it's easy to feel good about doing it. They're excited. They want to be there."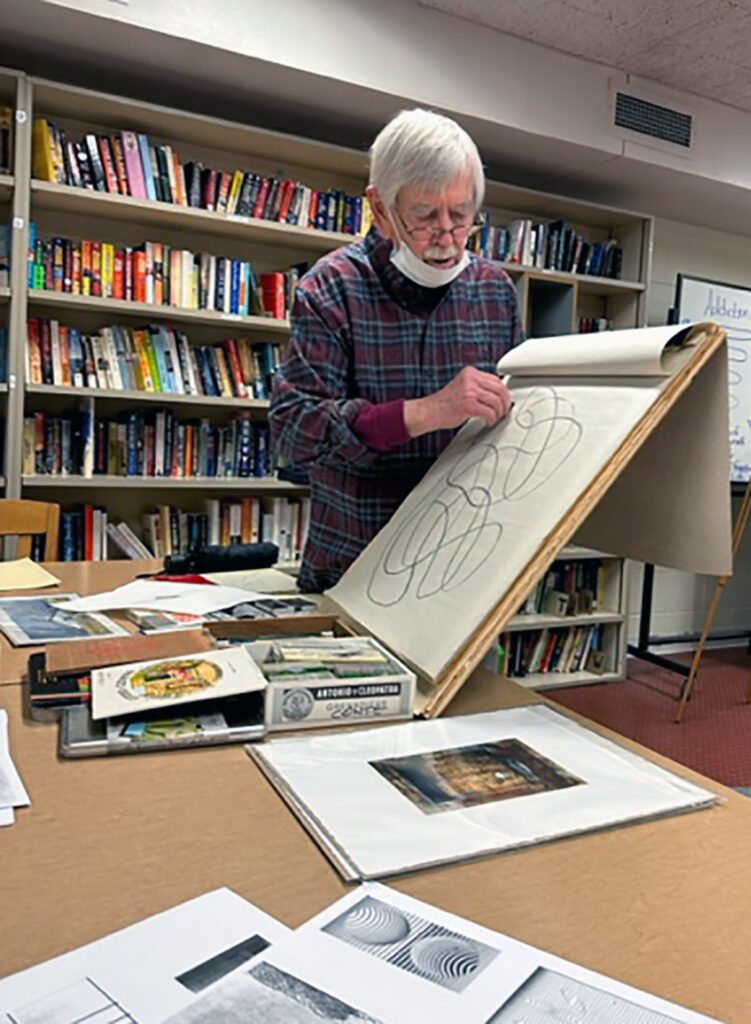 Since this is a relatively new program, Bernhardt said she doesn't know where it will go, but she has high hopes.
"We're starting to share our experience at court hearings and with judges," she said. "Our mission [at Pacific Northwest Art School] is to make art accessible in our community, to the marginalized. This has opened my eyes to possibilities. I want people to be enriched so they don't repeat patterns.
"I don't know if this window into art can give them a glimpse of life they've never seen before," Bernhardt continued. "My hope is to run into folks in the community once they're out. I really hope to see them follow through with it. A couple of them already have plans, and if you have a dream or a plan, you have something to strive for."
"I hope this proves to be a positive outlet for emotions, something that feeds their souls and can be a sort of therapy," Herrild said. "We all need pursuits like that, where we need to get involved in something and get lost in something creative."
Pacific Northwest Art School is located at 15 NW Birch St. in Coupeville. Learn more about its continuing programs and upcoming workshops at pacificnorthwestartschool.org.