Carnival, fireworks, pets headline 4th of July celebration
— Created June 28, 2023 by Kathy Reed
By Kathy Reed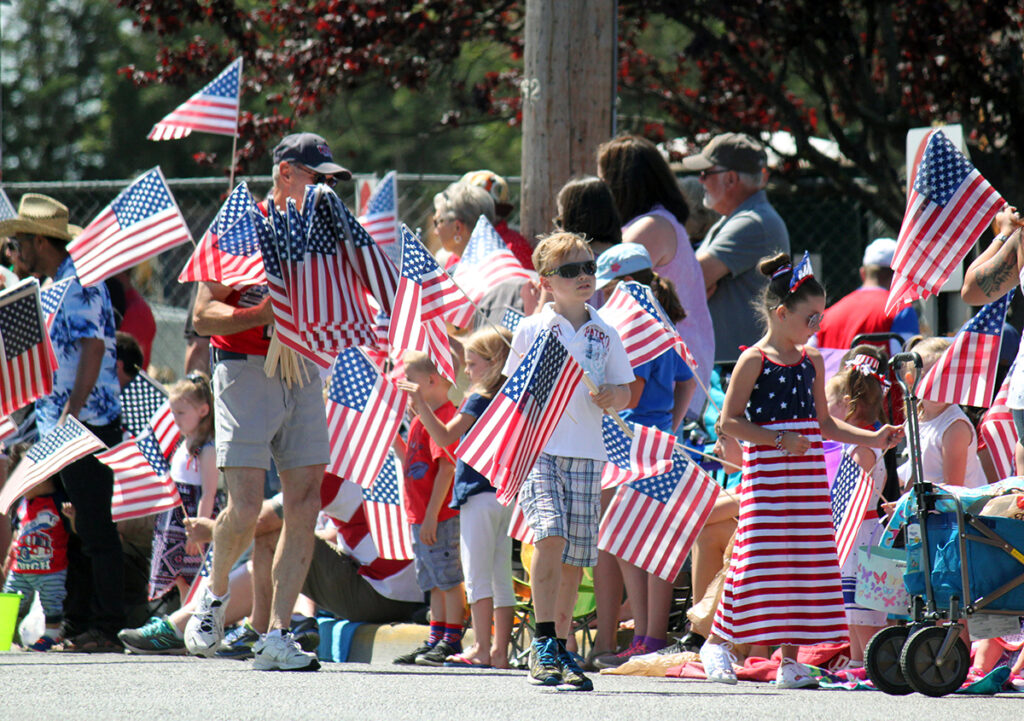 If you're not seeing stars and stripes yet, you will be soon, along with fireworks, parades, a street fair and much more.
The Oak Harbor Chamber of Commerce has a huge Independence Day celebration planned this year, beginning with the return of a carnival, starting Friday at 4 p.m. off Bayshore Drive in downtown Oak Harbor.
"We are more than excited to bring back the long-awaited carnival so our community can come together and have fun this Independence Day," said Magi Aguilar, executive director of the Oak Harbor Chamber. "Over the years, the Independence Day Carnival has become one of Oak Harbor's most popular annual events for all ages, so I want to personally thank our community for participating in the 'bring the carnival back to Oak Harbor' petition campaign. When I started the petition, I wasn't sure how well it would do, but as signatures grew overnight, I knew I was going to work diligently day and night to make sure we secured the carnival!"
Pre-sale wristbands will be on sale for the carnival through 5 p.m. today (Thursday) and are available at the Chamber of Commerce, as well as Popsies, Whidbey Island Bank, Pamela's Legacy, and Toppins.
"We encourage people to get discounted wristbands ahead of time to save money," said Aguilar. "Wristbands are $35 for one session, or there is a Mega Super Saver Bundle for $150 for five wristbands (a savings of $25)."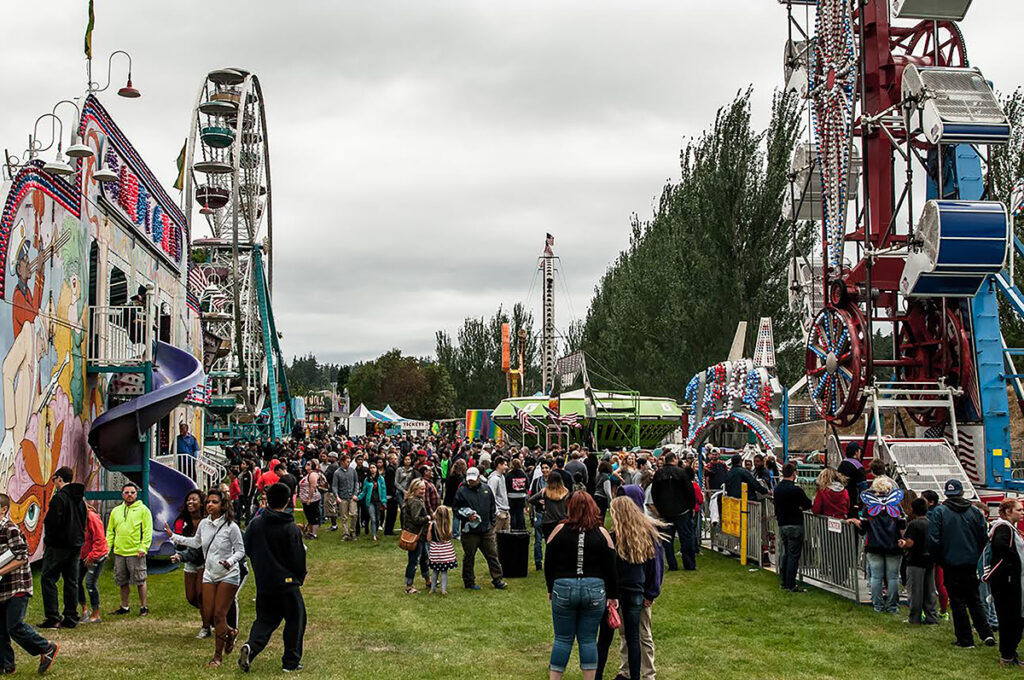 The carnival will open at 4 p.m. Friday and Monday, at noon on Saturday and Tuesday and at 1 p.m. Sunday. The carnival closes each night at 10 p.m.
There will be plenty of other activities to enjoy over the long holiday weekend, including the Walk of Honor car show on SE Pioneer Way from Midway Blvd. to SE Pasak Street from 12 to 4 p.m. Saturday. There will also be a street fair along Pioneer Way Saturday and Sunday featuring arts and crafts booths, food trucks and a beer garden.
"The Street Fair is a highlight of the celebration with over 70 booths to visit – Pioneer Way businesses will be joining us for the first time on the street, side by side with community informational booths, shopping booths, and 20 food options," said Cheryl Grehan, the chamber's new events and logistics manager. "Live music and a beer garden are the cherries on top."
"This year, I felt it was important to give our downtown merchants an opportunity to be a part of the festivities all weekend," added Aguilar. "Oak Harbor Main Street Association's Executive Director, Margaret Livermore, and I personally visited the downtown businesses and invited them to be part of the Independence Day festival by setting up a booth in front of their business. We're happy most businesses accepted the invitation and will have an opportunity to engage and nurture genuine connections with the community and tourists throughout the weekend."
Hours for the street fair and beer garden are from 10 a.m. to 6 p.m. Saturday and from noon to 6 p.m. Sunday. The beer garden will be at the soon-to-open Kraken's Cove restaurant, located at 940 SE Pioneer Way.
The fun continues Monday, with a new addition to the Independence Day festivities – the Whidbey Wags Pet Parade and Fair.
"We have a large population of pet owners on Whidbey, so I really wanted to create a fun event to cater to our four-legged family members," said Aguilar. "The response we have received from our community isn't surprising. Our community loves their pets!"
Only 100 dog and cat entries are being offered this year, so Aguilar encourages pet owners to sign up online at oakharborchamber.com/whidbey-wags.
"We are encouraging pet owners to dress up their pet(s) in red, white, and blue and enter the 'most patriotic contest.' Dr. Eric Anderson, owner of Best Friends Veterinary Center, and Laura Thompson, owner of Posh Puppies, will be judging the pets in two categories: most original and most creative. Each registered pet will receive a s'wag' bag with goodies from sponsors and community businesses. They will also receive a customized pet bandana."
The pet parade starts at the west side kitchen in Windjammer Park and will end at Flintstone Park. Aguilar said presenting sponsor, Whidbey Coffee, will host a hydration station for pets and humans following Whidbey Wags, with doggie splash pools, pet games, treats, a professional pet photographer and more. The parade begins at 4 p.m. Monday and festivities will end at 6 p.m.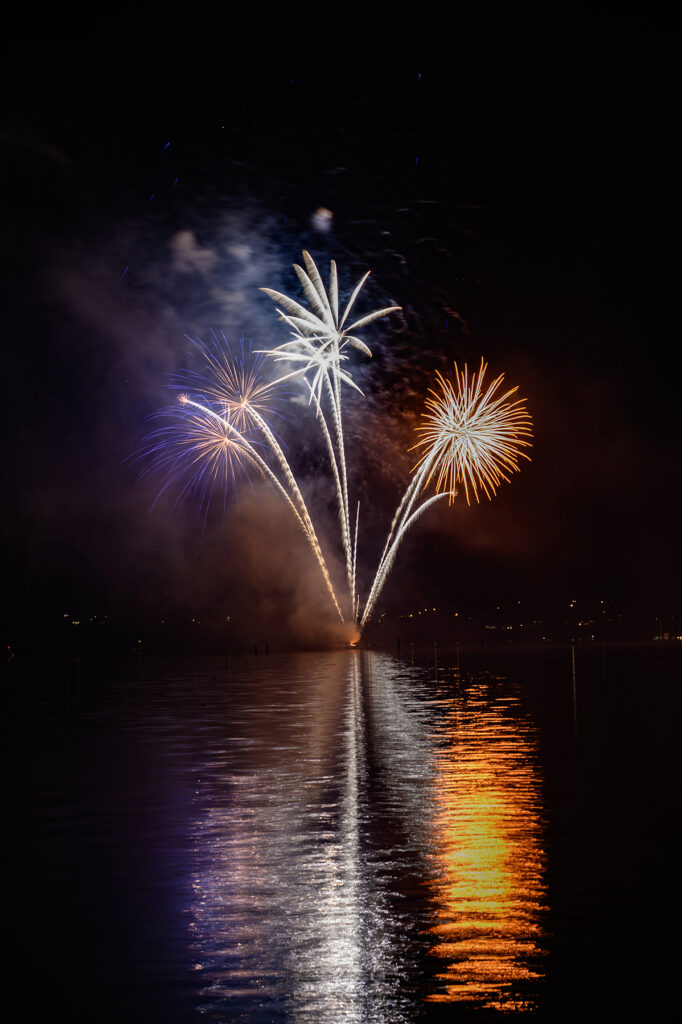 That, of course, brings us to the big event – the 4th of July.
The traditional parade will begin at 11 a.m. Tuesday, following a ceremonial fly over by Naval Air Station Whidbey Island. It will start at Midway Blvd. and SE Pioneer Way and then wind its way down Bayshore Drive to City Beach Street and back onto SE Pioneer Way. The grand marshal for this year's parade is Oak Harbor Mayor, Bob Severns.
Because people like to stake out fireworks-viewing spots at Windjammer Park early, there will be additional fun and games in the park – literally. On Our Own Arts will coordinate the games.
Finally, the grand finale fireworks show will light up the skies above Windjammer Park starting around 10 p.m. Tuesday. There is a firework fallout zone that will be cordoned off for safety, and people are asked to avoid that area.
Overall, Aguilar said she knows the community will enjoy this year's Independence Day celebration, in part because of its long tradition and history in Oak Harbor.
"I feel our community enjoys Independence Day because it's an event where they can come together and share their memories and stories," she said. "It was important for us to re-create these events by securing a carnival and planning fun things throughout the long weekend for people of all ages."
"The Independence Day Celebration has something for everyone, from the carnival and games in the park to a beer garden and car show," Grehan encouraged. "It is a great opportunity to be out and about in the community, meet up with friends and make new ones. Come on out and enjoy an old-fashioned 4th of July."
More information is available at oakharborchamber.com.