It's not too late to follow the Chairity Trail
— Created July 12, 2023 by Kathy Reed
By Kathy Reed
It's never too late to contribute to a good cause and Whidbey Islanders are in luck!
The Chairity Trail and Auction fundraiser for Whidbey Island Nourishes is going on through 6 p.m. Saturday for anyone interested in bidding on a one-of-a-kind Adirondak chair painted by a Whidbey Island artist. The chairs themselves will remain on display through Saturday at various businesses on South Whidbey in case bidders would like to take a sneak peek in person, but photos and artist information, along with directions on how to participate in this online fundraising auction, can be found at whidbeyislandnourishes.org or at chairity-trail.com.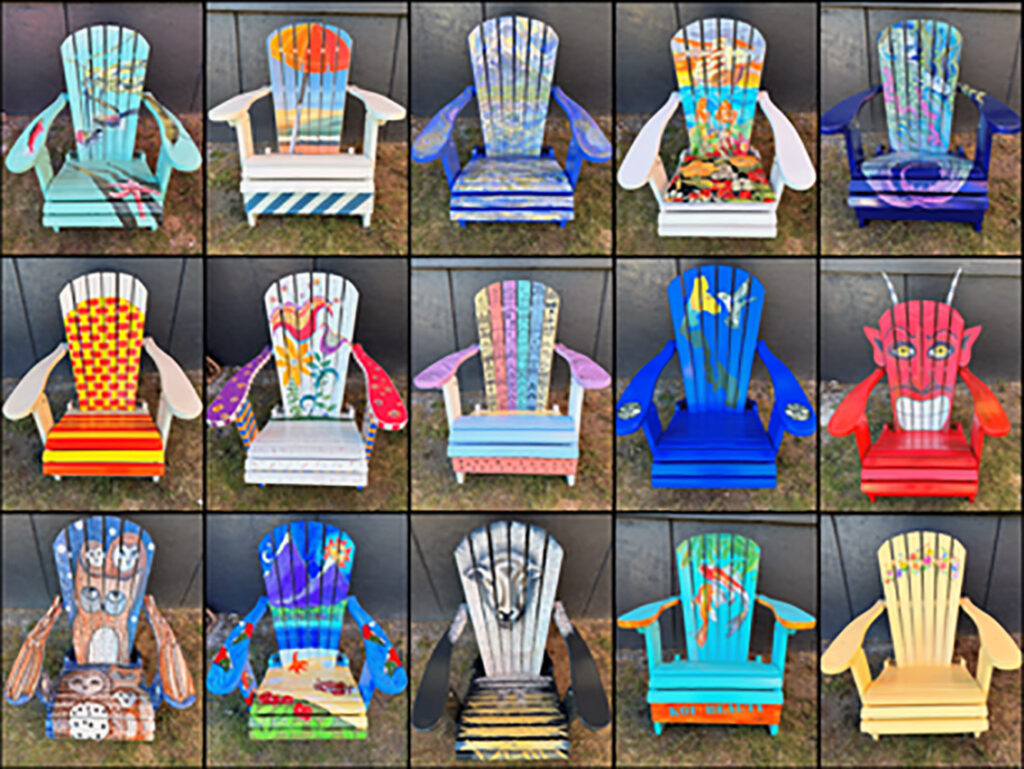 This year there are 15 hand painted chairs, completed by 16 local artists, up for auction. It is the second year of the Chairity Trail auction fundraiser, which proved to be a huge success last year, raising $40,000 for WIN, a volunteer organization which provides supplemental food support to hundreds of children on South Whidbey.
"Every donation has a direct impact on our program and $40,000 was a wonderful surprise," said WIN board president Pam LeLoup, who responded to questions from Whidbey Weekly via email. "As we all know, grocery prices have increased a great deal. Everything we provide to kids and families is totally free. At the end of the school year, we were delivering healthy weekend meals for 196 children and taking a healthy snack into each K-6 classroom daily. That's healthy snacks for 600 kids, and that's just two of the ways we feed kids. We couldn't do what we do without the strong support of our community."
Artists on the Chairity Trail this year were selected by WIN's events committee after submitting an application and sample of their work. While there was no set theme the artists were asked to follow, organizers did provide some motivation by telling them who would be viewing – and hopefully buying – the chairs, and why the funds were being raised. The result is 15 unique works of art ranging from sweet and colorful florals to birds, animals, fish, landscapes and a little devilish fun.
"It is so exciting to have 15 local artists, two who are high school students, donating their time and talents for children in need," said LeLoup. "The day that all of the chairs arrived at the Community Center wood shop, it took my breath away. The colors and creativity are wonderful."
Well known mixed media and musical performance artist Kristi O'Donnell is one of this year's featured Chairity Trail artists. A longtime volunteer with WIN, O'Donnell said she saw last year's creations and couldn't wait to be a part of the fundraiser this year.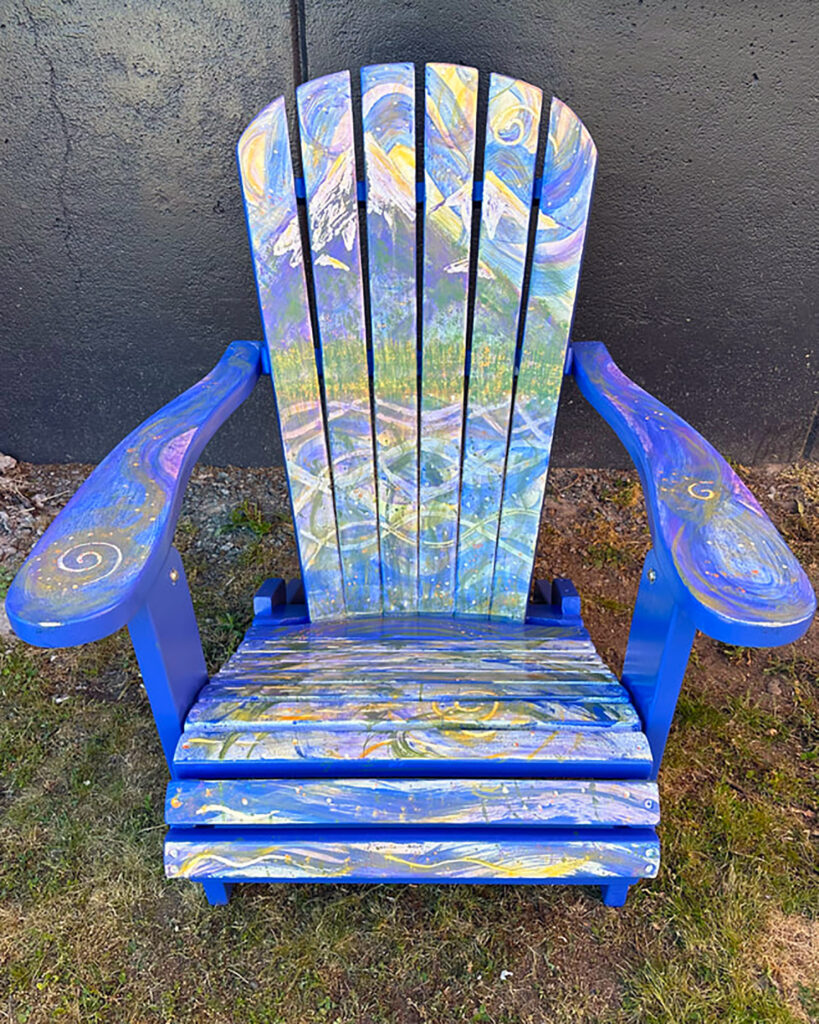 "We are fortunate on Whidbey Island to have a population of community-minded people who want to help our 'neighbors in need,'" she said via email. "Much of this population also loves artists here and are art collectors. When a person purchases a chair from the WIN Chairity Auction, it brings in dollars to feed our youth with nourishing foods. The owner of the WIN Chair has a beautiful, original, one-of-a-kind piece of artwork that one of us 16 artists dreamt about, designed and painted. They will be able to talk about it when their friends visit, which will help spread the word about WIN's mission. People will respect them for supporting such a great cause!

"My chair, 'Pacific Northwest Majesty,' represents our place on Earth – a planet that sustains life," she continued. "In parallel fashion, WIN sustains life through nourishment for our community, via food, creativity and connection. I have to say that the dreaming of the chair and painting it was soulful for me. I painted mountains, verdant valleys, life-abundant seas and star filled galaxies. This chair will be an energy booster for anyone who sits in it or who gets lost in the beauty of it, as I have infused it with love and the vision of good will for all."
According to LeLoup, one doesn't necessarily have to bid on a chair to make a difference.
"Just make a donation and help us stock our pantry," she said, describing how that helps WIN and the rest of the community. "Since 2007, Whidbey Island Nourishes has been an important part of the robust network of organizations supporting those in need on South Whidbey. We work closely with the South Whidbey School [District] staff, the School Farm, Readiness to Learn, and Good Cheer Food Bank to make sure no child slips through the cracks. Keeping lines of communication open between WIN and all South Whidbey organizations that work with children and teens means we are just a phone call or text away from adding a family to our distribution list or from increasing the amount of food in a child's bag because Mom just lost her job."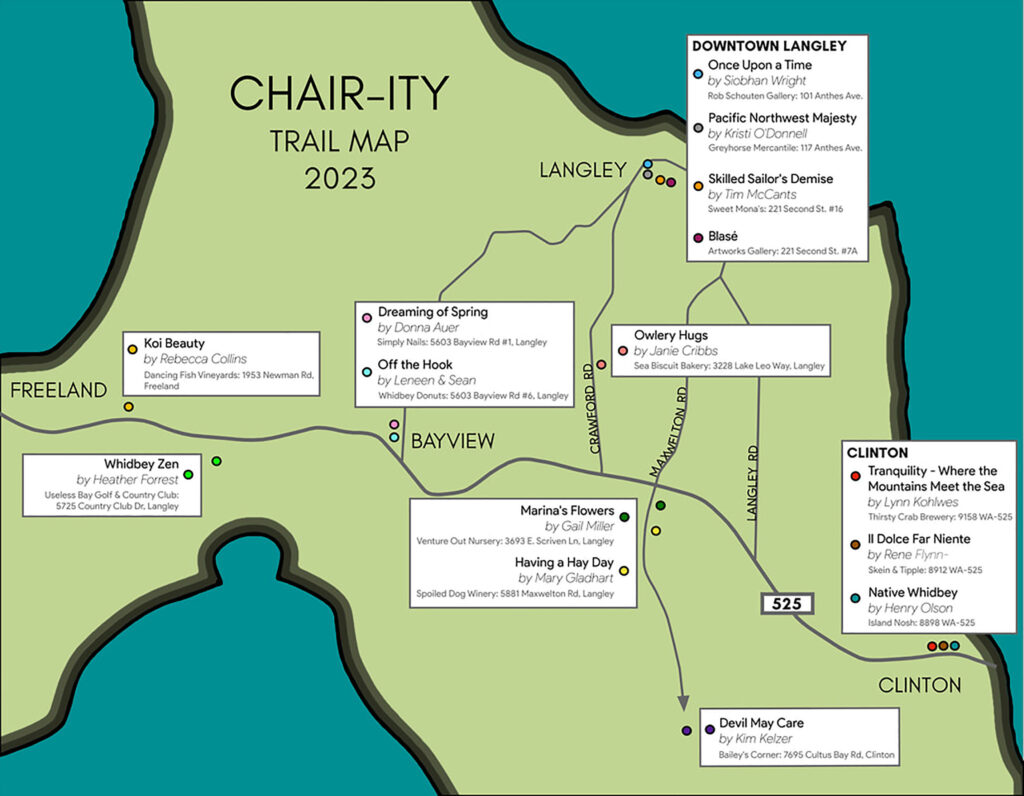 The WIN Chairity Trail Auction continues through 6 p.m. Saturday. Learn more about the organization and its fundraising effort at whidbeyislandnourishes.org. For those who'd like to follow the chair trail, see photos of this year's chairs and the artists who created them or to participate in the auction, go to chairity-trail.com.
"It's all about the children," said LeLoup. "A third of the children in our school district are on the free lunch program. These are our neighbors and the future leaders of our community. Join over 75 WIN volunteers as we help ensure that no child goes hungry."