"Shrek Jr." turns the Playhouse stage green with enjoyment
— Created July 19, 2023 by Kathy Reed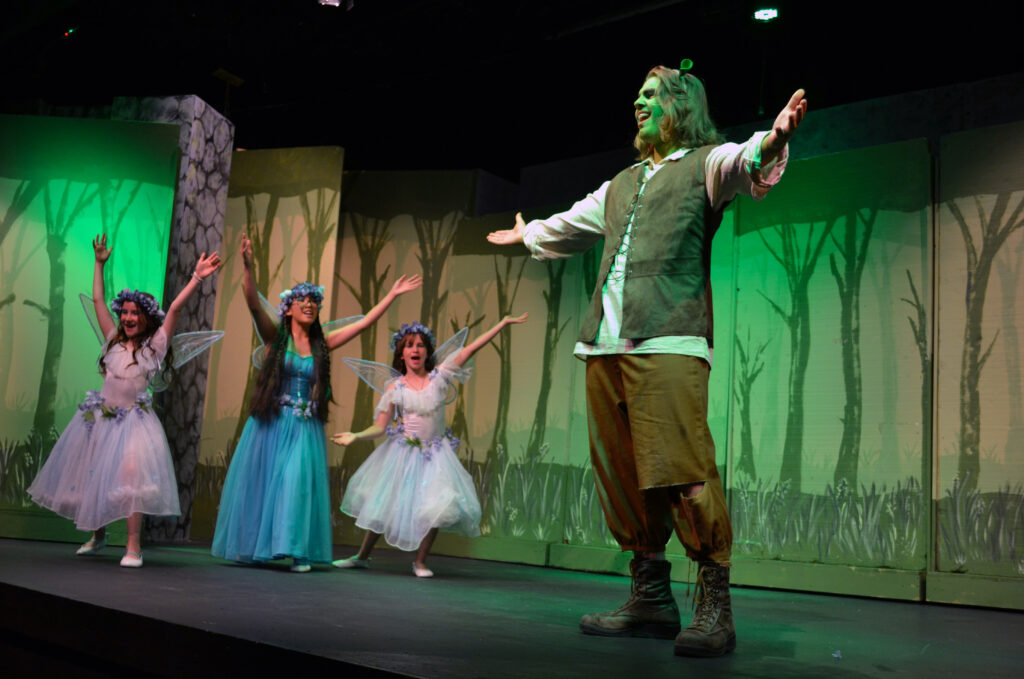 By Kathy Reed
What do you get when you combine a grouchy ogre, a jubilant donkey, a feisty princess and a fire-breathing dragon with a big dose of fairytale magic? Simple – "Shrek the Musical Jr.," opening Friday at the Whidbey Playhouse in Oak Harbor and running through July 30. (Showtimes and ticket information at whidbeyplayhouse.com)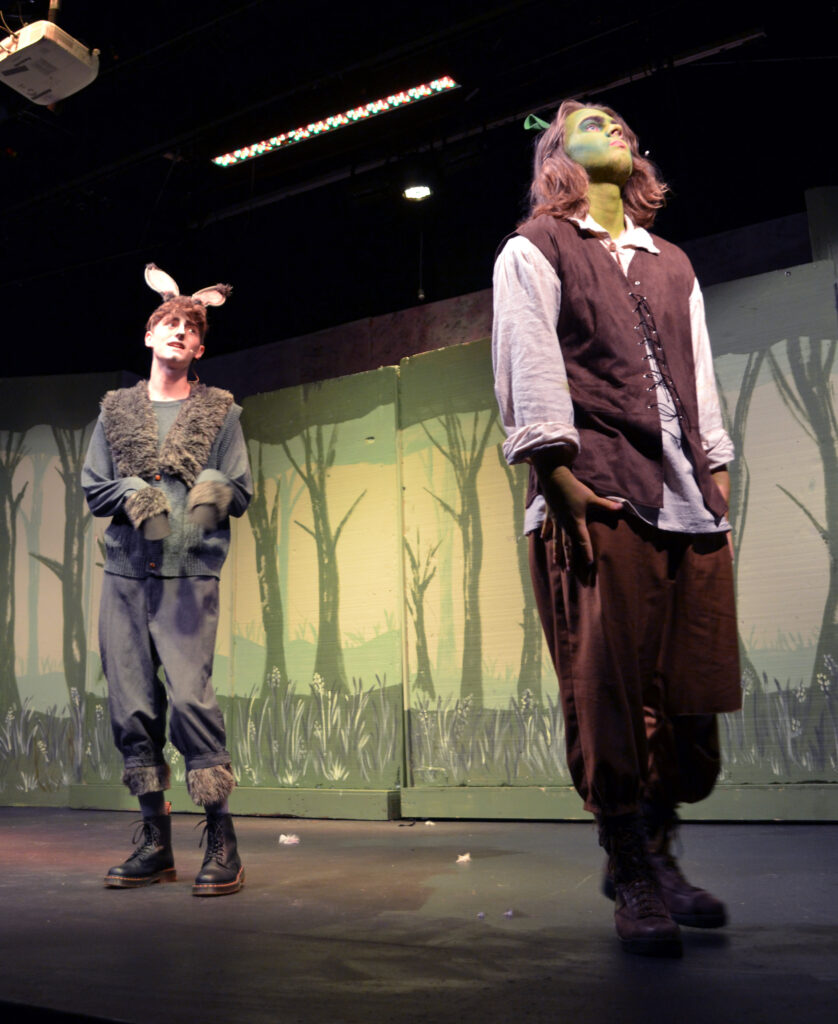 Based on the animated movie and the book by William Steig, this junior musical production is based on the book and lyrics by David Lindsay-Abaire, with music by Jeanine Tesori. It is directed for the Playhouse by Shelby Montoya, with musical direction by Elizabeth Hendricks. The show features a cast of 48 young people, ranging in age from 6 to 18.
Don't be fooled into thinking of this as just another "kid" show. The talent on display in "Shrek Jr." rivals that of some adult productions. The musical ability and stage presence of the actors is first rate, and audiences will likely forget they're watching a young cast – but for the cuteness factor, which is simply undeniable and adds even more enjoyment to this production. Add clever costuming, effective stage design and creative lighting, and "Shrek the Musical Jr." is well worth attending.
The story, as many will recall, centers on a grumpy green ogre named Shrek, who prizes the solitude of his home…err…swamp. When Lord Farquaad banishes all the fairytale folk in Duloc to Shrek's swamp, he agrees to rescue a princess from her tower so Lord Farquaad can marry her and become king. In exchange, Shrek will get his beloved swamp, and solitude, back.
"Part romance and part twisted fairy tale, 'Shrek Jr.' is a colorful show with a powerful message – to accept and own our differences," described Montoya via email. "It's all the same as the movie, just throw in some show tunes!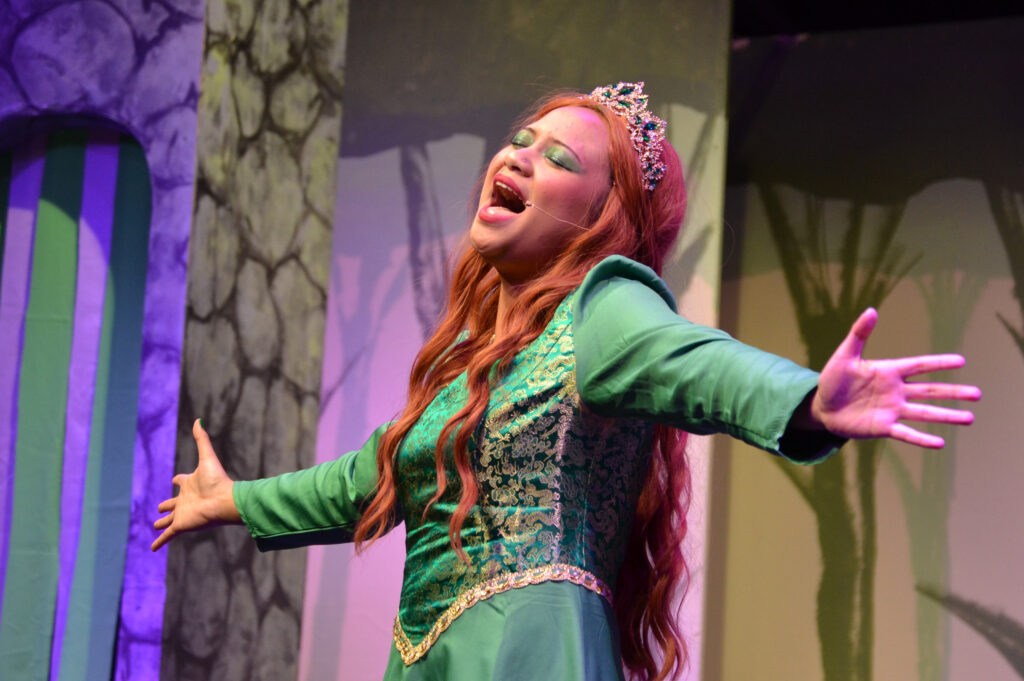 "The music is so catchy that I hear it in my dreams," she continued. "I'm not kidding! The song, 'What's up Duloc,' haunts me. It's really upbeat, fun, and just beautiful lyric-wise as well."
While this is not Montoya's first time directing a youth production, it is the first time she's directed since the pandemic.
"This is definitely the biggest cast we have had since COVID and they are on a set with lots of moving pieces," she said. "I was a little nervous I would forget everything I knew. But on that very first day of auditions, I realized, 'Nah, I got this.' I love working with kids! I honestly feel like every experience is better than the last. It is crazy how talented the kids are. They are always really excited to do new things. They cannot wait to get an audience in front of them. The energy they give during rehearsals is insane."
Actors in "Shrek Jr." were, of course, familiar with the story. While the title may have grabbed their attention, their reasons for auditioning were much deeper.
"The first thing that interested me in this show was the opportunity to grow," said 16-year-old Graham Ray, who plays Shrek. "'Shrek Jr.' is very different than any other show I've been in, so [I felt] it would give me a chance to explore a side of my acting that was unknown to me.
"Shrek isn't interested in making friends or going on adventures, he just wants to get his quest over with so he can get the rights to his property back," Ray continued. "The most enjoyable part of playing Shrek is the selfish and uninterested nature of his personality. Shrek's only goal is to get back to his lonesome swamp and be alone, not to make friends and happy memories. As a character, he is a lot more relatable than one might think. Shrek is an introvert whose peace and quiet is interrupted by a small, but temperamental, man who decided Shrek's home would be the best place to dump all the 'freaks' of Duloc. If I was in Shrek's position, I wouldn't want to be singing and dancing either."
Sometimes in relationships, persistence pays off. Take Shrek's unlikely friend, Donkey, played by 17-year-old Ethan Johnson. Donkey's unrelenting enthusiasm in accompanying Shrek on his journey eventually wears even Shrek down.
"Since starting theater in high school, I had yet to audition for any production at the Playhouse, so when I heard they were putting on 'Shrek the Musical Jr.,' I saw it as a perfect opportunity to dip my feet in the waters of more serious theater in the community," Johnson described. "Donkey, as his name implies, is a fairytale donkey that talks. He is very energetic and enthusiastic about life, always having a smile on his face. I enjoy that for the most part I get to play a character who is very expressive and cheerful; playing Donkey really makes my day and makes me feel happier as well. A lot of times, to get into character, I always put the biggest smile on my face and get into the headspace of someone who is overjoyed by everything anyone else does."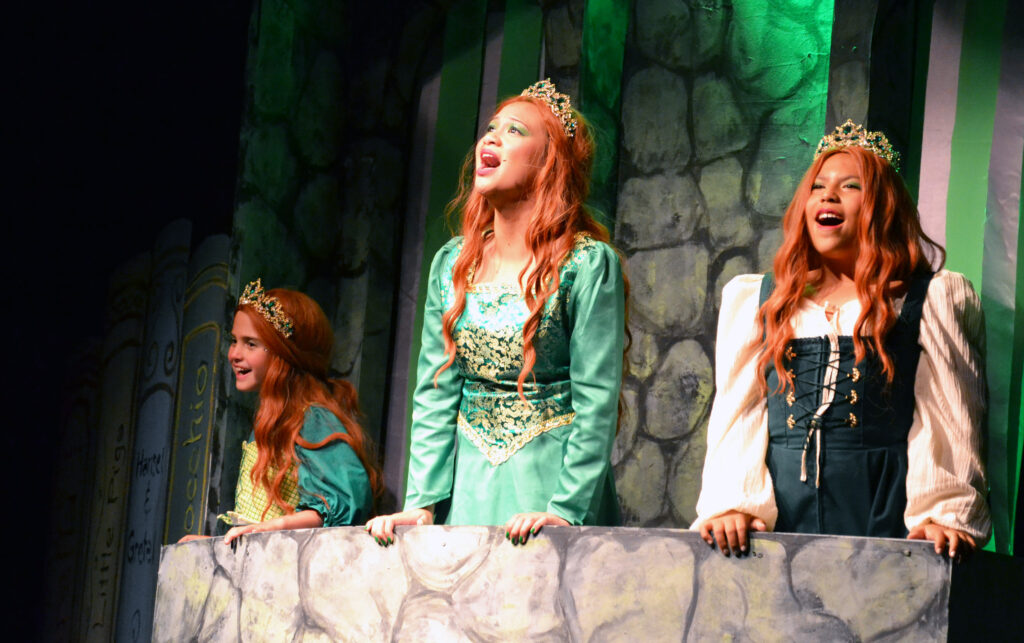 As in most fairytales, Shrek meets his match with Princess Fiona, who has been locked away in a tower for 8,423 days and is more than ready to be rescued by a knight in shining armor.
"Playing Fiona is such a fun and exciting role, as she varies so much from emotions switching in a snap to how fun and relatable she can be," described Dana Rivo, a senior at Oak Harbor High School. "What I truly enjoy most about playing Fiona is being able to portray the ambition and fire she has, as despite being locked away for a looonnnggg time, she still has so much hope in her, which I absolutely adore."
Rivo said she gave herself three rules to follow to help her play Princess Fiona.
"Number one, keep good posture and your body language as graceful as possible," she said. "Number two, be very optimistic. By being locked away in the tower there are lots of things Fiona doesn't know. Lastly, number three, HAVE FUN! Knowing there are many princesses that are the definition of prim and proper, Fiona is her own self. Discovering her own story, by this open idea of her finally discovering what she loves or hates, it really brings such joy when playing her."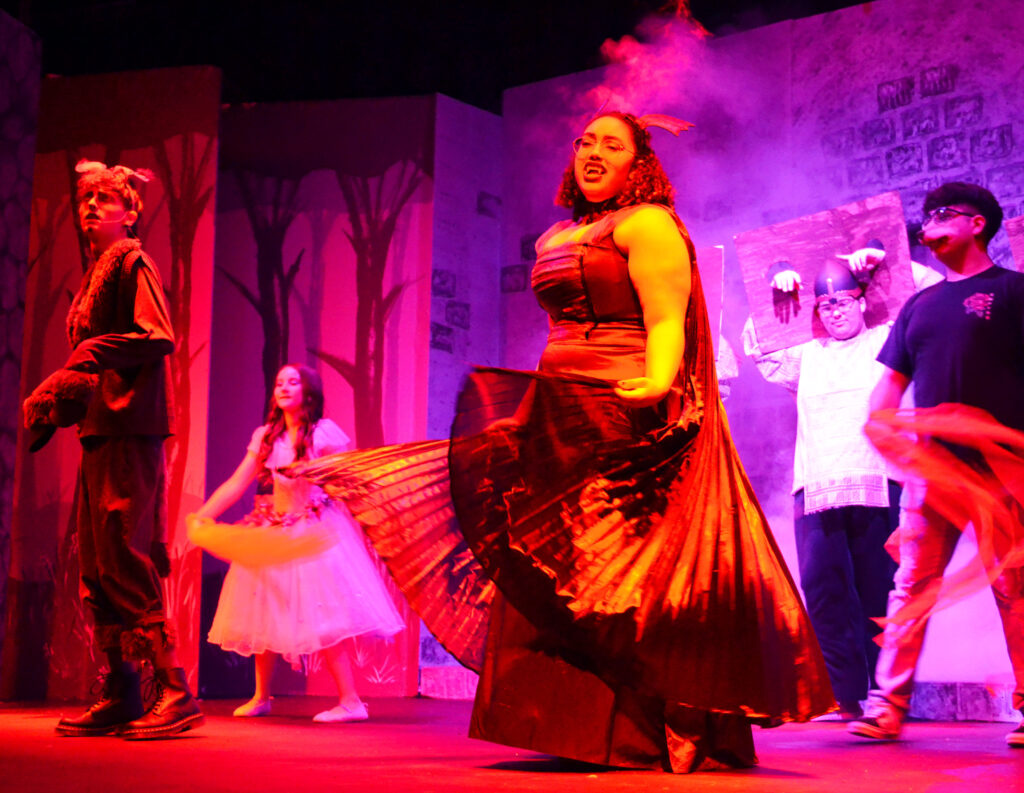 As romance blooms between Shrek and Fiona, Cupid's arrow also strikes another couple, as a fire-breathing dragon becomes enamored of Donkey.
"She's a bit fierce, but she finds an unexpected interest in a 'Noble Steed' that trespasses in her home," explains Grace Jones, 17, also a senior at OHHS. "The thing I am enjoying the most about playing Dragon is definitely the amazing costume put together by our lovely costumers and the chemistry between Dragon and Donkey. It's just overwhelmingly fun to obsessively chase Donkey (Ethan) around on stage.
"The best thing about being in this show is being able to act with my friends in a more 'supporting lead' way instead of just watching from the background ensemble," she continued. "It's definitely been a lot of fun being one of the main four, and it's brought us closer as castmates."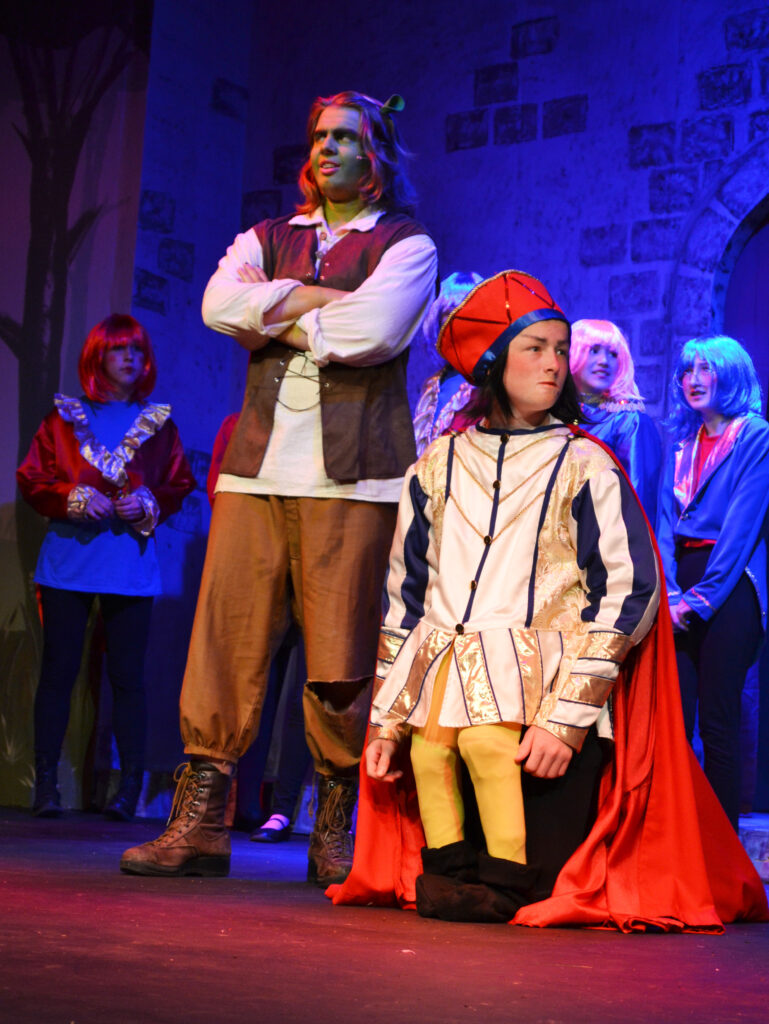 "[For me,] the best thing about being in 'Shrek Jr.' is the new memories I have with my friends and creating new bonds with people I hadn't met before," Johnson said.
Performances of "Shrek the Musical Jr." will be at 7:30 p.m. Friday and Saturday, and at 2:30 p.m. Saturday and Sunday through July 30. Tickets are available at the box office at 730 SE Midway Blvd. in Oak Harbor, or online at Whidbeyplayhouse.com. Just a word of warning – opening night is already sold out, so those interested in attending should act quickly to purchase tickets.
"People should come see our production of 'Shrek Jr.' simply because it's an entertaining show," encouraged Ray. "You could be piece of wood and still find yourself laughing. There's something for everyone in this show, and I encourage all to come and see for themselves."
"You will get such a great laugh out of watching 'Shrek Jr.,'" Rivo said. "With all the hard work and dedication that [the cast] has put in, it seriously shows in our performances. It's definitely worth a watch. You won't regret it!"
"It's a bit of a twist on an old story most of us have watched or even grew up with," Jones said. "It has been a lot of fun performing at rehearsals. I can't wait for people to finally see it!"
"I hope audiences will truly understand the message that 'Shrek' is," said Montoya. "There is empowerment in self-love. Choose to live life as your true self and find your own happily ever after."