Wildlife Sanctuary offers unique Whidbey experience
— Created July 26, 2023 by Kathy Reed
By Kathy Reed
In a small, warm room furnished with several comfortable, cushioned armchairs and a big-screen television, armadillos scoot along the floor as sloths move slowly and deliberately up the walls and across the ceiling. An alligator floats in its little pool, seemingly uninterested in the goings-on around him. Across the hall, a fat and happy badger busies himself with his toys, wreaking havoc on his glassed-in enclosure as the otter next door splashes excitedly in his pool.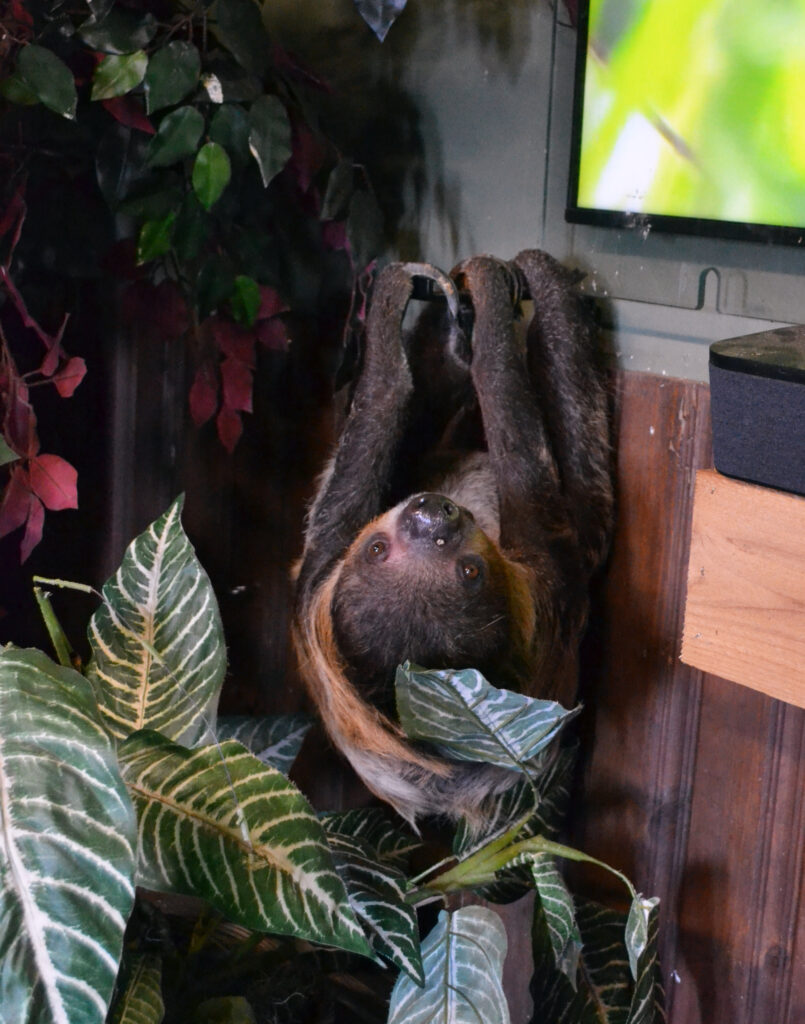 That is just some of what visitors to the Northwest Wildlife Sanctuary will experience when they tour the facility, which is owned and operated by Dave Coleburn, who some may remember as the founder and former owner of the nonprofit Predators of the Heart. Located at 40678 State Route 20, near the entrance to Deception Pass State Park, Coleburn's new venture has melded his love of animals and education into a truly unique experience. And yes, as noted, there are sloths.
"There's actually five of them in here," Coleburn said as we chatted in the temperature-controlled room last week. "They sleep a lot of the daytime. But we also have reptiles, we have armadillos, we have a badger, an otter, a Siberian lynx, a pair of binturongs from southeast Asia – they're really cool. We have porcupines, racoons, skunks, wolves, owls, and a hawk – which is the same kind of hawk they use for the Seahawks mascot. We have a kinkajou, which is a neat little animal from South America."
Coleburn offers small group tours through the facility, which is unlike many of the other attractions featuring wildlife.
"Some of the animals [visitors] get to feed and some of them they actually get to touch and get close up to, which is something you can't do at a regular zoo, for instance," he said. "We give, in my opinion, a way better experience.
"We have a baby alligator snapping turtle that's a year old and is about the size of a fifty-cent piece, then we have one that weighs 120 pounds, so we show them that, and talk about the reptiles," Coleburn continued. "They get to feed the porcupines a banana. Then we bring the lynx out and they can actually pet her, she's really good. Then we look at the other animals, share stories, learn about them. Like the binturongs, their claim to fame is that their body produces the same chemicals as buttered popcorn, so they smell like buttered popcorn. Then we come in here and they get to find the sloths. They're usually climbing around on the ceiling. They see the kinkajou – he's nocturnal, but he comes out for food – and we let the armadillos out so they sit here while the armadillos run around their feet. And then we bring in an owl and the owl will fly and land on their arm."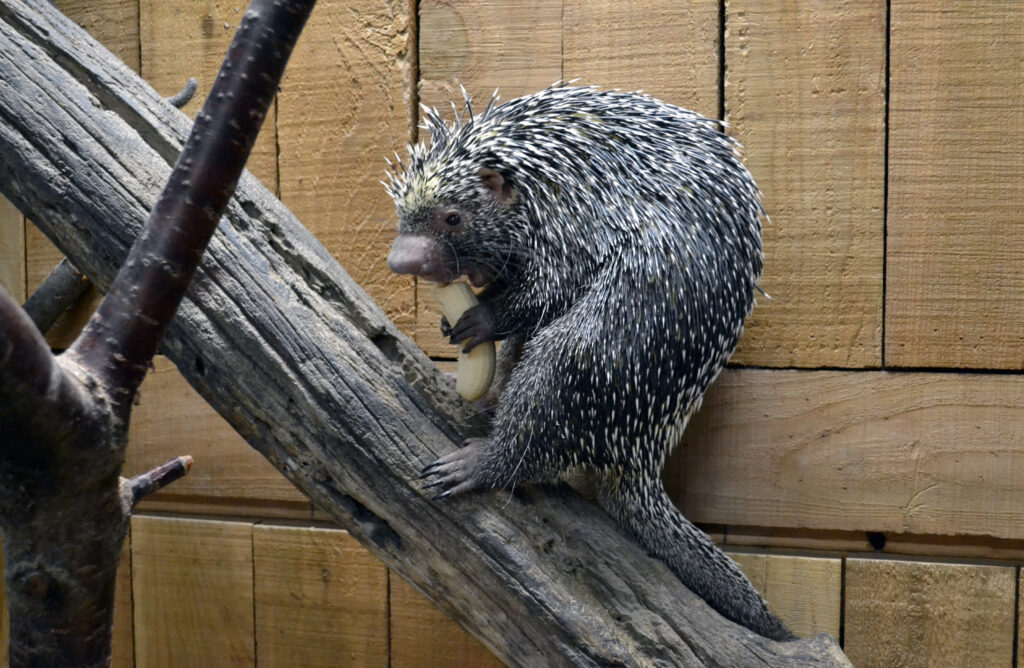 Occasionally the alligator comes out to visit, but Coleburn said he doesn't go after the other animals.
"Oh, he would, but we keep him well fed," he said. "We make sure he's always never hungry."
After watching a short film about wolves, visitors are taken outside to see the racoons, skunks and wolves. But it is the sloths that seem to garner the most attention.
"It's kind of a really unique experience," Coleburn said. "A lot of places just do a sloth encounter and they'll have one, but we have five and one more on the way, so it's one of the biggest populations in the state."
While some animal attractions can have up to 300 visitors a day, and zoos can see even more, Coleburn said he'd like to keep the number of visitors to no more than a dozen a day.
"These types of animals, they can't handle that much traffic," he explained. "When you spend $150,000 on animals, you don't want to get them stressed out. I don't want so many people coming in that we can't get to know each other by the end of the hour-and-a-half."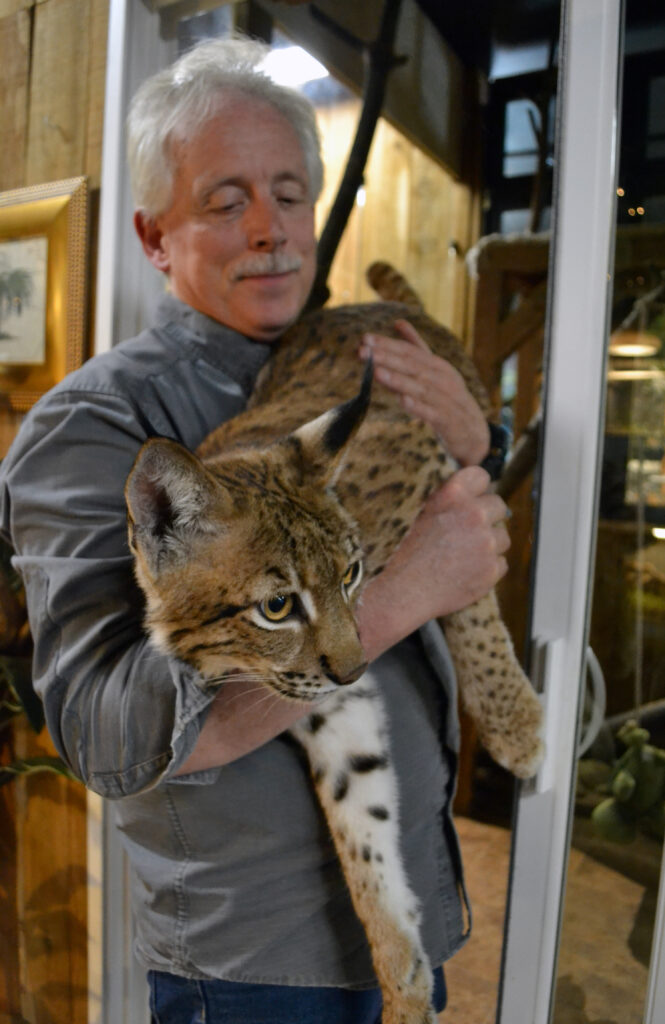 Coleburn, who moved to Whidbey Island from Anacortes when he bought the property about a year-and-a-half ago, got most of his animals when they were babies.
"There was a time there when we had the otter and the badger and the lynx and the wolves and they would all play together. Now they're getting older, so they don't play well together anymore," he said with a laugh.
The facility is licensed through the U.S. Department of Agriculture and Coleburn also works closely with the Washington Department of Fish and Wildlife. His animals' health and safety are his first priority and he said he tries to exceed the enforcement agencies' expectations.
"I think the thing is with all animal owners, if you ever get to the point where you think you've just done everything right, maybe you should get out, because everybody that really cares about their animals just wants better all the time," Coleburn said. "Better spaces, bigger spaces, cleaner spaces, bigger ponds for the otter, more places to dig for the badger.
"I like taking care of animals," he continued, explaining that he lives on site. "One morning I woke up and there's a porcupine on top of me. She'd gotten out of her enclosure. So every day's like a potential disaster around here, but we try to make everything as safe as possible. We are inspected by the USDA and we try to exceed their guidelines on whatever we do."
The sanctuary is a 24/7 undertaking. Volunteers help with care, feeding and cleaning. Fresh fruits and vegetables are prepared each morning. With so many different kinds of animals, the food bills can add up.
"We go through 20 pounds of meat a day," said Coleburn. "The binturongs (on loan from the Newport Zoo in Oregon) eat 20 pounds of bananas a day on top of other stuff. So, that's a lot of cleaning up. They can eat 20 pounds and poop 30! I don't know how they do it. But it's two or three times a day vacuuming their whole enclosure, getting it all clean."
It's hard work, but for Coleburn, it is a true labor of love.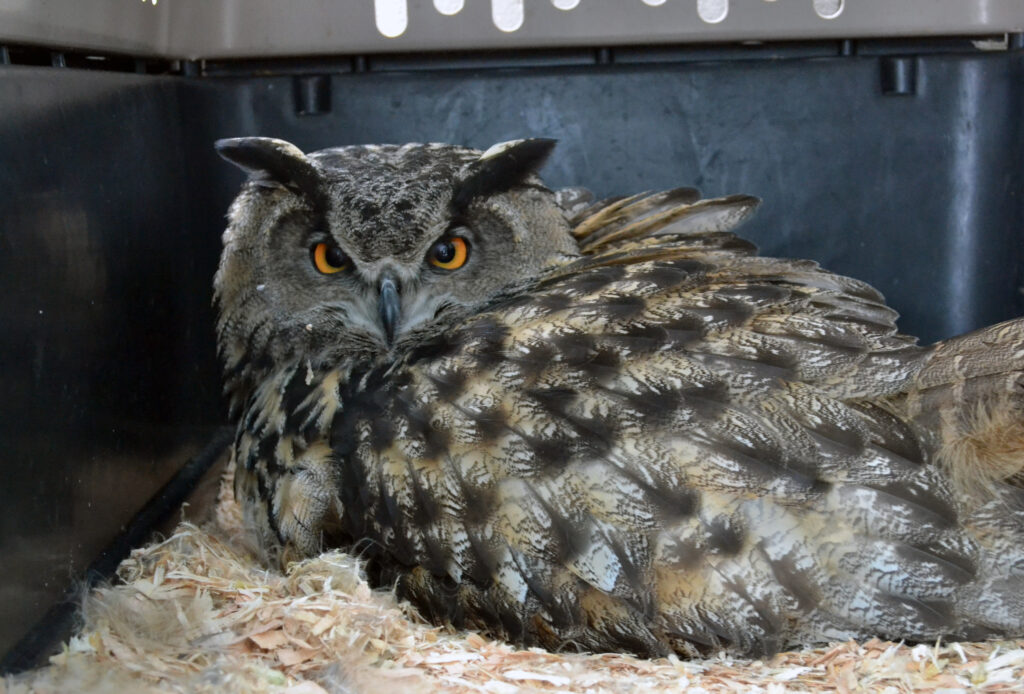 "I'm just enjoying the animals while I can," he said. "I'm 67. Right now, this is where I'm at and what I enjoy doing. I love sharing the animals with people. I've seen animals change people's lives. Sometimes, if I'm doing an appearance at a fair or something, people will come up to me and say, 'I saw you when I was a little kid and you changed my life.' I like that part of what I do."
If there is one thing Coleburn would want people to know, it's how wonderful nature is.
"We are inter-connected with nature," he said. "The one thing that bothers me the most is nowadays kids are so into video games and telephones that they don't see the beauty in everything around them. We've got one of the most beautiful places in the world where we live. Nature is incredible. I think we're kind of missing all that. I think the kids are missing out."
Tours of the Northwest Wildlife Sanctuary are $39 for children under 13 and $100 for adults. They are offered Monday through Saturday and can be booked online at northwestwildlifesanctuary.com.
"The good thing about this business is I don't have to do a lot of business to do well," Coleburn said. "I'm content. I'm getting to know more and more of the community and there's some really nice people in this community."