Island Shakespeare Festival offers bold season of classical theater
— Created August 2, 2023 by Kathy Reed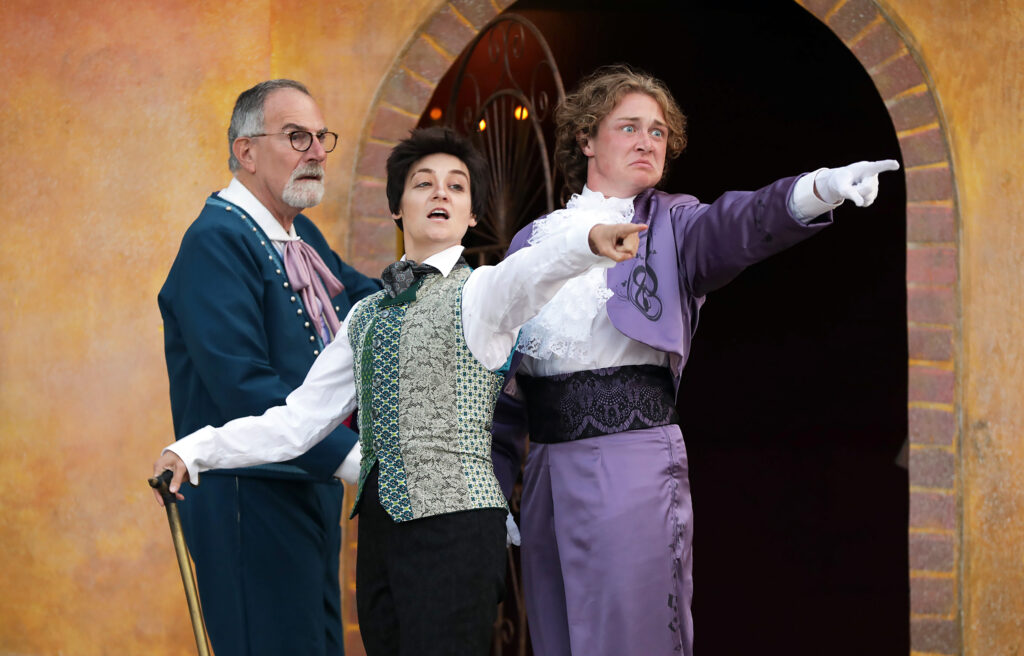 By Kathy Reed
There is nothing quite like live theater and the Island Shakespeare Festival knows how to turn the classics into a truly unique Whidbey Island experience.
The 2023 season is currently underway for Island Shakespeare Festival, with performances of William Shakespeare's "Romeo and Juliet" and Hannah Cowley's "A Bold Stroke for a Husband," playing in repeating repertory at 6 p.m. every Thursday through Sunday, through Sept. 10. Additional matinee performances at 1 p.m. Sunday will continue through Sept. 3 at ISF's outdoor theater venue, 5476 Maxwelton Road in Langley. Find the performance schedule and reserve tickets online at islandshakespearefest.org. Wednesdays in August, look for special ISF events at Whidbey Island Center for the Arts in Langley, as well. (wicaonline.org)
For more than a decade, ISF has sought to make classic theater accessible to modern audiences in a meaningful way. There are no set ticket prices; indeed, there are not even walls. Productions are experienced much as audiences experienced them when they were originally written, in the open air, with minimal staging. Executive Artistic Director, Olena Hodges, believes that is part of the magic of what ISF offers.
"Classic plays are meant to be heard and experienced live and so often they become part of curriculum that takes the fun out of that experience," she shared with Whidbey Weekly via email. "I always encourage folks to give us a try; they don't have to pay anything if they don't want to, so there's no risk, other than a couple of hours of time. We've got something really special in store this season, and it's a great time to discover us. The whole team is dynamite, and we're ready to blow audiences away with this season!"
There are some firsts this season. While Hodges has appeared in several ISF productions, including "Romeo and Juliet," this year she is making her directorial debut.
"I fell in love with 'Romeo and Juliet' as a child, and I've known for a long time that when I was ready to take the step of directing, it would be with this play," she said, explaining she took the less-traveled path of becoming an artistic director before becoming a director. "Now that I've been in my role for several years, I have begun to understand that this piece is missing from my toolbox. I won't direct every year, as many artistic directors do, but taking this step will help me better support my collaborators in their processes in the future. It seemed like the right time to return to this play, and specifically to center our focus on the reconciliation that takes place at the conclusion. Reconciliation feels like something we need right now."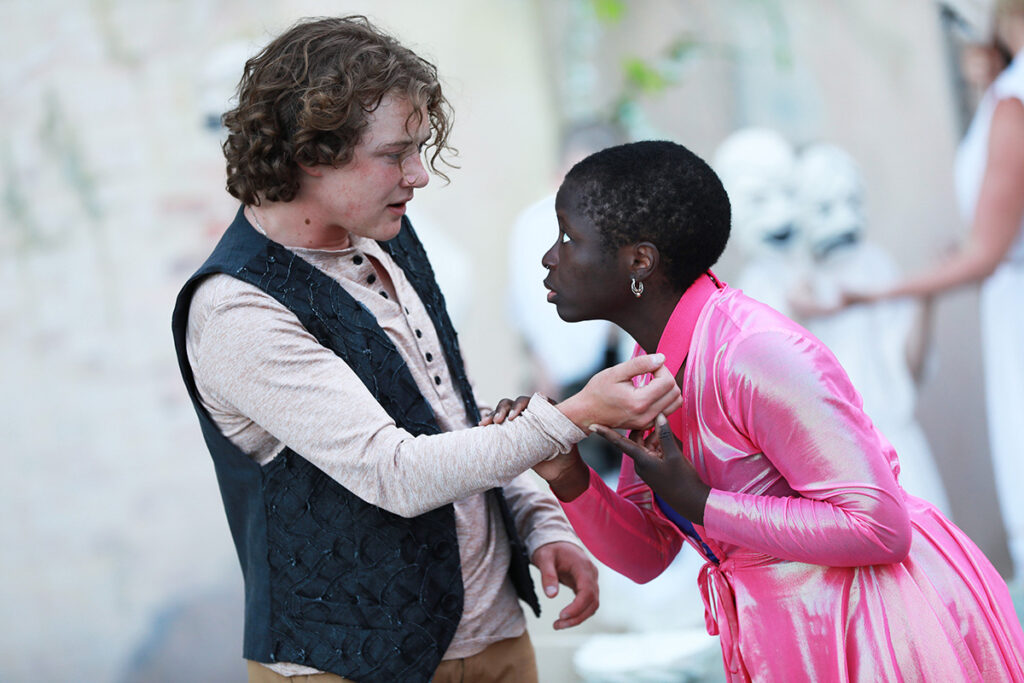 As an actor, Hodges said playing Juliet was one of her most exciting and challenging stage experiences and she is enjoying watching her beloved character come to life in this season's ISF production.
"For me, she is the center of this play, and that shows up in this production," she said. "The actor playing Juliet is marvelous and is bringing their own dynamic journey to the story. It's really exciting to help them excavate and mine the character."
Another first this season is a new partnership with Hedgepig Ensemble Theatre's "Expand the Canon" project, which seeks to include more diverse perspectives and voices in classical theater works. It is through this Hedgepig program ISF is presenting "A Bold Stroke for a Husband," under the direction of Emily Lyon, Hedgepig's artistic director.
"Turns out women and non-binary folks have been writing plays all over the world for centuries – millennia – and it's time to level the pedestals of reverence," said Hodges. "'Expand the Canon,' the flagship project of Hedgepig, has had a lot of theoretical interest, but it's hard to convince producers to take risks on not-yet-known titles, especially as we're all trying to entice reluctant audiences back to pre-pandemic numbers.
"I felt this was a risk worth taking, knowing that our ISF audience loves a good comedy, no matter who wrote it," she continued. "It's a risk I feel we can take in our community, and we can help prove these plays can draw a crowd, so other producers will get on board as well."
Even better, "A Bold Stroke for a Husband" is just plain funny in addition to having historical significance.
"This play was written in 1783, a time where we usually think women weren't fully in control of their fates," described director Lyon. "In this play, all five women characters have agency around what happens to them, who they marry, who they love, and setting their own boundaries. This isn't a new idea, and we don't have to go only to contemporary work to find it! I hope [audiences] love, understand, and laugh with these brilliant characters, knowing that women's history and legacy have always been much more dynamic than we've acknowledged."
Hodges said ISF has committed to including Expand the Canon works for three consecutive years. She added that with a database of 5,000 ETC plays, ISF will likely "continue to do our part to expand the canon for many years to come."
Of course, classical theater is nothing without the cast members who bring the stories to life on stage. ISF actors will typically have roles in both productions each season. While ISF has long drawn cast members from all over the country, this year, because of its involvement with New York City-based Hedgepig, call-backs were held in the Big Apple for the first time.
"We were able to cast some incredibly talented folks," said Hodges. "We had 540 submissions from actors all over, and ultimately cast only 13, plus two local youth. We have several familiar faces folks will remember from seasons past, as well. It's always exciting to see people play two different roles in a season, and this is no exception. In casting, we try to balance folks' roles so they get to explore different things in both shows, and showcase different sides of themselves."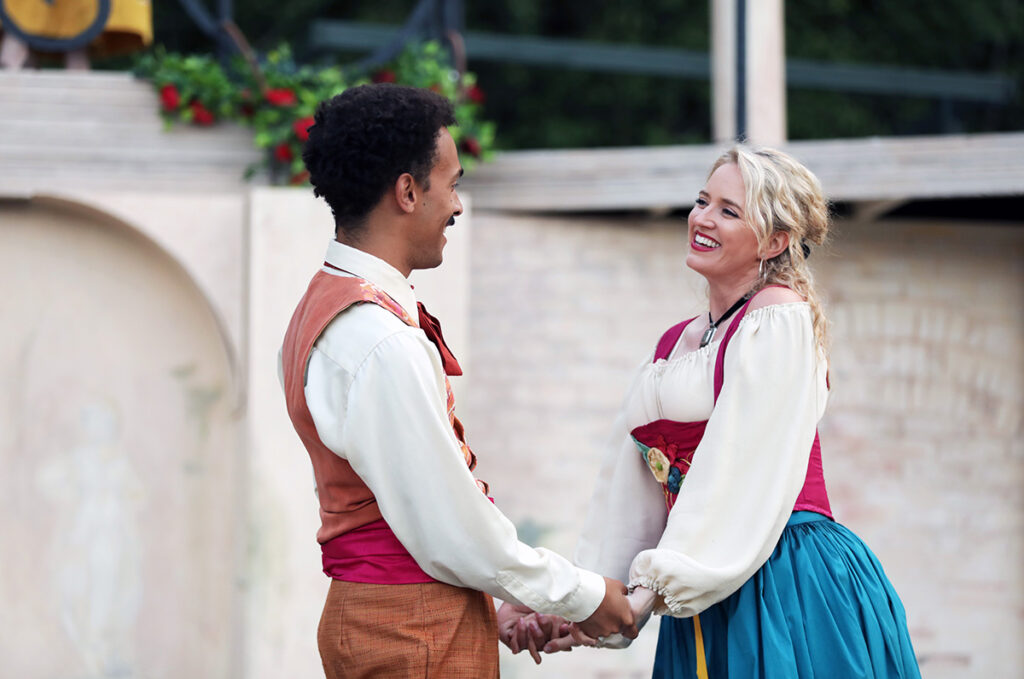 ISF artists have the opportunity to stay on Whidbey Island for a fairly long time – there are a few weeks of rehearsals and two months of performances. Many artists stay with Whidbey residents over the course of their visit. The lure of performing classic theater in such a unique atmosphere helps draw artists' interest, according to Hodges.
"Our community and location [set us apart]," she said. "It's a beautiful place to spend a summer. Once our audiences start coming, our artists are always deeply impacted by the appreciation and gratitude our community shares with them. Also, our organization centers the experiences of our collaborators over the product of their work. While we all share a goal of making the best work we can, we know that work needs to be supported in order to thrive. We offer that support structurally and culturally. It's a little different than other theaters, but we're trying to be the change we want to see in our industry."
Tickets to ISF performances may be reserved, but there is always plenty of non-reserved seating available. All seats are pay-what-you-will, and this year the ISF website shares recommendations on donation amounts for those who are able to do so, in order to help the theater company remain sustainable into the future. Visit islandshakespearefest.org for a performance schedule,  to reserve seats and to learn more.
"I hope audiences appreciate the accessibility and relevance of both productions [this season]," said Hodges. "I know folks will be surprised how contemporary 'Bold Stroke' feels – it could be a newly released rom-com. (I imagine the 'Barbie' movie will have some similar themes and commentary!) 'Romeo and Juliet' is the story we know and love, but I hope our approach feels cathartic and meaningful, and helps folks experience this well-known story anew."