Sculpted dance returns to Price Sculpture Forest
— Created August 16, 2023 by Kathy Reed
By Kathy Reed
It is truly a weekend of artistry on Whidbey Island, as the Price Sculpture Forest in Coupeville welcomes its second annual sculpted dance event. Wander/Wonder: A Sculpted Dance Happening will take place from 1 to 3 p.m. Saturday at various locations throughout the forest. A meet and greet with the dancers and choreographer will take place immediately after, at 3 p.m.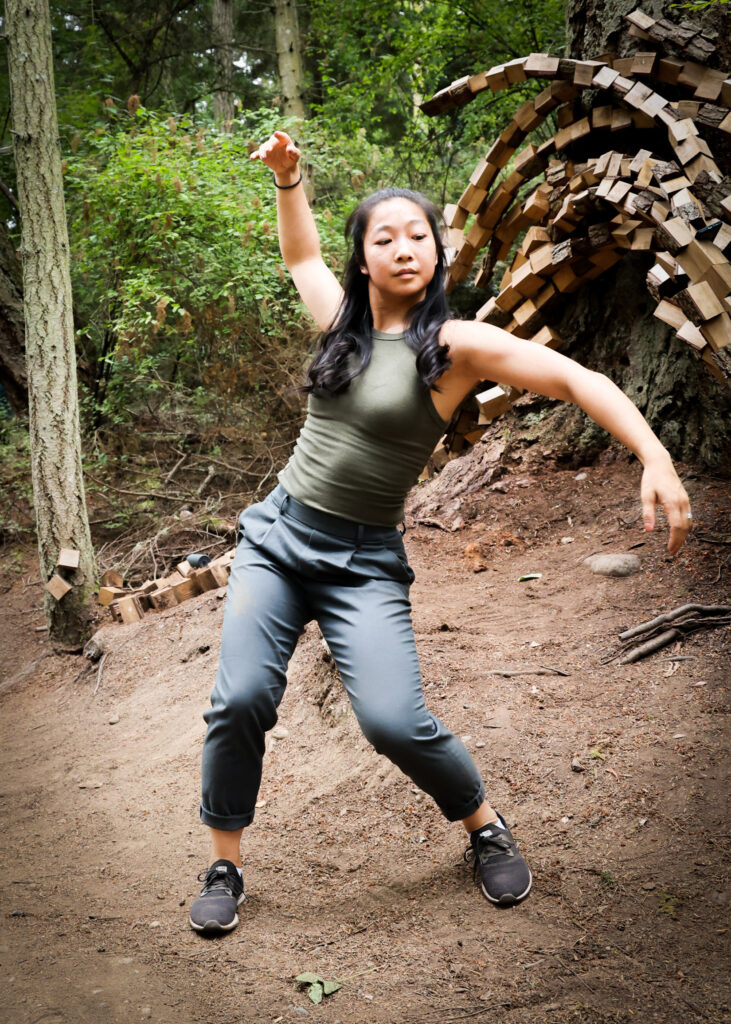 Produced in conjunction with StoneDance Productions, there is a suggested donation of $20 per person, although all are welcome to attend no matter the ability to pay. All proceeds raised will benefit the nonprofit Price Sculpture Forest and Gifts from the Heart Food Bank in Coupeville.
Sculpture forest founder Scott Price said this year's Wander/Wonder dance event is back by popular demand.
"A huge percentage of last year's visitors asked us to bring it back again since they enjoyed the event so much," Price said via email. "That got us thinking about how we could build on its momentum and positive word of mouth to perhaps make this an annual dance event if we could get funding. Although it takes a lot of volunteer hours throughout the year to provide this experience for everyone, it was such a positive experience for the visitors, dancers and organizers that we decided to keep it going plus expand upon its initial program."
Much of the funding for this year's event was provided by the Island County Lodging Tax Advisory Committee, according to Price.
"The event would not exist without [the county commissioners'] appreciated support in providing this unique experience for both off-island visitors and local community members," he said. "A number of people afterwards [last year] told us that they were not even aware of the event, though later wished they had known and participated."
For those unfamiliar with this sculpted dance happening, here's how it works: eleven professional dancers will be positioned next to sculptures throughout Price Sculpture Forest. Guests to the forest can wander the trails and catch most, if not all, of the different performances.
"We designed the performances so that the intimacy of the sculpture forest is maintained," Price explained. "Each performance is intentionally short and repeated many times throughout the two-hour overall timeframe. Since the event is not a single linear performance that starts and ends at exact times, this approach allows small groups of people to wander from any performance to any other performance at any time, spreading out the visitors and giving everyone lots of flexibility."
For Seattle choreographer Eva Stone, who came up with the sculpted dance idea last year and brought it to Price, her first experience was "magical," and she anticipates it will be just as special this year.
"Last year was just terrific," she shared. "There was no question we had to do it again. Dancers are such a special breed of human beings. They've trained their bodies to be super-human. Even in the smallest spaces in the middle of the forest, they can make magic happen. And it's unusual to get to be so close; usually an audience is separated by the structure of the theater. To get to be right up close makes for a really wonderful experience."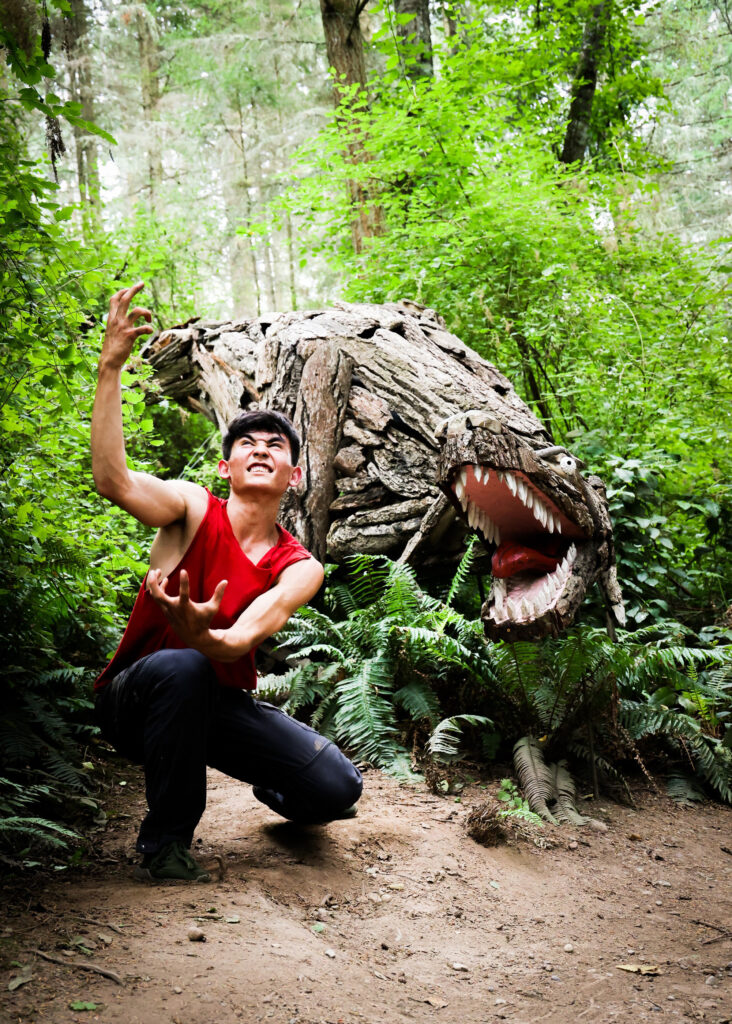 According to Stone, this year's event is a whole new experience. Five of the dancers are returning, the remaining six are all new. Same with the sculptures – only three locations are being used again; the rest are all new. There is only one location where the same music and choreography is being repeated, but the dancer is different.
As she did last year, Stone visited the park for inspiration several months in advance, selecting the sculptures to be featured this year. She studied each of the sculptures and their creators, letting the pieces' stories guide her in selecting music and movement. But no matter how much rehearsal takes place in studio, sometimes on-site inspiration can still transform a performance.
"I heard so many great stories last year about how solos began to modify," Stone shared. "They started with something we had choreographed, and it began morphing into something else.
"You never want art to be static," she continued. "It has to live and breathe. I trust the dancers to know what they need to do. They can get lost in the music, the environment, the beautiful sunshine, the air, the woods, the nature of it all. It's important for the dancers to have fun. We work really hard, exhaustingly hard. Many have challenging work/performance schedules so it's nice to have a moment just for themselves. A growth moment. We're always looking for ways to expand, to grow. That's what this offers."
One of the challenges to creating dance performances at the Price Sculpture Forest is the lack of a stage. Dancers must inhabit only the space in the immediate area of the chosen sculpture.
"One thing I have always emphasized…is that the native vegetation is sacrosanct and we must perform around what is already naturally growing onsite," Price said. "It would make the choreographer's and dancers' jobs much easier if we cleared more space. However, they have instead addressed it as an interesting professional challenge to work within the existing vegetation, open space, and audience viewing areas from the trails."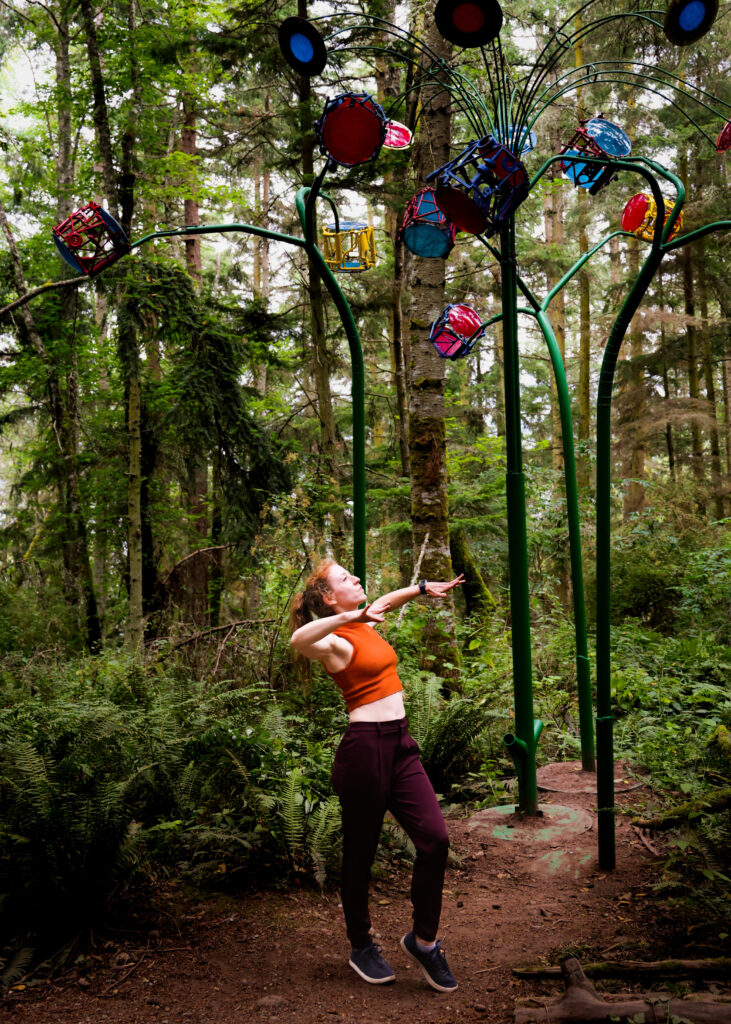 The Wander/Wonder sculpted dance happening coincides with Whidbey Working Artists' Open Studio Tour this weekend. Price said the two events blend beautifully.
"The overlap is terrific," he said. "Anyone with an interest in the arts, nature, or dance will have lots of great ways to experience their related interests this weekend. They can incorporate the Wander/Wonder event into their trip plan when going amongst the studios. A few of the sculptures at the sculpture forest are even for sale, as can be seen in the free, onsite, self-guided tour."
It's a good weekend to explore art on Whidbey Island, and organizers of the sculpted dance event invite all those interested to take a break to wander in wonder.
"This is a truly special event that brings a national caliber choreographer and professional dancers to Coupeville, with all performances custom created to interact with specific loved sculptures in a beautiful native forested setting," Price said. "Where else can someone experience top notch dance, music, outdoor art, and nature all integrated together? We hope people can come to personally see what that means."
"Come out and see some beautiful dancers in a beautiful location and just spend a beautiful day on Whidbey," Stone encouraged. "This is an experience the likes of which you won't have anywhere else. It's super unique."
The Price Sculpture Forest is located at 678 Parker Road in Coupeville. Learn more at sculptureforest.org. To learn more about Eva Stone and her work, visit chopshopdance.org.