Picnic on the prairie celebrates permanent home of Haven shelter
— Created August 23, 2023 by Kathy Reed
By Kathy Reed
It has been a long time in the making and the Whidbey Homeless Coalition invites the community to celebrate the pending opening of the Haven shelter's permanent location with a housewarming picnic on the prairie. The fundraising celebration will be held Saturday, Aug. 26 from noon to 3 p.m. at the new Haven location, 331 Morris Road, in Coupeville. Tickets are $20 per person or $50 for families with children and may be purchased in advance at whidbeyhomeless.org or at the door on the day of the event.
The housewarming will include a barbecue buffet, live music, a silent auction, 50/50 raffle and an opportunity to tour the shelter, which is expected to open in the next few weeks.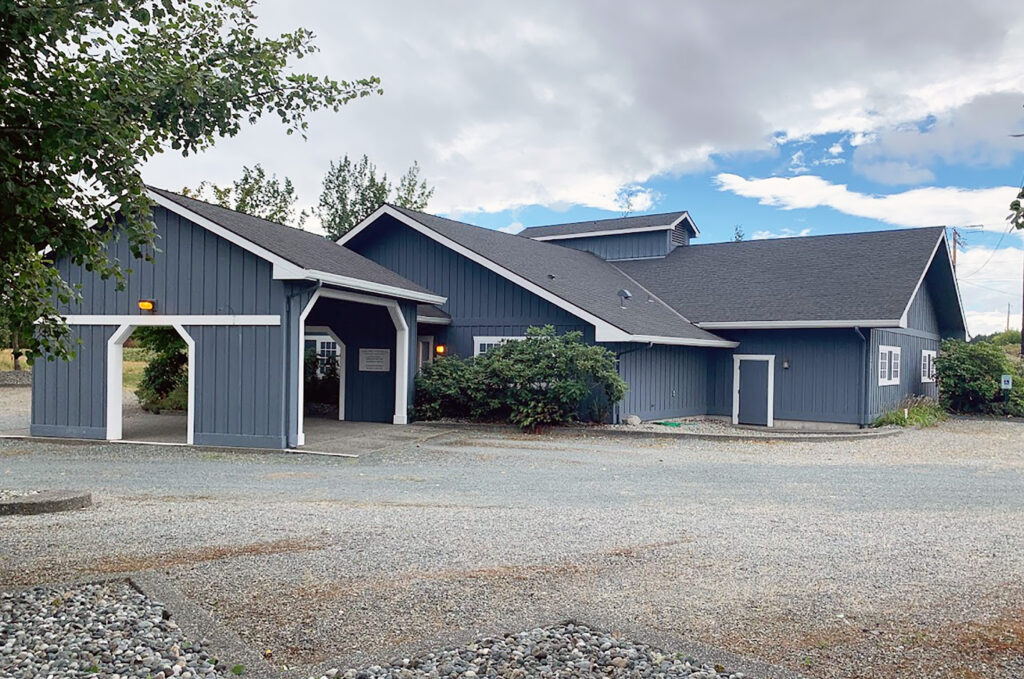 "The building is a dream come true," said Whidbey Homeless Coalition board member Shellie Moore. "We never imagined we would be able to own a building outright, but because of the Department of Commerce having grants available during COVID, we were able to make that leap of faith."
The Haven has been operating on a "pop up" basis at various churches around the Oak Harbor area since it was founded in 2017. The ability to have a permanent location comes with many benefits, Moore said.
"For staff, not having to pack up every morning and unpack every night will be a blessing," she said. "Our guests will feel more welcome and at home, not moving from place to place. It's going to have so many benefits."
The new building, which Whidbey Homeless Coalition has been working on for three years, will be able to house 30 guests per night. The shelter will continue to operate much as it has since it began – people will register for the shelter daily in Oak Harbor and will be transported to the Haven. Guests will be transported back to Oak Harbor the following morning and will only be allowed to stay on site overnight.
"For neighbors that are worried, we care about them," Moore stated. "We want to be good neighbors. It will continue to be a structured environment. It is not going to be a homeless camp."
The mission of the Whidbey Homeless Coalition is to make homelessness a "brief and rare experience on Whidbey Island," according to Moore. She said that is something that is getting harder and harder to do. Much like the rest of the country, homelessness is a growing problem.
"I just think homelessness is such a multi-faceted picture," Moore said. "The need has grown in part because affordable housing has shrunk. Airbnbs have taken up so many of the cabins and apartments that nicer rentals have become harder to find. Even with good credit and references, it's still difficult to find something affordable, and that trickles down to our most vulnerable.
"The reasons people become homeless are so varied, from disability to domestic violence and drug abuse is certainly one of the reasons on the list, but not for most of the people who come into our shelter," she continued. "On the other hand, when people make the decision to reach out for help and come into shelter, it's a real opportunity to get put in touch with services. We don't have mental health professionals on staff, but we can get them connected with detox programs, rehabilitation programs and people who can help."
Moore said WHC is hoping people will come to the picnic to get a firsthand look at the new shelter and be willing to help with the organization's most pressing needs.
"We need cash," she said frankly. "We have a $60,000 matching grant currently, and we are really hoping people will come to the picnic with a generous spirit. While we currently don't have a commercial kitchen, once we are up and running, we will have a pantry with ready-to-eat foods like soup or oatmeal."
Another need WHC would like to see replenished following the pandemic, is for volunteers.
"We had a good group of volunteers before COVID, but when that hit, we lost a lot of those people," Moore explained. "Now I feel like the Haven is going to feel like a home and hopefully people will be drawn to engage again. At the picnic, one thing we'll talk about will be the different kinds of opportunities for volunteering, whether for the board, to help with the website or with social media skills."
People interested in attending the fundraising picnic Aug. 26 are encouraged to RSVP by purchasing tickets in advance. The Whidbey Homeless Coalition was founded in 2014 and also operates the House of Hope in Langley, which is a 90-day shelter for families and single adults at risk of homelessness. Information on WHC and its programs, including the upcoming fundraising picnic, can be found online at whidbeyhomeless.org.
"I just feel a lot of gratitude for the community and the people who have helped support this program," Moore said.