Chum Run raises money for a good cause
— Created September 20, 2023 by Kathy Reed
By Kathy Reed
Saturday is a great day to grab a pal and/or family member(s) and head down to South Whidbey Community Park, 5495 Maxwelton Road in Langley for the 25th annual Chum Run. Registration and packet pickup begins at 8 a.m. and the race begins at 10 a.m. Cost for those who register in advance is $25, or $30 on the day of the race; youth under 14 are $15. There is still time to register in advance at swparks.org/event/chum-run/.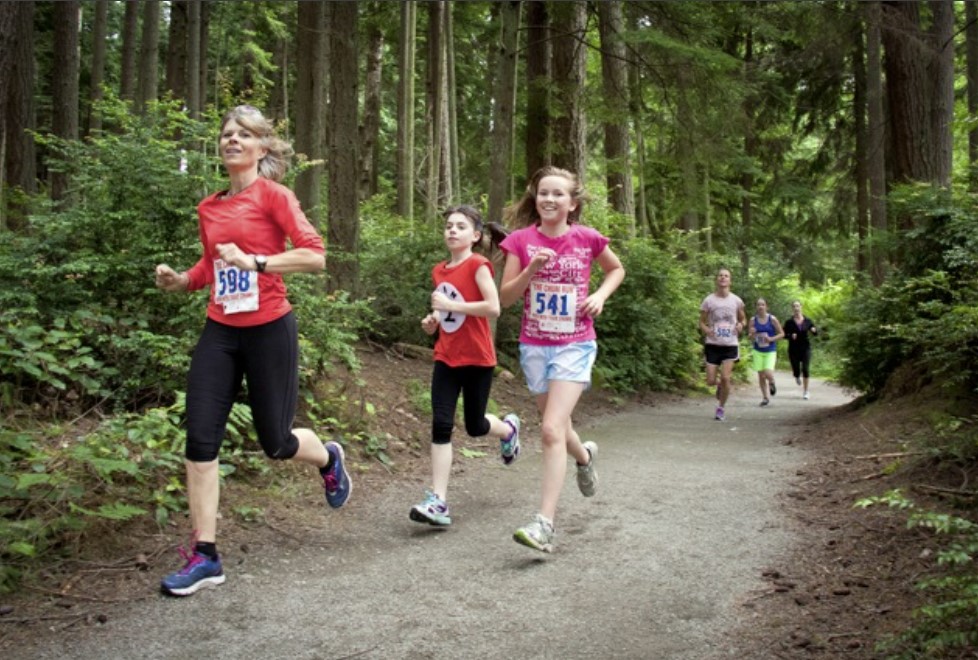 The Chum Run 5K is meant to be a fun, family-friendly event and is a collaborative effort of Island County and South Whidbey Parks and Recreation District. While there is an element of competition, the Chum Run is more about camaraderie and promoting healthy activity. That philosophy makes it a perfect way to raise money for Island County's Healthy Island Youth Initiative (HIYI) scholarship fund, which provides scholarships to enable low-income youth to participate in extracurricular sports activities.
"The Healthy Island Youth Initiative scholarship fund is open Island County-wide to youth at any school or home-schooled students," said Liz Dickman, Island County public health coordinator. "It's a scholarship for sports or physical activity classes and can cover expenses like registration fees or equipment fees for any youth who qualifies. It can be for any sport. This past quarter we had a lot of dance classes, swimming lessons and martial arts classes, but it can include football, cheer, soccer."
Because school districts all have their own programs to help youth participate in those activities, the HIYI scholarship covers any other sports or physical activity program outside of school that occurs on a regular basis for a set season or length of time.
Although the HIYI scholarship has been around since 1992, Dickman said it has typically not been used a lot, which is what she is hoping to change.
"I started coordinating it and doing more with it this year," she said. "In return, I'm hoping to raise more money for the scholarships."
Dickman, who began working for Island County in the fall of 2021, has made some changes, such as getting the scholarship application online, which she believes has been helpful.
"I think it's definitely getting the word out better," she said. "Last quarter we had 20 scholarships. So far this year, we are close to 60 applicants. I think our total number of scholarships for the whole year last year was 55."
All proceeds from the Chum Run will benefit the HIYI scholarship fund, which last year raised $982. Every little bit raised does help, said Dickman.
"Some of these sports do cost a lot of money, so helping with that cost is really important," she said. "We want to be sure any youth can participate in sports if they want to. The recommendation for kids ages 5-18 is to get one hour of physical activity every day. Statistics show most kids are not getting that. Enabling kids to participate not only encourages them to be active, but there's the social aspect to being involved as well, to being part of a team."
Dickman said she has been happy to coordinate this event with South Whidbey Parks and Recreation and said she has been able to bring on several sponsors to help offset some of the expenses associated with putting the event on. Several sponsors have made in-kind donations, ensuring all runners will receive a bag with fruit and granola bars.
"It's nice to know there's community effort out there aimed at helping," Dickman said. "We simply wouldn't be making as much money for the scholarship fund without their help."
Speaking of help, volunteers are welcome and those interested may still have time to sign up.
"We need help setting up the course, packing bags for runners," Dickman described. "On the day of the race, volunteers would be helping to get people registered, to get their T-shirts if they've ordered them, making sure signs are set up, and then help with cleanup. Anyone interested can go to the registration web link to sign up to volunteer."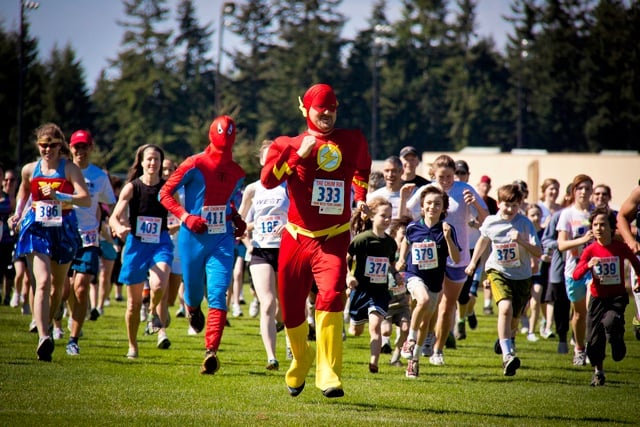 Last year there were about 100 participants in the Chum Run. Organizers are hoping even more people will participate this year. There will also be a "Fry Run" for children ages 1-10, which starts at 10:45 a.m. Award winners for the Chum Run will be announced at 11 a.m. Information and registration is available online at swparks.org. Whidbey Watershed Stewards, who originated the event, will also be on hand with an activity table for kids.
"It's supposed to be a fun run, so it's not too competitive," Dickman said. "Our motto is, 'Run with your chums.' You can walk it, too, if you don't feel like running. It's a chance to be in a beautiful park and it's a nice way to have a fun event that's related to the HIYI scholarship."
More information on the Healthy Island Youth Initiative can be found at www.islandcountywa.gov/351/healthy-island-youth-initiative.