Fort FestiveFall celebrates the arrival of autumn
— Created September 20, 2023 by Kathy Reed
By Kathy Reed
The Keepers of Admiralty Head Lighthouse, in conjunction with Washington State Parks, has planned a fun event to welcome the changing of the seasons.
Fort FestiveFall, as it's being called, will take place from 11 a.m. to 4 p.m. Saturday at Fort Casey State Park in Coupeville. Admission is $5 per person, but a Discover Pass is NOT needed for parking, as it is a free day in all state parks. Children age 4 and under are free.
This first-time, one-day fall festival is a fundraiser for Keepers of Admiralty Head Lighthouse and will feature fun for all ages, including games, a pie-eating contest, a cake walk and a painted rock scavenger hunt as well as kite demonstrations and hot dogs, snacks and drinks. Organizers said planning for the event began in June.
"It's really coming together," said Trish Coleman, president of the Keepers of Admiralty Head Lighthouse council. "We're going to have a pumpkin patch for little ones so they can pick a pumpkin and then paint it. There will be children's games and we'll have an 1841 tractor there with a backdrop for photos, Whidbey Island Kite Fliers will be doing demonstrations and there will be kids' kite building."
Participants in the scavenger hunt can also compete for a special prize, according to Coleman.
"Whidbey Island Rocks is providing scarecrow-painted rocks," she described. "Two very special rocks will be larger than the rest and will have the lighthouse painted on them. Whoever finds those will win an annual Discover Pass."
This new fall festival will take the place of Haunted Fort Casey, at least for this year, as the Keepers organization lost the member who had spearheaded the Haunted Fort event since it began.
"Cheri Anderson was the driving force behind the Haunted Fort," explained Coleman. "She passed away unexpectedly in April and it kind of set us all back. I am fairly new to Keepers and very new to the Haunted Fort. The Haunted Fort is a four-day event, and we decided we just couldn't do it effectively this year, so we decided to suspend the Haunted Fort for a year, regroup, and bring it back in a manner Cheri would appreciate in 2024.
"In the meantime, we knew we had to have a fundraiser, because that's what we do, we raise money for the lighthouse," she continued. "We thought about what kind of community event we could do on a smaller scale, and Fort FestiveFall was created."
Coleman said she is pleased with how the community has come together to lend a hand.
"I'm used to planning events, but not necessarily on this scale," she shared. "Not doing it was not an option. We've worked hard to pull it together, but we've had a lot of help from the community, from Keepers' council members and volunteers. It's been unbelievable."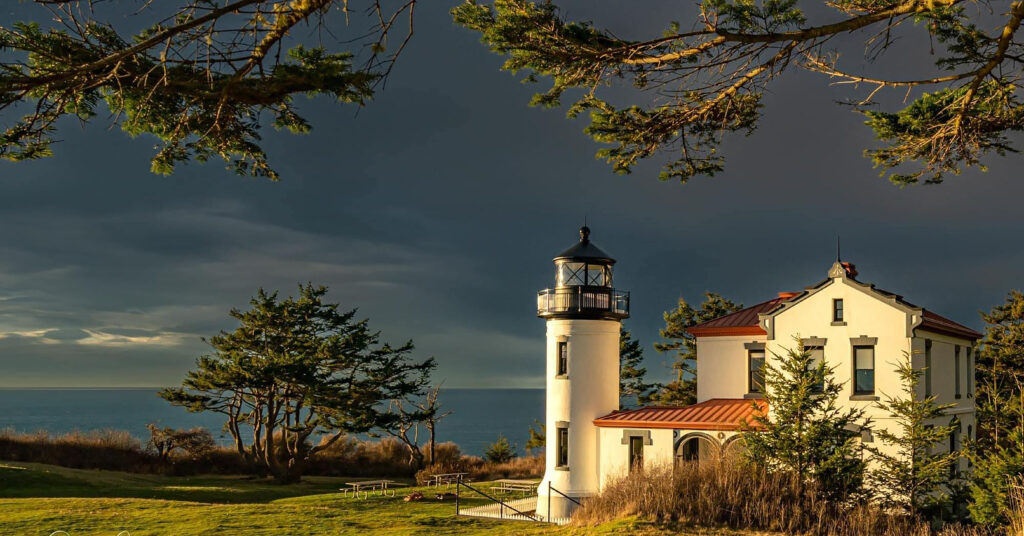 The Keepers of Admiralty Head Lighthouse helps support improvements and enhancements in the lighthouse's displays. The group falls under the umbrella of Lighthouse Environmental Programs of Island County.
"Our sole purpose is 'to be a funding source for the preservation of the lighthouse,'" Coleman said. "One example of that is, at some point this month, all the interpretive panels are scheduled to be replaced. The Keepers donated $40,000 to that endeavor.
"In 2024, when funding is approved, we want to continue with phase two," she continued. "We want to put in an ADA (handicap accessible) interpretive center outside the lighthouse. Because it is an historical landmark, we can't make ADA changes to the lighthouse itself, so we want to create an outdoor, accessible center and hopefully add online access to our gift shop."
In the meantime, Coleman encourages people to come out and enjoy a day of family fun at this historic location.
"I'm into Whidbey and I'm into history. I just think of the beauty and history behind the fort and the lighthouse and the role it's played on Whidbey and in the U.S.; its history is significant," she said. "So just come out and support us. It's a free day for parking, it's only $5 per person and it will just be a fun, family day. Summer's over, it's the second day of fall, come out and support the efforts of the Keepers."
Learn more at keepersofadmiraltyheadlighthouse.org.