Rescued seal pups head back into the blue
— Created September 20, 2023 by Kathy Reed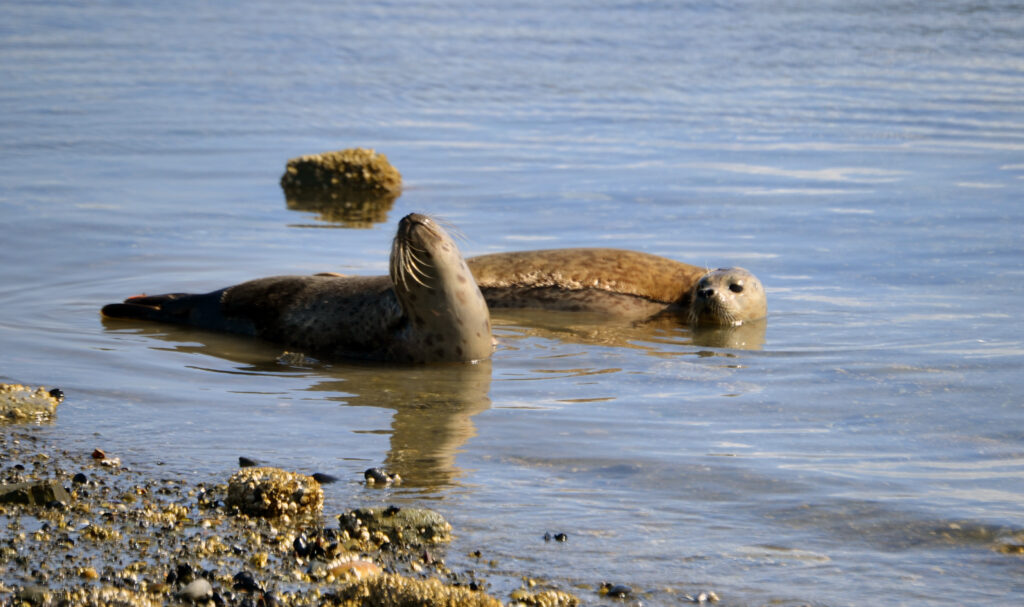 By Kathy Reed
Two harbor seal pups have been given a second chance and the waters of Crescent Harbor at Windjammer Park in Oak Harbor was the perfect place to get it started.
The baby seals were rescued, rehabilitated and then released by Sealife Response, Rehabilitation and Research (SR3), which operates the Pacific Northwest's first marine animal hospital located in Des Moines, Wash. Monday the two pups were released back into the wild after spending 80 days at SR3.
"Two harbor seal pups came to us, one from the Port Townsend area and one from the Bellingham area," said Casey Mclean, executive director of SR3 and a veterinary nurse. "Both had experienced maternal separation and were in need of care, so they were picked up by our stranding network partners and brought to our facility at the Des Moines Marina."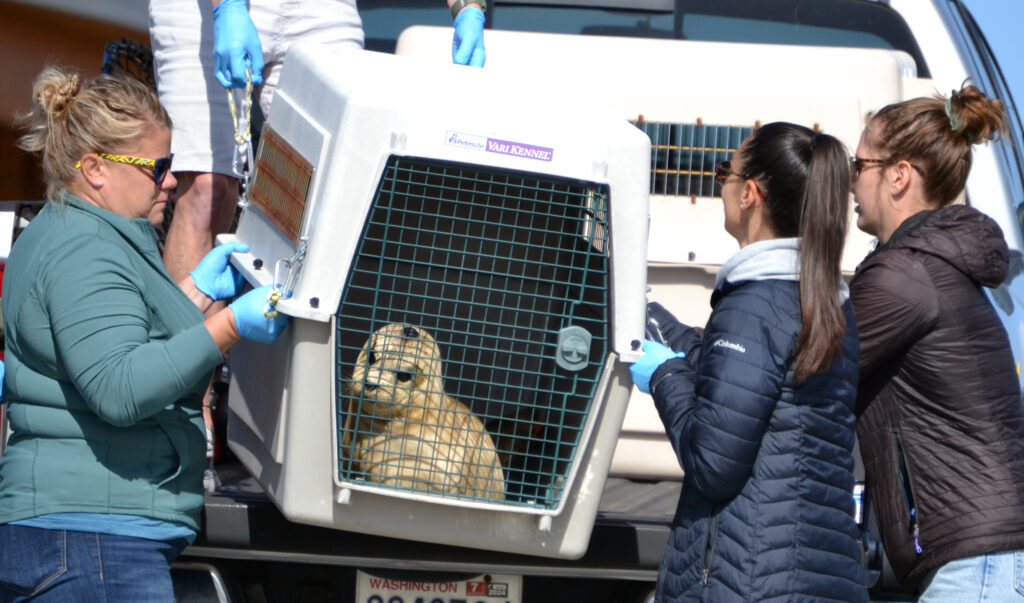 The two pups, called Salt and Aioli (officially numbers 23-6 and 23-4) both came in weighing less than 10 pounds – about half of what they should have weighed at that point – and they both weighed about 50 pounds at the time of their release.
"Aioli in particular had quite a few wounds and was really in rough shape," Mclean described. "He still had some lanugo fur on his body, meaning he was really young because typically that fur is shed in utero. So he was very young and the same thing for the one from Bellingham (Salt). They would not have survived without some medical care."
A small crowd, mostly SR3 employees and volunteers, gathered on the beach late Monday morning and watched as two large pet carriers were hauled carefully into place. The seal pups were interested in what they saw, pressing their noses against the metal cage door, looking curiously at the people and the water beyond. They emerged from the cages quickly but took their time scooting down to the edge of the water. The two seals hung out in the shallow water at the harbor's edge for quite a long time, gradually slipping deep enough to dip their heads under the water. After several minutes hanging out side by side, they slowly moved deeper and further apart, until they finally dived down and swam off.
"They both came to us because they were thin and malnourished," said SR3 veterinarian Michelle Rivard, addressing onlookers on the beach before the release. "They had been separated from their moms before they could wean and able to feed on their own. If harbor seals are disturbed for some reason – by humans, dogs, you name it – sometimes the moms abandon their pups and if the moms abandon them before they know how to forage on their own, then they can't survive in the wild. We provided them nutrition, hydration, calories and medications in order to help them gain wight and learn how to eat fish on their own. Now they're nice and round and they know how to eat fish, so they're ready for life out in the big blue."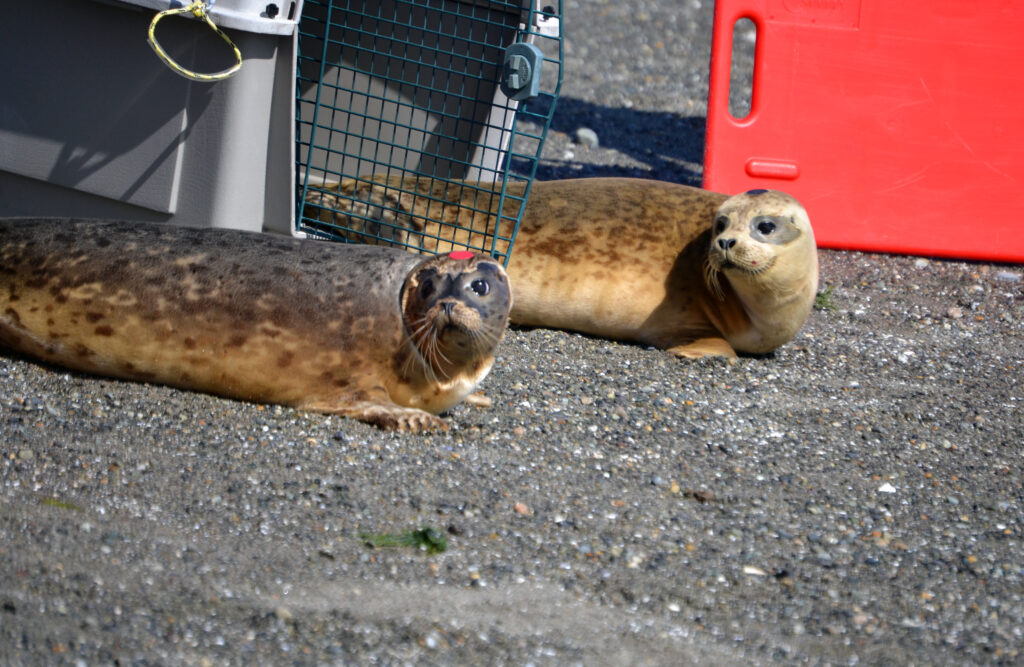 The seal pups' release brought nothing but smiles from those who had been part of the pair's recovery.
"Myself and the other animal care technician work together to make sure everything goes smoothly and the animals are getting what they need," said KC Scofield, who provided much of the seal pups' day-to-day care. "Getting to help get these animals healthy and better is super enriching, but being able to see them go back out to their habitat is really the best part."
"The food prep is a big part of their care," said Irissa Danke, an intern at SR3 who wanted to learn more about the animal care side of marine mammal research. "We learned a lot about what harbor seals eat, how much they eat and that kind of thing. It was really fun."
This is the first time SR3 has released rehabilitated seals, or any marine mammal, in Oak Harbor, but officials say they hope this will not be the last.
"Oak Harbor's a really ideal location – the accessibility for people in wheelchairs or with mobility challenges can actually be part of a release when they otherwise couldn't, so I think it's super ideal," said James Powell, SR3 rescue response coordinator. "It's really an ideal cove. It's a perfect community to bring seals back to. Hopefully this is the beginning of a really good partnership."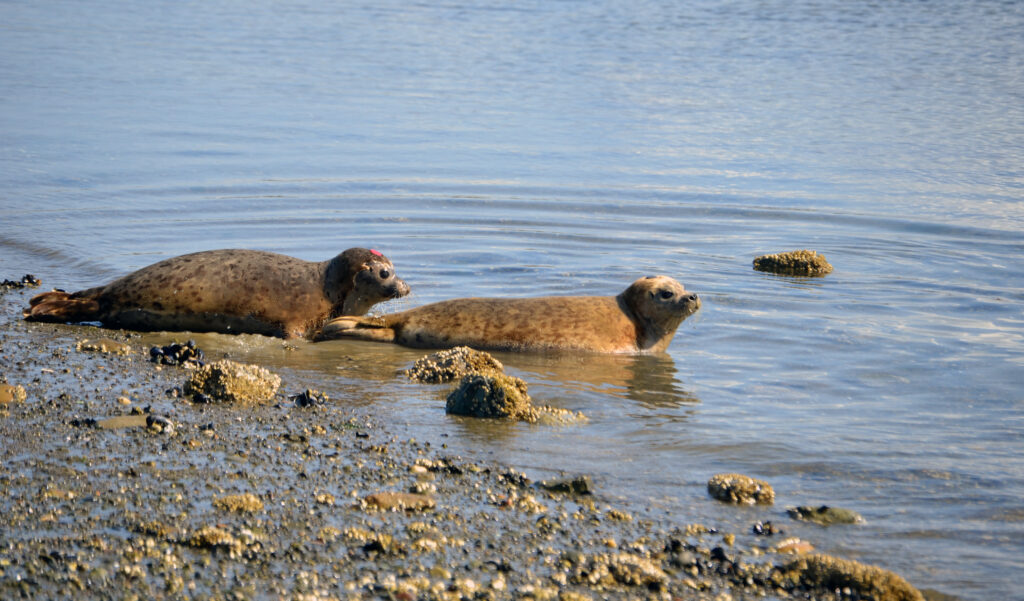 It's also important to know the time the seal pups spent at SR3 will not have an impact on their survival one way or the other.
"Their chances of survival are exactly the same as if they'd been raised by their mom in the wild," Mclean said. "About 50 percent of harbor seals make it to adulthood. It's the same whether you've been raised by mom or raised in rehabilitation."
"If we weren't around or our facility wasn't around, they probably wouldn't have had this chance and they might not have made it on their own," said Annika Galloway, also an SR3 intern. "We at least got to help them have another chance."
"It's really awesome getting to see the full circle," agreed intern Jamie Campbell. "Having them come in, being able to care for them and then getting to put them back into the wild where they belong and get that second chance, is just really the best thing."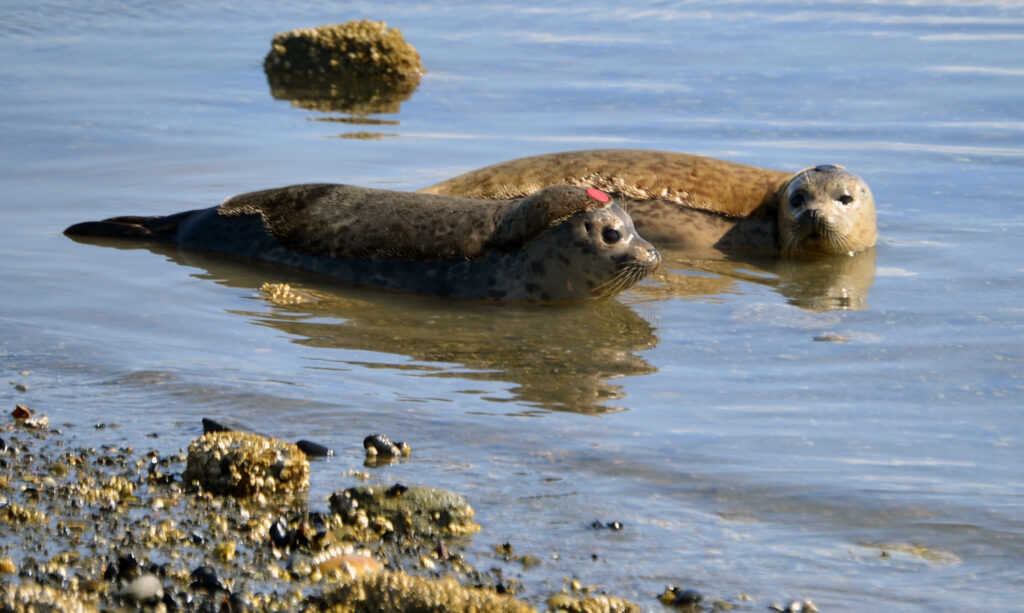 "This is what we want to see," Mclean said. "Putting them back out in that population to be a healthy part of it."
SR3 has been doing research and response since 2017 and opened the hospital in 2021. The nonprofit organization cares for marine mammals ranging from tiny harbor seal pups like Aioli and Salt to big sea lions. It also works with sea otters, sea turtles and is even equipped to help a small dolphin or porpoise if necessary.
"We're designed to be flexible, so that whatever marine animal may need help, we're able to do that," Mcclean said. "We don't take marine birds or river otters – there are other facilities available for those guys. We're really filling a gap in resources, specifically for marine wildlife."
On Whidbey Island, dead or stranded marine animals may be reported to the Central Puget Sound Marine Mammal Stranding Network through Orca Network. Call 866-672-2638 or 949-233-2822 or email strandings@orcanetwork.org. Learn more about Sealife Response, Rehabilitation and Research at SR3.org.