Coupeville welcomes spooktacular fun for Halloween
— Created October 18, 2023 by Kathy Reed
By Kathy Reed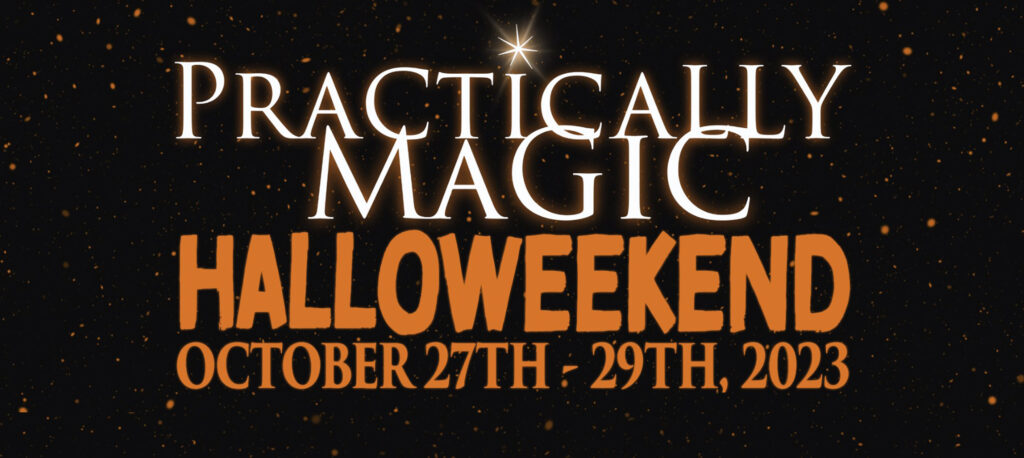 It's the time of year when pumpkins race and spirits dance.
That's right – the Haunting of Coupeville is in full swing and the Coupeville Historic Waterfront Association has big plans for one of the most frighteningly fun weekends of the year. Look for two 21+ movie nights for "Practical Magic," all-ages scavenger hunts, the torchlight parade and street dance and the ever-popular pumpkin races going on during the Practically Magic HalloWeekend, Oct. 27-29 in historic downtown Coupeville. (coupevillehistoricwaterfront.com/events)
There are, of course, ongoing daily features like the Scarecrow Trail and the Weary Bones Rest Stop graveyard among other activities sponsored by Coupeville businesses and organizations, but this year, the last weekend of October will be filled with spooky, good-natured fun.
"I am constantly surprised by how much enthusiasm there is for Halloween and October activities," said Jesse Levesque, executive director of CHWA, who noted she is celebrating her first full year at the helm of the Mainstreet organization. "I'm inheriting a lot of this tradition that people want to bring their families to. With the addition of having a movie about witches shot in this place, it lends itself to so much more."
There are two chances to view the film, "Practical Magic," which most Whidbey Islanders know was filmed in Coupeville. Those 21 years of age and older are invited to attend either Friday or Saturday night, Oct. 27-28. Doors open at 6:30 p.m. at the Coupeville Rec Hall. Costumes are encouraged and there will be a costume contest, margaritas, a trivia contest and more. Tickets are $5 per person and can be purchased in advance online at coupevillehistoricwaterfront.com/practicallymagic/p/practically-magic-movie-night. Identification is required for entry.
This unique-to-Coupeville HalloWeekend is deliberately designed to cater to people of all ages, Levesque explained, with added events for those over 21.
"Much of the feedback we've gotten was that people would like to see more events for adults and we really wanted to help meet this demand," she said. "That is why you'll see so many events on the calendar such as the two movie nights that are 21+ and a beer garden downtown. "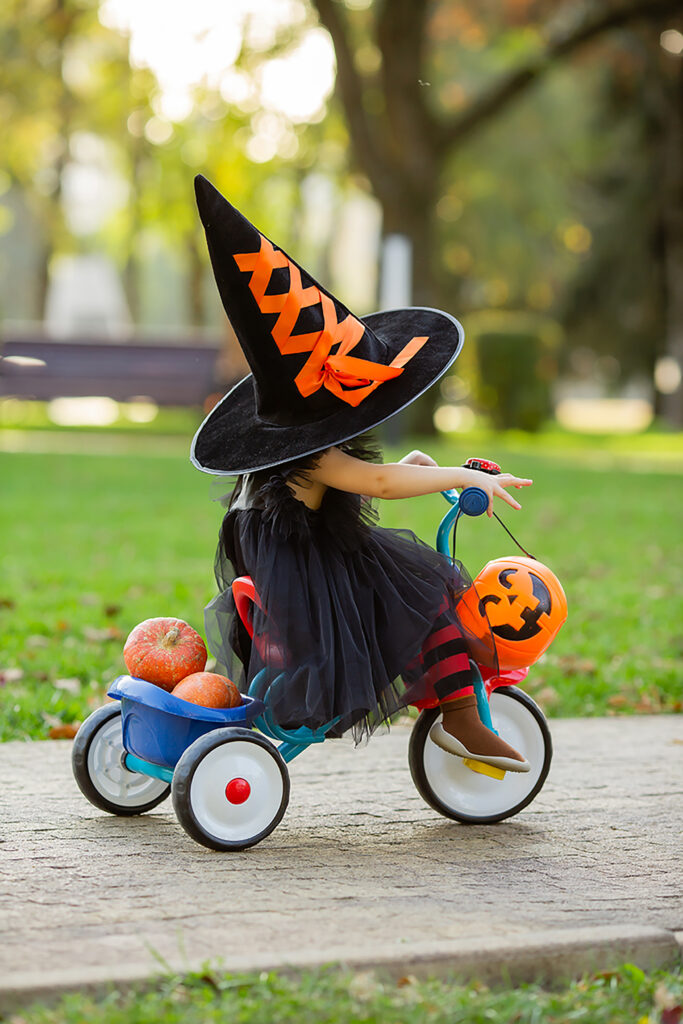 A new all-ages addition to the fun this year is the Spells and Brews Bike Ride, going on from 10 a.m. to 4 p.m. Saturday, Oct. 28. Registration begins at 10 a.m. at Coupeville Middle School parking lot for this bike ride, organized by the Whidbey Island Bicycle Club. There are two routes to choose from – a family loop of just over seven miles and a 28-mile road ride. Cost is $10 per person or $25 for a family of four and includes treats. For those 21 years and older, they will be given a token to enjoy a beverage at the Spells and Brews Beer Garden at the corner of 9th and Main. Sign up that day or go to https://whidbeyislandbicycleclub.org/practically-magic-ride to sign up early.
For those looking to add some panache to their Halloween ensembles, the Clues and Capes Scavenger Hunt will be going on from 11 a.m. to 3 p.m. Saturday and Sunday, Oct. 28-29, offering witches and warlocks of all ages the opportunity follow the clues to complete their wardrobe. Cost to participate is $14; purchase tickets online at coupevillehistoricwaterfront.com/practicallymagic/p/capes-clues-scavenger-hunt or when picking up your witches hat or cape at Mariner's Court Atrium, 900 NW Alexander St.
The fun continues Saturday evening, Oct. 28, at 5 p.m. with the Torchlight Parade, followed immediately by the second annual community street dance. Everyone is encouraged to wear their best costume and gather at Cooks Corner Park at 902 N Main Street. The parade will proceed to the corner of Front and Alexander Streets, where the street dance will be held.
"Last year, working with our promotions coordinator, we added the street dance to end of parade, which was very popular with everyone from babies to the elders," Levesque described. "Everyone stayed and danced the night away."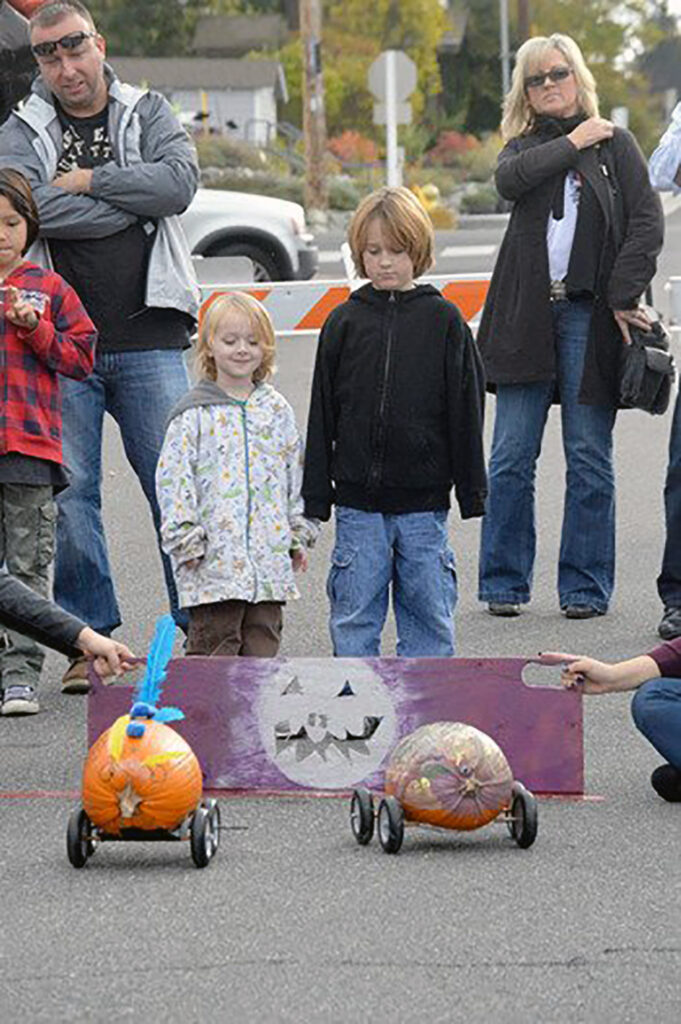 Another popular Haunting tradition is the Great Pumpkin Race, set for 2 to 4 p.m. Sunday, Oct. 29. This year's races will take place at the Town Park on Coveland Street, but it will feature the same great series of single-elimination races of home-decorated pumpkin racecars. Find out who wins the championship trophy and who will take home the awards for best decoration, most innovative and best crash. Register in person or in advance at docs.google.com/forms/d/e/1FAIpQLSepe8JNmKEBJnAEMhdi-4QXFeE8_9rwXJIMcIVln19GPqJ6wQ/viewform.
Organizers say this should be another spooktacular haunted weekend in Coupeville.
"I'm a little bit partial," said Levesque. "The two things I witnessed last year were the pumpkin race and the parade and street dance. There are so many fun things to see and it's great people-watching. How people made those pumpkins roll was entertaining. I could have stayed all day."
Find out more about what's going on in Coupeville at coupevillehistoricwaterfront.com/practicallymagic or at hauntingofcoupeville.com/activities/.