WIO celebrates Día de los Muertos
— Created October 18, 2023 by Kathy Reed
By Kathy Reed
Whidbey Island Orchestra is putting a different spin on its annual Halloween concerts this year, with an homage to the Mexican tradition of Día de los Muertos, or Day of the Dead, which is traditionally celebrated the day after Halloween.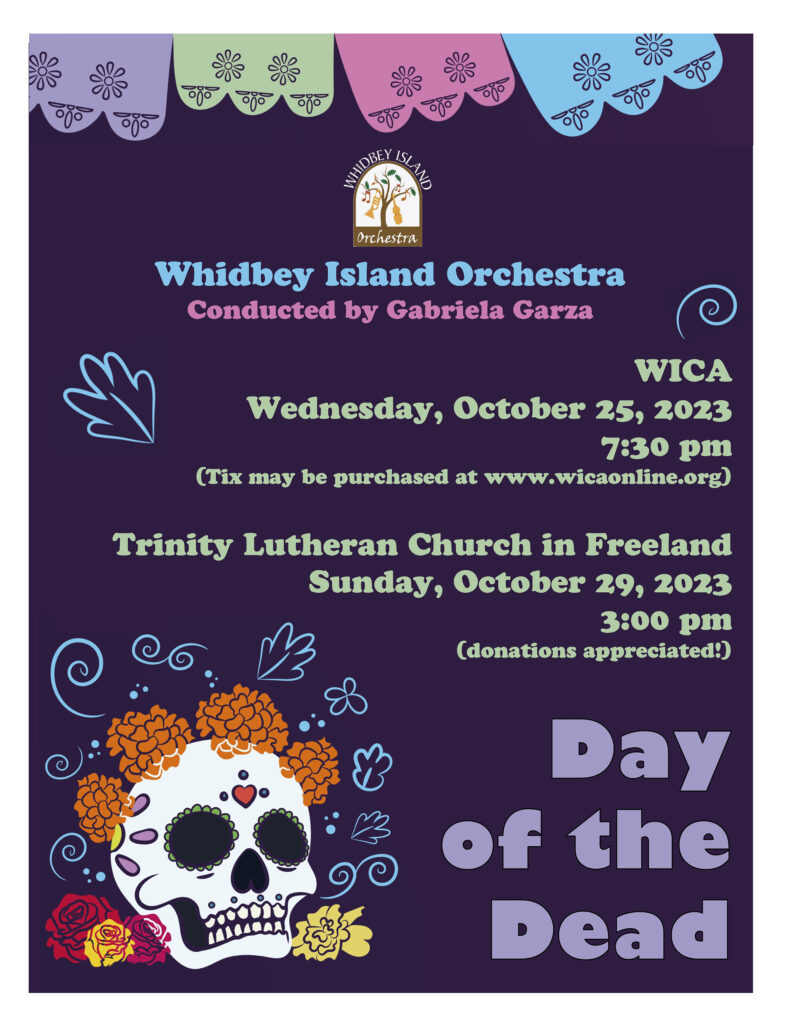 Concerts will be performed Wednesday, Oct. 25 at 7:30 p.m. at Whidbey Island Center for the Arts in Langley and at 3 p.m. Sunday, Oct. 29 at Trinity Lutheran Church in Freeland. Tickets to the performance at WICA may be purchased at wicaonline.org. The performance at Trinity Lutheran Church is by donation, which can be made in person or online. (whidbeyorchestras.org)
Gabriela Garza, who conducts two concerts each year for WIO, is back at the helm for this year's Halloween concerts, and according to Cynthia Morrow, WIO executive/music director, Garza is particularly suited to conduct these songs.
"In thinking about how to still honor the holiday while doing something fresh, she has drawn upon her Mexican heritage to create a Day of the Dead, or Día de los Muertos, concert," she shared via email. "This celebrates the Mexican tradition of dressing up in colorful costumes and death's head makeup, while bringing food and flowers to the gravesides of beloved deceased relatives on the day after Halloween. Music and dancing are a large part of this joyous holiday of remembrance, and so it lends itself quite naturally to a celebratory concert filled with wonderful Mexican music."
"Although Halloween and Day of the Dead celebration share some similarities, for example, the connection to the dead, the costumes, even the sugary treats, the Day of the Dead is a Mexican tradition, with roots in pre-Hispanic history, in which it is believed that the souls of the people who have departed this earth, come back to visit their loved ones," Garza said in an email to Whidbey Weekly. "The families and loved ones of the visitors prepare their homes with an altar, oftentimes customized to the likings of the people who are believed will be visiting. The altars will more likely than not contain a picture (or pictures) of the deceased, marigold flowers, sugar-made skull heads, and personalized items of the person who the altar is made for. This is a beautiful tradition that not only honors the lives of the ones who have left this world, but also that aims to keep a spiritual connection and bond with those whom we love."
This concert will definitely have all the flair and vibrancy one might expect from a "south of the border" repertoire, according to Morrow.
"Our orchestra really enjoys learning and performing Latin music, and because Gabriela is herself a professional percussionist, she has been able to teach our musicians the challenging rhythms that drive these pieces and give them their vibrant energy," she said. "Of course, we are featuring beautiful ballads and familiar melodies that the audience is sure to enjoy as well."
"I think audiences will truly enjoy submerging in a celebration of the cycle of life [through] a presentation of music with roots across the Americas," added Garza. "Audiences can expect lively, mellow, and passionate tunes all alike, and of course, a lot of interaction with the orchestra and with the conductor!"
Morrow said female orchestra members will wear flowered headdresses and men will don colorful sashes in honor of the event. Other costumes are also welcome.
"We hope that our audience will feel inspired to dress in colorful Mexican dress or Halloween costumes for this event," she said.
Because WIO is an all-ages group, there will be a youth member leading the string section for these performances.
"Our concertmaster for this performance is our well-known and admired youth member, Josephine Chia, a 16-year-old violinist/violist and senior from South Whidbey High School," said Morrow. "She has soloed with the orchestra many times on various concertos, but this is her first experience leading the string section of Whidbey Island Orchestra in concert."
Whidbey Island Orchestra has done a Halloween concert for the past several years, missing just one during the pandemic and using a video format, among others, to meet safety protocols. The group has a long history of thinking outside the traditional concert box and incorporating special touches, like dance, to add extra treats for concert goers.
"We performed a panoply of wonderful, ghostly pieces such as 'Danse Macabre,' featuring a solo violinist and beautiful young witches from Island Dance," described Morrow. "One year the orchestra performed music from 'Harry Potter,' 'The Hobbit,' and 'Chronicles of Narnia,' and this was performed live in various venues on Whidbey Island, as well as being filmed by Whidbey Telecom and featured by them on their streaming feed. The first year of the pandemic, unfortunately, we were silent, and the community made it clear that everyone was saddened by this and missed these performances very much."
Last year Garza led the orchestra through a program which featured the film scores of Tim Burton films such as "The Nightmare Before Christmas" and "Edward Scissorhands." Morrow said she's certain audiences will enjoy this year's performances as well.
"She is putting her expertise to good use and doing a Mexican-themed concert that celebrates this very Mexican holiday," she said. "It's a unique take on Halloween."