Mobile Turkey Unit marks 25 years of community service
— Created November 1, 2023 by Kathy Reed
By Kathy Reed
For Whidbey Islanders living in Coupeville and points south in need of a Thanksgiving Day meal, now is the time to put in a request with Mobile Turkey Unit.
The nonprofit organization provides free meals to those who are ill, elderly, financially vulnerable, living alone, disabled or working on Thanksgiving Day and would not have a meal otherwise. Requests should be made by Nov. 16 for delivery on Thanksgiving Day morning. Those interested can call 360-321-9782 or email mobileturkeyunitwi@gmail.com. Find details and online request forms at mobileturkeyunit.com. Physical request forms are also available at many social services organizations on south Whidbey.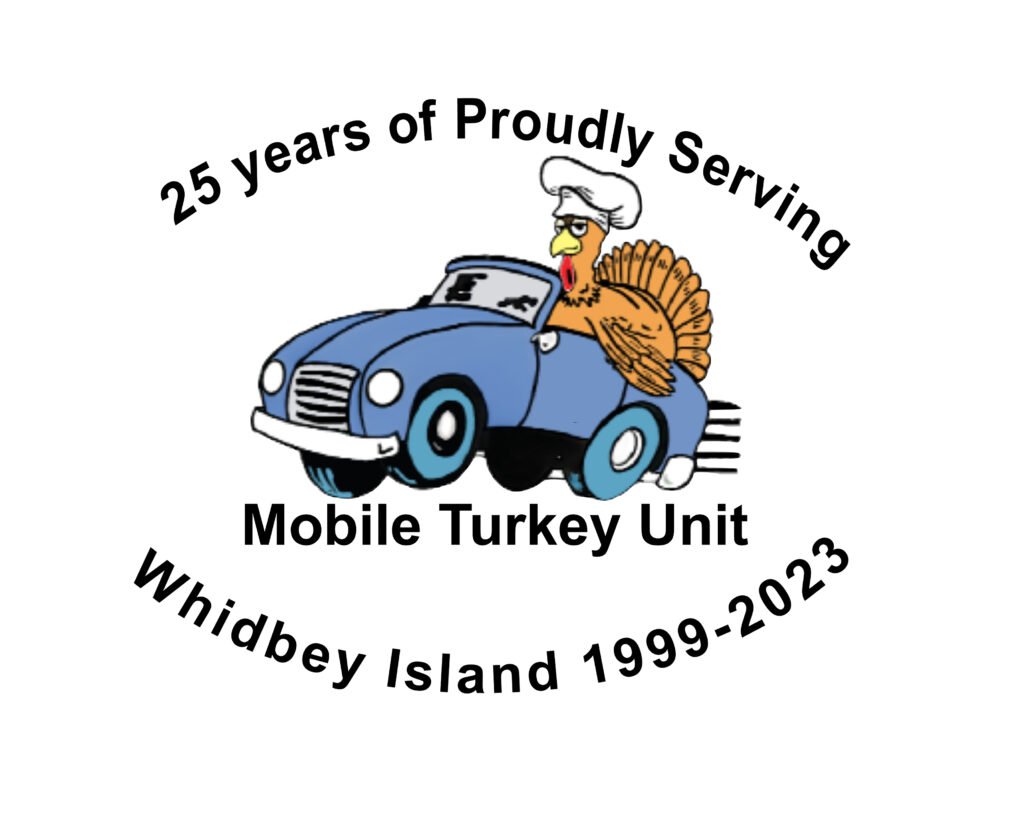 This year marks 25 years of service for Mobile Turkey Unit, something organizers can hardly believe.
"Is that cool or what?" remarked Gwendine Norton, co-president of MTU. "I think we're all kind of in awe, because this started out so small. It was basically a coffee can fund and we didn't incorporate until 2017 and get our nonprofit status, so the fact so many community members have carried the torch for all these years is remarkable."
Mobile Turkey Unit was founded by Tom Arhontas in 1999, a well-known and much-loved figure on south Whidbey. Arhontas passed away in 2009, but the community of volunteers have continued his legacy. In fact, the organization has seen steady growth over the past quarter century.
"The first year, MTU delivered 25 meals," Norton said. "Last year, we did 700 meals. I joined this team 11 years ago and at that time, we were doing just over 200 meals. In 2020, when COVID hit, we hit the peak and it hasn't gone back down. But we're happy to do it. We just want everybody to have a meal."
Norton said it takes about 200 volunteers in total to make Mobile Turkey Unit run smoothly each year. Preparations begin in advance and everything culminates on the morning of Thanksgiving, when plates are filled with turkey, stuffing, mashed potatoes and gravy, green beans, cranberry sauce, rolls and pie – all the traditional holiday favorites – and are then packed into bags for delivery. From there, approximately 60 drivers load deliveries into their vehicles and hit the road. After 25 years, the operation is a well-oiled machine that provides satisfaction for volunteers and leaves them plenty of time to enjoy their own holiday meals.
"So many people give up part of their morning to do this," she said. "By the time we get everything cleaned up and have sent stuff off to storage, I'm usually home by 10:30 a.m. That means that that morning we have served all the meals, packed the bags, loaded them in vehicles and are off and running. We're done so early we can still come home and have dinner, but I know everybody else is having a meal, too."
Norton said the MTU board has worked hard to put systems in place that will easily last another 25 years.
"We have set everything up with total transparency and accessibility for anyone to take the baton," she shared. "Now that we have our 501(c)3, are incorporated, and we have funding, we've been able to purchase all our equipment, so we are in good shape to keep this moving for many years to come. We're finding the next generation behind our board to start getting involved and aspire to lead this event every year.
"We're trying to set this up for generations to come, so having youth involved and learning about a life of service is critical," Norton continued, sharing that third and fourth grade students at Coupeville Elementary School make cards to be delivered with the meals. "It seems like everybody enjoys a handwritten card. So we're involving 200 volunteers – that is people cooking, driving, and additionally, all these children are contributing, too. The youth involvement is beautiful. The South Whidbey High School Interact Club has a team coming out to help, too. When kids have the opportunity to do this, they find it's something that fills your heart. You can't buy that. My hope is that some of these kids have exposure to Mobile Turkey Unit and will someday be running it."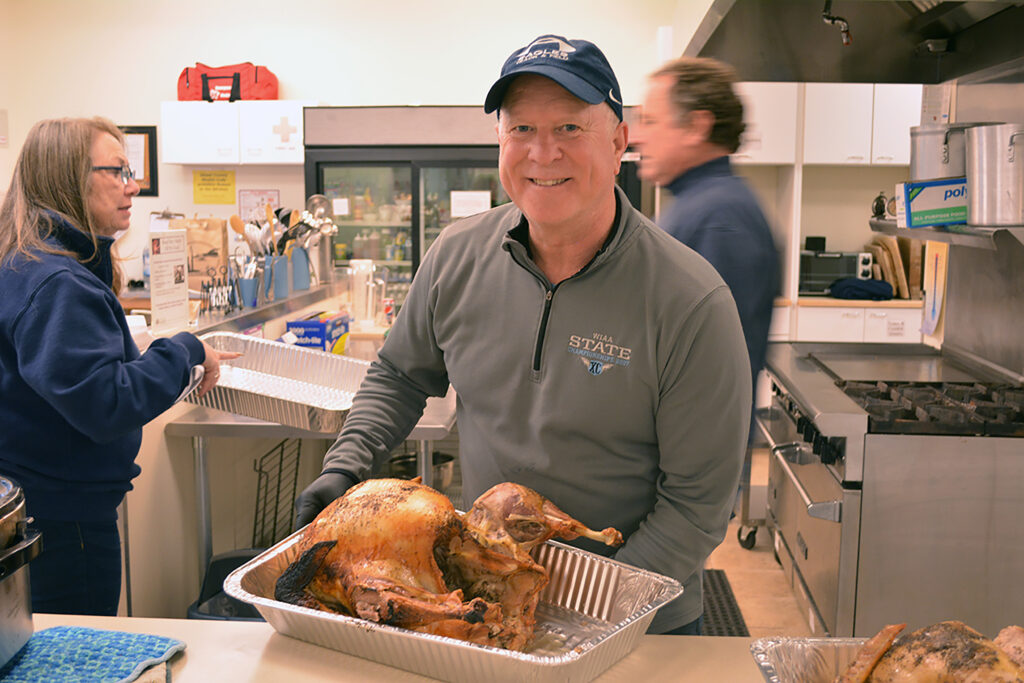 Not only would MTU board members like to see future leaders get involved, they're willing to share what they've learned with other communities.
"When we incorporated, we added 'of Whidbey Island' to our legal name with the hope somebody may want to have a Mobile Turkey Unit in, say, Anacortes, for example," Norton said. "I know personally I have the energy to help another community start one of these. That's what we would like to see happen. We'd like to spread the love to other communities."
Norton said it costs about $5,000 to purchase everything necessary to provide so many meals. The organization relies on resources in the community to make it happen. Kitchen and refrigeration facilities are provided by St. Hubert's Catholic Church and Langley United Methodist Church, with additional refrigeration space provided by Whidbey Island Nourishes as well as one of the rotary clubs.
"We assemble meals on the grounds of South Whidbey Elementary School," she explained. "So this takes community collaboration with churches, the school district and WIN. It's amazing stuff."
For those who are unhoused, Norton said there will be meals at the Mobile Station at Bayview and the Short Stop in Freeland.
"They are there for whoever needs them," she said. "You need a meal, you call us. That's what we're here for."
Meals can be requested online at mobileturkeyunit.com, by emailing mobileturkeyunitwi@gmail.com or by calling 360-321-9782.
"For a tiny little nonprofit like ours to pop up and last 25 years, I can't take credit for it," Norton said. "It's a community effort. I'm just shocked this tradition has kept going. It fills my heart."
For those who live outside MTU's delivery area (north of Coupeville) and who need help with a Thanksgiving meal, North Whidbey Help House in Oak Harbor may be able to assist, although registration is required. Sign up by Nov. 10. Go to northwhidbeyhelphouse.org for information or call 360-675-0681 during normal business hours.