Whidbey weavers spin uncommonly good sale
— Created November 1, 2023 by Kathy Reed
By Kathy Reed
If you haven't already started, it's as good a time as any to begin your holiday shopping and the Whidbey Weavers Guild just might have what you need.
The guild's 18th annual Uncommon Threads sale will be held Friday and Saturday at the Nordic Hall, 63 Jacobs Road, just south of Coupeville. Hours Friday are from 10 a.m. to 7 p.m. and Saturday from 10 a.m. to 3 p.m. It's an event people look forward to every year, and for good reason, according to organizers.
"The Whidbey Weavers Guild Uncommon Threads Sale is popular because it gives people the chance to see and buy the amazing fiber arts creations of WWG members and it only happens once a year, the first Friday and Saturday of November," said Dianne Bolton.
Typically, at least 40 members of WWG contribute items for the Uncommon Threads sale. Of those participating, some have been working on their craft for years, while others may just be starting their creative fiber arts journey. That means there is a great variety of items available for sale and several different types of fiber arts represented.
"Even though we are named the Whidbey Weavers Guild, our members are skilled in many different fiber arts, including, spinning, felting, knitting, tapestry weaving, dyeing, basket weaving and more," Bolton described. "There will be items for sale to fit every budget. From less expensive items such as catnip cat toys made from handwoven cloth and handmade cards to more expensive garments, scarves, rugs and blankets."
The Whidbey Weavers Guild began more than 50 years ago and boasts more than 160 members from not only Whidbey Island but from the greater Seattle area, even some from out of state. The guild's presence on Whidbey is one of the reasons Bolton now calls the island her home.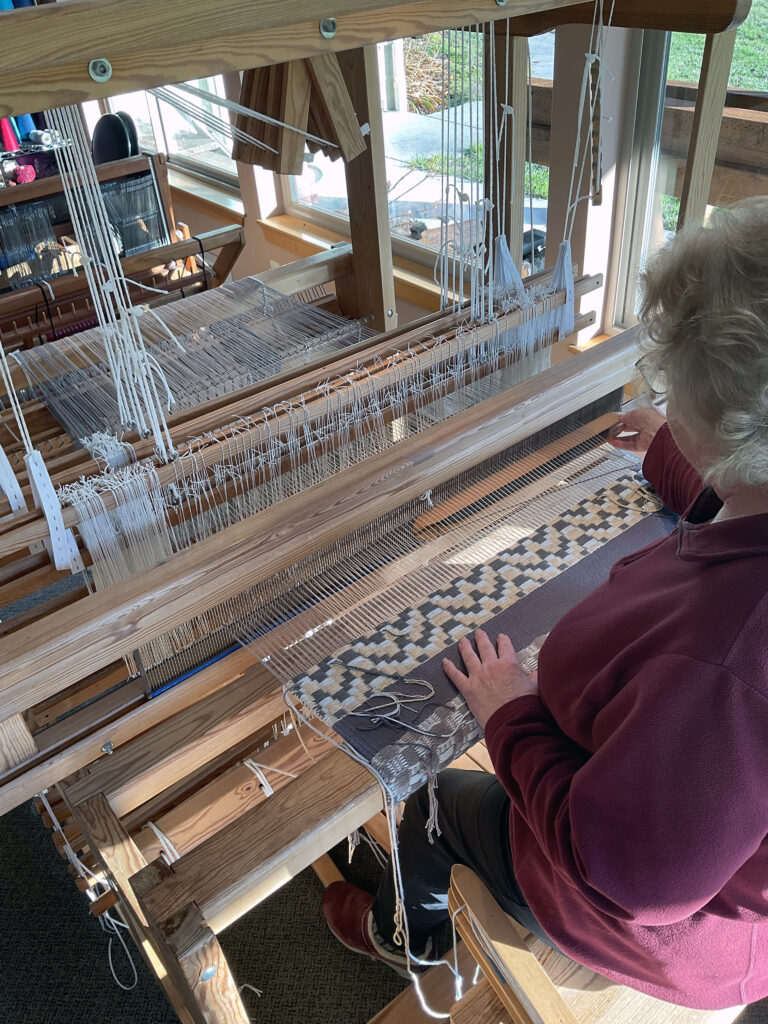 "I joined WWG when we moved to Whidbey Island in 2009," she said. "One of the many reasons Whidbey was an attractive place to live was the excellent weaving guild here. I started weaving in the 1980s when my sister passed a small table loom on to me. I learned how to weave on it, and I was hooked. I now have three floor looms and a large stash of fiber."
Bolton said it's not just members of the public who enjoy coming to the Uncommon Threads sale every year.
"The sale is so much fun for WWG members," she said. "We get to see all our beautiful fiber art together in one place. The colors and textures of the display are simply overwhelming."
Fiber arts education is a large part of what the Whidbey Weavers Guild is all about.
"WWG is nationally recognized in the fiber arts community as an outstanding guild with well-known artists and teachers," shared Bolton. "Our goal is to foster an inclusive, supportive, positive environment in which to share and grow our diverse interests in fiber arts. Education through programs and workshops are a priority. Anyone with an interest in fiber arts will find inspiration and joy in WWG."
The Whidbey Weavers Guild meets at 10 a.m. the first Thursday of each month, in person or online. Find more information online at whidbeyweaversguild.org.
In the meantime, everyone is encouraged to check out the unique, handmade creations that will be on display Friday and Saturday at the Uncommon Threads fiber arts sale.
"If you like warm, cozy shawls and blankets or shimmery, soft silk scarves or rugs and tapestry wall hangings to brighten your home, come and touch and try on one-of-a-kind pieces created for you," Bolton encouraged.