Brothers Four sing for three good Whidbey causes
— Created November 15, 2023 by Kathy Reed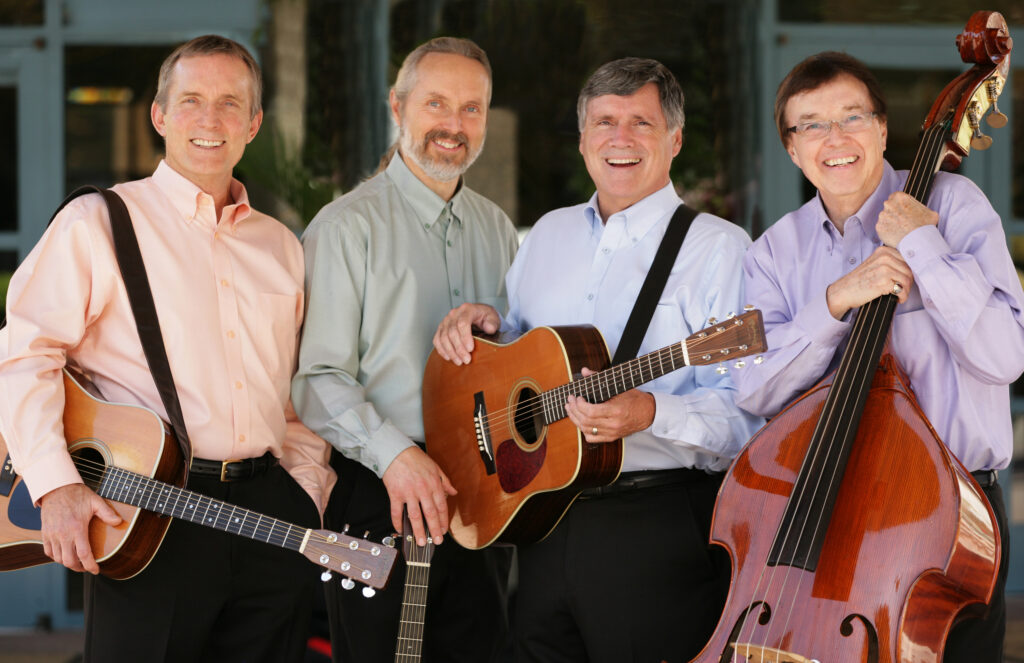 By Kathy Reed
Tickets are going like hotcakes for a chance to hear the Grammy and Oscar nominated folk music legend, the Brothers Four in concert. The quartet is warming up for a benefit concert at South Whidbey High School Sunday at 3 p.m.
Proceeds from what promises to be a sold-out performance will benefit three worthy Whidbey Island causes: Friends of Friends Medical Fund, Small Miracles Medical Fund in Coupeville and the Whidbey Homeless Coalition. Tickets are $30 each and are available at Trinity Lutheran Church and the Kevin Lungren Edward Jones Office in Freeland, Moonraker Books in Langley, bayleaf in Coupeville and Click Music in Oak Harbor. (Concert organizers strongly suggest checking for availability in advance; as of last weekend, Trinity Lutheran Church had the largest block of tickets remaining – call 360 331-5191 to check.)
The Brothers Four has literally been around for six decades, but it all started here in Washington. Today the group includes Mark Pearson, Mike McCoy, Whidbey's own Karl Olsen, and founding member Bob Flick, who talked with Whidbey Weekly about how it all began.
"The Brothers Four started when we were at U.W.," he shared. "'Brothers' comes from the fraternity – we were all members of the same fraternity house. We all loved music and at the time, folk music was around – people like Burl Ives, The Weavers.
"It was easy music to learn, easy to listen to and sing along with, and a great way to meet girls," Flick continued with a chuckle. "A whole bunch of us would go sing folk songs and pretty soon it was down to four original guys who were focused on actually doing this and seeing it as a career."
And what a career it has been and continues to be. The Brothers Four has had the distinction of playing for four U.S. presidents, including at John F. Kennedy's inauguration, and at countless concert venues around the world. The group performed the song, "The Green Leaves of Summer," for the soundtrack of the John Wayne film, "The Alamo," and was nominated for an Academy Award, which led to a live performance at the Oscars presentation that year. This doesn't include the many million-selling songs the group has recorded along the way, earning the Brothers Four a place among folk music legends.
"We had a chance to go to California to play at the Hungry i club," Flick recounted of how the group got its professional start. "It was a folk music club, sort of like a coffee house of today. People like Lenny Bruce and the Smothers Brothers would perform there. They had an opening during Easter week vacation, so we took our mom and dad's station wagon and drove to San Francisco. We had a fun, rollicking night and a friend said, 'You should make a tape and send it to Mitch Miller at Columbia Records.' So we did.
"Folk music was really becoming something here," he continued. "At a parallel time, the Kingston Trio was big at Capitol Records, so Columbia Records said, 'We need folk music.' How can you more eloquently state being in the right place at the right time than how this all came together? We flew down on the Fourth of July – that is what we consider our birthday – signed with Columbia, started recording in 1959 and we've been going strong ever since."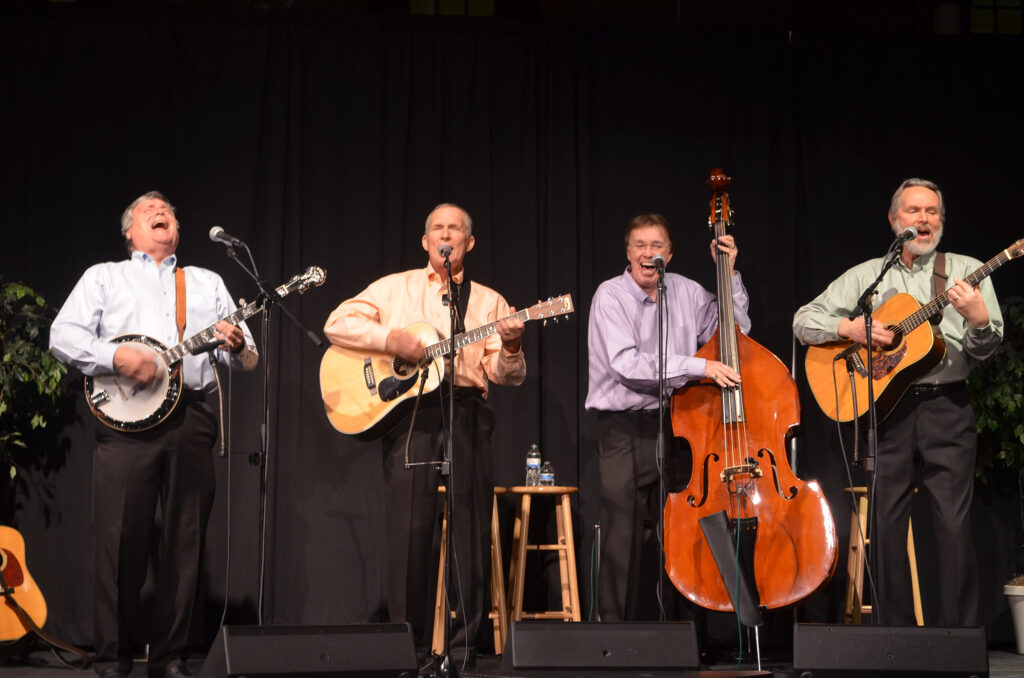 With more than 60 years of performances and recordings to choose from, Flick said they try to keep their shows balanced. Members are always working on new material, but many in the audience want to hear the songs for which the group is known, such as "Try to Remember," or "The Green Leaves of Summer." Every performance is different.
"Speaking for me, since day one I've been so pleased to be a participant in this event that happens when music connects with people," he shared. "It sort of takes away time; it's not measured in time, it's measured in moments. That sudden moment when people just know; it's a connection, a connection that never gets old.
"No two shows are ever alike," Flick continued. "Every show is its own special thing. We've been in some huge venues. Singing at Kennedy's inauguration was a pretty big deal. So was singing live on the Academy Awards stage when 'Green Leaves' was nominated. But to be on the road to do a series of concert appearances, it doesn't get any better than that."
Over the course of six decades, there have been changes in membership, but the last time a new member joined the Brothers Four was in 2008, and the new guy was Karl Olsen, minister of music at Trinity Lutheran Church.
"It was a pretty steep learning curve 15 years ago when I joined, but the guys were very understanding as I learned the repertoire (only a few jokes and a little ribbing as I messed up!)," he shared in an email to Whidbey Weekly. "As far as joining the long tradition of the Brothers Four, it was a gift to be welcomed in and surrounded by the history, the expectations of attention to the detail of our harmony singing, and the knowledge that it isn't each of us there on stage individually, but really a band of brothers who have each other's backs in so many ways."
Olsen said the last time the Brothers Four performed on Whidbey Island was in 2018. He said members enjoyed playing here and were happy to be able to work in a concert this year. Selecting the organizations for which to raise money was a more difficult choice.
"The nonprofit choices were not easy, just because there are so many worthy ones to support," he said. "But the issue of medical expenses being a challenge or even financially ruinous for low income folks is a constant in our society, so that made sense. And the unhoused and under-housed population in our community (many of them young) often gets overlooked and is in desperate need of continued funds. Low-income housing is important, but if you have no income, there's often nowhere to go. So hopefully we can help out with that in some small way."
Olsen said he is looking forward to once again sharing the group's music with a hometown audience and he's pleased he took the plunge to join the Brothers Four all those years ago.
"With the support of my wife, Deb, and the rest of the family (and Trinity, who has let me leave for weeks at a time!), this journey has truly been a gift to my life," he said. "We have become family with all the other families in the group, have travelled the world singing, and I have been made a better musician over the years as we have sung the stories of our lives, and the lives of so many who have preceded us. The intro to an old African American spiritual says, 'We're all traveling in the footsteps of those who've gone before…' It is so true for us, and I am very grateful for this adventure."
"I think these songs represent a picture of America and what America stands for around the world. To be able to do that is remarkable," shared Flick. "It's called folk music and it's the music of the people. It comes from years and years of development and storytelling. It's a show families can come to and any age can enjoy, all generations. It's the music of America, what can I say?"
Learn more about the Brothers Four and their music at brothersfour.com.