Meet Our Staff!
Whidbey Weekly would not be possible without all of the hard work of the many dedicated staff and contributors. Get to know the many friendly faces that produce Whidbey Island's favorite publications!
Eric Marshall
Publisher at the Whidbey Weekly
Meet Eric Marshall, publisher of the Whidbey Weekly. The older of two brothers, Eric's family moved to Whidbey Island in 1980 when his father was stationed at NAS Whidbey Island. Eric graduated from Oak Harbor High School in 1992. After leaving for a brief time for school, Eric returned to Oak Harbor for summer vacation where he met his wife Michele, a native of Whidbey Island. They have two beautiful children. Having grown up on the island, Eric is passionate about his community partnerships and strives to have his publication be a voice of Whidbey Island. Feel free to contact Eric directly at publisher@whidbeyweekly.com.
Teresa Besaw
Graphic Designer at the Whidbey Weekly
Whidbey Weekly's Graphic Designer, Teresa Besaw, is a true Whidbey Island native. A Navy Brat born on the Seaplane base and raised in Oak Harbor, Teresa graduated at Oak Harbor High in 1984 and the Art Institute of Seattle in 1986. Teresa has over 28 years of graphic design experience and started with the Whidbey Weekly in 2010. Being a native of Whidbey, Teresa really enjoys promoting the beauty of the island and all the fun events taking place here year round. Teresa is the proud mother of 3 children, 4 step-children and grandmother of 5. When not working at the Whidbey Weekly, proud sports mom Teresa and her husband, Jim, can be seen at baseball fields all over Washington state cheering on her youngest son and local tracks and ball fields cheering on her grandsons.
TJ Pierzchala
Production Manager at the Whidbey Weekly
Production Manager, TJ Pierzchala, was born at Island Hospital (because Whidbey General didn't exist) and raised in Oak Harbor. She graduated from OHHS with the Class of 1983 and attended UW as a pre-architecture major. After 2-1/2 years, she returned to Whidbey taking several classes at Skagit Valley College, Whidbey Campus. An Introduction to Graphic Design class sparked her interest and led her to earn her Associate of Arts degree in Graphic Design. TJ started working for Whidbey Weekly in February of 2012. TJ is married to Mike Pierzchala and they have two boys, Andrew and Alex. When she is not working, she is very involved in Boy Scouts of America with her sons. She is a member of the American Legion Auxiliary, the VFW Auxiliary, OHMY Booster Club, Oak Harbor High School PTA and is a student at Woodward's Taekwondo Academy. She also enjoys fishing, music, and spending time with family and friends.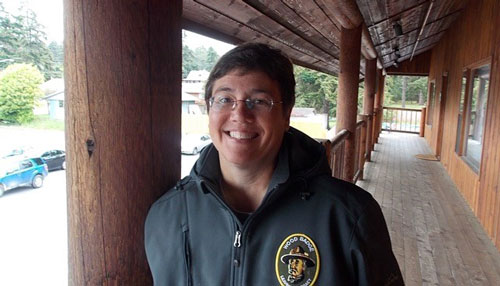 Kathy Reed
Editor for the Whidbey Weekly
Editor Kathy Reed fell in love with Whidbey Island long before she was able to move here. A resident for the past several years, she has come to love it even more as she writes about the people, places and happenings on the Island. Reed is an award-winning writer who is most often seen with a camera around her neck and notepad in hand. She is married to a 20-year Navy veteran and has one daughter, two step-children, two cats and a crazy dog. She and her husband love camping in their restored 1961 travel trailer named Bubbles. Contact Kathy at whidbeyweeklynews@gmail.com.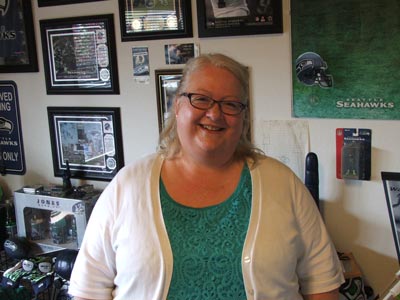 Dale Pollitt
Web Developer for the Whidbey Weekly
Meet Dale Pollitt, the creator of this site! Like many on the Island, Dale retired from the military in the area and placed down his roots in Oak Harbor. Although he is not a lifetime islander, Dale and his family have resided on Whidbey Island for the past 18 years. He currently works as an IT at Naval Hospital Oak Harbor during the day and in the evenings he loves building things for the web and helping small businesses build their web presence. If you'd like to learn more about Dale and his work, pay him a visit at www.homebrewedcode.com.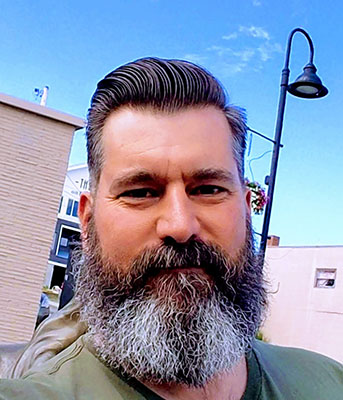 Tracy Loescher
Contributer to the Whidbey Weekly
Tracy has been a Whidbey Island resident since 1995. He began writing about, and sharing fishing techniques in the Naval Air Station Crosswinds newspaper in 1998, the article was titled "FISH-ON!" after a three year absence to Kaneohe Bay Hawaii for sea duty he picked up his pen again at which time the article would be known as " The Island Angler". Tracy retired from the United States Navy in 2007 as a Chief Petty Officer. Tracy is an Idaho Native, he grew up hunting and fishing as a boy and these passions have never left him, when not fishing he spends his time with his wife Dawn of 32 years and their two children Zachary and Rachel. Tracy hopes through his articles to make fishing easier for new Islanders, and help put more fish in the boat and on the beach with lessons learned and new ideas in the challenging and exciting area of recreational Island Angling!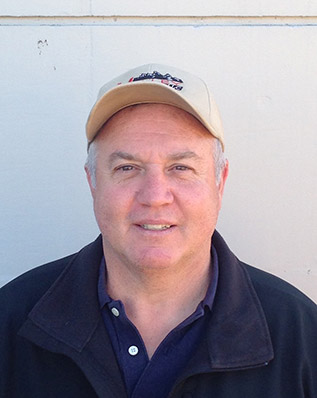 Blitz
Whidbey Weekly Mascot
When you come to the Whidbey Weekly office you are often greeted by Blitz the office dog. Blitz has been with the Whidbey Weekly for over 3 years. He likes to greet everyone who walks in and sometimes greets people at other offices as well. He loves coming to the Midway Trader's Village where the children that come here for daycare, speech therapy and occupational therapy treat him like a hero and love to pet him. Stop by and see Blitz Monday-Friday, 10am-2pm.