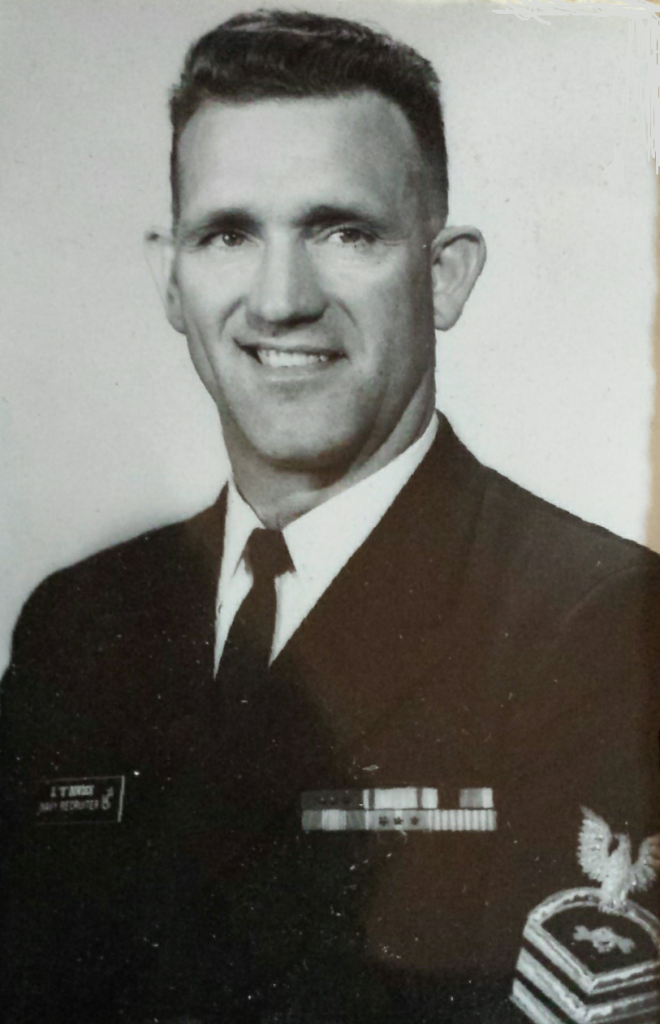 Allen D. Bowden
April 20, 2019 — November 19, 2018
Allen D. Bowden was born April 20, 1929 in Elwood, Utah, one of eight children of Leslie Leroy and Delores Bowden. He was raised in Brigham City, Utah, and graduated from high school in Ogden, Utah, where he was on the wrestling and track teams. To this day, he has trophies at Ogden High School for fastest running times in track.
He joined the United States Navy in 1946, at age 17. He was married to Ginne Bowden in Long Beach, Calif., on April 10. 1954. They were later sealed, along with their children, for time and all eternity in the LDS Hawaiian Temple on Aug. 3 1971.
During his naval career, he served in the Korean War. He was awarded an all-Navy award as Service Man of the Year in 1959. He was a criminal investigator and a recruiter for the Navy. He served two separate tours totaling 20 months during the Vietnam conflict. He attained the rank of Master Chief and retired from the Navy in 1973, after 27 years of service to his country. During his naval career, he was stationed in: San Diego, Calif.; New London, Conn.; Coronado, Calif.; Port Hueneme, Calif.; San Francisco, Calif.; Provo, Utah; Davisville, R.I.; Midway Island; Whidbey Island, Wash.; and aboard the carriers USS Cambria and USS Winston.
Following retirement, he served five years as a bishop for the LDS Church in the Oak Harbor 1st Ward, and along with his wife Ginnie, served as a Seattle Temple worker for 15 years, as well as a volunteer for the Island County Sheriffs Citizen Patrol for 13 years.
He is survived by his wife of 64 years, Ginnie Bowden; sons, Dave and Doug Bowden; and daughter, Debbie Wilson. Allen and Ginnie have 12 grandchildren and 22 great-grandchildren. He was preceded in death by one son, Dan Bowden.