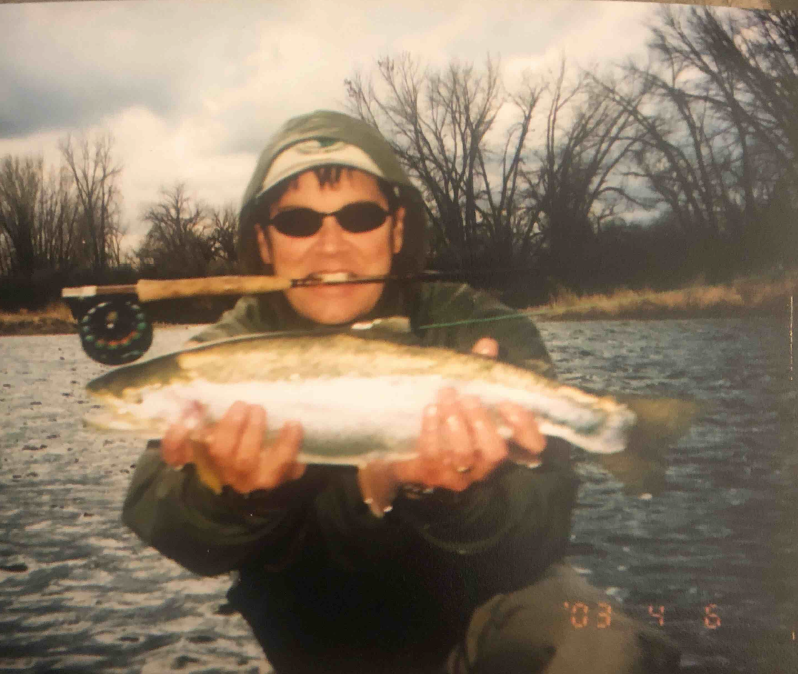 Bradley Gene Tallman
July 8, 1954 — April 26, 2019
9
There is an old saying in the entertainment business, "Always leave 'em wanting more." Bradley Gene Tallman – musician, bass player extraordinaire – did just that. He left the stage on April 26, 2019, while all of us were still clamoring for him to play just a little bit longer.
Besides the electric bass, Brad loved a lot in his 64-years and nine months. Husband, father, brother, businessman, video producer, director, writer, cameraman, sailor, fisherman, handyman and more. But mostly, he was an easy-going, funny, reliable, terrific companion. And he made darn good pancakes, too.
Brad was born in Whittier, Calif., on July 8, 1954 to Oliver ("Buck") Gene and Virginia Ruth Tallman. He inherited his dad's wry sense of humor and at an early age of 5 years, distinguished himself and his innate mechanical acumen by figuring out how to turn on the sprinkling system at the local Putnam Street park and succeeded, at lunchtime, at soaking dozens of park goers who jumped and ran. Virginia, embarrassed, dragged him off by the collar of his shirt—something that would become routine over his childhood.
In 1964, the Tallman family moved down the road to La Habra, where Brad grew up exploring the hills of La Habra Heights. Like any good little brother, he always made certain that he annoyed his big sister Bonnie Jill and her girlfriends.
Brad attended La Habra High School and had a passion for water sports. He was a first-string varsity swimmer and water polo forward. He also loved music and was a standout in the school's highly regarded theater program. It was during this time he purchased his first Fender electric guitar, practicing hits by the Beatles, Black Sabbath and Led Zepplin for hours in his bedroom. Little did Buck and Virginia know he was also laying the groundwork for a successful Montana band career.
Brad earned his NAUI SCUBA certification and spent weekends and summers diving in Laguna Beach and Catalina Island. He and his friend, Tim Runco, walked through the Long Beach Marina, and offered to clean boat bottoms with their SCUBA gear. After work, they spent half of the hard-earned cash at the local Jack-In-The-Box.
Most importantly, Brad met Jodi Michele Gordon at LHHS, and was, as they say, smitten. They were inseparable in high school, and soon after graduation, they married in La Habra. It was the start of a life-long romance and partnership.
After graduation in 1972, Brad attended Cal State Fullerton, graduating with a degree in Advertising. Like many students at "Cal State Disneyland," he worked part-time at "The Happiest Place on Earth," which was just a few miles away. He spent a summer driving a float in the Main Street Electrical Parade and he also worked a stint navigating the "Irrawaddy River" as a brave skipper on the world-famous Jungle Cruise. After college, he was hired by the Disneyland Marketing and Advertising Division and honed his skills as a writer, director, and producer of Disneyland commercials and media. His most memorable creation was the now-famous post-Super Bowl "I'm going to Disneyland" commercial that became an industry classic.
In 1980, Brad and Jodi welcomed Andrew Todd into the household. Just as things settled down, in 1983 they added a daughter, Kaitlin Michele.
Rather than settle into a predictable groove, Brad showed his sense of adventure and determination. He gave up the obvious potential of a solid and safe Disney career, and moved his family to Billings, Mont. His dream was to raise his family in Big Sky Country, where he could open his door, stand on his porch, and feel "like he was on vacation" every day. This is where and how he wanted to raise his family.
He became a principal in the independent production company, Production West, and with his success there, eventually started his own company, THL Digital.
Brad began playing the bass guitar. He was a founding member of ZeN, a popular local band, that became a regional mainstay. The band was so successful that it toured China. Brad proved his good sense and clairvoyance in marrying the patient-and-should-be-considered-for-sainthood Jodi, who allowed the window-shaking rock band to rehearse in the basement.
During this period, Brad also liked to amuse himself by calling his city friends, timing the calls perfectly. While the friends were stuck in California rush hour traffic, he could explain that he was standing mid-stream fly-fishing in the Little Bighorn River, another passion.
Todd and Kaitlin grew up, as kids tend to do. Kaitlin, athletic like her dad, was an accomplished gymnast and moved to Alaska to study education. Todd joined the United States Navy, where he rose through the ranks to become a Senior Chief.
Not done yet with change, in 2017, Brad and Jodi moved to Oak Harbor, Wash., near Todd's home. A couple of grandkids, Taylor Rene and Tristan James, were an added magnet.
By then Brad had been diagnosed with a grave illness, maybe a result of all those summers in the sun. However, Brad and Jodi were not ones to sit idly by. They bought an old Bayliner cabin cruiser—sans engine(!)—and bam, Brad could check-off another longtime dream: owning a boat. Well, not quite "bam;" the thing needed work. Lots of work. But Brad and Jodi restored the vessel—and put in an engine—and were able to celebrate their persistence and hard work by successfully sailing Red Sky at Night through Deception Pass and into open ocean.
All along Brad, with Jodi by his side, fought the good fight, and when it was time, he left on his own terms, with dignity and style, his dogs, Hilda and Lulu, on the bed and his own lifelong rock star, Jodi, at his side. He pursued his dreams, made movies, made music, was the best friend and companion you could ask for and raised two magnificent children who are making the world a better place. He leaves a bunch of us who will miss him: Jodi; Todd and his wife Shea, a couple energetic grandkids, Tristan and Taylor; and Kaitlin; his sister Bonnie; his niece Megan; his mother-in-law, Thelma; and a mile-long line of friends. While we'd like an encore, Brad can now take off the bass, wave, and take a huge bow.
Let's just hope he showed Todd how to make those pancakes.
Family and friends are encouraged to share memories and condolences at www.whidbeymemorial.com .