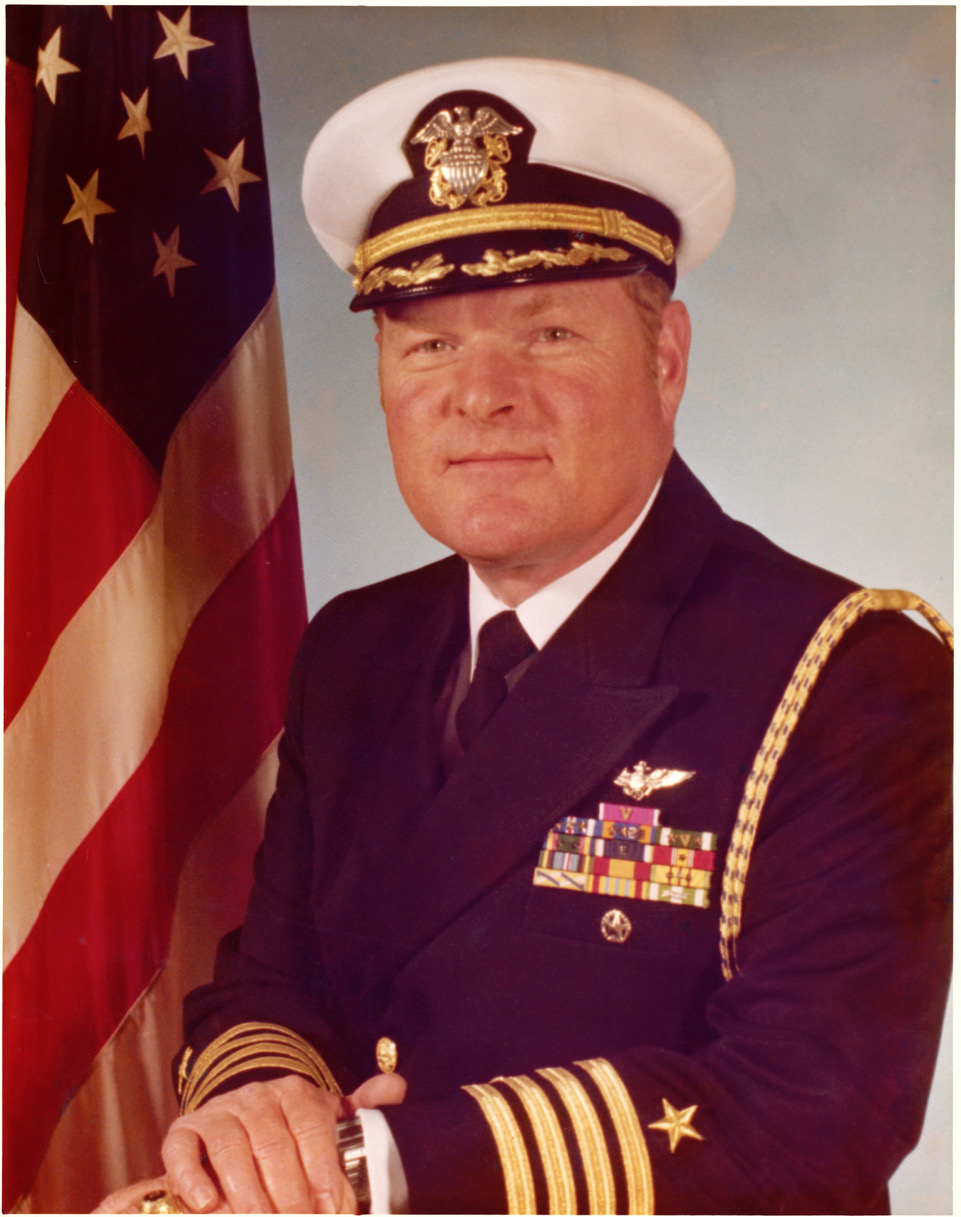 Capt. James Arthur McKenzie II
July 9, 1930 — September 26, 2019
Captain James Arthur McKenzie II, USN (Retired) passed away Sept. 26, 2019 at age 89.
Born on July 9, 1930, in Lynchburg, Va., Jim was the adopted only child of James and Lucille (Adams) McKenzie. He was raised in New Bern, N.C., and attended Davidson College in Davidson, N.C., on a music scholarship prior to his appointment to the Naval Academy.
It was Jim's 30-year Navy career for which he is best known and widely admired. Jim was a passionate Navy pilot who loved his work, his country and the many friends with whom he served. Jim was often thanked for his service, to which his reply was always a sincere "my pleasure."
Capt. McKenzie was commissioned from the Naval Academy in 1954 and was designated a Naval Aviator October 1955. His first operational tour was with VA-196 at Naval Air Station, Alameda, flying the A-1H Skyraider. Subsequently, he served as a Nuclear Weapons Delivery Instructor at Naval Air Station, Oceana, returning to sea duty with VA-85 in January 1963. This squadron transitioned to the A-6 Intruder in February 1964 and participated in the second combat deployment of this aircraft aboard USS KITTY HAWK in 1965. At the completion of this deployment, Cap. McKenzie received orders to VAH-123 at Naval Air Station, Whidbey Island, Wash., to serve as A-6 Training Officer in the newly formed A-6 replacement squadron. In September 1967, VAH-123 split forces and a new squadron, VA-128 was formed with Capt. McKenzie serving as Operation Officer.
Capt. McKenzie was transferred to VA-52 as Executive Officer in November 1968 and assumed command in January 1969. From January 1970 until October 1971 he served as Strike Warfare Officer on the staff of Commander, Carrier Division THREE. Capt. McKenzie assumed command of Carrier Air Wing ELEVEN on USS KITTY HAWK in May 1972, serving as the Air Wing Commander until May 1973. Following a tour as Force Training Officer on the staff of Commander, Naval Air Force, U.S. Pacific Fleet, he served as Commanding Officer, USS WICHITA (AOR-1) from September 1976 to March 1978. He then served as Head, Aviation Plans and Programs Branch (OP-508), Office of the Chief of Naval Operations, from March 1978 to August 1980.
Captain McKenzie reported to COMMATVAQWINGPAC in September 1980 and assumed the duties of Chief of Staff on November 1. He retired from active duty on July 1, 1984.
Captain McKenzie wears the Legion of Merit with "V," the Distinguished Flying Cross (seven awards), the Air Medal (twenty-eight strike/flight and three individual awards), and the Navy Commendation Medal with "V" (three awards). In 1983 he was the recipient of the Senator Henry M. Jackson Intruder Award for Leadership.
Jim met Betty Lee Hawkins in his childhood through family connections. In November 1950, Jim and Betty had their first official date at a Naval Academy football game. That first date resulted in nearly 65 years of loving marriage to Betty and subsequently, devoted fatherhood to his twin daughters, Susan and Sally. Throughout Jim's career, the McKenzie home was the "hub" of squadron and air wing social activity.
Jim was an inspiring and respected leader, mentor and friend to scores of colleagues over the years. His celebrated courage as a military officer was balanced with an abundance of warmth and kindness not expected of one in such a battle-tested occupation. His ability to lead and discipline effectively with a well-chosen word, a sense of humor and a gentle hand was the true source of his military heroics. During a particularly dangerous deployment, a junior officer in his air wing remembered "He displayed an uncanny ability to both provide strong, sensible, courageous leadership and keep a subtle, constant sense of humor. Sitting through one of his air strike briefings was always memorable – you might come in shaking in your boots, but you invariably would leave with a smile on your face."
Jim had an impressively sharp mind, a rapier wit and a true talent for writing and public speaking. Over the course of his career and through most of his retirement, he was the featured speaker at countless change of command ceremonies, community events, celebrations and funerals. His inspiring speeches were history lessons as well as instructions on English grammar and the power of the spoken word. To all who had the privilege of being present when he spoke, Jim was and remained until the end, the consummate orator.
In May 1991, as NAS Whidbey was placed on the government's list for closure, Jim joined with Oak Harbor community leaders in a victorious effort to "Save the Base." Jim's persuasive spoken remarks to the Defense Base Closure Commission were instrumental in keeping NAS Whidbey open.
Though the Navy took Jim all over the world, Whidbey Island was the only place he ever truly thought of as "home." The McKenzie waterfront house on Whidbey was Jim's sanctuary for deep contemplation, reading and writing over a three-olive martini enjoyed from his favorite chair.
An avid reader, Jim was an enthusiastic scholar of U.S. history, the Civil War, British history and of course, naval history. He had a penchant for great literature and was known to have a relevant quote at the ready for most any occasion. Jim loved classical music (especially Mozart), theatre (especially Shakespeare) and tolerated going to the ballet with Betty even though it "did not speak" to him.
Jim loved baseball and enjoyed trips to Safeco field and Arizona spring training to cheer (usually unsuccessfully) for the Mariners. He loved golf but ultimately resigned from it out of frustration and a few too many lost wagers.
Jim's wife Betty predeceased him in May of this year. He is survived by his two daughters: Susan Ferguson (Robert Ferguson) of Garfield, Wash., and Sally McKenzie (Charles Stempler) of Seattle.
Jim's daughters would like to extend their sincere thanks to the teams at Regency on Whidbey and WhidbeyHealth Hospice Care for the kindness and exceptional care provided to their father during his final months.
An informal gathering of family and friends will be held to remember Jim on Tuesday, Oct. 8 from 3-5 p.m. (happy hour) at Wallin Funeral Home.
The family requests memorials in Jim's name be made out to Navy-Marine Corps Relief Society athttps://action.nmcrs.org/page/contribute/donate2015