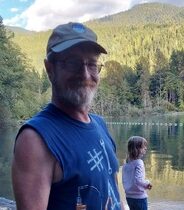 Charles Duane Picken
May 5, 1979 — May 10, 2023
Charles Duane Picken was born May 5, 1979, in Monroe, Wash., to his parents, Charles Orville Picken and Judith Alma Malme.
At the age of 4, Charles and his family moved to Everett, Wash. In his early years he was coddled and spoiled by his older sisters then he was joined at the hip to his older brother, Kenny, for the rest of his life. He loved playing baseball and camping.
Charles was a jack of all trades. He was a skilled and excellent carpenter/builder who genuinely loved what he did. He was forever proud and excited to pass on his knowledge and skills, especially to his nephew Karl. Chuck owned his own business for several years, Picken Floating Floor Systems, and enjoyed traveling for work.
Charles was married twice. He met his second wife and the mother of his only child at the Buzz Inn across from his family home in North Everett, in 1988, at the age of 29. His daughter, Katie, was born in 1990. In 2001, he moved to Whidbey Island to be close to her. They spent the older portion of her life as best friends.
Charles is preceded in death by his two black cats, Little Foot and Lucky. He is survived by his three remaining siblings, Kenny, Toni and Patti; his grandkids, Brody, Kahlan, Zephyr, and Oliver Register. He will be greatly missed by the many lives he touched, including his best friend Debbie, his sister-in-law Pam, and his many nieces and nephews who all loved him and were loved by him very, very much.
His memorial service/Celebration of Life will be held Monday, June 12, at his favorite campground at Mt. Baker, where he took his family every year. It will be an open invitation to anyone who was touched by his life. We will be gathering to remember him and make new memories as a family.
Charles was a kind thoughtful man with a heart of pure gold. His family was the most important thing to him in the entire world. He loved to take adventures and see the world, taking every moment as it came, especially with his best friend. He traveled to almost every state in the U.S. and loved to drive. His best friend, Debbie, lit him up like no one else could. His time with his brother, daughter and grandchildren was what he most enjoyed. The birth of his grandson, Oliver, was a pivotal moment in his life in 2020. In his last years he built a beautiful garden for his daughter, complete with a kids clubhouse. His ashes will be separated to all the people who loved him most, along with being spread on our garden and his favorite camping spots.
Charles was a blessing to all who knew him. He was kind to a fault, sharing all he had with everyone who needed it. He will be sorely missed by all who were blessed enough to know him and will hold a place in our hearts forever.
In lieu of flowers, please direct any kindness/help to the GoFundMe account created to help with his final expenses.
Thank you to all who send positive vibes, love, donations, and prayers.