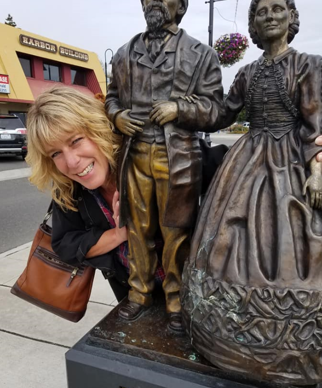 Charlotte Patricia Wade
February 16, 1968 — January 27, 2020
Charlotte Patricia Wade, know to her friends and family as Charly, age 51, passed away Jan. 27, 2020, in the comfort of her own home in Oak Harbor, Wash., surrounded by her loved ones. She is survived by her husband and soulmate, Tom (Wade); her two beloved daughters, Ashley (Brooks) and Emma (Elm); her grandchildren, John-Corban and Brantley (Brooks); and her two fur babies, Jack and Sophie.
Charly was born on Feb. 16, 1968 in Chula Vista, Calif., to her parents, Alley and Frank Pike. Her father was in the Navy and she spent her childhood living in many different states. In 1999, she achieved an associate degree in graphic design from Skagit Valley College. She married her husband, Tom, on July 17, 2010.
Charly was far from ordinary and wore many hats in her short, but full life. She loved anything purple, dragonflies, and always dreamed of sitting on a beach. She was the life of any party, had an affinity for gardening and possessed an unwavering love for sunshine. Her sense of humor was lively, with enough of her own idioms to fill an entire novel. She was anything but graceful, but that is why the whole community fell in love with her.
Charly Wade will be missed by many, from family, to friends, to the random folks who only briefly met her. A celebration of her life will be held at 12 p.m. Feb. 16, at 225 W Frostad Rd. in Oak Harbor.
In lieu of flowers, please make donations to the Lung Cancer Research Foundation.
Family and friends are encouraged to share memories and condolences at www.whidbeymemorial.com.