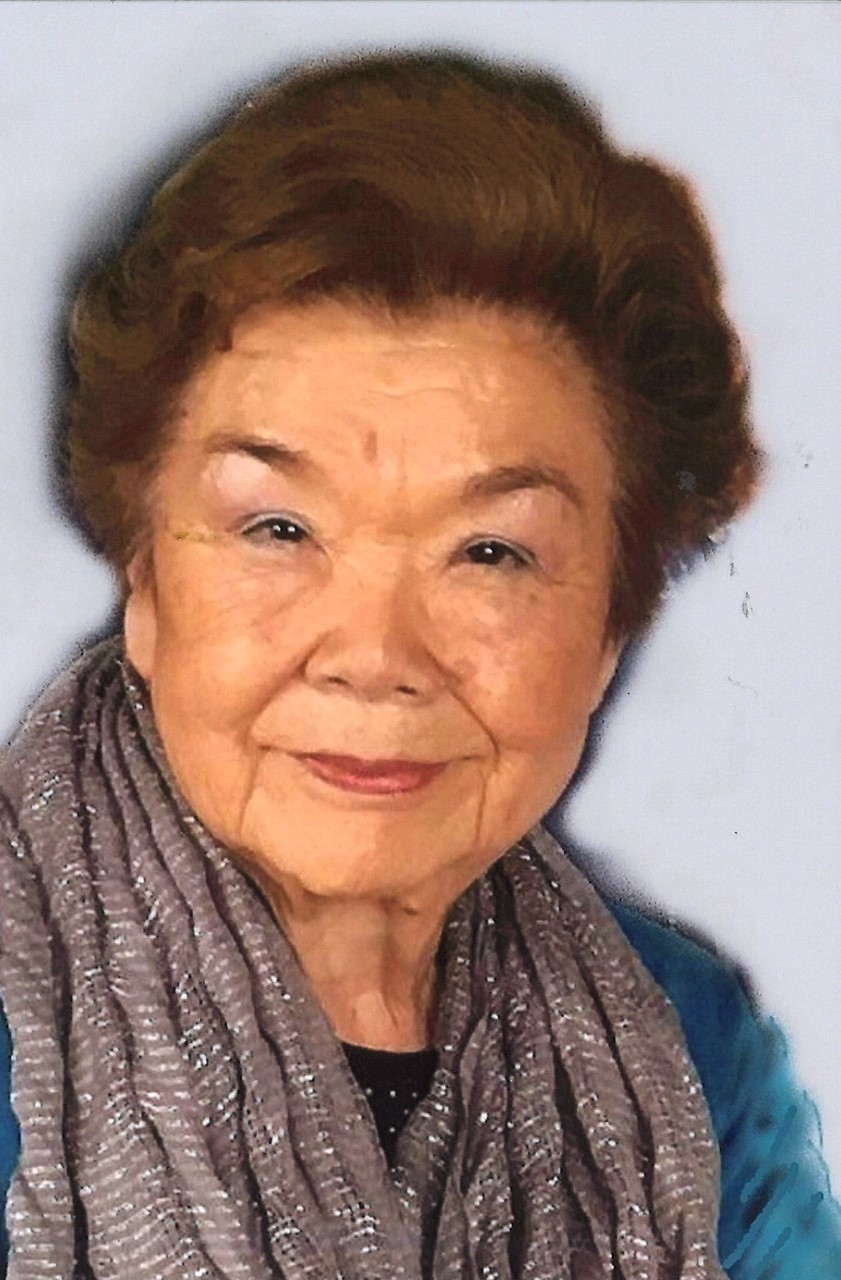 Chizuko M. Irvine
September 1, 1935 — July 11, 2020
Chizuko Michaela Irvine was born Sept. 1, 1935 in Kanagawa Prefecture, Japan, to Nobuharu and Ichi Yakura and lived in Yokohama (Bessho) for most of her childhood, with the exception of several years during World War II, when she lived in Fukushima, Wakamatsu, Japan. Chizuko graduated from Seibi High School in Yokohama in 1953 and attended business school to become a secretarial assistant for the U.S. Navy in Atsugi, Japan. Chizuko met Pickens "Bill" Irvine while employed as Bill's Division Officers' secretary and where they occasionally exchanged greetings. Chizuko invited Bill to attend a sukiyaki dinner party at her parents' home and as a show of gratitude, Bill escorted Chizuko to the movies for a showing of Roger's and Hammerstein's "Oklahoma!" in Tokyo. This ended up becoming their first date and seven months later, Bill proposed marriage to Chizuko. Shortly thereafter, Bill was transferred to Midway Island and Chizuko took steps to become baptized as a Catholic. Bill and Chizuko were married in November, 1958 at Sacred Heart Church in Yokohama, Japan and Bill returned to Midway Island to complete his tour of duty.
Chizuko and Bill were reunited once again in San Francisco, Calif., in 1959 and their first duty station as a married couple was in Norfolk, Va. Chizuko told of when she and Bill rode the bus to downtown Norfolk to shop in J.C. Penney and she needed to use the restroom because she was pregnant. While Bill waited, Chizuko walked away to use the ladies' room and suddenly shouted, "Bill! Bill! What do I do?" Faced with two entrances to the ladies' room, one labeled "White" and the other labeled "Colored," Chizuko was not sure which entrance to use. Bill suggested using the "White" washroom and thankfully no one noticed.
Chizuko and Bill spent 30 years as a military family and lived in Norfolk, Va.; Great Lakes, Ill.; San Diego, Calif. (twice); Oak Harbor, Wash.; and San Francisco. Along the way, they raised five children, starting with Michaela (Vanessa); Margaret (Serdar); Matthew (Debbi); Maureen (Mitch); and ending with Monica (Kevin). The kids were affectionately called "The Five M's" and were blessed to learn so many things from their mother, like responsibility and hard work. Chizuko taught her children how to cook and clean their home. She was known for the saying, "Corner to Corner" when instructing her children how to properly clean flat surfaces.
Chizuko enrolled in Beauty College in 1972 while stationed in San Francisco and went on to become a cosmetology instructor and Director of Education for Beauty Schools in San Francisco and San Diego. Chizuko and Bill purchased a Fantastic Sam's beauty salon franchise in 1986 and successfully built a business in Lemon Grove, Calif. After selling the business in 1993, Chizuko and Bill sold their home in San Diego and moved to Whidbey Island, Wash. Chizuko loved to forage for mushrooms, ferns, clams, colt's foot, and any other edible treasures on Whidbey Island or in Skagit County. She knew how to spot a Prince or Matsutake mushroom in a quick second.
Chizuko passed away peacefully at home July 11, 2020. She leaves behind a family of grateful children, eight grandchildren, and two great-grandchildren, who will miss her strong presence in their lives and whom she will continue to influence despite her lack of a physical presence. She will be interred in Fernhill Cemetery on Fidalgo Island in a location that offers a nice view for those who come to visit.
A private visitation was held at Wallin Funeral Home, Oak Harbor, Wash. A private funeral mass took place at St. Augustine Catholic Church with Rev. Paul Pluth, J.C.L. presiding.
Arrangements were entrusted to Wallin Funeral Home, Oak Harbor. Please visit Chizuko's page in our Book of Memories online at www.wallinfuneralhome.com to share memories and leave condolences.