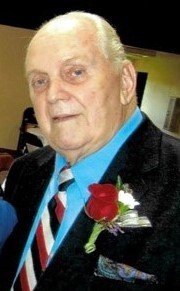 Clay L. Schroff, Jr.
June 28, 1936 — January 12, 2019
Clay L. Schroff, Jr. AOC, USN (Ret), age 82, longtime Whidbey Island resident, passed away on Saturday, Jan. 12, 2019 at Peace Health St. Joseph Medical Center in Bellingham.
Schroff was born in Mansfield, Ohio, on June 28, 1936, to Clay and Reetha (Green) Schroff. He was raised in Ohio. At an early age, Clay enlisted in the U.S. Navy, and pursued it as his career, retiring as an AOC in Kingsville, Texas. On Nov. 7, 1964, he married Marie Margarita Goudswaard in Lynden. The couple resided in Oak Harbor from 1964-68. Following Clay's retirement, they returned to the island, settling at Admiral's Cove.
Clay loved to fly small airplanes. He also enjoyed sailing and skeet shooting, and had been a contestant in the All-Navy Skeet Shooting Championship. He was a member of the Oak Harbor Christian Reformed Church.
Clay is survived by his beloved wife, Marie; children, Clay Evan Cable of Marysville, Clay Anthony Schroff (Michelle) of Albuquerque, N.M. and Kimberly Loc (Nestor), also of Albuquerque; twelve grandchildren; two great-grandchildren; sister Patricia Schroff of San Diego, Calif.;  and numerous other relatives.
A Funeral Service will be at Oak Harbor Christian Reformed Church, Tuesday, Jan. 22, Pastor Randy Beumer officiating. Military Honors will be performed by NAS Whidbey Honor Guard. Interment will follow at Fircrest Cemetery. Memorials are suggested to Oak Harbor Christian Reformed Church, 1411 Wieldraayer Rd., or Oak Harbor Christian School, 675 E. Whidbey Ave., Oak Harbor, WA 98277. Family and friends are encouraged to share memories and condolences at www.whidbeymemorial.com.