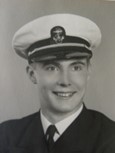 Clayton S. Engebretsen
June 17, 1922 — April 11, 2023
Clayton died peacefully April 11, 2023 in his home on Whidbey Island surrounded by family. It was his wish to watch his final sunset on Mutiny Bay, the "Beach" as it was known for over 65 years. He was fortunate to have celebrated his 100th birthday last summer with family and friends.
Clayton was born in Everett June 17, 1922, to Marie and Cornelius and grew up with his big sister, LaVerne. He spent his childhood in Marysville, where he graduated high school and then went on to attend Seattle Pacific College. After two years, he moved to Ballard and met the love of his life, Grace. They were married in 1943 and shared 61 wonderful years together.
Clayton then enlisted in the Naval Air Corps, where he became a U.S. Navy pilot. He served in World War II, flying transport planes throughout the Pacific. He was one of the last WWII survivors on Whidbey Island. After the war, he finished his schooling and went on to teach science in the Seattle School District for 28 years while continuing his Navy commitment in the Reserves.
Clayton built his cabin in 1958 and then upon retirement, built his permanent home in 1978. He and Grace enjoyed many great years on Mutiny Bay together; golfing, fishing, waterskiing, gardening, and playing with all of the many kids who loved "The Beach." It will forever be a place of special memories for the whole family. Clayton was also an active member of the South Whidbey Lions Club, even supporting them during COVID by building over 500 birdhouses for charity.
Clayton was a devoted husband, beloved father, and cherished "Papa" and "Big Papa." He was preceded in death by his lovely wife, Grace; sister, Laverne; daughter, Emily; and great-grandson, Max. He is survived by his son, Bruce Engebretsen; four daughters, Nancy (Mark) Allison, MaryBeth Engebretsen, Barbara (Jeff) Allen, Cheryl (Mike) Blackburn; ten grandchildren; and 15 great- and great-great-grandchildren.
We are so grateful for the memories and lessons he left us with and are happy he can finally get some rest and be with Mom.
A celebration of his life will be held Saturday, June 3, from 12-2 p.m. at the Freeland Hall on Whidbey Island.
In remembrance of Clayton, we ask that when you see members of the military, please thank them for their service, as that was always an honor for Dad.
RIP Cmdr. Clayton S. Engebretsen.
Family and friends are encouraged to share memories and condolences at www.whidbeymemorial.com.