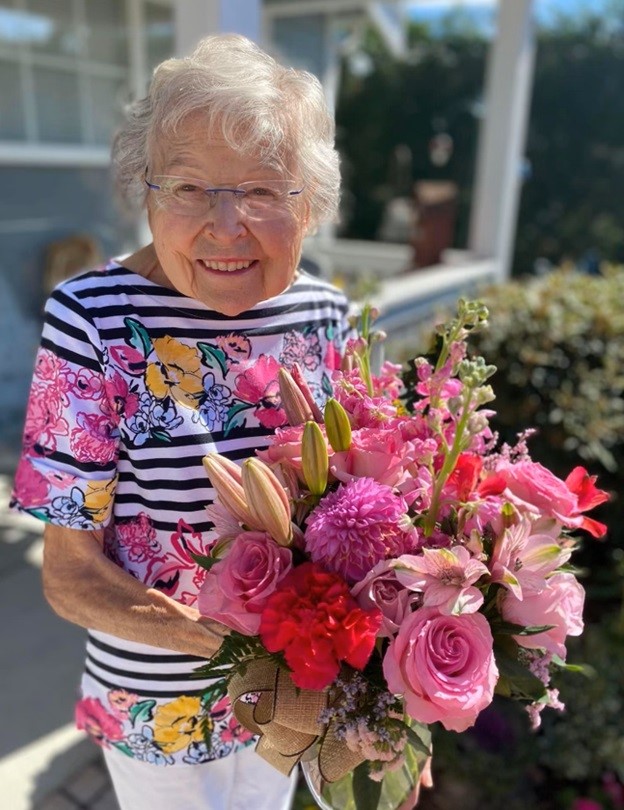 Cynthia Ann Porter
September 24, 1935 — October 27, 2023
Cynthia just celebrated her 88th birthday with family and friends at her new residence of Harbor Towers Village. She passed away peacefully holding her daughter's hand during the early morning hours of Oct. 27, 2023.
Cynthia was born Sept. 24, 1935, in Jamestown, N.Y. to Marion Wilbur and Everett Jerome Edson. The family had a dairy farm in nearby Sinclairville, where Cynthia grew up. Cynthia was an outgoing middle child; she had an older sister, Thelma, and younger brother, Grant. After graduating high school Cynthia moved to Jamestown, where she worked as a secretary for the Norman Rockwell company. She went on to Airline Stewardess school in Los Angeles and returned home to marry Roy Wayne Porter Aug. 27, 1955. The two moved soon after to Ithaca, N.Y. so Roy could attend Cornell University, where Roy continued to study and eventually obtained a PhD in Biochemistry for Food Science
During college breaks the two loved to travel and took trips overseas to explore Europe and even camping around the countryside. After graduating, they moved to Ketchikan, Alaska. This was the beginning of many moves in his career and Cynthia enjoyed living all across the United States, including St Louis, Chicago, Minneapolis, Dixon, Calif., and eventually ending up on the outskirts of Seattle, then finally retiring in Coupeville on Whidbey Island. They continued to travel all over the world, exploring many historical sites and points of interest. Travel was ingrained in her from a young age, with her Aunt Hattie having told her many stories of faraway places, but being on a dairy farm where cows needed milking twice a day, she never got to get far. Her mother, Marion, had traveled to Europe on a steamship after her college graduation and regaled stories of the adventure throughout Cynthia's childhood.
Cynthia is survived by her son, Doug, and wife Anna, of Salem Ore., and their daughter, Renae, currently studying at Oregon State University in Corvallis. Cynthia's daughter, Ann, and her husband Greg, live on Whidbey and have three children, Tyler and Margie Abrahamse of Oak Harbor; Logan and Maddie Abrahamse of Terrace Heights, Wash.; and Zoey Abrahamse of Oak Harbor.
Cynthia enjoyed her eight great-grandchildren, Bentley, Brody, Wyatt, Justin, and Eli (Tyler and Margie); Aiden and Hallie (Logan and Maddie); and Daisy ( Zoey ).
Cynthia enjoyed the Oak Harbor Senior Center activities and was an avid weekly participant. She also enjoyed gardening and scrapbooking, although the past few years that has lessened. Yahtzee was her favorite game, and she would carry spare dice and a score pad around in her purse just in case she found anyone who would play. She was known as the ice cream lady, always wanting ice cream; making her homemade banana ice cream was a family favorite treat.
Cynthia was preceded in death by her daughter, Cheryl, in 1959; her brother, Grant, in 1983; her granddaughter, Sadie, in 1997; her sister ,Thelma, in 2013; and her husband of 61 years in August, 2016.
A Celebration of Cynthia's life is scheduled Wednesday, Nov. 1 at 2 p.m. at Coupeville Community Bible Church, 502 NE Otis Street, Coupeville.